Note: "We are a participant in the Amazon Services LLC Associates Program, an affiliate advertising program designed to provide a means for us to earn fees by linking to Amazon.com and affiliated sites."
Summer is my favorite season and if you grew up in Romania, you probably know that this salad is one of the most popular ones around. In fact, at my table, this salad is a regular not only in the summer but all year round if the weather is not too cold. It is refreshing, low in calories, low in carbs and absolutely delicious! And, can we call it vegan also,  if we don't add the cheese, which is always optional? I think we can…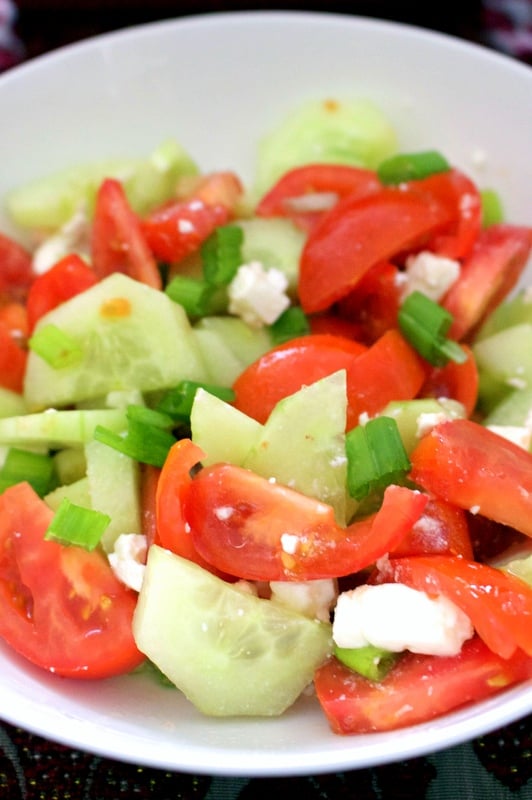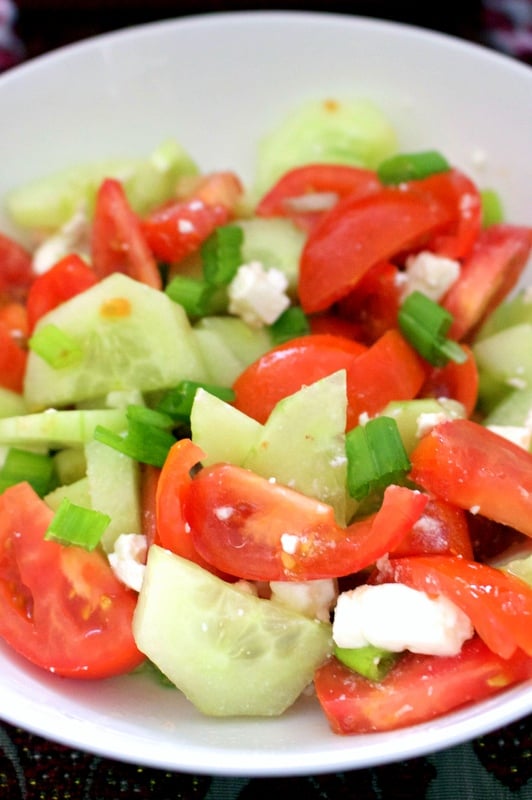 There are different versions of this salad on the internet. I did some research as I was interested to find out how my recipe will differ from the ones out there. Bingo! I remembered that Romanians rarely put vinegar or lemon juice on the tomatoes. The tomatoes are already acidic, therefore this might be the reason why we do not add any acid to the dressing. You don't need to.
If we make a simple cucumber salad, though, then yes, we do add vinegar or lemon juice. Also, Romanians are big consumers of sunflower oil. We grow sunflowers in the south of Romania, mostly Dobrogea, close to the Black Sea, where the climate is good for them. For that matter, I know this salad to be awesome with sunflower oil. Of course, olive oil goes well too, but for more authenticity, try first the sunflower oil. You will not be sorry.
When we were children, my maternal grandma used to make this salad very often in the summer. It cools your body off, something that you don't need in the winter. It is also very nutritious. My grandmother would also serve with this salad a bunch of homemade French fries, made from scratch, and add some sunny side up fried eggs to a complete meal. It was one of my favorite ones as a child and still is, as it brings so many memories of my childhood.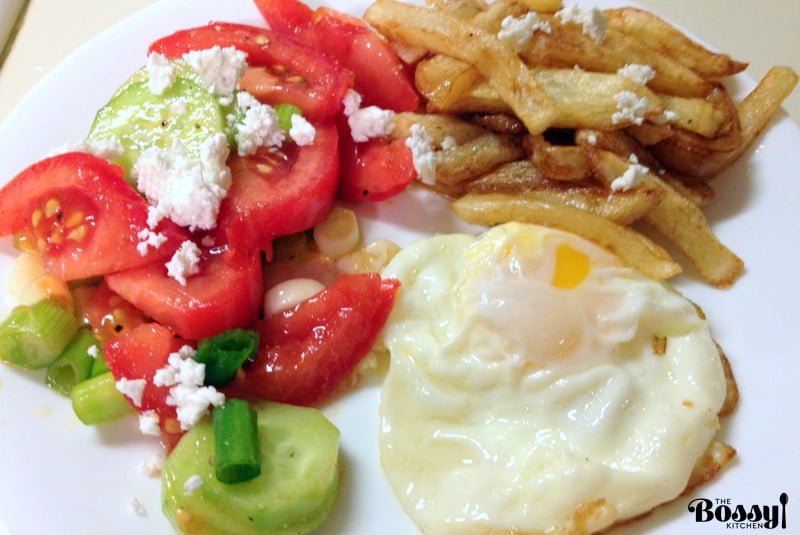 It is mandatory to serve it with some good, crusty bread, as you will HAVE to dip into the juices of the salad. Trust me, it is the best!
For the bread, you can try this homemade recipe, or you can get a French baguette. Use good, quality ingredients and your meal will be memorable. Enjoy!
If you make the recipe, share it with the hashtag #thebossykitchen on Instagram,

Facebook

, and Twitter so we can all see what you're cooking!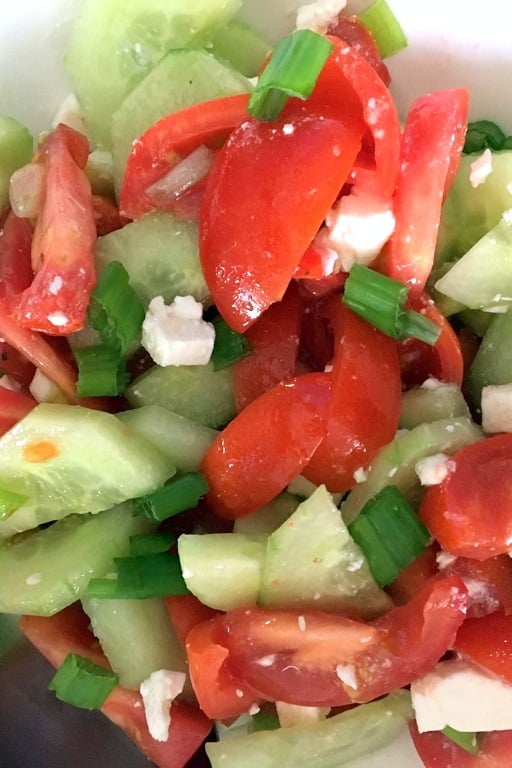 Enjoy!
Tomato Cucumbers Feta Salad Recipe
Author:
The Bossy Kitchen
Ingredients
2-3 tomatoes chopped
2-3 green onions chopped
1 medium cucumber peeled
salt and pepper to taste
1-2 tablespoons sunflower oil(olive oil works well too)
2 tablespoons crumbled feta cheese
1 French baguette for serving
Instructions
Clean and chop the vegetables.
Place them in a salad bowl.
Sprinkle salt and pepper to your taste and pour sunflower oil or olive oil over.
Stir to combine.
Serve with crumbled Feta cheese on top.
Dip crusty bread in the sauce! It is delicious!
Enjoy!