Master the art of making homemade French Fries, just like grandma did, before frozen potatoes and air fryers existed.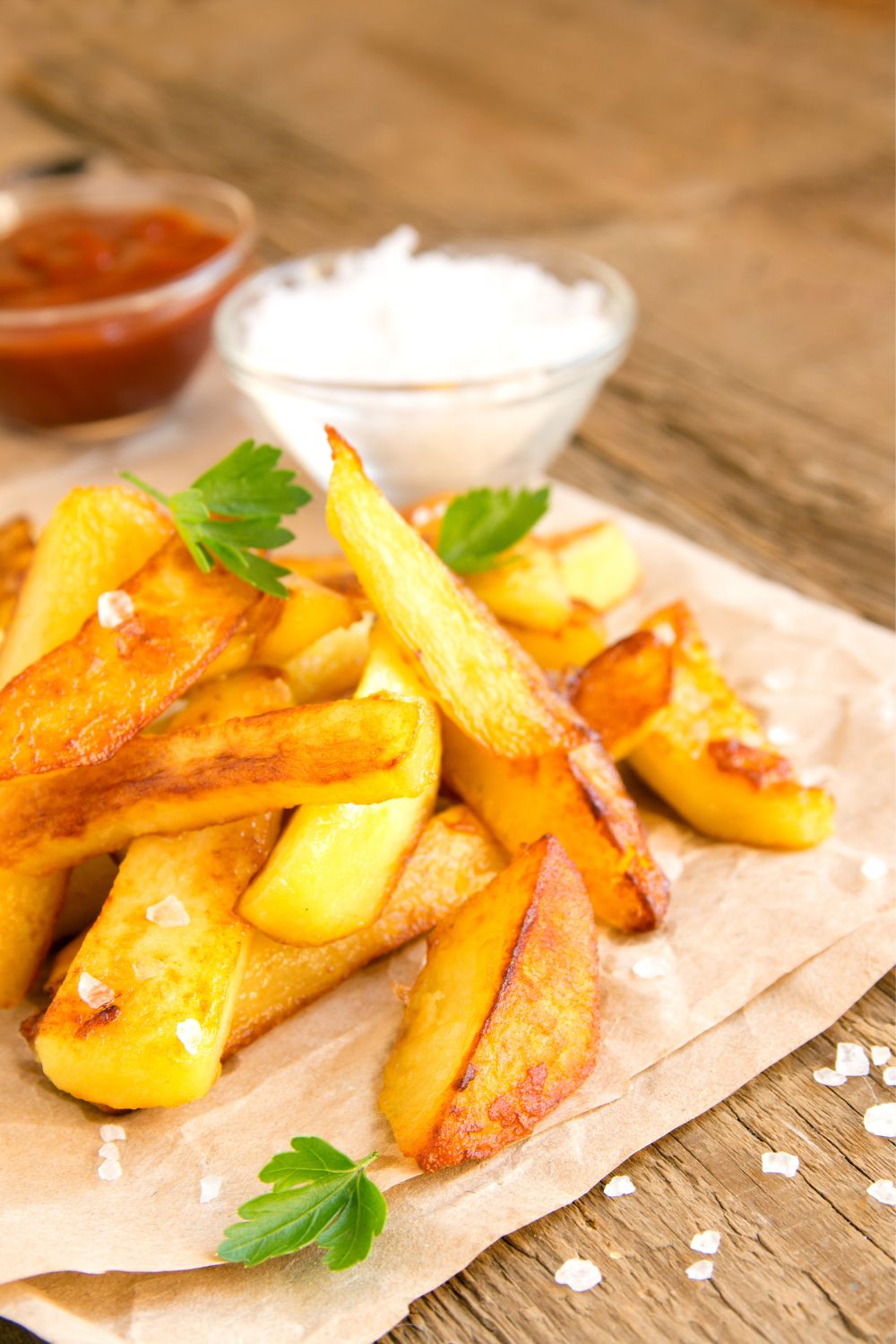 Jump to:
Making French Fries at home is easy!
So many people never had the chance yet to experience the simple joy of making fries from scratch, so let me share with you the art of crafting homemade French Fries, a recipe that carries nostalgia and cherished memories for me.
Back in the day, potatoes were a kitchen staple, allowing me to explore their endless possibilities. But making fries at home holds a special place in my heart.
Creating these fries is quick and gratifying, adding a soulful touch to any meal. They perfectly accompany a refreshing salad and juicy meats.
Unlike my husband, who had only tasted the store-bought, frozen kind, I've learned to appreciate the incomparable flavor of homemade fries. They just can't be beat. My husband, once a skeptic, now raves about their deliciousness to anyone who will listen.
My cherished memories take me back to the time spent with my beloved grandmother, who was a master at frying these divine fries.
They were a staple during our summer lunches, served alongside sunny-side-up eggs, a simple tomato salad, and a sprinkle of crumbled feta cheese. Each bite carried the warmth of family and love.
So, let's start!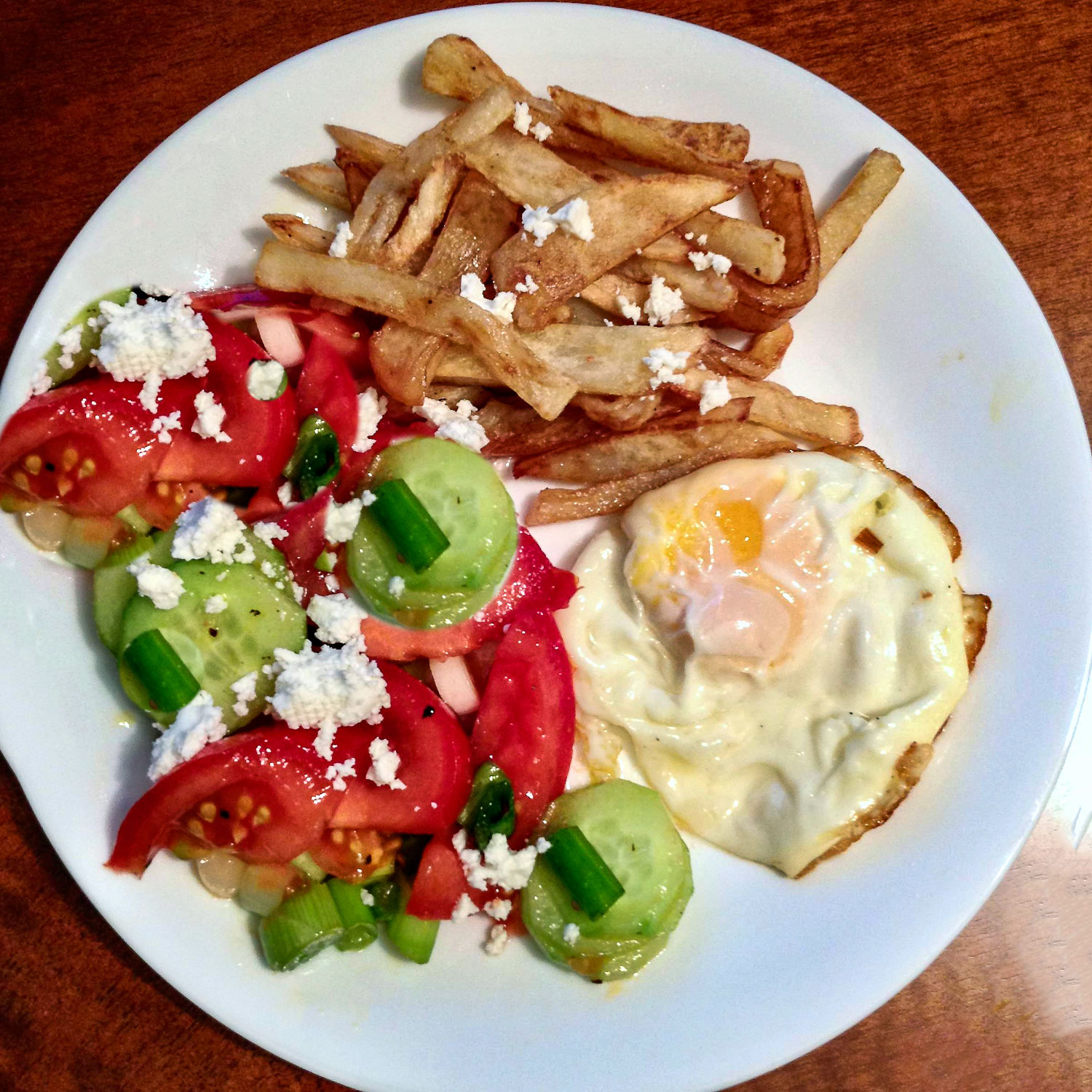 What are the best potatoes for frying?
When it comes to choosing the perfect potatoes for frying, look no further than the trusty Russet or Idaho varieties. These two potato champions are well known to be ideal for creating crispy French Fries.
The secret lies in their starchy nature, that ensures a texture that holds up well during the frying process, resulting in fries that are both tender and crispy.
On the other hand, it's best to steer clear of waxy potatoes when frying. These potatoes, such as red or new potatoes, possess a higher moisture content and a denser texture.
Unfortunately, these attributes make them less suited for frying as they tend to retain moisture and can result in limp or soggy fries.
What is the best oil for French fries?
Vegetable oil is a popular choice found in most pantries due to its versatility. With its neutral flavor profile, vegetable oil is suitable for a wide range of recipes, including French fries.
Peanut oil, on the other hand, is a preferred choice among professional cooks for its distinctive attributes.With a high smoke point, peanut oil can take high temperatures required for achieving the perfect crispy exterior of French fries.
However, it's important to consider potential allergens when using peanut oil, as it may not be suitable for those with allergies.
Canola oil, with its mild flavor and high smoke point, is also a reliable option. Sunflower oil, known for its light and clean taste, is also good. Safflower oil, with its high smoke point and neutral flavor, can also be used for frying French fries.
Even lard might be a good option, if you are brave enough to use it.
What pot or pan do I need for the homemade potatoes?
When it comes to selecting the appropriate pot or pan for making homemade potatoes, the size and quantity of potatoes will determine the best choice for your culinary adventure.
If you're working with just a few potatoes, a deep skillet should be enough. Personally, I find my cast iron skillet to be an excellent option, thanks to its ability to distribute heat evenly and retain it effectively.
However, a nonstick pan can also do the job well, ensuring that your potatoes don't stick and allowing for easy flipping and frying.
On the other hand, if you're planning to cook a larger batch of potatoes, a Dutch oven is worth considering.
The Dutch oven's generous size and sturdy construction make it ideal for accommodating larger quantities of potatoes while providing excellent heat retention.
The easiest way to cut potatoes for French Fries :
Step 1. Peel and wash the potatoes.
Count about four medium potatoes per person or two large ones. Peel and wash them well. I personally prefer organic potatoes, but use what you can afford or find.
Step 2. Cut the potatoes.

If you don't have a French Fry cutter (I do not own one), you can always do it by hand using a knife (affiliate links). Get a cutting board and slice the potatoes lengthwise.

Lay them flat and cut them into sticks. Place them in a bowl with water and allow them to sit for 25-30 minutes so they have time to release the starch.

Grab a clean towel, lay it on the table, then grab some potatoes from the water and dry them on the towel. As you deal with very hot oil, you do not want water dripping in your oil, so make sure you dry them well.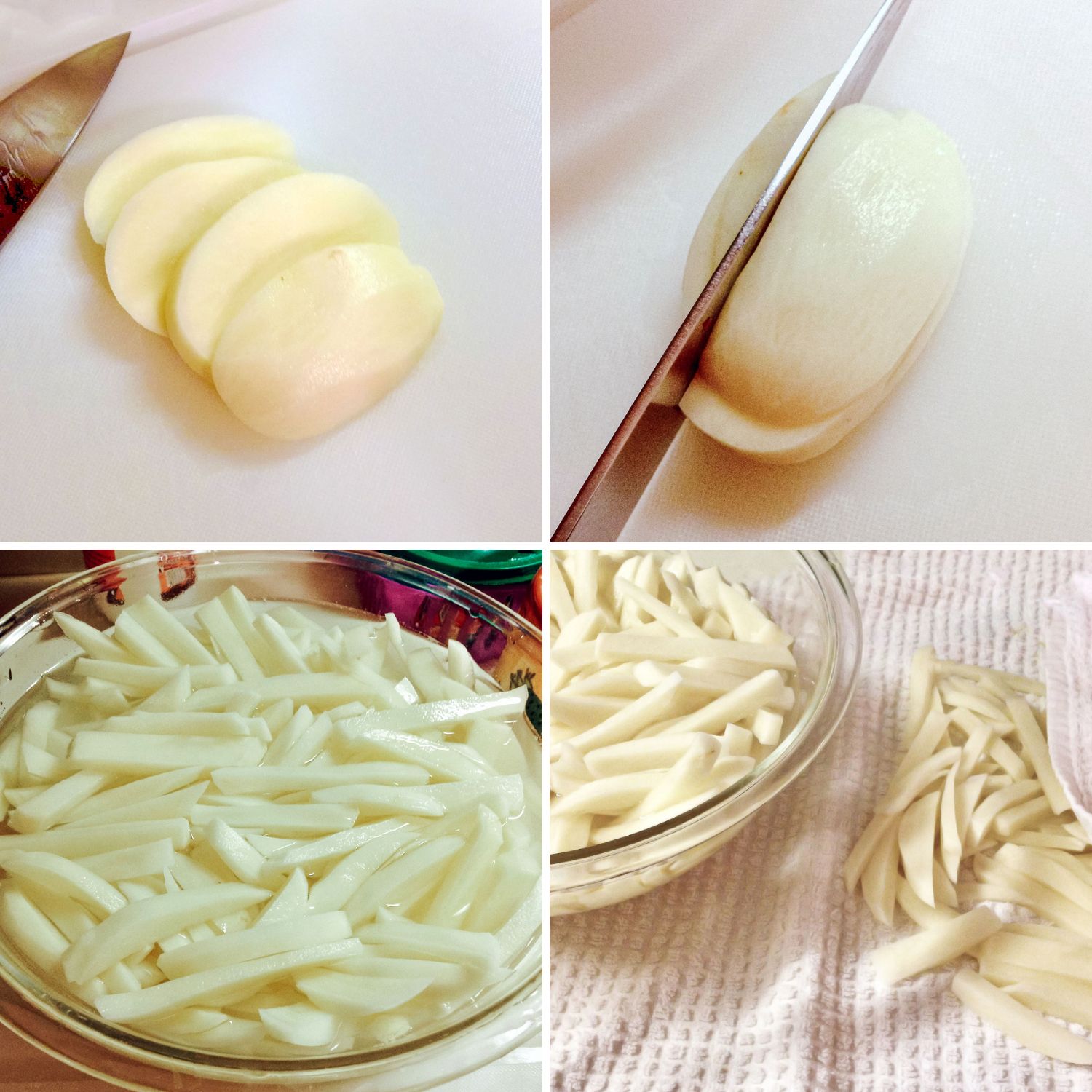 Expert tip: The trick for crispy French Fries is peeling and cutting them first, then keeping them in water until you are ready to fry them. The water will remove the starch from the potatoes, and you will end up with delicious crispy ones on the table.
Step 3. Prepare the oil for frying the potatoes.
Meanwhile, heat the oil. Make sure you put the pot with oil on the back burner if you have small children.
The oil must be hot, about 350 degrees, so please be very careful.
Step 4. Fry the potatoes.
Drop the potatoes slowly into the oil and let them fry for a few minutes until they become golden brown and crispy.
Do not crowd them in the pot.They need space to dance in the oil and become crispy.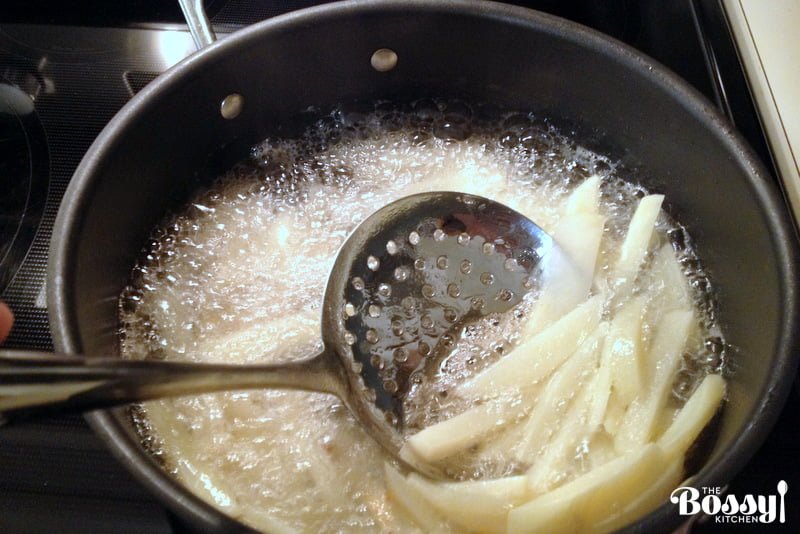 Getting too many potatoes in the pot will lower your oil temperature too much, and the potatoes will become soggy and soft. Not good!
Remove them with a slotted spoon (affiliate link) and place them on a paper towel to drain.
Keep frying them in batches until you finish them. Sprinkle every batch with salt as soon as they come out of the pot.
How to serve them?
Salt- I like them with salt on top and next to any grilled meats.
Parmesan cheese- Freshly grated Parmesan Cheese will take the potatoes to the next level.
Feta Cheese- While growing up, this is how my mother would serve the French Fries once in a while. Shredded or crumbled Feta, especially sheep or goat Feta cheese on top, was a perfect combination.
Garlic Butter & Parsley- Mash 1-2 garlic cloves, add a little bit of salt to your taste, chop a handful of parsley and add it to the garlic. Melt 1-2 tablespoons of butter and mix it with garlic and parsley. Pour it over the potatoes.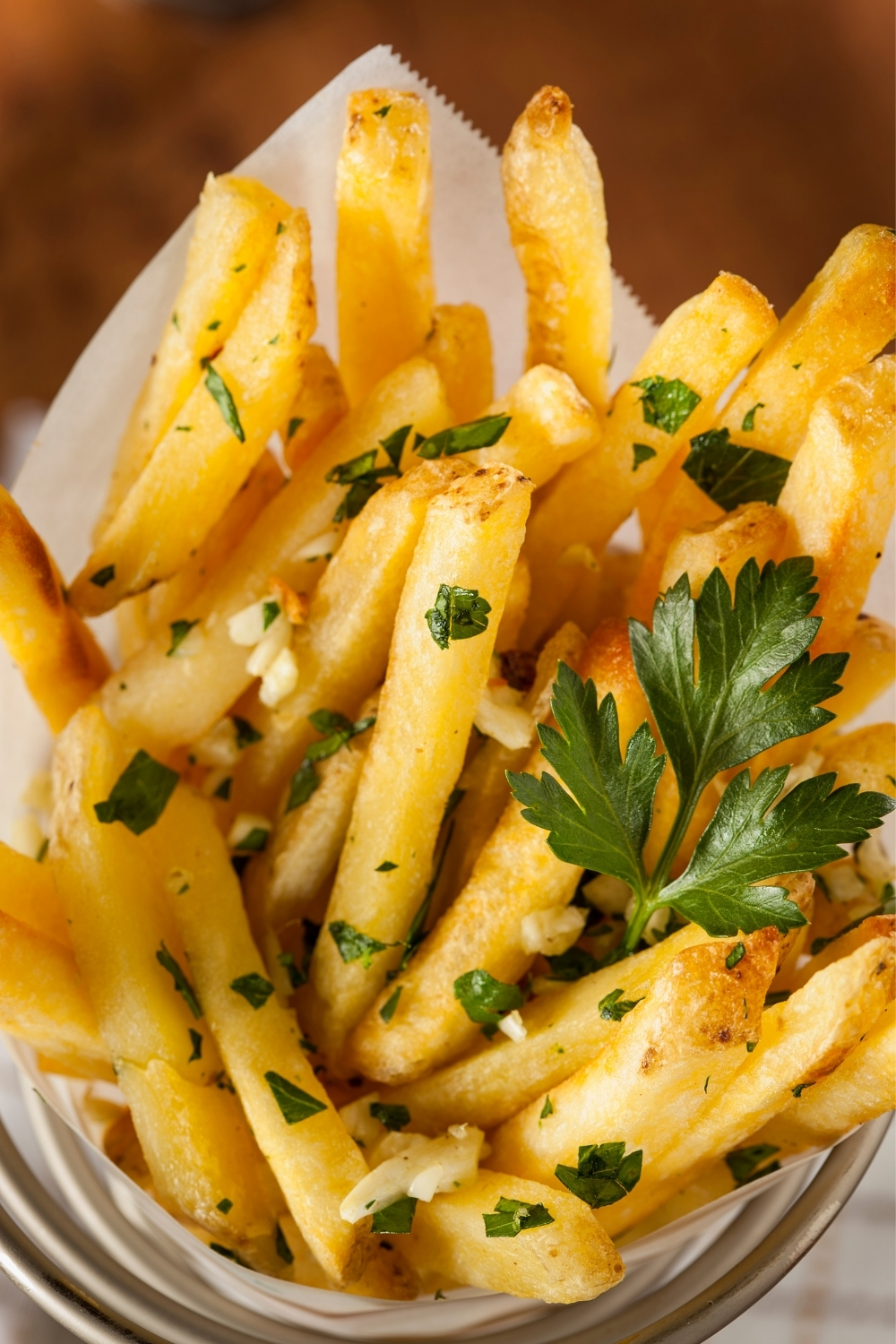 Spices- Add garlic powder, paprika, onion powder, dried dill, and even chives or chopped green onions.
How to store these homemade French fries
In the refrigerator: French fries are better consumed as soon as possible, but leftovers can be refrigerated in an airtight container for up to three days. To reheat, place them on a little tray in the oven at 350F for no more than 10 minutes. I don't recommend the microwave, as they will become soggy and sad.
In the freezer: French fries need to be frozen individually first. This is called flash freezing. Spread them on a baking tray and freeze them for a few hours, then place them in a Ziploc bag and freeze them for up to three months. When ready to consume them, just preheat the oven to 350F and warm them up for no more than 10-15 minutes.
More recipes to love:
Fried Peppers with Tomatoes Eggs and Cheese
No Breaded Fried Chicken Thighs - Grandma's Style
📖 Recipe
Easy Homemade French Fries
Learn how to make these easy potato French Fries with step by step instructions.
Print
Pin
Rate
Ingredients
4

medium Russet or Idaho potatoes per person

or two large ones

vegetable oil for frying

Salt to taste
Instructions
Count about four medium potatoes per person. Peel and wash them well.

Slice the potatoes lengthwise into four or five vertical pieces, then cut each piece into sticks.

Place the potatoes in a large bowl and cover them with cold water.

Keep the potatoes in water for 25-30 minutes to release the starch.

When ready to fry the potatoes, drain off the water and lay them on two baking sheets lined with clean towels or paper towels.

Meanwhile, heat a few inches of oil in a heavy pot to 350F. Use a thermometer.

Fry the potatoes in few bathches and try to not overcrowd the potatoes in the pot.

Remove from the oil and drain on paper towels. Sprinkle every batch with salt as soon as they come out of the pot.
Notes
Getting too many potatoes in the pot will lower the oil temperature too much and the potatoes will come out soggy and soft.
Nutrition
Serving:
1
g
|
Calories:
673
kcal
|
Carbohydrates:
154
g
|
Protein:
18
g
|
Fat:
1
g
|
Saturated Fat:
0.2
g
|
Polyunsaturated Fat:
0.4
g
|
Monounsaturated Fat:
0.02
g
|
Sodium:
43
mg
|
Potassium:
3553
mg
|
Fiber:
11
g
|
Sugar:
5
g
|
Vitamin A:
9
IU
|
Vitamin C:
49
mg
|
Calcium:
111
mg
|
Iron:
7
mg