Note: "We are a participant in the Amazon Services LLC Associates Program, an affiliate advertising program designed to provide a means for us to earn fees by linking to Amazon.com and affiliated sites."
Pan Fried Fish- Grandma Style is a delicious way to eat fish, like the grandma used to make it. No preservatives, or other weird ingredients. Delicious!
Grandma Elisabeta, my mother's mom, was a great cook. She loved bringing us together around her dining table every Sunday and cook delicious meals for all of us . Her pies were fabulous.
Her pilaf with chicken was to die for and her sour soups, a very traditional Romanian way to cook soups, were amazing.  I miss her sometimes. I wish she would be still around to show me her secrets in the kitchen.
This recipe of pan fried fish is, again, a very easy and delicious one. Grandma used to make fried fish very often, especially in the summer, in her little back yard summer kitchen. Nothing fancy in the kitchen, believe me…
I heard many people saying  that if they would have a bigger kitchen with lots of modern utensils and big ovens, they would be able to make better meals. My grandma had a little gas stove with gas tanks, and a little table, few pots and pans and lots of talent to make a great meal out of simple ingredients.
In my recipe, I used cod. Cod, at least in my humble opinion, has a good texture and doesn't fall apart like tilapia, for example. Any type of fish would work though. Besides the fish, you will need some flour and vegetable oil for frying. That's it!
HOW TO MAKE PAN FRIED FISH- GRANDMA STYLE:
Prepare a plate or a bowl with flour. Season the flour with salt and pepper. Take pieces of fish and toss them in flour. Make sure the fish is covered entirely.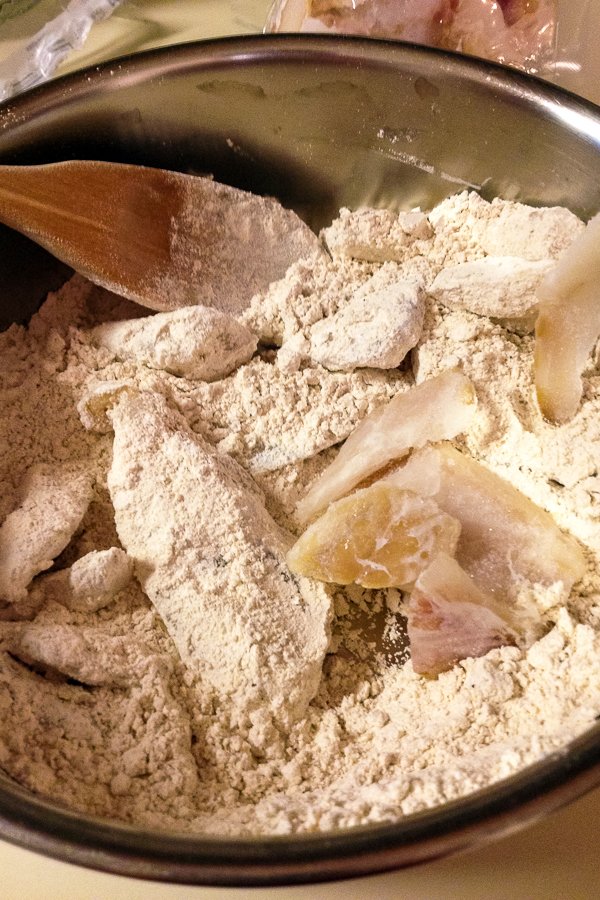 Place a large skillet on the stove, on medium heat, and pour vegetable oil in it, approximately 2 inches deep.
Grandma's tip for checking if the oil is hot enough for frying:
If you insert a wooden spoon into the oil, the oil will bubble around the stick when it's ready for frying. If you have a thermometer, the temperature should be between 300-325F, and you should aim to keep it that way.
When the oil is hot, gently place coated fish in the skillet and fry for about 5 minutes on each side until golden brown.
Don't crowd the pieces of fish:
Frying in large batches will cause the temperature of the oil to drop too low, resulting in a less crispy (and less delicious) finished product. Between batches, keep your oil clean by scooping out any pieces of fish left behind.
Drain the fried fish on a paper towel-lined plate; the paper towels will absorb more oil than draining the fish on a wire rack. And be sure to season your food immediately — after all, what is fried fish without salt?
Serve it with lemon wedges.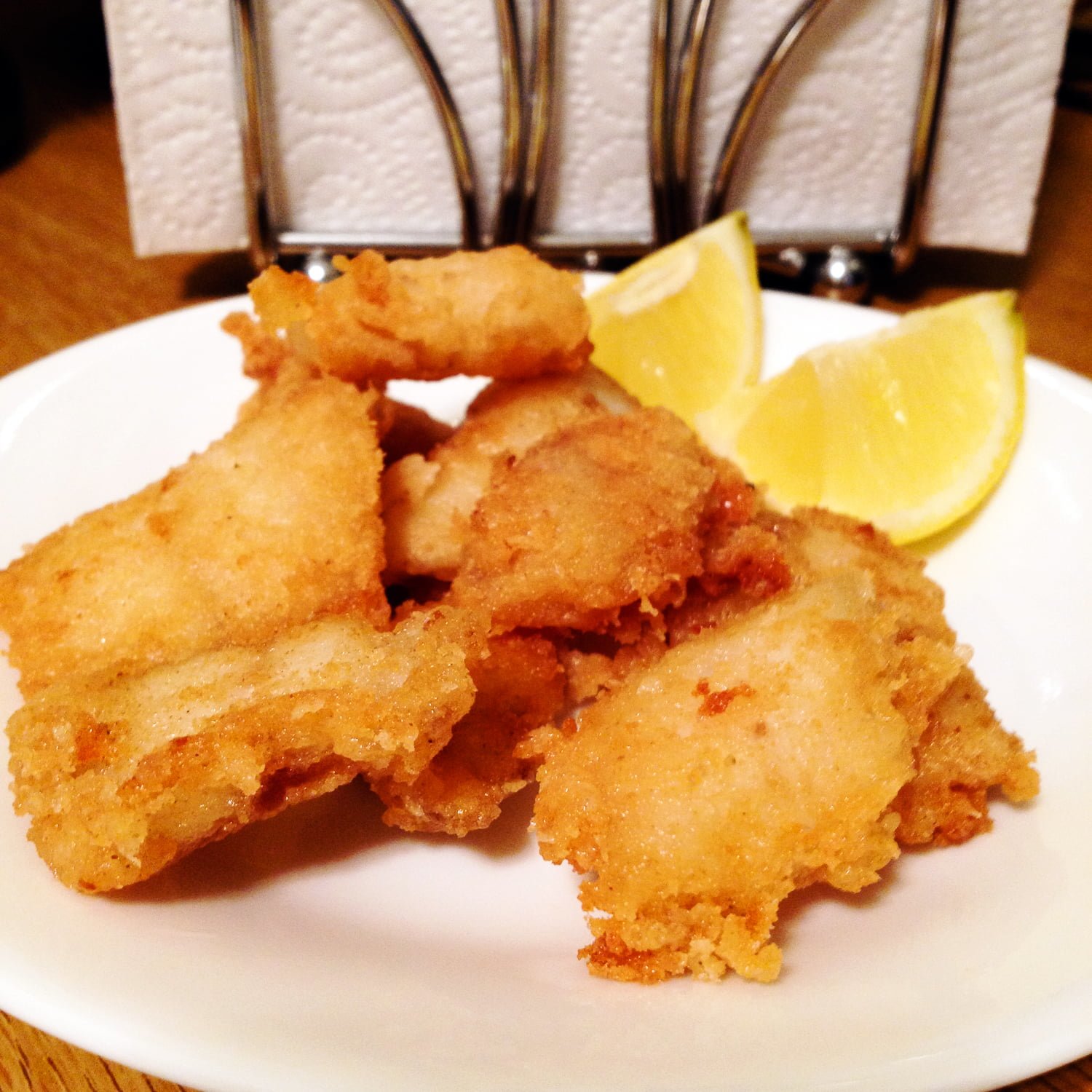 Voila! You just made fried fish, my grandma's style!!!! I hope you enjoy it the same way I enjoyed it while growing up!
Pan Fried Fish- Grandma Style
Author:
The Bossy Kitchen
Ingredients
1-2 pounds cod
oil for frying
½ cup all purpose flour
salt and pepper to taste
Instructions
Grab a bowl and pour the all purpose flour in it.
Pour approximately 2 inches of vegetable oil into a large skillet and set the skillet on the stove on medium high heat.
Toss each piece of fish in the flour.
Make sure the oil is hot.
Gently set coated fish in your skillet and fry it for about 5 minutes on each side until golden brown.
When the fish is golden brown on each side remove and drain on paper towels, then season with salt and pepper.