Pan Fried Fish- Grandma Style is a delicious way to eat fish. The fish is covered with flour, then fried in a pan. Delicious!
This recipe is part of my small collection of fish recipes and if you enjoy this recipe, you might also enjoy my other recipes of Spanish Cod In Tomato Sauce, Easy Yellow Rice With Seafood, or this Sizzling Chili Shrimp-Gambas al Pil Pil. All these recipes are perfect for fish and seafood lovers.
Jump to:
Pan Fried Fish- Grandma Style
Grandma Elisabeta, my mother's mom, was a great cook. She loved bringing us together around her dining table every Sunday and cook delicious meals for all of us . Her pies were fabulous.
Her pilaf with chicken was to die for and her sour soups, a very traditional Romanian way to cook soups, were amazing.
I miss her sometimes. I wish she would still be around to show me her secrets in the kitchen.
This recipe of pan fried fish is a very easy and delicious way to eat fish. Grandma used to make fried fish very often, especially in the summer, in her little back yard summer kitchen.
She fried all sorts of fish, from very small to big ones .
What kind of fish can I fry in the pan
Any type of fish would work for this recipe. While I like to fry fish with the skin on, fish without skin works well too.
Cod is my preference because it is a sturdy fish that keeps its shape during the cooking process. Bass, haddock, snapper, carp, grouper or haddock are also good options.
Besides fish, you will need some flour and vegetable oil for frying.
Keep in mind that this recipe is not meant to be a fancy one. It is a humble recipe that is great for any day of the week. Fish cooks fast, so it could be an easy dinner.
Why should you try this recipe
Simplicity: This method is straightforward and requires minimal ingredients, making it perfect for beginners or anyone looking for a quick and easy meal.
Versatility: You can use virtually any type of fish, allowing you to adapt the recipe based on what's available or what you prefer.
Flavor and Texture: Frying the fish creates a crispy, golden exterior while keeping the inside tender and juicy. The contrast in textures and the pure, unmasked flavor of the fish make this method a winner.
How to make pan fried fish- grandma style
Step 1.
Pat dry the fish- Before you start frying the fish, make sure it is completely dry. Excess moisture lowers the temperature of the oil. Also, when you put water in hot oil, it creates splashes and you might easily get burns. Oil burns are nasty, so be careful.
Step 2.
Flour- Prepare a plate or a bowl with flour. Season the flour with salt and pepper. Be generous. Also, do not use any herbs, they burn in the oil and change the taste of the fish.
Some people might prefer a mixture of flour and corn meal. My grandmother used that one too, once in a while.
I guess it is just a matter of preference and any method is fine. The combination of corn meal and flour will make the crust crunchier, the flour will make it smoother.
Both are delicious.
Step 3.
Take pieces of fish and toss them in flour. Make sure the fish is covered entirely. Shake off excess flour.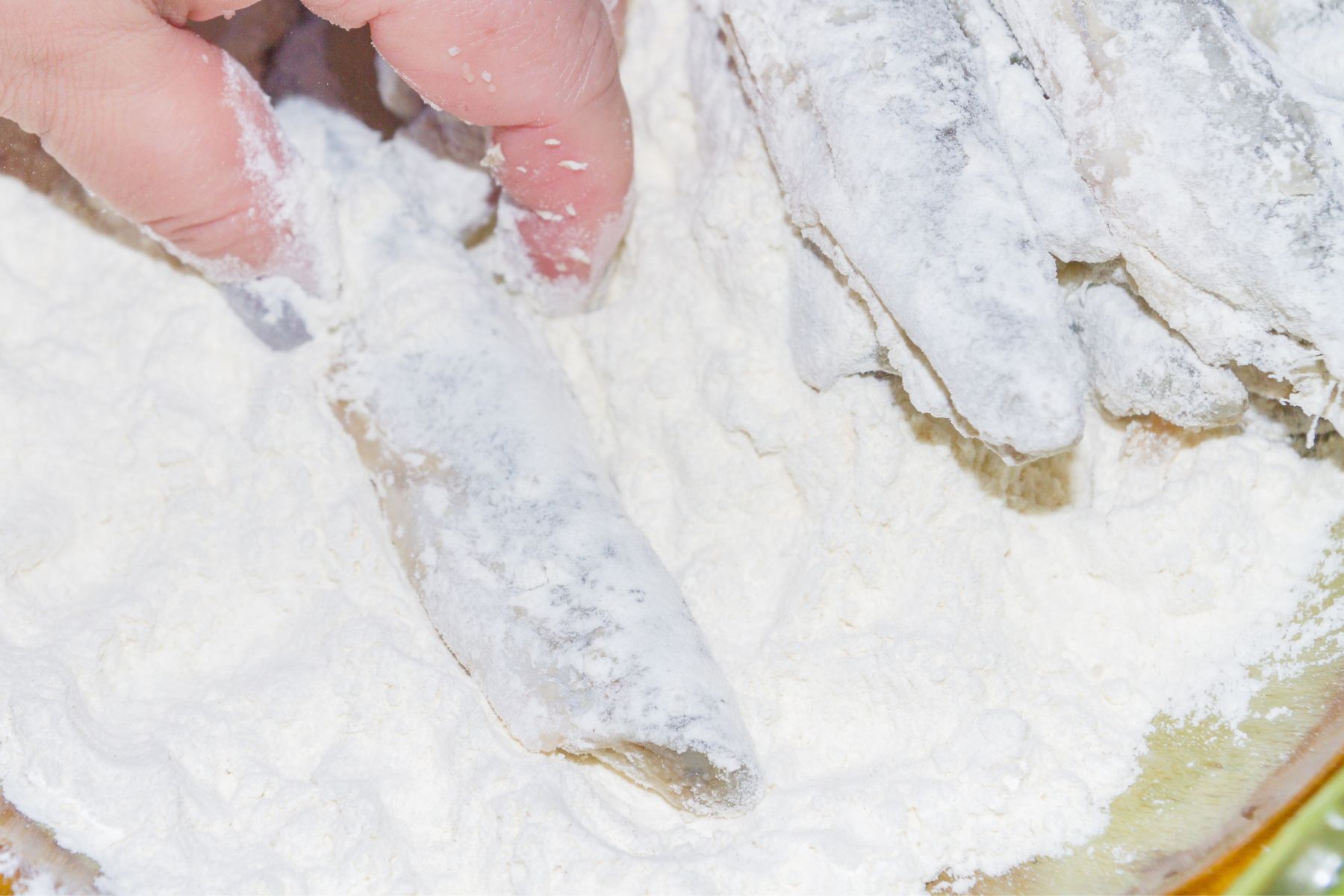 Step 4.
Place a large skillet on the stove, on medium heat, and pour vegetable oil in it, approximately 2 inches deep. Do not place the fish in the oil, unless the oil is very hot. The fish should sizzle when touches the oil.
Grandma's tip for checking if the oil is hot enough for frying:
If you insert a wooden spoon into the oil, the oil will bubble around the stick when it's ready for frying. If you have a thermometer, the temperature should be between 300-325F, and you should aim to keep it that way.
Step 5.
When the oil is hot, gently place coated fish in the skillet and fry for about 5 minutes on each side until golden brown.
Expert tip: Don't crowd the pieces of fish.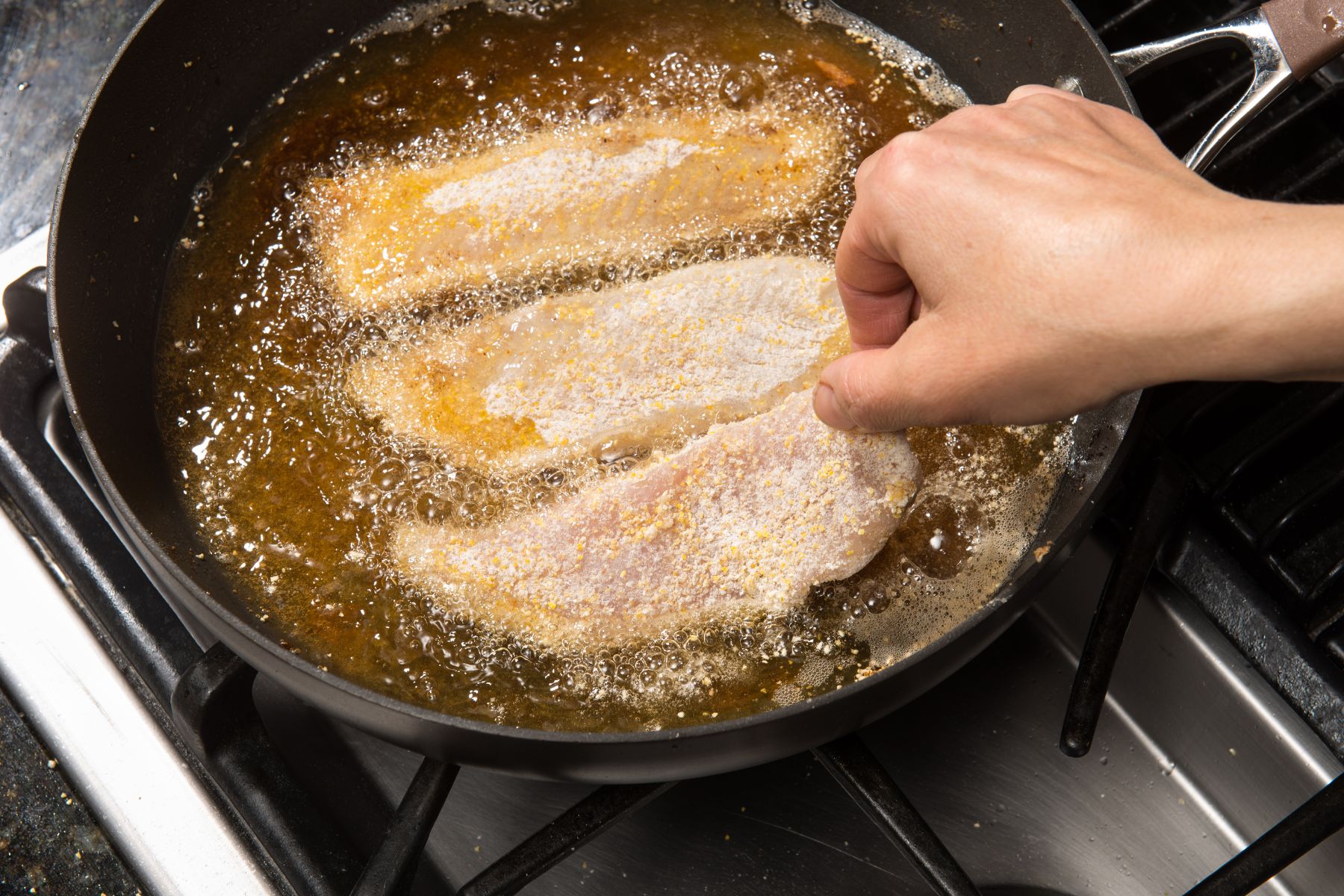 Frying in large batches will cause the temperature of the oil to drop too low, resulting in a less crispy (and less delicious) finished product.
Between batches, keep your oil clean by scooping out any pieces of fish left behind.
Step 6.
Drain the fried fish on a paper towel-lined plate; the paper towels will absorb more oil than draining the fish on a wire rack.
Serve it with lemon wedges. It goes well with French Fries (made from scratch).
In this image, you can see different types of fish fried in the same way, just to get an idea that any fish can be fried this way.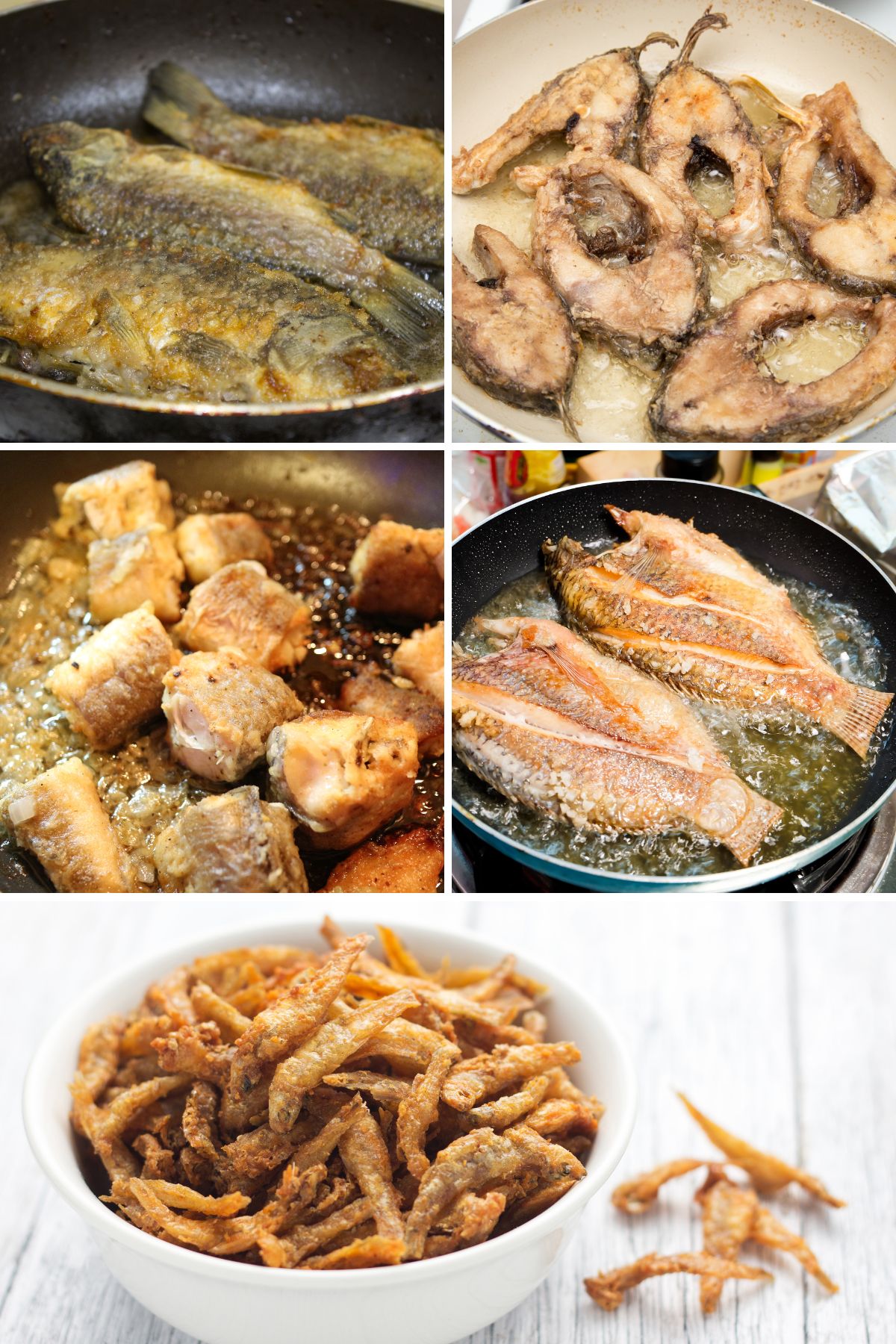 Voila! You just made fried fish, my grandma's style!!!!
Storage
Store any leftover pan-fried fish in an airtight container in the refrigerator.
It should be eaten within 2-3 days. To reheat, warm it in the oven at 350°F (175°C) for about 10-15 minutes, or until heated through. This method helps maintain the fish's crispy texture better than microwaving.
Recipe Faqs
Can I use a different type of flour?
Yes, you can substitute all-purpose flour with other types like whole wheat or gluten-free flour.
Can I use this recipe with frozen fish?
Technically, you can use frozen fish. Just make sure to thoroughly thaw and pat it dry before coating and frying to prevent oil splatters and ensure even cooking. It will probably take longer to fry, so I would go with a medium low heat, so it gets cooked inside as well.
What other seasonings can I add to the flour?
Feel free to experiment with other seasonings like paprika, or garlic powder to add more flavor to your fish. Mix them with your flour.
Interested in more recipes with fish?
📖 Recipe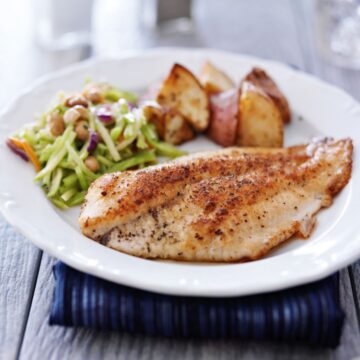 Pan Fried Fish- Grandma Style
Pan Fried Fish- Grandma Style is a delicious way to eat fish. The fish is covered with flour, then fried in a pan. Delicious!
Print
Pin
Rate
Ingredients
2

pounds

cod or any other fish you like

enough oil for frying

½

cup

all purpose flour

salt and pepper to taste
Instructions
Pat dry the fish with paper towels, especially if you use fish that was frozen.

Place the flour on a large plate and add salt and pepper to your taste. Mix well.

Pour approximately 2 inches of vegetable oil into a large skillet and set the skillet on the stove on medium high heat.

Cover each piece of fish with the flour and shake well to remove excess.

Make sure the oil is hot. The fish should sizzle when touches the oil.

Gently set coated fish in your skillet and fry it for about 5 minutes on each side until golden brown. Fish cooks quickly, so keep a close eye on it. The fish is done when it's opaque and flakes easily with a fork.

When the fish is done remove and drain on paper towels.

Serve with lemon wedges.
Notes
What goes well with fish: French Fries, mashed potatoes or roasted ones, asparagus, green beans, cooked peas.
Tips for pan frying fish:
Choose the Right Pan: A heavy-bottomed pan, like a cast-iron skillet, is ideal for frying fish. It retains heat well and provides even cooking.
Don't Overcrowd the Pan: Fry the fish in batches if necessary. Overcrowding can lower the temperature of the oil, leading to uneven cooking and a less crispy finish.
Turn Only Once: To achieve a nice, crispy crust, let the fish cook undisturbed until it's time to flip. Ideally, you should only flip the fish once during cooking.
Use the Right Tools: Use a long spatula to flip the fish. It's also a good idea to have a splatter screen to protect yourself from hot oil.
Nutrition
Serving:
1
g
|
Calories:
243
kcal
|
Carbohydrates:
12
g
|
Protein:
42
g
|
Fat:
2
g
|
Saturated Fat:
0.3
g
|
Polyunsaturated Fat:
1
g
|
Monounsaturated Fat:
0.2
g
|
Cholesterol:
98
mg
|
Sodium:
123
mg
|
Potassium:
953
mg
|
Fiber:
0.4
g
|
Sugar:
0.04
g
|
Vitamin A:
91
IU
|
Vitamin C:
2
mg
|
Calcium:
39
mg
|
Iron:
2
mg