Rice pilaf with pork and vegetables is a versatile dish that can be made using your favorite vegetables. My version of rice pilaf can be cooked on the stove or baked in the oven. The meat used in the pilaf could also be chicken or beef.
Rice pilaf is one of these dishes that my grandmother and my mom used to make very often when I was growing up.
It was made for a Sunday meal when the family would get together, and it was definitely a recipe to feed a crowd.
My version of rice pilaf this time has pork meat and a few vegetables, like some onion, garlic, frozen peas, peppers, mushrooms, sometimes carrots, corn, or even tomatoes.
The combination of vegetables and meat gives the rice a beautiful flavor. And the smell in the kitchen….oh my…
It is an awesome recipe for leftovers if you like them. It makes a great lunch or dinner the next day. Usually, kids like it too because it is simple and delicious.
Rice pilaf can also be frozen in containers or plastic bags. When you warm them up, make sure you add a little bit of water or vegetable/chicken broth to add some moisture, about 1-2 tablespoons of liquid.
I used Basmati rice in the recipe because I could not find any short-grain rice, which makes this Romanian pilaf sticky, creamy, and full of flavor.
The Basmati rice is good, but I had to cook it a little bit longer to achieve the creamy texture.
Remember that pilaf is soft and creamy. It is very different from other ways of cooking rice. It resembles risotto or rice pudding.
The Romanian pilaf could look like it is overcooked, but this is how it should be.
There are a million ways to cook pilaf and the recipes out there vary from one cuisine to another, from one country to another or even from one region to another.
You might find Romanian recipes that might be slightly different. This is the recipe that I personally grew up with, a recipe that lasted generations in the family and it is still appreciated and cherished today.
How To Make Rice Pilaf With Pork And Vegetables:
I cubed the meat and sautéed it on the stove, in a pan, with a little bit of oil. I chopped the vegetables: peppers, onions, garlic, mushrooms.
I added them to the pan where the meat was cooked. This is where you can add all sorts of vegetables you like.
Carrots are good, but you can add also frozen corn, tomatoes, etc.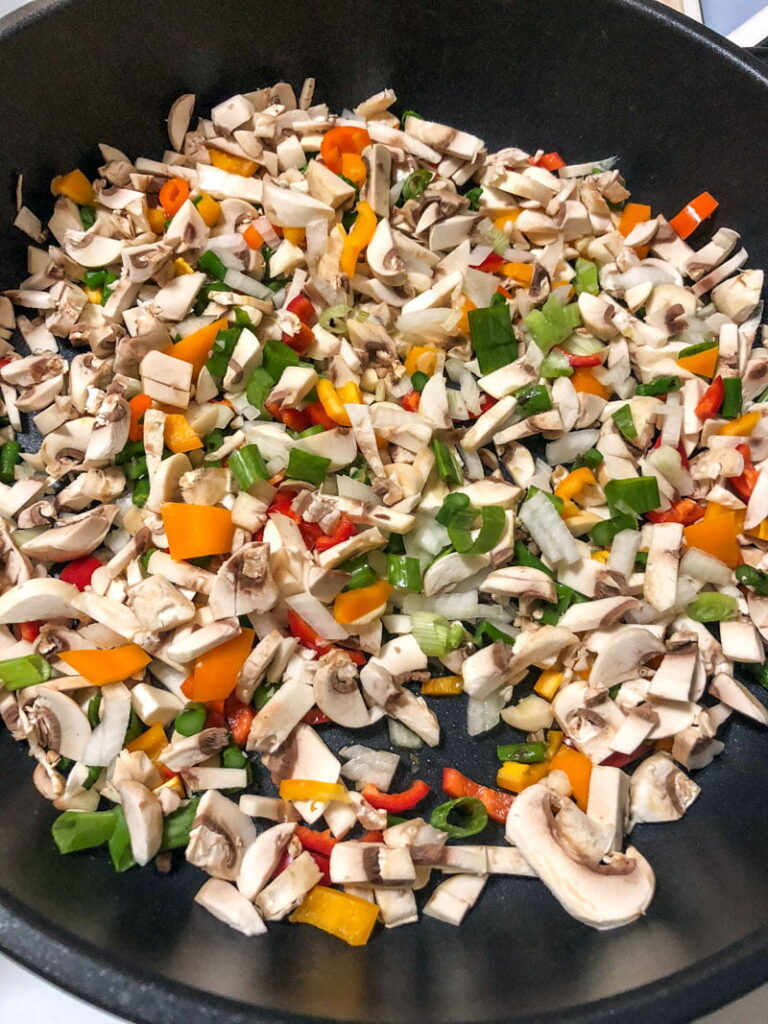 I added the frozen peas.
When everything was translucent and semi-cooked, I added the meat and the rice and transferred everything to a baking pan. I used this clay baking pan with a lid.
A version of this pan you can find here : Black Casserole Clay Pot, or you can use a cast iron Dutch oven. In case you do not have any of these, you can use a baking pan and cover it with aluminum foil.
I added water to cover the rest of the ingredients, like the spices and herbs.
I covered it and placed it in the oven at 350F for about an hour.
Tip: Check the rice half way to see if is cooked. If the liquid is absorbed, uncover the pot and let it bake for another 10 minutes to get a light crust on top.
Serve warm. It goes really well with pickled vegetables or a simple salad.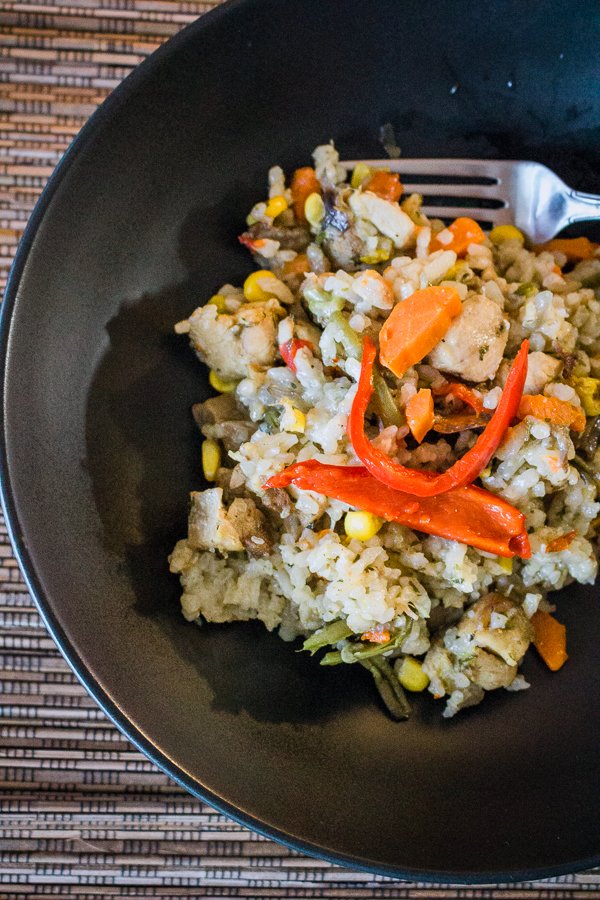 Also, feel free to use the vegetables you have available. I usually make this pilaf with the options I have in the fridge, or whatever is in season and sounds like a good plan for that occasion.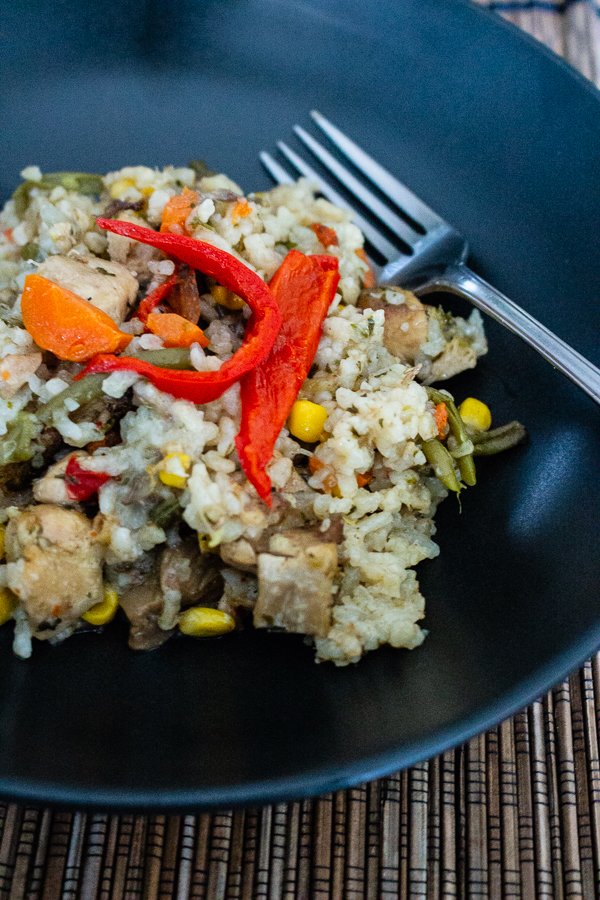 Enjoy!
Yield: 6 servings
Rice Pilaf with Pork and Vegetables
Rice pilaf with pork and vegetables is a versatile dish that can be made with chicken, pork or beef and any of your favorite vegetables.
Cook Time
1 hour
20 minutes
Total Time
1 hour
35 minutes
Ingredients
1 cup Jasmine or Basmati rice
3 cups water or chicken stock
1 medium onion chopped
3-4 cloves garlic finely chopped
8 oz chopped mushrooms
8 oz colored bell peppers(green yellow, red etc)
8 oz frozen peas
1-2 tablespoons vegetable oil
16 ounces pork meat
salt and pepper to taste
½ teaspoon of coriander powder
½ teaspoon of dried parsley
½ teaspoon of dried dill
½ teaspoon of nutmeg
Optional: frozen corn, carrots, tomatoes etc.
Instructions
Preheat oven to 350F.
In a frying pan, on the stove, place the meat and saute it on both sides.
While the meat is cooking, chop all your vegetables.
Remove the meat from the pan and add the vegetables. Saute them for few minutes until translucent.
Add the peas and stir. Let them cook for 4-5 minutes.
Cut the meat in small bites.
Remove the pan from the heat and add the meat to the vegetables.
Add the uncooked rice to the pan and mix it with the meat and vegetables.
Place everything in a clay baking pot with a lid or a cast iron Dutch oven.
Pour 2 cups water or more to cover all the ingredients.
Add salt, pepper and the rest of the spices and herbs. Stir to mix.
Cover the pot and place it inside the oven at 350F for about an hour.
When the liquid is absorbed completely and the rice is cooked, remove the lid and allow the pilaf bake for 8-10 minutes to get a thin crust on top.
Serve warm with pickled vegetables or a salad.
Notes
Other vegetable options to add to the rice: corn, tomatoes, asparagus etc.
Recommended Products
As an Amazon Associate and member of other affiliate programs, I earn from qualifying purchases.
Nutrition Information:
Yield:
6
Serving Size:
1
Amount Per Serving:
Calories:

364
Total Fat:

16g
Saturated Fat:

4g
Trans Fat:

0g
Unsaturated Fat:

10g
Cholesterol:

68mg
Sodium:

191mg
Carbohydrates:

29g
Fiber:

5g
Sugar:

7g
Protein:

26g
Note: "We are a participant in the Amazon Services LLC Associates Program, an affiliate advertising program designed to provide a means for us to earn fees by linking to Amazon.com and affiliated sites."