This Cheese And Bacon Potato Dish is an American version of the French Tartiflette. If you never tried a Tartiflette, you don't know what you missed. This recipe is a comforting potato, bacon, onions, and cheese dish, where the cheese is the star.
French Tartiflette- The American Way
What is a Tartiflette?
A tartiflette is a comforting French dish that originated in the Southern region of France, Haute-Savoie. This French dish, a glorious recipe made with potatoes, bacon (lardon), onions, and a type of cheese named Reblochon, was born in the 1980s to boost Reblochon cheese production.
The boosting strategy worked really well, as potatoes and cheese are perfect together, and this dish ended up being a tremendous success.
To be clear here, a tartiflette is not a tart. The recipe doesn't call for dough if you look at the ingredients. It is a baked potato dish that is also very creamy and delicious.
If you have never heard of Tartiflette, you are not alone. Americans don't know much about this dish because the cheese used in the recipe is unavailable in the U.S.
However, other types of cheese can be used, so thank God for that, as we can still enjoy it.
It is a relatively easy recipe to put together but requires some preparation. The most tedious job is cleaning the potatoes. I know, right?
Cheese is the main ingredient:
Yes, you heard that right. In this dish, cheese is the star of the show. The original recipe requires Reblochon cheese, a mild, soft cheese made from cow milk.
F.D.A. banned this cheese back in 2004 because it is a raw cheese that is not aged enough to meet American standards. (sigh)
Of course, we have our cheesy potatoes in the U.S. that everyone loves, scalloped potatoes, and other potato dishes that require some cheese. Still, in my humble opinion, there is nothing to resemble a tartiflette.
Because Reblochon is not available in the U.S., I recommend a slightly aged Brie with the same texture and consistency as the Reblochon. The idea is that you need a soft, melty cheese for this dish.
Whatever you choose, keep in mind that the taste will be slightly different, based on the cheese you used.
I cubed the cheese in this dish and mixed it with the rest of the ingredients. The original recipe says to place the piece of cheese on top of the potatoes.
While it looks more spectacular baked that way, it is your choice here. I am not going to micromanage you on this one.
Potatoes:
What type of potato is used in this recipe? Well, I would say, use a potato that is not starchy, as it needs to be boiled first, then baked.
If it is too starchy, by the time you are done with the recipe, you will have mashed potatoes instead.
Waxy potatoes are the best for this recipe, aka red skin potatoes. (Read here about different types of potatoes and more recipes)
Also, the original recipe calls for unpeeled potatoes.
I always buy organic ones because I like to eat the skin of a potato, which is quite nutritious.
There are 35 different types of pesticides and fungicides that are used in treating conventional potatoes. Therefore, stick with the organic ones, if you can.
Parboil the potatoes rather than boil them through. Parboiling means that you cook the potatoes in water and salt, just enough to soften them, then remove them from the water and use them in the recipe.
Slicing them in thin rounds before baking is my favorite way to cut the potatoes for this particular recipe.
Lardon: The recipe calls for lardon, but that might be difficult to find in the U.S., so you can go with bacon or pancetta.
Onions and Garlic: I sliced the onions thinly, or Julienne, the proper term for this technique. Also, I cooked the onion with garlic and bacon together.
White dry wine: Use your favorite white wine that you would also drink. Remember, you cannot make a good-tasting dish using bad-tasting ingredients.
Cream: The original recipe calls for creme fraiche, but I have a hard time finding that one. Some recipes use heavy cream. Some use sour cream.
I would say that sour cream has more or less the same consistency as the creme fraiche, so I prefer it. It is also easier to find in the stores.
A word of advice: 🙂
First of all, this dish is NOT for the faint of heart. Make this dish when it is cold outside, and you come back inside the house after shoveling snow for a few hours, so you have time to build an appetite.
It has a gazillion calories, but it is so worth it! You know that you will overeat. It is a real danger for potato and cheese lovers. :- )
This dish is great for serving multiple guests and great for making it in advance, as it stays well in the fridge for a couple of days.
I would say that it is also suitable for the holidays. Thanksgiving, Christmas, Easter, especially if you live in a colder climate where Spring comes later.
Side dish recipes:
ROASTED POTATOES WITH GREEN GARLIC AND DILL
SAVORY SWEET POTATO CASSEROLE- DELICIOUS THANKSGIVING SIDE DISH
VEGETARIAN WILD RICE AND MUSHROOM STUFFING
We still cook casseroles and comfort food even in May here in Minnesota! Enjoy!
Come visit my Amazon store, where you will find products that I use in my kitchen every single day!
Yield: 6 servings
French Tartiflette- The American Way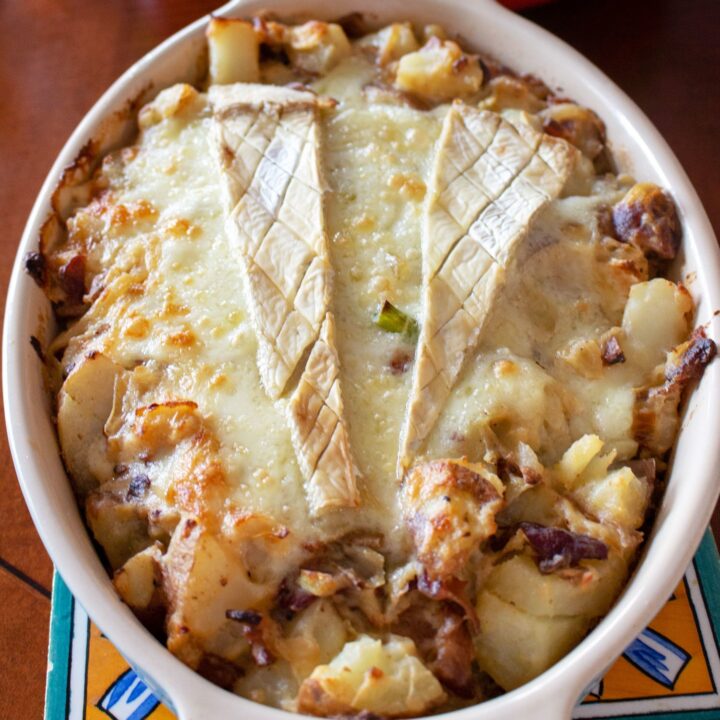 Cheese and bacon potato dish- an American version of the French Tartiflette- a delicious recipe that is perfect for a party. Comforting and hearty for the cold season.
Ingredients
2 pounds/1 kg waxy potatoes, like red potatoes scrubbed, washed and with the skin on
2 garlic cloves, peeled and diced
4 tablespoons/ 50g butter
4 oz/250g smoked bacon sliced small
1 medium onion, thinly sliced
2/3 cups/5 fl.oz/150ml dry white wine
8.8 oz/250g sour cream or crème fraiche
1 tablespoon chopped chives
1 pound/450g reblochon cheese or Brie cheese
salt and pepper to taste
Instructions
Preheat the oven to 200C.
Scrub and wash the potatoes.
Boil the potatoes in salty water until just tender. Drain and let them cool.
Grease a baking dish with 1 tablespoon of soft butter and set aside.
Melt 3 tablespoons of butter in a frying pan and sauté the bacon until the fat starts to render. Remove some of the fat and add the onions and garlic.
Cook until soft and slightly brown.
Add the white wine, bring to a simmer, and let it reduce by half. Turn off the heat and stir in the sour cream/crème Fraiche and the chives.
Cut the potatoes into 1/2 inch slices.
Cut the cheese in half horizontally—cube half of it.
Mix the sautéed potatoes with the bacon and crème Fraiche mixture, and carefully add the diced cheese.
Spoon into a baking dish and place the other half of cheese on top, skin up.
Bake for 15 to 20 mins, until browned and bubbling.
Serve hot from the oven with a green salad.
Also, you can make individual oven-proof baking dishes.
Crusty bread and a glass of dry white wine are mandatory to impress your guests.
Recommended Products
As an Amazon Associate and member of other affiliate programs, I earn from qualifying purchases.
Nutrition Information:
Yield:
6
Serving Size:
1
Amount Per Serving:
Calories:

1237
Total Fat:

79g
Saturated Fat:

43g
Trans Fat:

2g
Unsaturated Fat:

29g
Cholesterol:

222mg
Sodium:

1546mg
Carbohydrates:

88g
Fiber:

8g
Sugar:

8g
Protein:

43g
Note: "We are a participant in the Amazon Services LLC Associates Program, an affiliate advertising program designed to provide a means for us to earn fees by linking to Amazon.com and affiliated sites."