This is one of the best cheesy potatoes recipe you will find out there.
Cheesy potatoes are a staple for holidays, potlucks, funeral and parties in the Midwest. Found on every table especially during Thanksgiving, Christmas or Easter, this recipe is easy to make, delicious and comforting.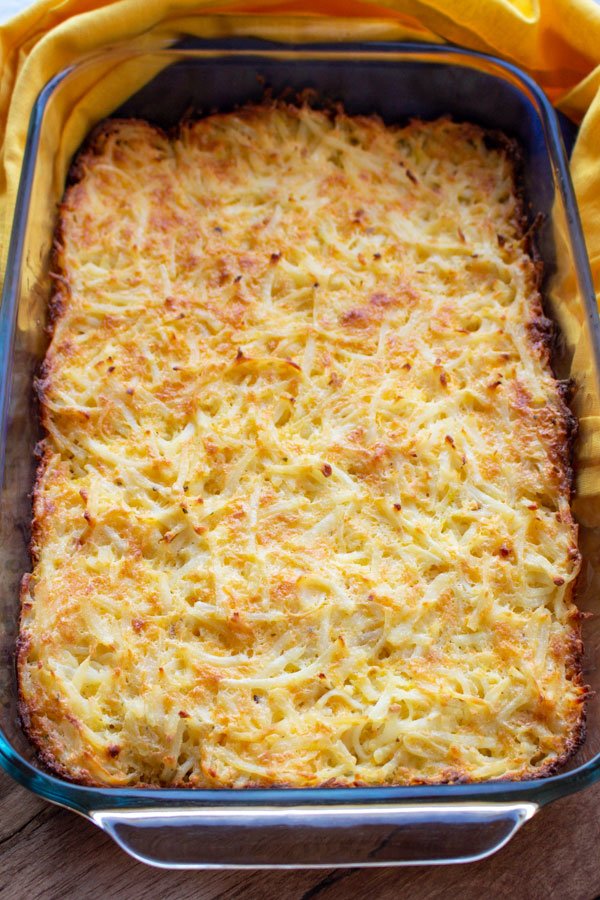 Best Cheesy Potatoes Recipe
Cheesy potatoes casserole is the most expected item on the table around holidays in my house. We live in Minnesota and there is nothing more comforting during the winter months than potatoes cooked in different ways.
This recipe brings joy to the Thanksgiving dinner or Christmas.
I know this recipe for almost 20 years but I had no idea that it is also called Funeral Potatoes.
Funeral potatoes get their very unique name from being a crowd pleasing side dish served at funerals. It is a really easy recipe to make, easy to transport and so comforting. Who doesn't love potatoes?
The recipe is also called hash brown casserole, cheesy hash browns, church potatoes etc.
I remember one year when we were trying to lose some weight. It was before Thanksgiving and I was thinking about the menu, which I was trying to make it a little bit lighter in carbs.
I "dared" to announce my family: " This year we are not going to have cheesy potatoes for Thanksgiving. I am going to make different salads, low-carb recipes, so we do not gain weight over the holidays".
The reaction was a complete shock. I can still hear the gasp and the tension in the air.
Both my husband and my daughter reacted: " WHAT? No cheesy potatoes? Have you lose your mind? There is no REAL Thanksgiving without cheesy potatoes!
Today you skip the cheesy potatoes, tomorrow you are going to serve us, what? Tofurky dinner? Cheesy potatoes are a tradition in our house and this is how it should stay! "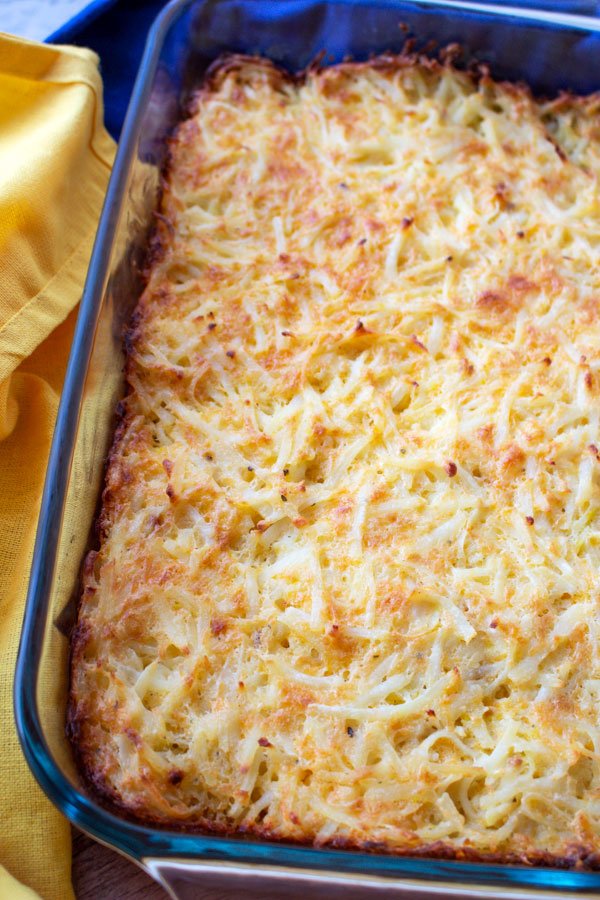 Afraid of a "strike", as my daughter announced me that if she doesn't get cheesy potatoes, then she will not come home from college and spend the weekend with us, I decided to keep it the same way we always had Thanksgiving since we moved to Minnesota.
So, cheesy potatoes it was!
No Can of Cream of Chicken Soup Story:
Many years ago, when we moved to the United States, I had no idea what people ate besides turkey for Thanksgiving, so I started to ask around.
I got a bunch of recipes from friends who were more than happy to share their traditions with me.
This particular recipe though comes from a very good friend of mine, Audrey, who, over the years, shared many of her recipes and traditions with us.
She is a truly Minnesotan, so her recipes are truly traditional for this part of America.
The recipe had the traditional can of cream of chicken soup. During the first years in Minnesota, I tried to make the recipe the way it was, but I was not very pleased with it.
I found it to be very salty for my taste and the can of soup bothered me a lot.
If you think about the ingredients, the can of chicken soup is used for binding the ingredients together and provide the creaminess in the potatoes.
However, I was never a fan of the ingredients listed on the can of chicken soup, so I decided to change a little bit the recipe and make it more palatable for us.
What I do now is to remove completely the can of chicken soup.
I use instead a mix of flour and chicken stock, stir well to get rid of any lumps, pour over the potatoes and the rest of ingredients and bake.
The result is a better version of cheesy potatoes that will not make you feel guilty using cans in your cooking.
Also, it cuts down the calories and the salt that cans of soups contain.
I found out that I am not the only one who doesn't like the "cans of creamy whatever" in their cooking.
Lots of people are avoiding them and cook foods from scratch relying on fresh, real ingredients and less processed foods.
The creamy sauce which is a mixture of flour, chicken stock and sour cream is enough to bring out the beauty of these cheesy potatoes.
To tell you the truth, even my friend who shared this recipe with me many years ago, makes the recipe without the can of chicken soup.
The result is a better version of cheesy potatoes that will not make you feel guilty using cans in your cooking.
This recipe can be made in the regular oven, but also in the crockpot.
Note: My friend Audrey, says: "The recipe can be made in a crockpot which can be set up on "Low" for 4-6 hours.
Makes it nice to take to potlucks or when you are having company, you can forget it or not have to use oven space. "
My observation: The recipe is great in the crockpot if you don't care for the crust that is formed while you are baking it in the oven.
We like the crust, but if you prefer moist, crustless cheesy potatoes, the slow cooker is a great option.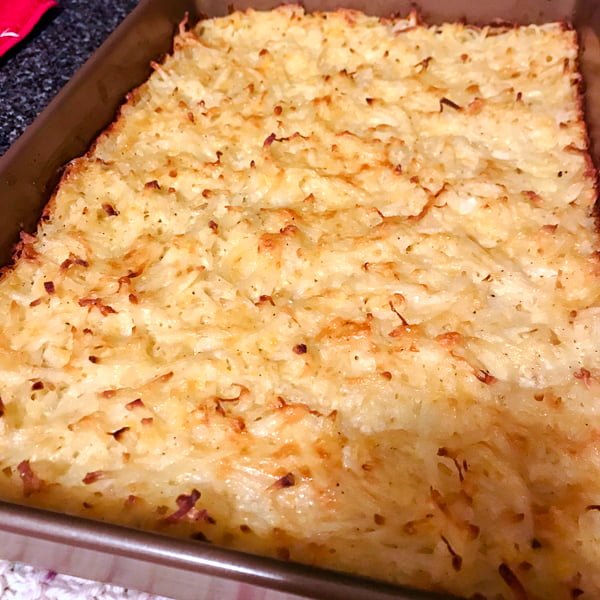 And indeed, it saves your oven space when you have to bake a lot for the holidays.
I recently got an Instant Pot. I am still experimenting recipes, but what I learned is that not every recipe under the sun needs to end up in the Instant Pot.
I think that this recipe, in particular needs some crunch that can only be obtained by browning the top of the potatoes in the oven, or using corn flakes on top.
I personally don't eat corn flakes and I never have them in my house, so you are not going to see them as an ingredient in my recipe.
However, if you bake the potatoes, you will obtain that crust on top, which is delicious and everyone loves it.
Try This recipe with raw potatoes instead of frozen ones:
Yes, this recipe can be made with raw potatoes instead of frozen ones.
I was in Europe one year, visiting family. While in Bucharest, my family asked me to make cheesy potatoes, as they saw many pictures of this dish posted by me on social media over the years.
I could not find anywhere frozen shredded potatoes, so I peeled and shredded potatoes, then placed them in a clean kitchen towel and squeezed the water and the starch out of them.
After this step, I continued with my recipe. I, honestly, loved the taste of that casserole!
Frozen potatoes are fine if you are in a hurry, but you can really take this recipe to the next level if you use real potatoes that you shred or dice.
Enjoy and let me know what you think!
Pin this for later:
Ready for some other ideas for Thanksgiving or Christmas? Here are my suggestions:
BEST EASY THANKSGIVING SIDE DISH RECIPES
BEST THANKSGIVING AND CHRISTMAS TURKEY RECIPES
OVEN ROASTED BRUSSELS SPROUTS WITH BACON
EASY SAUSAGE, CRANBERRIES AND WALNUTS STUFFING
30 COOKING AND BAKING TOOLS FOR THE HOLIDAYS
CAST IRON BRUSSELS SPROUTS WITH HAM
FRENCH TARTIFLETTE- THE AMERICAN WAY
Yield: 12 servings
Best Cheesy Potatoes Recipe
Cheesy potatoes are a staple for holidays, potlucks, funeral and parties in the Midwest. Found on every table especially during Thanksgiving, Christmas or Easter, this recipe is easy to make, delicious and comforting.
Total Time
1 hour
10 minutes
Ingredients
32 oz/1 kg frozen hash browns thawed or real potatoes diced or shredded
1/2 cup/4 oz/113g melted butter
salt and pepper to taste
1 medium chopped onion (optional)
12 ounces/340g sour cream
2 cups/8 oz/226 g grated cheddar cheese
2 tablespoons all purpose flour
3/4 cup chicken or vegetable stock
Instructions
Preheat oven to 350F/180C.
Butter a 9x13 inches baking pan.
Defrost the potatoes if you use frozen ones.
If you use raw potatoes, peel, wash, shred or dice the potatoes according to your taste. Place them in a large bowl.
Melt the butter.
Over the potatoes, pour the melted butter and sour cream.
Separately, in a small bowl, mix together flour and chicken stock and make sure there are no lumps. Bring the mixture to the consistency of thinner sour cream.
Pour the flour and chicken stock over the potatoes, butter and sour cream and stir to combine.
Add the shredded cheese, stir again, then place the mixture on the 9x13 inches buttered pan.
Bake for 1 hour at 350F/180C.
Note: The recipe can also be made in a crockpot which can be set up on "Low" for 4-6 hours.
Recommended Products
As an Amazon Associate and member of other affiliate programs, I earn from qualifying purchases.
Nutrition Information:
Yield:
12
Serving Size:
1
Amount Per Serving:
Calories:

424
Total Fat:

30g
Saturated Fat:

12g
Trans Fat:

1g
Unsaturated Fat:

15g
Cholesterol:

64mg
Sodium:

293mg
Carbohydrates:

31g
Fiber:

3g
Sugar:

2g
Protein:

10g
Note: "We are a participant in the Amazon Services LLC Associates Program, an affiliate advertising program designed to provide a means for us to earn fees by linking to Amazon.com and affiliated sites."