Indulge in a festive feast with this Thanksgiving Sausage and Cranberry Stuffing recipe, a modern twist on the classic stuffing. Unlike traditional recipes primarily using cornbread, this savory blend features a unique mix of rustic bread, sausage, and bacon, sweetened with cranberries and textured with crunchy walnuts.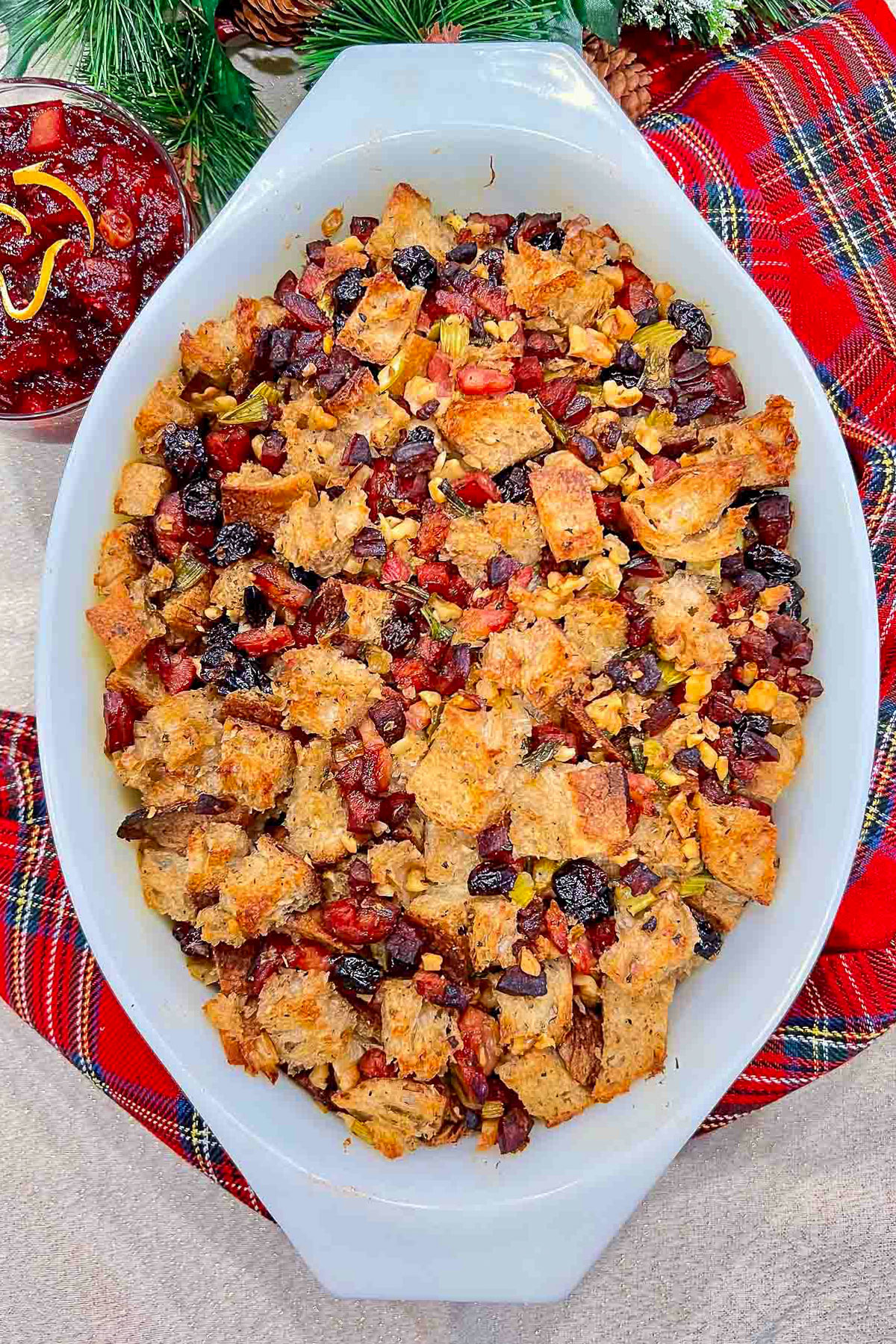 Ideal for Thanksgiving or any festive gathering, this sausage and cranberry stuffing impresses with its delightful taste and visual appeal. The easy preparation and hearty flavors make it a modern holiday staple.
This recipe is part of my Thanksgiving collection where you can find a ton of recipes for the holidays. The Easy No-Boil Mac and Cheese is a creamy delight without the hassle of boiling pasta, while the Pearl Barley Cranberry Pilaf, made effortlessly in an Instant Pot, offers a nutty flavor with a tart cranberry twist.
For a sweet touch, the Cinnamon Roasted Sweet Potatoes bring the essence of fall to the table, and the Savory Sweet Potato Casserole combines sweet and savory under a crispy crust.
Jump to:
🤔Why should you make this recipe:
Holiday-Friendly: Ideal for Thanksgiving, Christmas, or New Year's Eve celebrations.
Flavorful: A savory mix of sausage, bacon, veggies, and herbs, sweetened with dried cranberries.
Textured: Crunchy walnuts and crispy bacon offer a pleasing contrast.
Festive: Visually appealing with a festive flavor profile.
Adaptable: Customizable to regional or family preferences, showcasing stuffing's versatility.
🙋‍♀️ Is this stuffing or dressing?
I commonly refer to the baked blend of bread, herbs, and meats as 'stuffing,' a term embraced in Minnesota, though technically, it's 'dressing' since I bake it separately to avoid undercooking risks and attain a crispy top. Traditionally, 'stuffing' is cooked inside the bird, while 'dressing' is baked on the side. The terms can often be used interchangeably, though some might adhere to the traditional distinctions.
Note on herbs: I opted for dried thyme and sage in this recipe due to accessibility, though fresh herbs are preferable if available.
🧑‍🍳 Drying bread for stuffing:
For a stuffing with character, toast cubed day-old rustic bread at 300F for 10-15 minutes until dry and golden, as this enhances absorption compared to using stale bread.
I personally prefer rustic bread over any regular bread from the store because it has a better texture and body.
Step 1. Preheat the oven.
Step 2. Chop the sausages and bacon and place them in a pan. Cook them until brown for 5-6 minutes.
Step 3. Add chopped celery and green onion to the pan and cook them together with the meat until translucent.
Step 4. In a big bowl, place the bread crumbs. Add the cooked meats and veggies. Add cranberries, walnuts, sage, and thyme. Pour the chicken broth over and mix everything together so the bread absorbs the liquid.
Place everything in a baking dish.
Isn't that pretty?
Step 5.
Bake at 375F for 40 minutes or until golden brown on top.
👩‍🔬 Expert tip:
Monitor the bread's moisture while adding chicken broth; it should be moist, not soggy. Adjust by adding more broth if dry, or letting it sit uncovered if too wet before baking. The right moisture balance is crucial for a delicious stuffing with a crisp top and tender inside.
🍽️ ❓ Recipe faqs:
Can I make this recipe in advance?
Yes, you can prepare the stuffing a day in advance. Simply follow the recipe, let it cool, then cover and refrigerate. Reheat covered in a 350°F oven until warmed through.
Can I use a different type of nut or fruit?
Absolutely! Feel free to substitute walnuts with pecans or almonds and cranberries with dried cherries or apricots for a different flavor profile.
How can I make this stuffing vegetarian?
You can omit the sausage and bacon and use vegetable broth instead of chicken broth. Add more veggies or some cooked lentils or chestnuts for protein.
How do you store leftovers?
Cool leftovers, transfer to an airtight container, and refrigerate for up to 3-4 days.
For freezing, once cooked and cooled, place in an airtight container and freeze for up to 3 months. Reheat in the oven covered until warmed through.
What to serve with this stuffing?
Pairing stuffing with a variety of dishes enhances the Thanksgiving meal. Explore 15 Gluten-Free Thanksgiving Sides for dietary-friendly options. The tanginess from Sweet and Savory Cranberry Recipes offers a refreshing contrast. A classic choice from 25 Best Thanksgiving Turkey Recipes complements stuffing perfectly.
For a sweet ending, indulge in a selection from 26 Best Thanksgiving Pies And Tarts.
More recipes to love:
Craving more? Subscribe to The Bossy Kitchen to get new recipes and a newsletter delivered straight to your inbox! Stay in touch on Facebook, Twitter, Pinterest, and Instagram for all of the latest updates. Don't forget to use the star rating and leave a review.
📖 Recipe
Thanksgiving Sausage and Cranberry Stuffing
Indulge in a festive feast with this Thanksgiving Sausage Cranberries Stuffing recipe, a modern twist on the classic stuffing. Unlike traditional recipes primarily using cornbread, this savory features a unique blend of rustic bread, sausage, and bacon, sweetened with cranberries, and textured with crunchy walnuts.
Print
Pin
Rate
Ingredients
12

ounces

dried bread crumbs or cubed dried bread (unseasoned)

12

ounces

mild sausage, about 2 links

8

ounces

bacon chopped

2

green celery diced

4

chopped green onion

⅔

cup

dried cranberries

⅔

cups

chopped walnuts

2

cups

low sodium chicken broth

2

teaspoons

dried sage

2

teaspoons

dried thyme
Instructions
Preheat oven to 375F.

Dice the sausage and bacon, then brown them in a pan over medium heat for 5-6 minutes.

Stir in the diced celery and chopped green onion, cooking until they become translucent.

In a large mixing bowl, add the dried bread crumbs or cubes. Pour the chicken broth over the bread, stirring to moisten.

Fold in the cooked meat and veggies mixture, ensuring a good mix.

Sprinkle in the dried cranberries, chopped walnuts, sage, and thyme, stirring well to combine all the ingredients.

Transfer the mixture into a large baking dish, spreading it out evenly.

Bake in the preheated oven for 40 minutes or until the top turns golden brown, signifying a crispy top with a moist inside.
Notes
Opt for unseasoned dried bread to control the herb flavors.
Feel free to swap sausage or bacon for your preferred meat, or omit for a vegetarian version.
Customize with your favorite nuts or dried fruits.
Check the stuffing during baking; if it's browning too quickly, cover with foil.
Serve warm, and enjoy as a comforting side dish for festive meals or cozy dinners.
Nutrition
Calories:
337
kcal
|
Carbohydrates:
23
g
|
Protein:
14
g
|
Fat:
22
g
|
Saturated Fat:
6
g
|
Polyunsaturated Fat:
6
g
|
Monounsaturated Fat:
8
g
|
Trans Fat:
0.03
g
|
Cholesterol:
32
mg
|
Sodium:
526
mg
|
Potassium:
381
mg
|
Fiber:
5
g
|
Sugar:
2
g
|
Vitamin A:
86
IU
|
Vitamin C:
1
mg
|
Calcium:
70
mg
|
Iron:
3
mg