This easy-to-make Sweet Potato Casserole is a traditional side dish we make every year for Thanksgiving. Mashed sweet potatoes are baked with dark brown sugar and spices and topped with crunchy pecans and fluffy marshmallows for a comforting and delicious casserole we love.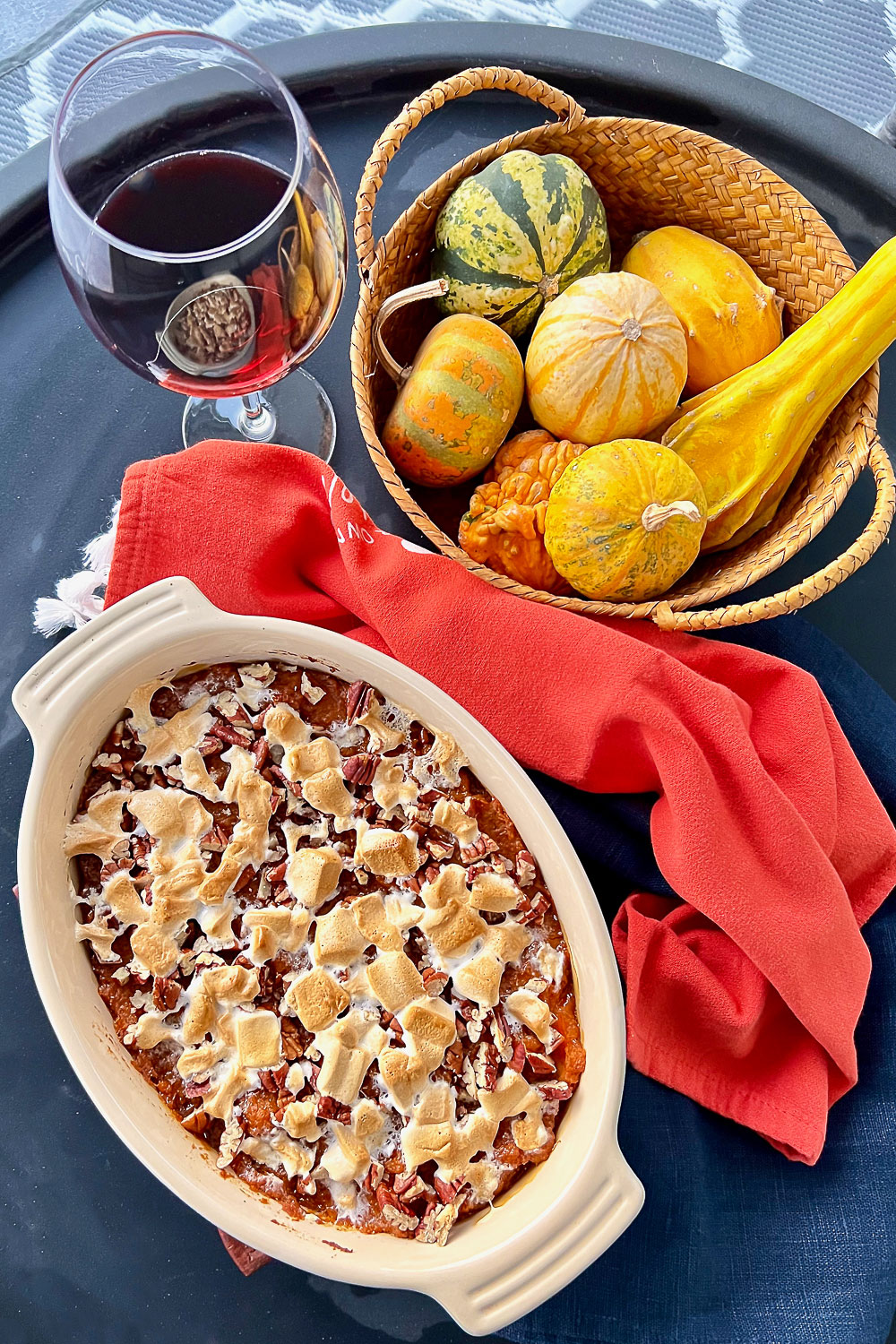 Jump to:
Why do we like this recipe?
There are so many reasons we like this side dish, but I will just count a few of them:
It is controversial and naughty.
Nobody knows if this dish should be considered a dessert or a side dish. There are so many opinions out there, but from what I know, we serve it as a side dish, together with the rest of the casseroles and sides we make. For dessert, we make pies.
Related: 26 Best Thanksgiving Pies And Tarts
It is also naughty because a lot of sugar is involved, and the dish is served next to green beans and cheesy potatoes. However, sweet potatoes are served as a vegetable and also as dessert in the South, so maybe this is why this casserole made it into the "Side Dish" category.
It is comforting and delicious.
We all love potatoes and consider them part of the comforting foods we enjoy all year round.
Sweet potatoes are also nutritious and a staple in many parts of the world. Bake them with brown sugar and marshmallows and transform them into a glorious side that everyone will love.
Easy to prepare on the day of the feast or before.
We all know how busy it gets in the kitchen on Thanksgiving Day. Anything you can prepare in advance is a blessing because your oven will be occupied by the turkey or ham that day.
A day before the celebration, you can put this dish together, bake it and refrigerate it. Do not bake it with marshmallows and pecans, though. Reserve those for the day of serving and add them while the dish is heating up.
Secret ingredient
There are so many versions of this dish, and everyone makes it differently, based on where they live, the availability of ingredients, or tradition. The recipe is versatile, and you can replace some elements if you like, making it budget-friendly.
Sweet potatoes (sometimes also spelled sweetpotatoes) - There is a whole conversation about sweet potatoes versus yams, which I will not address here. However, in the US, most sweet potatoes are sold as "yams," especially if their flesh is orange. I would not worry about the name, as they are probably sweet potatoes.
Dark brown sugar - I like dark brown sugar, but you can also use light brown sugar if this is all you have. Things get more complicated if you only have granulated white sugar, as you will need to add some molasses. The beauty of this dish is the "umami" that dark brown sugar brings to the "party."
Salt - We use salt as a taste enhancer and to balance the sweetness of the dish. Please do not skip it.
Unsalted butter - I bake with unsalted butter because I like to control the saltiness in my recipes. If you choose to use salted butter, please skip the amount of salt entirely in the recipe.
Eggs - My version of sweet potato casserole has an egg in the mixture. Why do we add eggs? Because this is a casserole and eggs act as a binder keeping everything together. They also add to the creaminess of the dish.
Spices - I am using here cinnamon, nutmeg, and ginger. All of them are part of the traditional Fall spices, and I love them.
Orange juice - This is my secret ingredient. Orange juice brings flavor and elegantly balances the dish. Many recipes use milk, cream, or half and half, but so many others use orange or even lemon juice. Especially in the South, where it is warmer, oranges and lemons grow in abundance.
For the topping:
Mini marshmallows - these can be easily replaced with regular marshmallows chopped into small pieces. You can skip them if you want to reduce the sugar in the dish.
Pecans- Walnuts are also acceptable, especially if you are an American living abroad desperately trying to find traditional ingredients for Thanksgiving.
Step-by-step Instructions
Cook the potatoes and make sure you preheat the oven
There are different ways to prepare the potatoes before baking this dish.
Boil the potatoes - this is my favorite way to prepare sweet potatoes for this recipe. I wash, peel, and chop them in cubes, then boil them in a pot of hot water for about 15-20 minutes or until a fork goes through them. Drain the potatoes very well.
Bake the potatoes - you can roast the potatoes first, unpeeled, for about 40-50 minutes or until a knife goes through. After you remove the skin, mash them, then follow the rest of the recipe to make the casserole.
Shred them first, and mix them with the rest of the ingredients. Then, follow the recipe.
All methods are great and work very well. You might even find frozen mashed sweet potatoes and cut down on time. I would avoid canned sweet potatoes, as they already have a lot of sugar.
Mix the rest of the ingredients
While the potatoes are cooking, melt the butter and set it aside to cool.
Grab a bowl and beat together the egg and the brown sugar.
Add the spices, salt, orange juice, and melted butter.
Assemble the casserole
Grease the baking dish. I used a 2-quart baking dish.
Use the same pot you cooked the potatoes (if you boiled them), or use a large bowl to mash the potatoes with the mixture of butter, orange juice, egg, and spices.
Spread the potato mixture inside the baking dish and bake for 25 minutes or until lightly browned.
Remove from the oven and sprinkle chopped pecans and marshmallows.
Return the dish to the oven and bake for five more minutes or until the marshmallows are golden brown.
The sweet potato casserole has to sit for 15-20 minutes before you serve it, as it needs to set.
Make this dish ahead of time
This is a great dish to make ahead. Bake it the night before but do not add the pecans and the marshmallows. On the day you want to serve it, allow it to come to room temperature for about 30 minutes, then heat it for 15 minutes, adding the toppings.
How to store leftovers:
Leftovers should be covered and refrigerated for up to three days. If you want to freeze it, wrap it well before. Casseroles can be frozen for up to six months.
This is a small recipe, but if you want to make a big batch, just double or triple the recipe. This way, you can feed a big crowd or enjoy leftovers for a day or two.
Alternative to this traditional side dish
Savory Sweet Potato Casserole - This dish is savory, contains no sugar, and is made from fresh potatoes. It can also be made with leftover mashed potatoes after holidays when we look to use up the leftovers. There is also ham involved and a little bit of cheese. Yum!
Cinnamon Roasted Sweet Potatoes - This recipe features cinnamon, garlic, onion, and a hint of orange juice that takes this dish to the next level.
Check out the web story for this recipe: Classic Sweet Potato Casserole
More recipes to love
Pearl Barley Cranberry Pilaf in Instant Pot
How to make Beans And Sausage Casserole
Pistachio Cranberry Marshmallow Fudge
📖 Recipe
Sweet Potato Casserole
This is a classic sweet potato casserole flavored with warming spices and oranges and topped with crunchy pecans and soft marshmallows. This is a glorious recipe perfect for Thanksgiving and Christmas.
Print
Pin
Share
Grow
Saved!
Rate
Ingredients
2

pound

uncooked sweet potatoes

peeled and chopped into cubes, about 3 cups cooked and mashed

½

cup

dark brown sugar

packed

½

teaspoon

salt

¼

cup

orange juice

3

tablespoon

unsalted butter melted

1

large egg

lightly beaten

½

teaspoon

cinnamon powder

½

teaspoon

nutmeg powder

½

teaspoon

ginger powder
Topping:
1

cup

mini marshmallows

or regular ones, but chopped

½

cup

chopped pecans
Instructions
Preheat oven to 350F/180C and grease the baking pan.

Place potatoes in a pot with hot boiling water, and cook for 15 minutes until a fork goes through. Drain.

Meanwhile, grab a small bowl and beat the egg with the brown sugar. Add cinnamon, nutmeg, ginger, salt, orange juice, and melted but cool butter.

In the same pot you were cooking the potatoes, or in a large bowl, mash the potatoes with the mixture of spices.

Spread the potatoes into the prepared pan and bake for 25 minutes.

Remove the pan from the oven and sprinkle the chopped pecans and the marshmallows over the potatoes. Return the pan to the oven and bake for five more minutes or until the marshmallows are golden brown.
Nutrition
Calories:
267
kcal
|
Carbohydrates:
43
g
|
Protein:
3
g
|
Fat:
10
g
|
Saturated Fat:
3
g
|
Polyunsaturated Fat:
2
g
|
Monounsaturated Fat:
4
g
|
Trans Fat:
0.2
g
|
Cholesterol:
32
mg
|
Sodium:
225
mg
|
Potassium:
456
mg
|
Fiber:
4
g
|
Sugar:
23
g
|
Vitamin A:
16269
IU
|
Vitamin C:
7
mg
|
Calcium:
57
mg
|
Iron:
1
mg
Tried this recipe?
Please leave a comment on the blog or like us on Facebook!
More recipes to love
Cheesy Ham Hash Brown Egg Casserole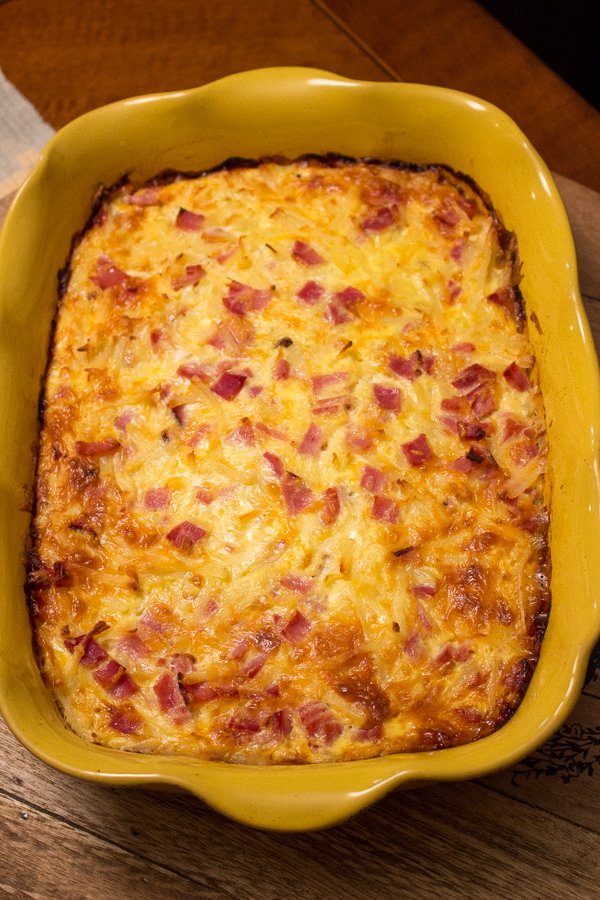 15 Gluten-Free Thanksgiving Sides
Cast Iron Brussel Sprouts With Ham