These Easy Recipes With Potatoes can help you put meals on the table in no time. Choose from appetizers, soups, or main dishes; there is something for everyone for sure.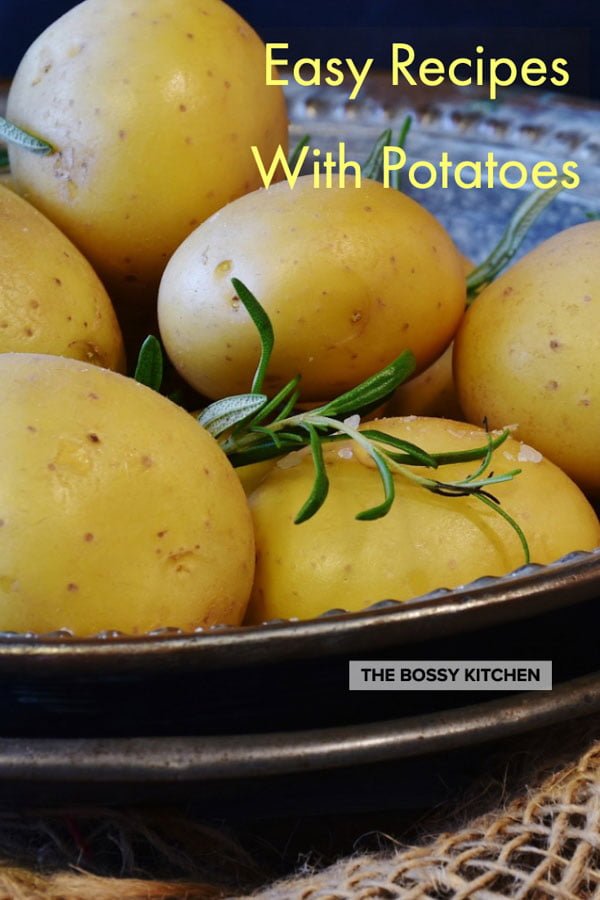 Easy Recipes With Potatoes
We all love potatoes! In many cultures worldwide, potatoes are considered a staple and a source of food for survival.
From appetizers to soups to the main dish to desserts, potatoes are used in many ways.
Mashed, fried, roasted, or boiled, recipes made with potatoes are endless, and all of them are delicious.
How much do we know about potatoes besides the fact that they are an awesome vegetable? 
Interesting facts about potatoes
1. Potatoes tend to adapt to almost any cooking technique you can imagine and are happy being paired with almost any ingredient.
2. Potatoes are extremely demanding about their growing conditions, as they need rich soil to grow. They are also among the most nutrient-hungry of all foods.
3. In good conditions, they are so resilient that if you cut a potato into pieces and sow them in the ground, each piece will grow a plant exactly like the one you started with, like a perfect clone!
4. Potatoes kept in the refrigerator become sweeter as chilled potatoes begin to convert starch into sugar. These potatoes are not good for frying as the sugar in them will burn fast.
How to store potatoes
Keep potatoes in a cool, dark place. Warm temperatures encourage sprouting. Avoid direct sunlight, and don't keep potatoes in the refrigerator, or they will turn sweet.
To peel or not to peel?
In most cases, there is no right answer. There are nutrients in the potato skin, so if they are organic and you like the taste, go for it.
It is really up to your taste. Many potatoes have colorful skin, so it's good to leave the skin on, especially if you roast or bake them.
Scrub unpeeled potatoes with a stiff brush to remove any soil. My preference is with the skin on, but ONLY if they are organic.
How do you decide which potatoes to use in your recipes?
There are over 5000 potato varieties worldwide. The easy answer comes down to how much starch potatoes have. The higher the amount, the drier and fluffier the cooked potato's texture is going to be.
There are three main types of potatoes I saw in the grocery stores.
Besides them, I buy the new potatoes at the Farmers Market, the fingerling potatoes I get for small meals, and many other varieties.
Waxy potatoes- these potatoes are low in starch, have a higher content of sugar and water, and keep their shape better.
These qualities make them perfect for potato salads, gratins, and roasted potatoes, but not a good option for mashed potatoes.
Starchy potatoes- When cooked, these potatoes do not hold their shape very well, making them perfect for mashed potatoes, boiled, steamed, baked, and fried.
Russet and Idaho Potato are the popular ones for baking potatoes. Also, awesome French Fries come out of these two varieties.
All-purpose potatoes- these potatoes are something in between the waxy potatoes and starchy ones. The name says it all, as they can be used in all kinds of recipes.
One example of an all-purpose one is the Yukon Gold Potato. It is waxy enough to hold its shape and starchy enough to be used in mashed potatoes.
When you don't know what to choose, go for the all-purpose ones.
So, now that we know a little bit better about what potatoes we need to use, I thought it would be fun to put together a collection of easy potato recipes from my blog that I hope you will find useful.
This collection is meant to grow over time because potatoes are one of these vegetables we all love and eat regularly.
You will find recipes for appetizers, soups, salads, main dishes, and side dishes. There is something for everyone.
Enjoy and happy cooking!
More recipes to love
43 Chicken Soup Recipes Made From Scratch
Recipe Ideas With Potatoes
Looking for more potato recipes? Look no further. Perfect recipes for any occasion.