This German Potato Tarragon Soup From Transylvania is a delicious, comforting soup, perfect during the winter season.
The soup is made with starchy potatoes and meat, usually pork or smoked ham, and it is flavored with tarragon, sour cream, and vinegar for an extra zing.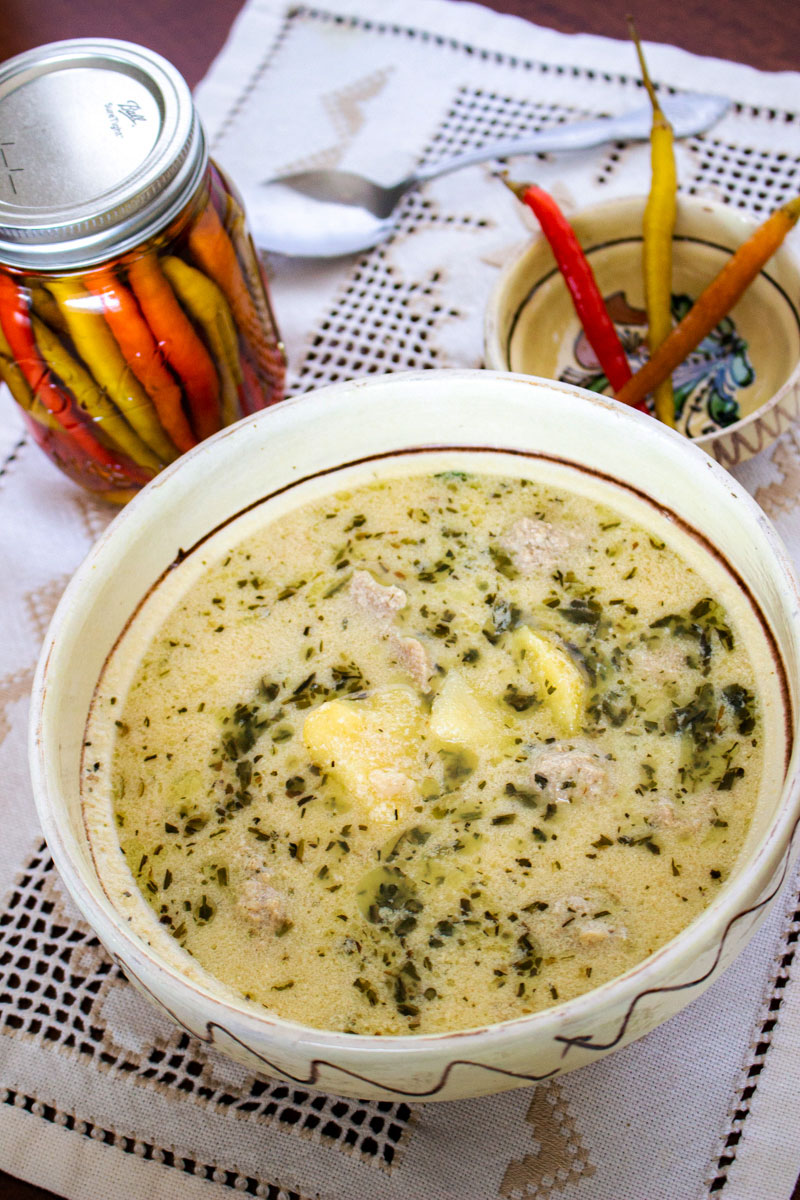 The recipe is part of my collection of Soups you can find on my website. If you want to try more Transylvanian recipes, you might like Transylvanian Green Bean Soup (With Smoked Ham), this awesome recipe for Romanian Stuffed Peppers(With Instant Pot Instructions), or this Hungarian Decadent Chocolate Cake- Rigó Jancsi.
Jump to:
Where is this recipe coming from?
This German potato tarragon soup recipe belongs to my German grandmother. She lived most of her life in Transylvania, and as a child, I spent many of my summer vacations in her house.
Her recipes are very close to my heart, but this soup, in particular, brings powerful memories of my childhood. In the last few years, I discovered that many of these memories are related to the foods my grandmothers used to make.
If I close my eyes and think about a recipe they used to make, I can taste it in my mouth. I remember textures and flavors that I never imagined I would remember after so many years.
An interesting potato soup.
This is a potato and meat soup recipe. Pork or smoked ham is cooked together with starchy potatoes. The soup is flavored with tarragon, sour cream, and vinegar for an extra zing.
As you can see, the soup, in particular, doesn't require much. It has only a few ingredients, but the secret of the flavor in this soup is the tarragon.
If tarragon is not your thing, this soup might not be for you because you cannot replace the tarragon with something else.
Some recipes are like that, and while I am a real fan of replacing ingredients, I think you should stick with the instructions for this one.
Recipe ingredients:
This soup is supposed to be a low-budget soup that would feed the entire family. Therefore please do not fuss over what kind of meat you should use.
Pork or beef: I used different types of meat in the past, like pork shoulder, beef or pork bones for soup with marrow and a little bit of meat on them, smoked ham, beef or even smoked ham hocks. The smoked meats will enhance the flavor, but even regular meat will be absolutely fine to use.
Potatoes- we will use starchy potatoes like Idaho, Yukon Gold or Russet.
Tarragon- either fresh or dried
Water: You can also use chicken or vegetable stock
Sour cream: Provides creaminess to the soup.
Eggs: Together with sour cream, they thicken the soup to give it a creamy texture.
Salt and pepper
Regular vinegar or apple cider vinegar: Adds acidity and brightness to the soup. Lemon juice or white wine vinegar can be used to achieve a similar effect.
How to make the soup:
Step 1. Cook the meat.
Start by placing the meat in a soup pot in cold salted water. Bring the pot to the boiling point, then simmer it for about an hour or until the meat is cooked.
It usually takes about an hour, but it depends on the type of meat you use, as some meats are tougher than others.
Step 2. Add the potatoes.
When the meat is almost cooked, add the potatoes. Cook them until soft.
Step 3. Temper the eggs and sour cream.
Some soups in Romanian cuisine are thickened with sour cream and eggs, and this is one of them.
The last step is to add tarragon, sour cream, eggs, and a little bit of vinegar at the end. (See the instructions on the recipe card on how to do this step).
The result is a very nutritious and comforting soup that everyone will like.
Expert tip:
Use a Whisk for Tempering: When tempering the egg and sour cream mixture, use a whisk instead of a spoon to combine the hot soup with the mixture. A whisk will help to incorporate the hot liquid more evenly and prevent the egg from scrambling.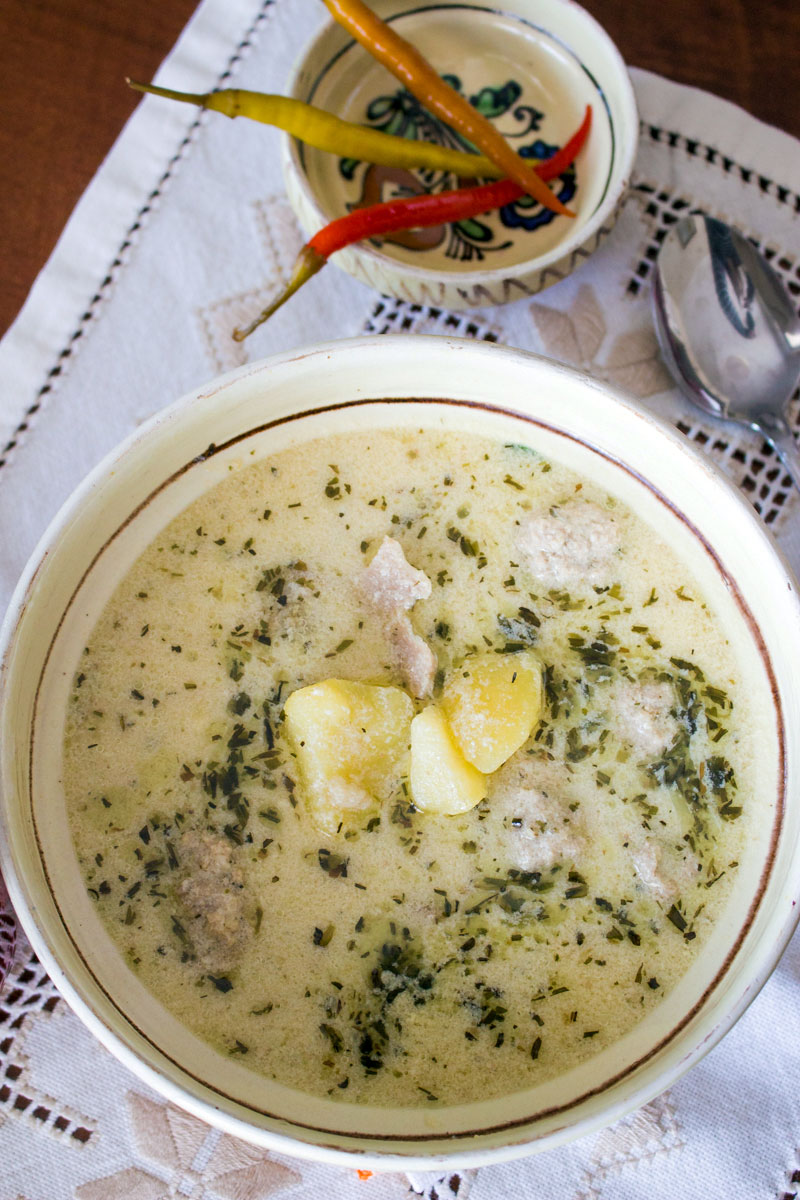 Another secret ingredient that makes this soup ridiculously good is vinegar. German or Saxon soups made in Transylvania are usually not sour, like the Romanian traditional soups.
However, it seems that this soup is an exception to the rule, and a little bit of vinegar is added to the pot to give it an extra zing.
There are no other vegetables in this soup, why?
People asked me if they can add other vegetables to this soup because it seems weird that a soup would not have some carrots, celery, or whatever.
No, do not add anything. You will see that the soup has a wonderful flavor only with the ingredients described in the recipe.
Please, don't mess it up, trying to create something that it's not. I mean, you can, because I do not watch you in the kitchen, but if you want the traditional taste of this soup, please follow the recipe.
Storage instructions:
Refrigerator: Allow the soup to cool to room temperature. Transfer the soup to airtight containers. Leaving some space at the top allows for expansion if the soup is frozen later.
Store the containers in the refrigerator for up to 3-4 days.
Reheat the soup gently on the stovetop or in the microwave, stirring occasionally.
Freezer: If possible, freeze the soup before adding the tempered egg and sour cream mixture, as these ingredients may not freeze as well.
The soup can still be frozen, but the texture may change slightly upon thawing.
Store the soup in the freezer for up to 2-3 months.
Thaw the soup overnight in the refrigerator or use the defrost function on your microwave.
Reheat gently on the stovetop, and if you froze the soup without the egg and sour cream, complete those steps after reheating.
Recipe faqs:
I do not like tarragon, can I replace it with something else?
This recipe is a potato and tarragon soup. The awesome taste of the soup is because of the tarragon. You can replace the tarragon with other herbs you like, but the soup will not be the same. 
Why is tempering the egg and sour cream mixture important, and what happens if I don't do it?
Tempering gradually raises the temperature of the eggs, preventing them from cooking too quickly and scrambling.
If you don't temper the eggs, they may cook upon contact with the hot soup, leading to a curdled texture.
More recipe to love:
📖 Recipe
German Potato Tarragon Soup From Transylvania
This German Potato Tarragon Soup From Transylvania is a delicious comforting soup that is perfect during the winter season. The soup is made with starchy potatoes and meat, usually pork or smoked ham and it is flavored with tarragon, sour cream, and vinegar for an extra zing.
Print
Pin
Share
Grow
Saved!
Rate
Ingredients
1

pound

meat

could be pork shoulder, soup bones, smoked ham or ham hock, or beef

4-5

medium potatoes

starchy potatoes like Idaho or Russet

1

bunch fresh tarragon or 2 teaspoons dried tarragon

8

cups

water

3-4

tablespoons

sour cream

1

large egg

salt and pepper to taste

1-2

tablespoons

regular vinegar or apple cider vinegar
Instructions
Cut the meat into cubes.

In a large soup pot place the meat and bones(if available) and cover with water. Add a pinch of salt.

Bring to a boil. Remove the foam that forms on top. Lower the heat and let it simmer until the meat falls off the bone, about an hour.

Meanwhile, peel and cut the potatoes into cubes.

When the meat is cooked, add the potatoes and boil them until they are soft.

Add salt and pepper to taste.

Add vinegar to taste.

Start by whisking the egg and sour cream together in a bowl. Then, gradually whisk in a few tablespoons of the hot soup, one tablespoon at a time, to the egg mixture. This gradual addition and constant whisking will gently raise the temperature of the egg mixture without cooking the egg.

Once the egg mixture is tempered, slowly whisk it back into the soup pot, stirring continuously. This gentle and careful method ensures a smooth, lump-free consistency, giving your soup that luxurious and creamy texture that's the hallmark of this traditional dish.

When soup is ready, remove it from the heat and slowly add the sour cream mixture to the pot, stirring constantly.(soup will have a creamy white texture)

Add fresh or dried tarragon to flavor the soup.

Serve hot.
Notes
Do not add the eggs and the sour cream to the soup without tempering them first with a little bit of soup from the pot. 
Nutrition
Serving:
1
g
|
Calories:
371
kcal
|
Carbohydrates:
23
g
|
Protein:
25
g
|
Fat:
19
g
|
Saturated Fat:
7
g
|
Polyunsaturated Fat:
2
g
|
Monounsaturated Fat:
8
g
|
Trans Fat:
0.003
g
|
Cholesterol:
113
mg
|
Sodium:
243
mg
|
Potassium:
948
mg
|
Fiber:
2
g
|
Sugar:
2
g
|
Vitamin A:
94
IU
|
Vitamin C:
12
mg
|
Calcium:
51
mg
|
Iron:
2
mg
Tried this recipe?
Please leave a comment on the blog or like us on Facebook!