Note: "We are a participant in the Amazon Services LLC Associates Program, an affiliate advertising program designed to provide a means for us to earn fees by linking to Amazon.com and affiliated sites."
I am sure, many of you heard about Transylvania before. Dracula? Vlad the Impaler? Anyway, Transylvania is a region in the middle of Romania for the ones who don't know where that is. It is a beautiful place, surrounded by the Carpathian Mountains, with beautiful people who know their cuisine.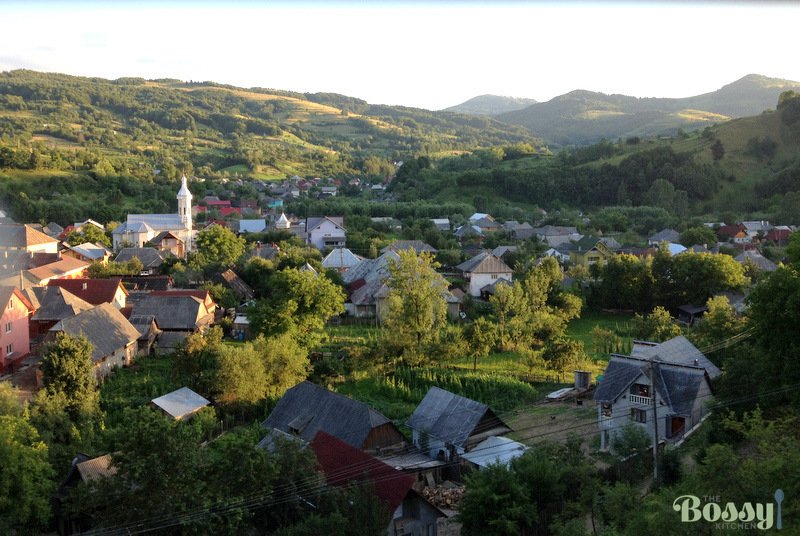 It is a region than in the past was populated by Romanians, Germans and Hungarians, but the majority of Germans migrated back to Germany during the communism times and after. Very few still live in Romania today.
However, the cuisine of Transylvania is a blend of these three different communities and it could be defined by the taste of smoked, salty, spicy and sour sweet. You will see lots of soups, cheese, smoked pork, schnitzels, apple strudels, and cabbage, just to mention few of them. Maybe it is not the healthiest diet, but definitely it is one of the tastiest. This soup is very authentic and delicious. I encourage you to try it and let me know if you liked it.
This Transylvanian bacon green beans soup is a delicious one that can be made any time of the year. The best part of it is that it has bacon also. There are not too many soups in Transylvania that would not have some sort of pork meat and many times smoked meats are the choice.
When you make this soup, start by cooking the bacon first.
When the bacon is browned, add some flour and paprika and a little bit of water to dissolve the flour and create a roux.
Add more water and let simmer for 5 minutes. Meanwhile, chop the vegetables.
And also the green beans, but set them aside. Add to the soup the onion, carrots and celery first and let them cook half way.
When the vegetables are half way cooked, add the green beans and continue to simmer the soup until the green beans are tender.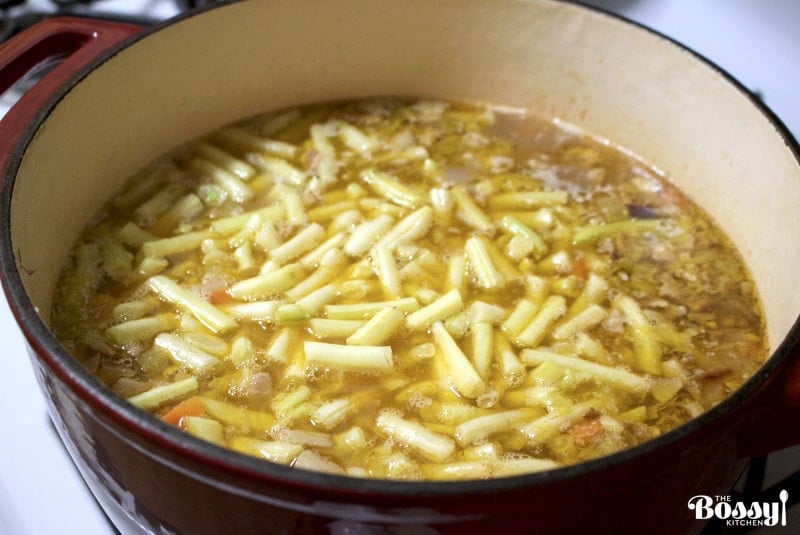 Add the garlic and taste for salt and pepper. Add also some thyme, crushed tomatoes or tomato paste.(whatever you have available)
Add a little bit of vinegar and sprinkle chopped parsley on top. Serve with a dollop of sour cream, for a more traditional taste.
Enjoy!
If you make the recipe, share it with the hashtag

#thebossykitchen on Instagram,

Facebook

 and Twitter 

so we can all see what you're cooking!

 
Transylvanian Bacon Green Beans Soup
Author:
The Bossy Kitchen
Ingredients
2 pounds green beans
1 chopped red onion
1 pound bacon
1 Tbsp flour
1 Tbsp paprika
2 stalks of celery chopped
2 chopped carrots
4-5 garlic cloves
1 bunch fresh italian parsley
1 tsp thyme
4-5 Tbsp tomato sauce or 2 medium chopped tomatoes
2-3 Tbsp vinegar or to your taste
8 cups water
sour cream for serving
Instructions
Chop the bacon, place it in a soup pot on medium heat and brown it.
Add the chopped onions and cook until translucent.
Add the flour and paprika and mix well, while adding cold water to dissolve the flour. Make sure you get rid of the lumps.
Add more water and let it simmer for a while.
Chop celery and carrots and add them to the soup.
When the vegetables are halfway cooked, add the cleaned and trimmed green beans.
Simmer the soup until the beans are tender.
Add chopped garlic and taste for salt and pepper.
Add thyme.
Add crushed tomatoes or tomato sauce.
Add vinegar little by little to make the soup a little bit sour.
When everything is cooked, sprinkle chopped parsley over the soup.
Serve hot with a dollop of sour cream on top.