Hungarian Decadent Chocolate Cake- inspired from the original recipe of Rigo Jancsi Cake, an elegant dessert from the 19th century in the Austro Hungarian Empire.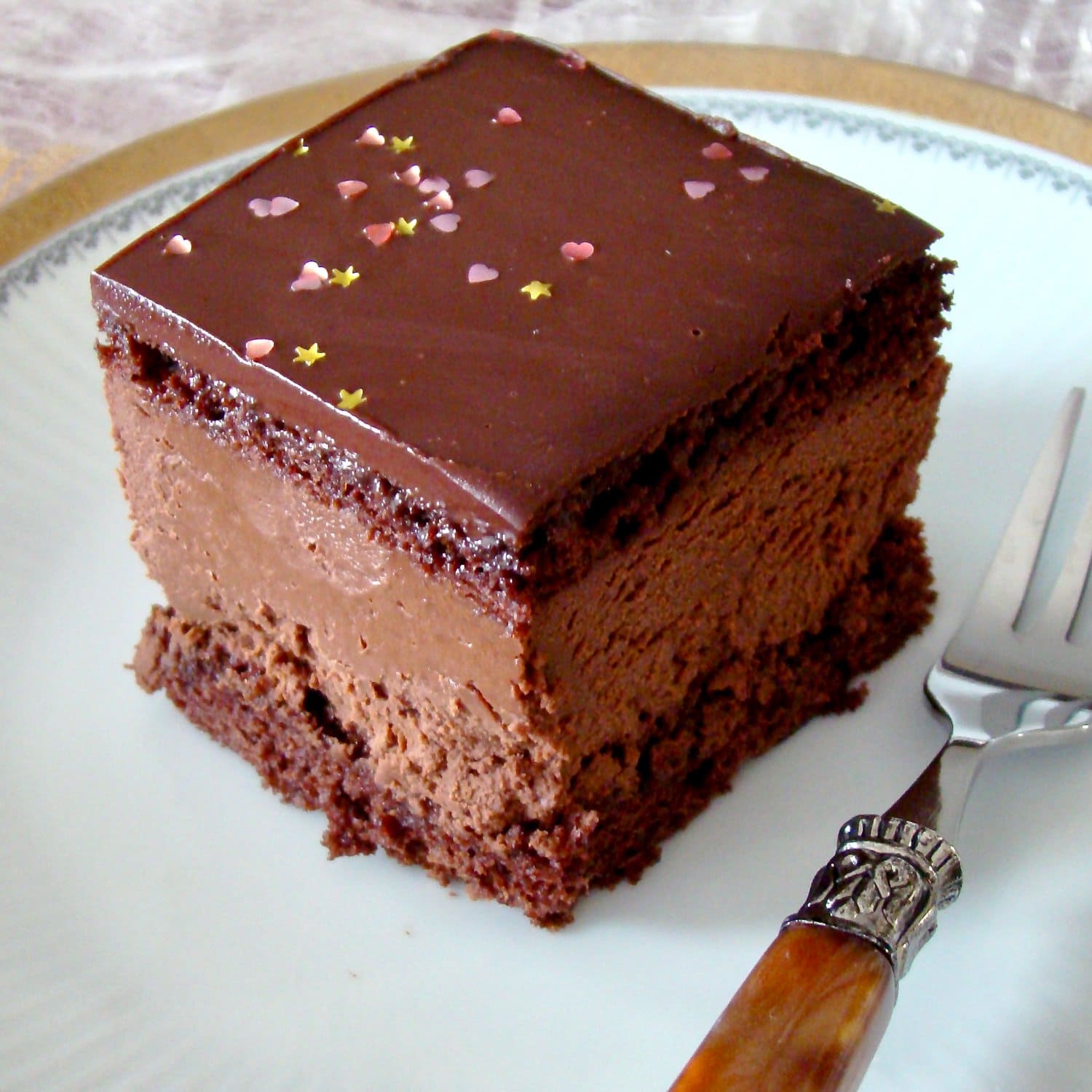 Today I am going to share with you a delicious Hungarian Decadent Chocolate Cake recipe. Maybe you have heard of it.
This is a recipe inspired by the classic Rigó Jancsi cake, named after the legendary Hungarian Gypsy violinist.
If you have never had this cake before, you do not know what you are missing. For chocolate lovers and not only, but this cake is also a must-try.
Once you have had it, this recipe will become one of the family treasures. At least, this is what happened in our house, and I am confident that it will happen in yours as well.
Moist and delicious, with a hint of rum flavor and coffee (flavors that are so traditional in Eastern Europe), the cake has a decadent layer of chocolate ganache and a glaze that makes the cake really handsome and presentable.
This is an elegant dessert that resembles the rich, decadent life of the 19th century in the Austro-Hungarian Empire.
Before you start making this recipe, please read the instructions carefully. It is not a difficult dessert to make, but it has some things that you need to pay attention to.
For example, the cake batter has a little bit of baking soda in the mixture, but the air incorporated in the egg whites will help the cake rise beautifully, so make sure you beat the eggs really well, stiff but not dry.
You will also need a 9×9″ cake pan.
Remember: After you make the chocolate ganache, you will need to set aside 1 cup of it for the final glaze. Don't forget about it. It happened to me.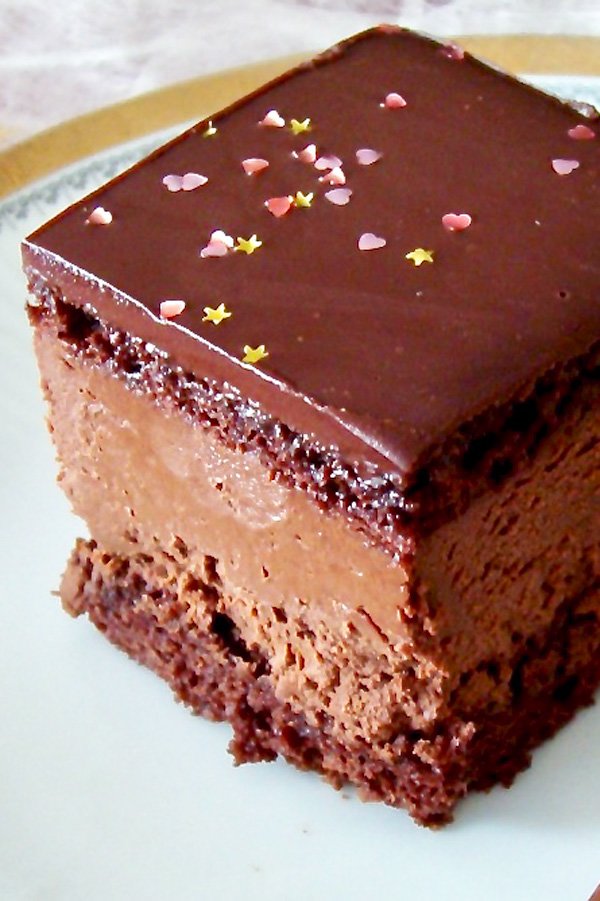 Serve the cake by cutting it into small equal pieces. For cutting, use a sharp knife that has been dipped in warm water. Rinse the knife and dip it again in warm water before each cutting.
Now, let's make the cake and enjoy it!
*If you make this recipe, share it with the hashtag #thebossykitchen on Instagram, Facebook, and Twitter so we can all see what you're cooking!
Or maybe you want to join The Bossy Kitchen community group where you can share your creations made from this blog or from other sources. Everyone is welcome to join!
Yield: 12 servings
Hungarian Decadent Chocolate Cake- Rigo Jancsi
Hungarian Decadent Chocolate Cake- inspired from the original recipe of Rigo Jancsi Cake, an elegant dessert from the 19th century in the Austro Hungarian Empire.
Total Time
2 hours
18 minutes
Ingredients
Ingredients for the Chocolate Ganache and Topping
4 cups heavy cream
¼ cup/½ stick unsalted butter
¼ cup sugar
20 oz semisweet chocolate finely chopped
Plus 2 oz chopped chocolate separately will use it for the topping
⅓ cup dark rum
2 teaspoons vanilla extract
Ingredients for the Syrup
¼ cup water
2 tablespoons granulated sugar
2 tablespoons dark rum
Ingredients for the Cake:
1½ tsp vanilla extract
¾ teaspoons instant coffee powder
⅔ cup all-purpose flour
3 tablespoons unsweetened cocoa powder
½ teaspoon baking soda
3 large eggs separated
¾ cup granulated sugar
¼ tsp salt
Instructions
How to make the Chocolate Ganache:
Stir the heavy cream, butter, and sugar together in a saucepan.
Place the saucepan over medium heat and heat it until the sugar dissolves and the heavy cream comes to a simmer.
Remove from heat.
Add 20 oz of chocolate. Whisk until melted and smooth.
Whisk in rum and vanilla.
Transfer one cup of the warm mixture to a small bowl and add the 2 oz chocolate to it. This will be the final glaze. Mix until smooth. Set aside.
Transfer the rest of the chocolate mixture into a larger bowl to use as filling.
Chill until cold and thick, at least 6 hours.
How to make the Syrup:( It will be used to flavor and make the cake moist)
Bring water and sugar to a boil. Remove and let cool. Mix in the rum.
How to Make the Cake:
Preheat oven to 350F.
Line bottom of a 9x9" pan with parchment paper and then butter the paper.
Combine vanilla and coffee powder in a cup and mix to dissolve the coffee.
Sift flour, cocoa, and baking soda together into a bowl.
Using an electric mixer, beat the egg yolks and ½ cup sugar in a medium bowl until they get very thick and light in color.
Beat in the vanilla coffee mixture.
Use clean, dry beaters to beat egg whites and salt until soft peaks form in another bowl.
Add remaining ¼ cup sugar, beating until stiff but not dry.
Fold ½ of egg whites into a yolk mixture. Fold in half of the flour mixture. Fold the remaining whites, then the remaining flour mixture.
Transfer batter to prepared pan and spread gently to an even thickness.
Bake cake for about 18 minutes until it puffs up and a toothpick inserted into the center comes out clean.
Cool in pan on rack. It might shrink a little bit.
How to assemble the cake:
Cut around the pan to loosen up the cake.
Turn out onto the work surface and peel off the parchment paper.
Using a long serrated knife, cut the cake horizontally in half.
Place 1 half, cut side up, on a platter.
Use a pastry brush to brush syrup over the cake surface.
Using an electric mixer, beat the cold chocolate ganache until thick and lighter in color, less than 1 minute.
Spread all filling evenly over the cake layer, aligning with the sides of the cake.
Brush with syrup the other half of the cake, the cut side one.
Place layer syrup side down on top of the chocolate ganache.
Rewarm the preserved cup of ganache over low heat until pourable.
Pour it over the top of the cake, starting in the center.
Use a spatula and spread topping to edges, trying not to spill over.
Chill cake overnight, covering loosely with foil or with cake dome after 2 hours.
Keep refrigerated but serve it at room temperature.
Recommended Products
As an Amazon Associate and member of other affiliate programs, I earn from qualifying purchases.
Nutrition Information:
Yield:
12
Serving Size:
1
Amount Per Serving:
Calories:

696
Total Fat:

49g
Saturated Fat:

30g
Trans Fat:

1g
Unsaturated Fat:

16g
Cholesterol:

147mg
Sodium:

150mg
Carbohydrates:

60g
Fiber:

3g
Sugar:

49g
Protein:

7g
Note: "We are a participant in the Amazon Services LLC Associates Program, an affiliate advertising program designed to provide a means for us to earn fees by linking to Amazon.com and affiliated sites."