Note: "We are a participant in the Amazon Services LLC Associates Program, an affiliate advertising program designed to provide a means for us to earn fees by linking to Amazon.com and affiliated sites."
This Chocolate Cake with Tart Cherries is a real treat for the holidays and not only. Valentines Day is also a great opportunity to impress your partner with this one. If you like to bake from scratch, you will enjoy making this cake.
As the holidays are approaching, it is always a good reason to bake, no matter what. And why not a cake? Cakes, actually, in my humble opinion, make great gifts for family and friends. Everybody loves them! No matter the occasion! Especially when they are homemade and from scratch.
In the Romanian culture, people take great pride making a cake from scratch for birthdays and holidays. The cake itself is the star of a celebration and it has to be good, not average. The ones who prefer to buy a cake will look for the best place in town and splurge. It is well known that if you have an important celebration, you will have a beautiful cake, no matter if the food is fancy or not. The cake is THE THING there!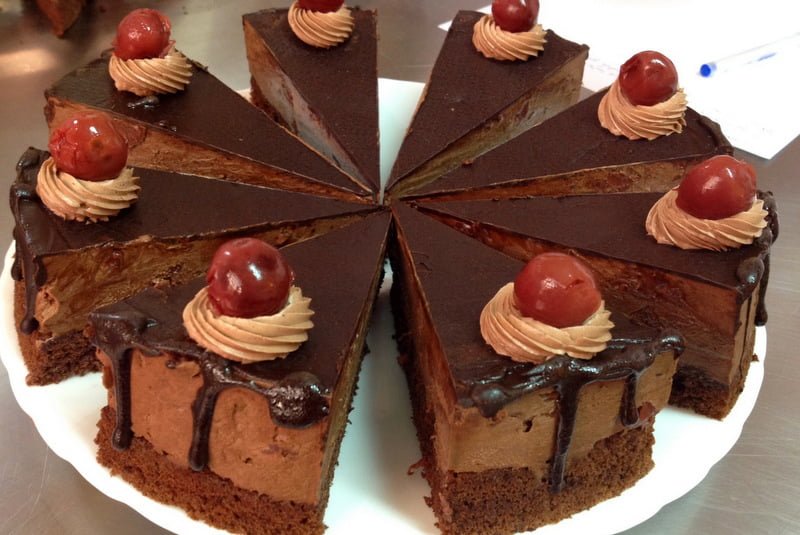 Getting back to our recipe here, this cake is made with tart/sour cherries in syrup. It is well known that chocolate and cherries go very well together, but chocolate and sour cherries are made for each other!
You can find sour cherries in syrup in any grocery store here in America or you can always order online. The grocery stores might have them in the ethnic isles, and they should look like this or like this.
Bake the cake, then while the cake is cooling, you make the filling. The filling is a combination of butter, sugar, a pudding that is made separately, chocolate and cocoa.To this combination, the sour cherries are added.
The cake is built in the same cake pan you baked the batter. The chocolate cherry buttercream is poured over the cake and then refrigerated. See how the buttercream sits on top of the cake?
After the cake cools down completely and sets, melt chocolate and mix it with butter, then glaze the entire cake with it. Decorate it as you wish. In my recipe here, I made some little rosettes with some leftover buttercream and added a sour cherry on top of each rosette.
Simple and beautiful!
NOTE: If you want to make individual little cakes, bake the cake into a 9×9 cake pan instead, then cut the shapes you want. Use individual molds to put the little cakes together.
Enjoy and if you make the recipe, share it with the hashtag #thebossykitchen on Instagram,

Facebook,

and Twitter so we can all see what you're cooking!
Chocolate Cake With Tart Cherries
Author:
The Bossy Kitchen
Ingredients
Cake Batter:
3 eggs
5 oz(140g) granulated sugar
5 oz(140g) all-purpose flour
4 tsp(20 g) cacao powder
3½ Tbsp (50 ml) vegetable oil
3½ Tbsp (50 ml) luke water
1 tsp baking powder
1 tsp baking soda
Chocolate Buttercream with Sour Cherries filling:
7 oz(200g) butter
5 oz(150g) dark chocolate
7 oz(200g) sour pitted cherries
1¼ cup(300ml or 10oz) milk
4 Tbsp(30g) cornstarch
2 tsp cacao powder
3.5 oz(100g) powder sugar
Chocolate Glaze:
7 oz dark chocolate
2 Tbsp butter
Instructions
Cake:
Preheat oven to 350F.
Separate eggs.
In a small bowl mix egg yolks, sugar, water, oil, and cacao powder. Set aside.
In a different bowl, mix together flour, baking powder, and baking soda.
In a standing mixer, beat the egg white until stiff.
Add the egg yolks mixture and mix slowly with a spatula until incorporated.
Add flour, mixing slowly to not lose the air from the egg whites.
Prepare a 10" springform with parchment paper on the bottom and pour the cake batter into it.
Bake at 350F for about 20 minutes or until the cake passes the toothpick test.
Let it cool.
Chocolate sour cherries buttercream:
In a small pot, place cacao powder and cornstarch, then add milk and mix well to incorporate.
Place the pot on the stove and boil the milk, mixing constantly, until it gets thicker like a pudding.
Let it cool and set aside.
Beat the sugar and the butter with a mixer until fluffy.
Add the pudding mixing well.
Melt the chocolate in a double boiler and pour it over the cream.
Add the chopped sour cherries.
Mix well, then remove 2-3 tablespoons of buttercream that we will use for the decorations.
How to put the cake together:
Keep the cake inside the springform and pour over the chocolate sour cherry buttercream.
Spread it even with a spatula.
Refrigerate until the buttercream is set, for few hours.
When ready to glaze, melt the chocolate in a double boiler, then add the butter and mix well.
Remove the springform and place the cake on a platter. Pour over the melted chocolate and let it drip around the cake.
Refrigerate until chocolate glaze is set.
Pipe few buttercream rosettes on top of the cake and place a sour cherry on top of each rosette.