Decadent German's Chocolate Cake is the American cake everyone loves. Make this version and see for yourself how wonderful it is.
Decadent German Chocolate Cake
What is German Chocolate Cake?
German chocolate cake is an American layered chocolate cake filled and frosted with coconut-pecan frosting.
The name comes from the chocolate maker Samuel German who developed a type of baking chocolate for Baker's Chocolate Co.
The chocolate was so good that the company named it after Samuel German.
However, the cake became famous actually only in 1957 when a recipe for this German's Chocolate cake appeared in a Dallas, Texas magazine.
The recipe became so popular that it created a spike in chocolate sales and alerted General Foods, who owned Baker's Chocolate at that time.
They sent the recipe to all magazines and newspapers around the country, and the editors were swamped with requests about where to buy that type of chocolate.
Soon, this recipe became one of the most iconic and loved cake recipes of America.
The "s" in the name was dropped over the years. Therefore a lot of people think that the cake is German. Sorry to burst your bubble, people, but the cake comes from Texas, not Germany.
And if you look at the ingredients, it is clear that this recipe is American. Pecans and coconut are not part of German cuisine. Also, buttermilk is an American southern staple in baking.
(Learn here how to use buttermilk in your baking and grab some more recipes with it)
This decadent German chocolate cake is my husband's favorite cake. He grew up having this cake for his birthdays, but it was always made from a box with store-bought frosting.
I tried a few recipes over the years, but I could not find anything to please me. I found the box cake not very tasty and the frosting pretty gross and too sweet.
This year though, I made this cake from scratch again.
I had to cut down on the amount of sugar in the frosting and increase a little bit the amount of coconut and pecans.
There is really no need for so much sweetness.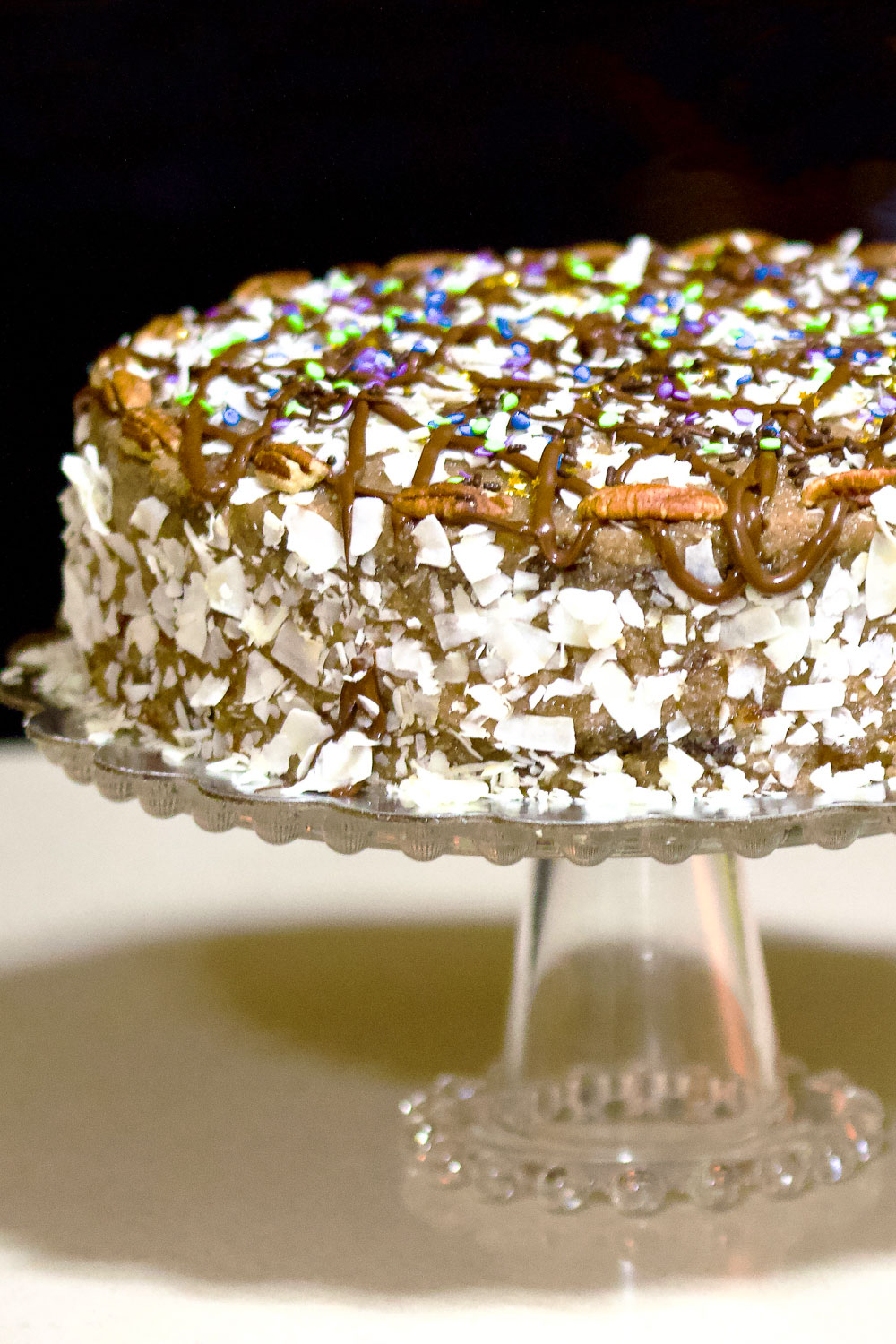 I like cakes that have flavor, and I think this cake, in particular, should shine through the flavors and not through how sweet it is.
I also used unsweetened shredded coconut instead of the sweetened one.
Much healthier and tastier, trust me! I dressed it up by covering the sides with big unsweetened coconut flakes and drizzled melted dark chocolate over the cake's top.
This upgraded version of the cake came out divine, and everyone loved it. It was really a show-stopper.
The ones who tried my version of this cake said this was the best German chocolate cake they ever ate, and believe me, in Minnesota, this cake, in particular, is very popular, but very few make it from scratch.
Most people think that a box from the store is easier to handle, and I totally understand that baking from scratch is not for everyone.
However, I say that by the time you get dressed, drive, walk through the store, come back home and bake that cake, you could easily bake the cake from scratch and come up with a much better version of it.
I would also say that you can substitute the traditional sweet chocolate with your favorite brand, but make sure you buy a good, high-quality one.
As I indicated in many of the recipes on this blog, you cannot make food taste good with ingredients that taste bad.
I personally like Trader Joe's Chocolate, and I bake with this chocolate a lot. It is 54% dark chocolate, which in my book still stands for a good balance between sweetness and bitterness.
Also, choose a good-quality shredded coconut. I like the organic one.
Toast the pecans but not the coconut
Toasting the pecans intensifies their flavor. According to Cook's Illustrated, toasting, the coconut made a brittle filling. I tend to believe them.
How to toast the pecans:
Preheat the oven to 350 F/180C.
Place the pecans on a baking sheet and bake for about 10 minutes or until lightly browned. After the first 5 minutes, move them around, so they roast on all sides evenly.
Remove them from the oven, let cool, and then chop them coarsely.
DO NOT ADD THEM to the frosting until you are ready to assemble the cake.
WHAT KIND OF PANS DO I NEED?
You need three pans 9×2 inch tall sides.
DO I BAKE THE CAKE FIRST OR DO I START WITH THE FILLING?
To be time-efficient, first, make the filling, then use the refrigeration time to prepare, bake and cool the cakes.
What is evaporated milk?
Evaporated milk is a type of condensed milk that is unsweetened. Read more about this here.
In the US, evaporated milk is found in cans in any grocery store next to the sweetened condensed milk. Make sure you don't get confused, as they are totally different.
You can also replace it with half and half.
If you live outside of the US, evaporated milk is known as unsweetened condensed milk.
Can I bake the cake in advance?
Yes, you can. Bake the layers, wrap them individually in foil, then in Ziploc freezer bags and freeze them for up to 3 months.
When ready to use, the cake can be assembled frozen, as it is very easy to put together when the cake layers are cold.
The frosting can also be made in advance, but do not add the pecans until the last moment, when you are ready to assemble the cake.
Keep the frosting in a covered container in the refrigerator.
Interested in other cake recipes?
Classic Carrot Cake with Pineapple and Cream Cheese Frosting
Classic European Chocolate Ganache Meringue Cake
Gourmet Chocolate Mint Cake Recipe
Chocolate mousse and praline entremet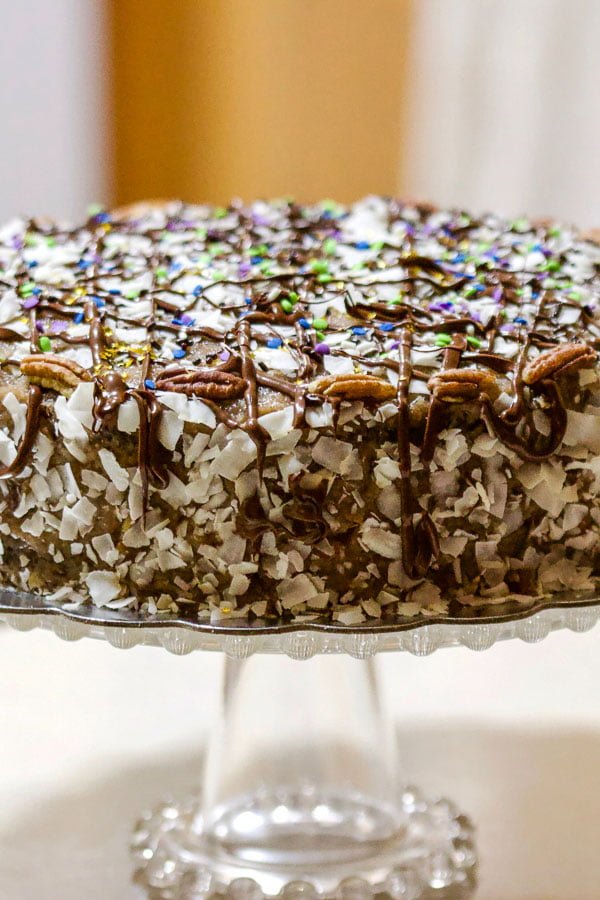 Enjoy and happy baking, everyone! If you make it, let me know, I am really interested to see if you liked it!
Also, visit The Bossy Kitchen's Amazon Store Page where you can find lots of the kitchen products I use to make these recipes and other fun things you can get for quick gifts.
Yield: 16 servings
Best Homemade German Chocolate Cake
Best Homemade German Chocolate Cake is the American cake everyone loves. Make this version and see for yourself how wonderful it is.
Total Time
1 hour
50 minutes
Ingredients
Cake:
4 ounces Baker's German's Chocolate
½ cup water
2 cups all-purpose flour
1½ teaspoon baking soda
¼ teaspoon salt
4 large eggs separated, at room temperature
1 cup unsalted butter softened(2 sticks)
2 cups granulated sugar
1 teaspoon vanilla extract
1 cup buttermilk
Caramel Pecan Filling and Frosting:
1½ cans evaporated milk (18 ounces)
6 egg yolks
1 cup granulated sugar
1 cup unsalted butter cut into small pieces(2 sticks)
2 teaspoon vanilla extract
4 cups unsweetened shredded coconut
2 cups coarsely chopped toasted pecans
Instructions
Note: It is best to separate the eggs when cold and then allow them to come to room temperature before proceeding with the recipe.
Preheat oven to 350F(180C).
Grease and lightly flour three 9x2-inch round cake pans, then line the bottoms with parchment paper.
To make the frosting:
In a large saucepan, beat together the evaporated milk and the egg yolks. Stir in the sugar and butter.
Stir over medium heat for about 15-18 minutes or until thickened and bubbly, and golden in color.
Remove from heat.
Stir in the coconut and vanilla. Cool until just warm, cover with plastic wrap, and refrigerate until cold, at least 2 hours, or up to 3 days. Frosting will thicken as it cools.
DO NOT ADD pecans until just before cake assembly.
To make the cake:
In a small saucepan over low heat, combine the chocolate with the water, stirring to melt the chocolate, and blend well. Set aside to cool for 10 minutes.
In a medium-size bowl, sift together the flour, baking soda, and salt. Set aside.
In a small bowl, lightly beat the egg yolks, about 1 minute.
In a large bowl, on the medium speed of an electric mixer, cream the butter and the sugar until light and fluffy, about 3 minutes.
Add the egg yolks, beating until well combined.
Add the chocolate mixture and the vanilla.
Add the dry ingredients in thirds, alternating with the buttermilk, beating after each addition until smooth.
Separate, in a bowl, beat the egg whites on the high speed of an electric mixer until soft peaks form.
Gently fold into the batter.
Divide batter among the prepared pans.
Bake for 25-30 minutes or until a cake tester inserted into the cake center comes out clean.
Note: Be careful not to over-bake, as this cake has a different, lighter texture than most store-bought.
Allow cake to cool in pans for 10 minutes. Remove from pans and cool completely on a wire rack.
When cake is cool, spread frosting between layers and over top of the cake.
Decorate as you like.
Recommended Products
As an Amazon Associate and member of other affiliate programs, I earn from qualifying purchases.
Nutrition Information:
Yield:
16
Serving Size:
1
Amount Per Serving:
Calories:

784
Total Fat:

55g
Saturated Fat:

32g
Trans Fat:

0g
Unsaturated Fat:

20g
Cholesterol:

191mg
Sodium:

272mg
Carbohydrates:

67g
Fiber:

5g
Sugar:

50g
Protein:

11g
Note: "We are a participant in the Amazon Services LLC Associates Program, an affiliate advertising program designed to provide a means for us to earn fees by linking to Amazon.com and affiliated sites."