Chocolate mousse and praline entremet is a delicious, silky recipe that would fit a special celebration in your family. Use quality ingredients for success.
Last week was my husband's birthday so I attempted to make him an entremet.
For the ones who do not know what an entremet is, the Wikipedia explains it: "an entremet is a multi-layered mousse-based cake with various complementary flavors and varying textural contrasts." Yes, sounds fancy and very European but it is also very delicious.
I worked two days to put it together, and as much as I try to say that it was not a very difficult one to make, the recipe has multiple steps that required time and patience.
My husband wanted a chocolate cake, but if you know me, I cannot go with just a cake and some buttercream, I have to create something that it will be hard to forget…well, this was the case for this recipe….
The entremet has a praline bottom, chocolate mousse, an insertion of Dacquoise cake, then another insertion of Vanilla Cream on top of the Dacquoise cake and all covered with more chocolate mousse.
The entire cake is frozen, then glazed with a beautiful mirror chocolate glaze and decorated with your favorite things.
A section of the cake looks like this:
So, I started with the praline bottom, which is made with caramelized sugar, hazelnuts and almonds, butter and dark chocolate.
I had to make the praline first, which is actually roasted nuts mixed with caramelized sugar, cooled on parchment paper or silicone and then ground.
I mixed it with melted chocolate and butter and poured it in a 8″ springform cake pan. This will go in the freezer.
Then, I started to work on my Dacquoise cake layer.
This one is made with sugar, egg whites and almond meal and baked briefly for 10-12 minutes at 170C/340F in a 6″ springform cake pan on parchment paper, then cooled on a rack.
The next step was to make the vanilla cream. This cream has a little bit of gelatin, because it has to be quite stiff as we will use it as a center of the cake, over the Dacquoise cake layer.
It has heavy cream, vanilla ('cause it's called Vanilla cream, you know?), some sugar, egg yolks and gelatin.
After you make it, you pour it into a 6″ springform cake pan (use the same one you made the Dacqouise cake) and freeze it over night.
It should look like this:
Then, you make the chocolate mousse.
To put the cake together, you take out of the freezer the Praline bottom, which should be sitting in the 8″ springform cake pan.
Add 1/3 of your chocolate mousse and spread it over the bottom.
Come with the Dacqouise insertion cake and place it in the middle of the springform.
Then take the vanilla cream from the freezer, that should be in your 6″ springform cake pan from last night, right, and place it over the cake insertion.
You can see it on the picture above. Come with more chocolate mousse and cover the cake with it, smooth the surface of the cake with a spatula and place it in the freezer.
After few hours (my cake was in the freezer overnight) I made the mirror glaze, which is heavy cream, glucose(or corn syrup), water, sugar, powder cocoa and gelatin.
I placed the cake on a rack sitting on a baking sheet and poured the glaze over the cake to cover it completely.
I refrigerated the cake, then decorated it with some chocolate decorations and edible glitter. My husband wanted me to write Happy birthday in Romanian for him, so I did!
I still need to work on my decoration skills when it comes to writing nicely, but my husband was happy with it and loved the cake!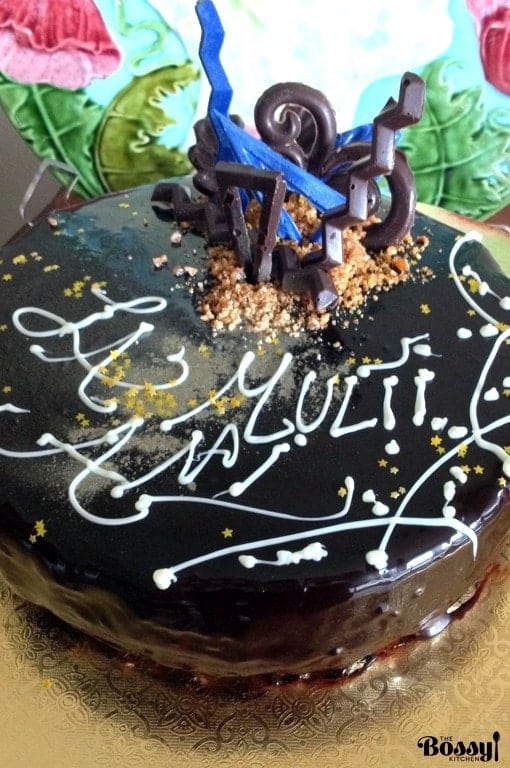 Yield: 16 servings
Chocolate Mousse and Praline Entremet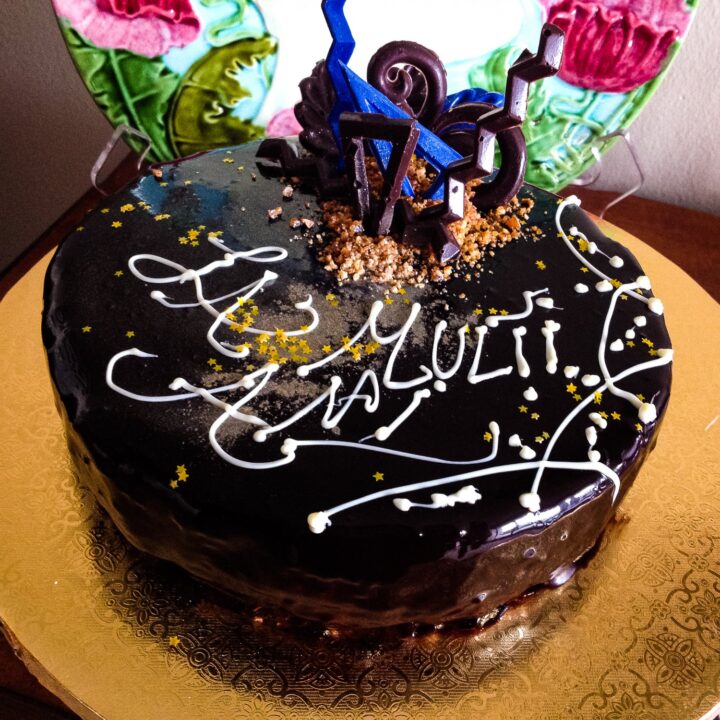 Chocolate mousse and praline entremet is a delicious, silky recipe that would fit a special celebration in your family. Use quality ingredients for success.
Ingredients
Praline bottom:
0.35oz/10 g unsalted butter
1.3oz/37g Dark chocolate(70% dark)
Praline paste
8.8oz/250 g granulated sugar
4.4oz/125 g almonds
4.4oz/125 g hazelnuts
Daquoise cake:
2.64oz/75g egg whites
1.1oz/32 g granulated sugar
1.58oz/45 g Ground almonds
1.58oz/45 g powder sugar
Vanilla Cream:
6.63oz/188g heavy cream
1 vanilla pod
0.07oz/2 g of vanilla extract
1.05oz/30g Sugar
1.58oz/45 g Egg yolks
Chocolate Mousse:
3oz/85g Sugar
2.11oz/60g Egg yolks
8.11oz/230ml heavy cream
12.34oz/350g dark chocolate
24.33oz/690 g whipped cream (measure 690ml heavy cream and beat it with a mixer until whipped cream)
Mirror Glaze
7.61oz/216g heavy cream
3.80oz/108g Glucose or corn syrup
1.12oz/32g inverted sugar (or honey)
4.26oz/121g of water
10.3oz/292g Sugar
2.82oz/80 g Cocoa powder
Instructions
Make the praline:
In a non-stick pan, toast the hazelnuts and almonds to bring out the flavor. You could also place them into a 200° C (400° F) oven for 15 minutes.
Place the sugar into another non-stick pan; heat gently over medium heat without stirring.
When the sugar begins to dissolve, add the almonds and hazelnuts. Mix well with a spatula and cook until the sugar is completely dissolved and the mixture forms a light caramel (160° C / 320° F). This process should be carried out over medium heat, otherwise the caramel will become too dark. The darker it is, the stronger its flavor.
Pour the mixture onto a lightly oiled marble slab or a baking sheet covered with parchment paper and let cool for 1 hour.
Break the mixture into pieces and measure with a scale 3.52oz/100g. Grind it finely in a food processor. Continue processing until it forms an oily paste. It's best to divide the mixture into three parts and to grind them for 5 minutes at a time to avoid overworking your food processor.)
Praline bottom:
Place the softened butter and the chocolate in a saucepan and melt them together.
Stir in praline and let cool until the temperature drops to 73.4F/23 ° C.
Arrange in a circle 8inch/18cm in diameter and place it in the freezer.
The Daquoise cake layer.
Beat the egg whites with the granulated sugar.
Then stir in the ground almonds and powder sugar while lifting the mixture gently.
Use a pastry bag to make a 6inch/16cm diameter circle on a parchment paper placed on a 16cm/6" springform cake pan.
Bake 10 to 12 minutes at 170C/340F.
Cool on rack.
Vanilla Cream:
Soften the gelatin in a bowl of cold water .
Boil the cream, vanilla bean, vanilla extract and sugar.
Mix the egg yolks with the cream and cook up to 85C/185F.
Squeeze the gelatin and stir in the mixture.
Cool in a water bath with ice.
Pour the mixture in a 6inch/15cm springform cake pan and freeze it(better overnight)
Chocolate mousse
Mix the sugar with the egg yolks .
Heat the cream.
Melt the chocolate at 45C/113F . Add cream and sugar and yellow egg mixture by creating an emulsion.
Add the whipped cream.
Fold the whipped cream into chocolate mixture and set aside.
Mirror Glaze:
Soften the gelatine in a bowl of cold water .
Boil together the heavy cream, glucose(or corn syrup) and inverted sugar(or honey). Set aside.
Meanwhile, heat up the water and sugar to 121C/250F.(use a thermometer)
Once the mixture is cooked, pour over the cream mixture, glucose and honey .
Add the cocoa and boil together for 3 minutes. Cool it down to a 70C/160F.
When the mixture reaches the right temperature, add the gelatin that was drained of water.
Very important step: Use a spatula and start mixing only in the middle of the mixture, on the bottom. If you make circular movements with a whisk or anything else, you will put air in the mixture,so the glaze will not be shiny and smooth anymore, but grainy and with bubbles in it.
Assembly and finishing
Start with the praline bottom that is on your circle or springform cake pan of 8inch diameter.
Pour 1/3 of the chocolate mousse, then place the Dacquoise cake layer in the middle of the circle.
Add the frozen vanilla cream over the cake layer.
Finish with remaining mousse. Smooth and place your dessert in the freezer.
After few hours, when is solid frozen, remove it from your circle or springform and place it over a rack that has a baking sheet underneath.
Glaze it with the glaze at 32C/90F.
Decorate with chocolate pieces and some food glitter.
Needs to be refrigerated. Lasts for 2-3 days in the refrigerator.
Recommended Products
As an Amazon Associate and member of other affiliate programs, I earn from qualifying purchases.
Nutrition Information:
Yield:
16
Serving Size:
1
Amount Per Serving:
Calories:

749
Total Fat:

45g
Saturated Fat:

21g
Trans Fat:

1g
Unsaturated Fat:

20g
Cholesterol:

152mg
Sodium:

91mg
Carbohydrates:

81g
Fiber:

5g
Sugar:

70g
Protein:

10g