Pineapple Carrot Cake with Cream Cheese Frosting is incredibly easy to make, moist, and full of flavor. This cake, made from scratch as a sheet cake, is topped with a delicious tangy cream cheese frosting that doesn't require any decoration.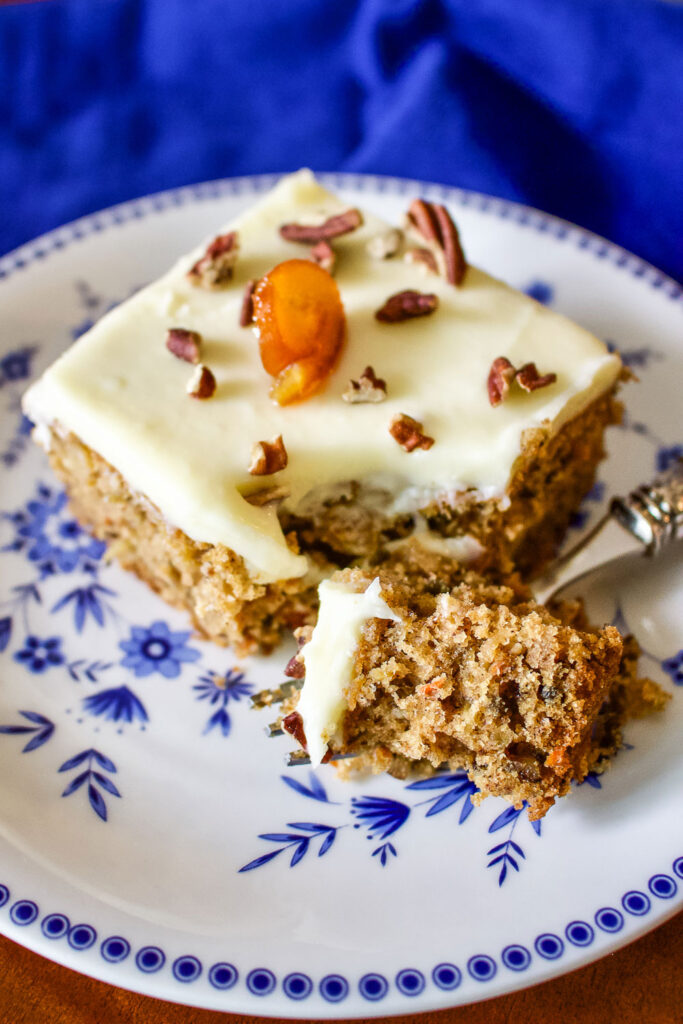 Jump to:
Why Do I Like This Recipe
Some recipes have stories behind them, while others don't. This recipe has been sitting on my pile of "recipes to make one day" for some time now.
It is one of these recipes that are shared among friends. Therefore I am not able to give credit to someone specifically.
When I told my daughter that I was putting this recipe on the blog, she said that when she turned 30, one of our family friends in Romania made it for her, and she liked it very much.
If you're planning to make this recipe, know that it has my daughter's seal of approval. 🙂
What I liked about this recipe was its simplicity.
Carrot cakes are made with all kinds of ingredients that add sweetness and moisture to the cake. However, from all the versions I have tried so far, this one with pineapple is my favorite.
It is also easier to make because you don't need to worry about layers.
Of course, you can be fancy and play with the shape of this cake, but if you want to keep it simple, a 9x13 baking pan is perfect for the recipe.
The delicious cream cheese frosting goes on top of the cake, and the decorations can be kept on the simple side.
A few pieces of candied orange peel and some crushed walnuts are all you need to make this cake pretty. Cut it into squares and serve it next to a good cup of coffee.
Do you need a dessert for a potluck or a party where you need to bring something? This cake can be transported and served directly from the baking tray(affiliate link).
What is carrot cake?
Carrot cake is a delicious cake made with shredded or grated carrots added to the batter that gives it a sweet flavor that feels natural and not processed. Historically, carrot cake recipes came from Europe.
The first documents about versions of this cake are from Medieval times.
England, France, and Switzerland (where this cake is considered the traditional birthday cake) are the countries where this recipe is more popular.
In the old times, when sugar was a luxury, carrots were used in baked goods to add sweetness and moisture to them. Exactly like zucchini bread or banana bread!
How is this cake's texture?
Usually, carrot cake can be very dense, but in this recipe, the cake has a lighter texture due to the addition of crushed pineapple.
I would describe it as somewhere between a dense pound cake with tight crumbs and a fluffy white cake with looser crumbs.
It will be moist and have speckles of carrots swirled throughout.
Ingredients
First of all, like in any recipe, the quality of the ingredients you are about to use is essential.
As I said before, you cannot make good food using bad ingredients.
Carrots
For carrot cake, you have to grind the carrots. Do not buy the store-bought shredded carrots (or "matchstick" carrots) because they are too big for this cake. After you peel the carrots, I recommend using a box grater or the food processor if you have one.
You should use the shred blade, and then if your carrots are still too big, pulse them with the regular blade for a few seconds. You want the carrots to be small, so even if you use the box grater, make sure you use the smaller grates.
I also would recommend you buy a few organic carrots. My experience has been that organic carrots are sweeter than the rest.
Pineapple
It will add moisture and sweetness without an overpowering pineapple flavor. The texture will be almost like banana bread but, of course, with a different flavor profile. I like crushed pineapple instead of chunky pineapple. Crushed pineapple adds moisture to the cake without overpowering the taste. You can use fresh or canned pineapple.
Brown sugar
Again, I personally like dark brown sugar versus light brown sugar because of the molasses that brings more depth to the flavor. However, if you prefer light brown sugar, you can use what. Brown sugar is used in carrot cake because it adds moisture and a rich flavor.
Spices
My recipe asks for cinnamon because this cake is more appropriate for the spring months when most of us are tired of the fall and winter seasoning we have been using in our baked goods and cooked dishes.
Can I use other spices?
Of course! You can definitely play with the spices and add nutmeg, ginger, and even allspice. If you make the cake in the fall and winter months, I would recommend making it a little spicier.
But if you make it for a birthday, Easter, or Mother's Day, I'd recommend keeping it light with just the cinnamon.
How to make
This is a simple recipe where you first mix all wet ingredients and then add them to the dry ingredients.
You then pour the mixture into the pan, bake it, frost it and eat it as if someone will take it away from you. 🙂
More specifically, first, you preheat the oven to 350F/180C, and then you butter the 9x13 baking pan and set it aside.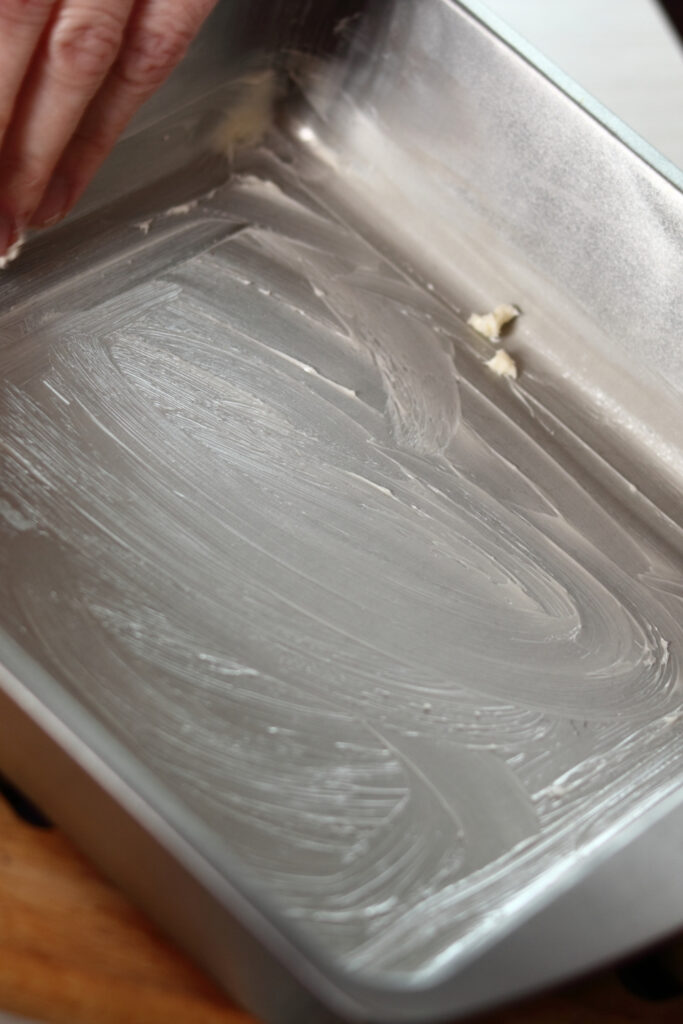 Shred the carrots as I recommend above and mix them with brown sugar, vanilla, and cinnamon.
In a separate bowl, beat the eggs with the granulated sugar until creamy and pale in color, add the oil, and mix well.
Add the flour and baking soda, pineapple, walnuts, and carrot mixture, mixing everything well. If it looks a little lumpy, that's ok! It will have a better texture later.
Note: The carrots will release some juice after sitting with sugar for a while, but do not drain the liquid, add everything to the rest of the batter.
Pour the batter into the prepared dish, and if you use a 9x13-inch pan, bake it for 30-40 minutes or until the top of the cake is set. When you test the center of the cake with a toothpick, it should come out clean. Once it is done, transfer it to a wire rack and cool it completely in the pan.
Decorate it with the cream cheese frosting and small pieces of candied orange peel.
Common Questions
Can I use a different size pan? Or a different shape?
You betcha! Just be aware that any time you change the pan's shape, the baking time will be dependent on the chosen shape. For example, for two 9-inch round cake pans, the baking time is about 20-25 minutes at 350°F.
How do you make cream cheese frosting for carrot cake?
Just like the cake recipe, the frosting is easy to make as well. Either in a stand mixer(affiliate link) or a large mixing bowl with a hand-held mixer, beat the cream cheese until smooth, then add the butter, powdered sugar, and vanilla extract and beat it until fully combined, scraping the sides of the bowl as needed. 
How do you store carrot cake?
It all depends on how warm your house is. If your house is 70 F (21 C) or colder, then put it in an airtight container on the counter. If your house is warmer than that, then refrigerate it. If left in a humid environment, the carrot bits in the cake can develop mold, so it might be safer to keep it in a cool and dry environment.
Can you freeze carrot cake?
Absolutely! It can stay in the freezer for up to 3 months. When you plan to eat it, refrigerate it overnight before serving. 
Can I use only egg whites instead of whole eggs? 
I would not recommend it. For best results, you need to stick with the whole eggs. Every ingredient is designed to do a certain job in a recipe. After all, baking is chemistry.
What kind of oil should I use? I don't have sunflower oil. 
You can use any oil available, but keep in mind that certain oils will change the flavor of the cake (aka olive oil, walnut oil, coconut oil). I prefer sunflower oil because it is a neutral oil with no after-taste.
Can I make carrot cake using gluten-free flour? 
Unfortunately, I do not have an answer for this one as I do not have experience with gluten-free flours. You will need to look for a gluten-free recipe online.
I am allergic to nuts. Can I replace walnuts with something else in carrot cake?
Yes! Traditionally, carrot cake is made with walnuts, but you can leave them out if you are allergic. It will not ruin the texture of the cake. You can add shredded coconut or raisins if you want to make the texture a little more interesting. I know that some people with walnut allergies can eat pecans so you can add those as well.
What kind of pineapple should I use for this Carrot Cake with Pineapple and Cream Cheese Frosting?
Crushed pineapple or chunks?
I recommend cans of crushed pineapple for this cake as I don't like my cake to have big pineapple pieces in it. It takes away from the original carrot cake flavors.

Should I drain the pineapple?
I would say drain it a little bit. It does not have to be dry, but you also do not want it swimming in syrup.

Since canned pineapple is so sweet already due to the syrup, my recipe asks for less sugar. I wanted to consider that some people might not drain all of the syrup.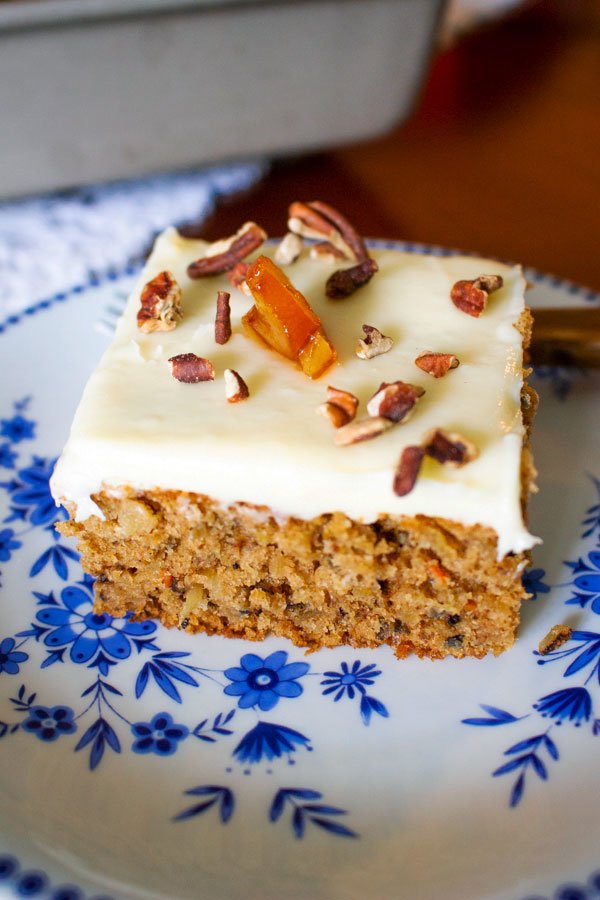 If you make this cake, let me know! I always love to hear from you.
No matter how you decorate or serve it, this Pineapple Carrot Cake with Cream Cheese Frosting will become one of your favorites.
Pin this for later:
Some other recipes to love
Classic Pineapple Chicken Salad
Pineapple Pecans Cheese Ball Appetizer
Easy Pumpkin Cupcakes With Cream Cheese Frosting
Decadent German Chocolate Cake
📖 Recipe
Pineapple Carrot Cake with Cream Cheese Frosting
Pineapple Carrot Cake with Cream Cheese Frosting- a delicious dessert for any celebration or holiday.
Print
Pin
Share
Grow
Saved!
Rate
Ingredients
3

cups

carrots shredded

about 5-6 medium carrots

½

cup

brown sugar

1

teaspoon

vanilla extract

2

teaspoons

cinnamon

2

large eggs

½

cup

granulated sugar

½

cup

oil

sunflower or any other vegetable oil

2

cups

all-purpose flour

1 ½

teaspoons

baking soda

½

cup

pineapple crushed

well drained

½

cup

chopped walnuts
Cream cheese frosting:
8.8

ounces

cream cheese

3

tablespoons

soft unsalted butter

2 ⅓

cups

powdered sugar

1

teaspoon

vanilla extract

candied orange peel for decor
Instructions
To make the cake:
Preheat oven to 350F/180C.

Butter a 9x13 baking pan and set it aside.

In a medium bowl, mix the shredded carrots with brown sugar, vanilla, and cinnamon. Set aside.

In a bigger bowl, beat together the eggs with the granulated sugar until creamy and pale in color.

Add the oil and mix well.

To this mixture, add the flour and the baking soda.

Also, add the carrots mixture(do not drain the juices), pineapple, and walnuts.

Pour the batter into the prepared baking dish and bake for 30-40 minutes until the top of the cake is set and a toothpick inserted into the center of the cake comes out clean.

Remove from the oven, transfer to a wire rack, and cool completely in the pan. Decorate with cream cheese and small pieces of candied orange peel.
To make the cream cheese frosting:
In the bowl of a stand mixer fitted with the paddle attachment, or in a large mixing bowl using a hand-held mixer, beat the cream cheese until smooth.

Add the butter and mix until well combined and smooth. Add the powdered sugar and vanilla extract and continue mixing until fully combined, scraping down the sides of the bowl as needed.

Using a knife or an offset spatula, top the cooled carrot cake with the cream cheese frosting. Decorate with candied orange peel.

Slice into pieces and serve.
Nutrition
Serving:
1
g
|
Calories:
25
kcal
|
Carbohydrates:
5
g
|
Protein:
1
g
|
Fat:
1
g
|
Saturated Fat:
0.2
g
|
Polyunsaturated Fat:
0.4
g
|
Monounsaturated Fat:
1
g
|
Trans Fat:
0.01
g
|
Cholesterol:
3
mg
|
Sodium:
24
mg
|
Potassium:
18
mg
|
Fiber:
0.2
g
|
Sugar:
2
g
|
Vitamin A:
412
IU
|
Vitamin C:
0.2
mg
|
Calcium:
8
mg
|
Iron:
0.1
mg
Tried this recipe?
Please leave a comment on the blog or like us on Facebook!