If you love zucchini bread and zucchini cake, this recipe is for you. Zucchini Orange and Walnuts Cake is a delicious recipe that will soon make it to your recipe collection.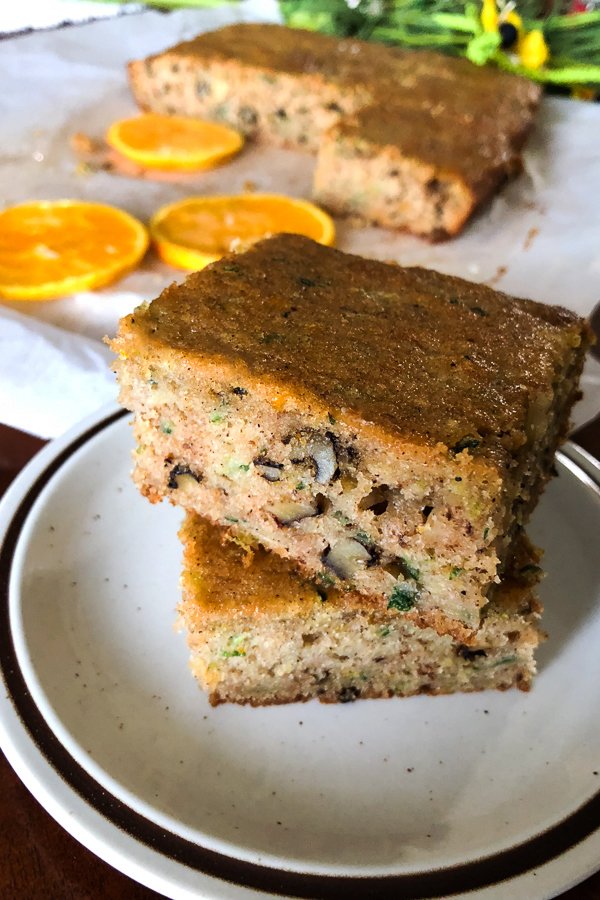 Jump to:
Reasons to Give This Recipe a Go
What gardener doesn't have extra zucchini? Or the vegetable lover who likes going to the Farmers Market and buys more than one can eat?
I am one of these people who always have some extra zucchini in the fridge, thinking about what I can do with it.
I decided to make some cake this time because last week I made some zucchini fritters and the week before some zucchini and tomato soup. Before that, I made a delicious baked zucchini tomato and mozzarella casserole.
As you can see, I have few recipes in my repertoire, and summer is short in Minnesota. You have to take advantage of fresh vegetables and Farmers Market every week as I do:
I just cannot resist when I see beautiful vegetables. And it is not only that.
Did you notice that there is a time during the summer when gardens are flooded with zucchini? Your neighbors start dropping them off on your doorstep.
Co-workers dump them on break room tables with friendly signs: "Help yourself" or "free" or "please take." What they are really trying to say is: "I can't take these anymore."
Zucchini is such a versatile vegetable, and you can make so many things out of it. However, I think that out of everything, zucchini cake is the best.
There are many recipes out there, but I think this recipe is moist and delicious with the delicate flavors of zucchini and orange juice and the walnuts that add texture and crunch to it.
This is not your grandma's zucchini cake, as delicious as it may be, the one with cream cheese frosting or sugary glaze, if you know what I am talking about.
This is a modern, elegant cake baked and then glazed with this out-of-the-world delicate orange syrup. With the addition of syrup, you can skip the icing.
There is no need for it. The cake is sweet enough as it is and extremely flavorful. Amazingly light and fluffy from the addition of buttermilk in the batter, this zucchini cake is so moist and delicious!
It's what every cake should aspire to be like. (Learn here how to bake with buttermilk and also grab more recipes that use it).
I actually kind of feel bad for other cakes when I eat this zucchini orange and walnuts cake. Can you blame them for wanting to be this?
This beauty is baked in a 13x9 inch pan and makes a great healthy snack for your children when they come home from school or an awesome item to put in the picnic basket.
It also makes a great snack for you, the adults out there, who need a little 'pick me up' at work.
Recipe Tip
Squeeze the zucchini really well. The cake is already moist, and if you do not squeeze the shredded zucchini very well, too much excess moisture makes the cake soggy.
Not appetizing, if you ask me!
Can I freeze this cake?
Yes, this cake will freeze beautifully, but without the syrup glaze. If you plan to freeze it, then do not add the syrup. That can be added when you actually serve it.
Wrap it in plastic foil, and place it in a freezer-safe bag.
You can also freeze individual slices. DELICIOUS!
Pin this for later:
More recipes to love
Romanian Garlic Green Beans Salad
See you next time!
Yield: 12 slices
Zucchini Orange And Walnuts Cake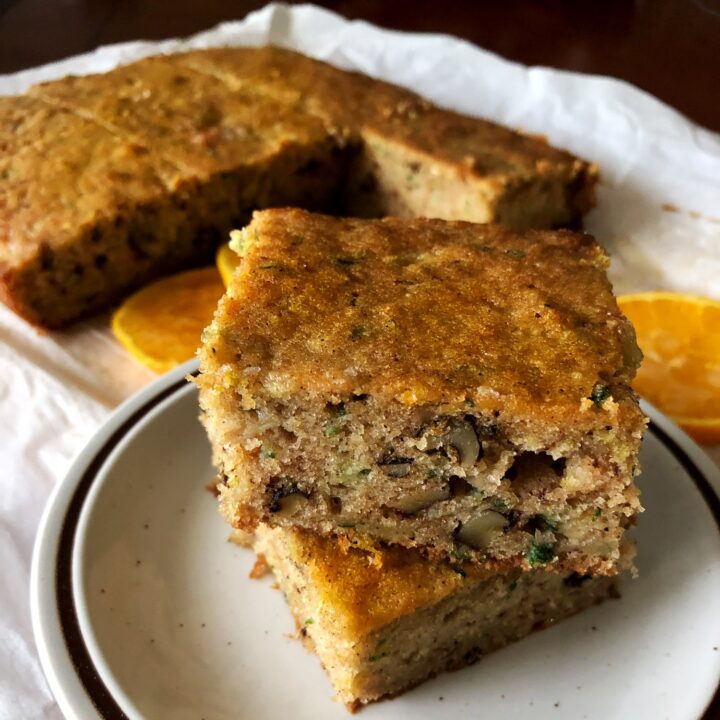 Zucchini Orange and Walnuts Cake is a delicious recipe that will soon make it to your recipe collection.If you love zucchini cake, this recipe is for you.
Total Time
1 hour
15 minutes
Ingredients
1 large zucchini (about 1 lb)
2 cups all purpose flour
¼ grated nutmeg
1 teaspoon salt
1 teaspoon baking soda
1 teaspoon cinnamon
1 cup granulated sugar
3 large eggs
4 tablespoons unsalted butter, melted and cooled
⅔ cup vegetable oil(or sunflower oil)
2 teaspoons vanilla
zest from 1 orange
¾ cup buttermilk
¼ cup walnuts, chopped
Orange Syrup:
½ cup orange juice
¼ cup granulated sugar
Instructions
Preheat oven to 350F/180C.
Butter a 13x9 inch baking pan or line with parchment paper.
Use a food processor to shred zucchini or shred them with a grater.
Transfer zucchini to a clean kitchen towel and squeeze out as much moisture as possible.
In a medium bowl, mix flour, nutmeg, salt, baking soda, cinnamon. Set aside.
In a larger bowl, whisk eggs, sugar, butter, oil, vanilla, and orange zest.
Stir in zucchini and buttermilk.
Add the dry ingredients to the mixture and also the walnuts.
Spread batter evenly in prepared pan.
Bake the cake for 40 to 45 minutes or until golden brown, and a toothpick comes out clean.
Transfer pan to a metal rack to cool.
Brush the cake with the following syrup:
In a small saucepan, bring the orange juice and sugar to a boil over medium heat, stirring to dissolve sugar. Remove from heat. Let cool and brush the surface of the cake.
Recommended Products
As an Amazon Associate and member of other affiliate programs, I earn from qualifying purchases.
Nutrition Information:
Yield:
12
Serving Size:
1
Amount Per Serving:
Calories:

353
Total Fat:

19g
Saturated Fat:

4g
Trans Fat:

0g
Unsaturated Fat:

14g
Cholesterol:

57mg
Sodium:

330mg
Carbohydrates:

41g
Fiber:

1g
Sugar:

24g
Protein:

5g