Zucchini Cheese Patties is a summer dish that is easy to make and delicious. These patties are made with Feta cheese and dill, which are traditional ingredients for this Romanian summer recipe.
PIN THIS FOR LATER: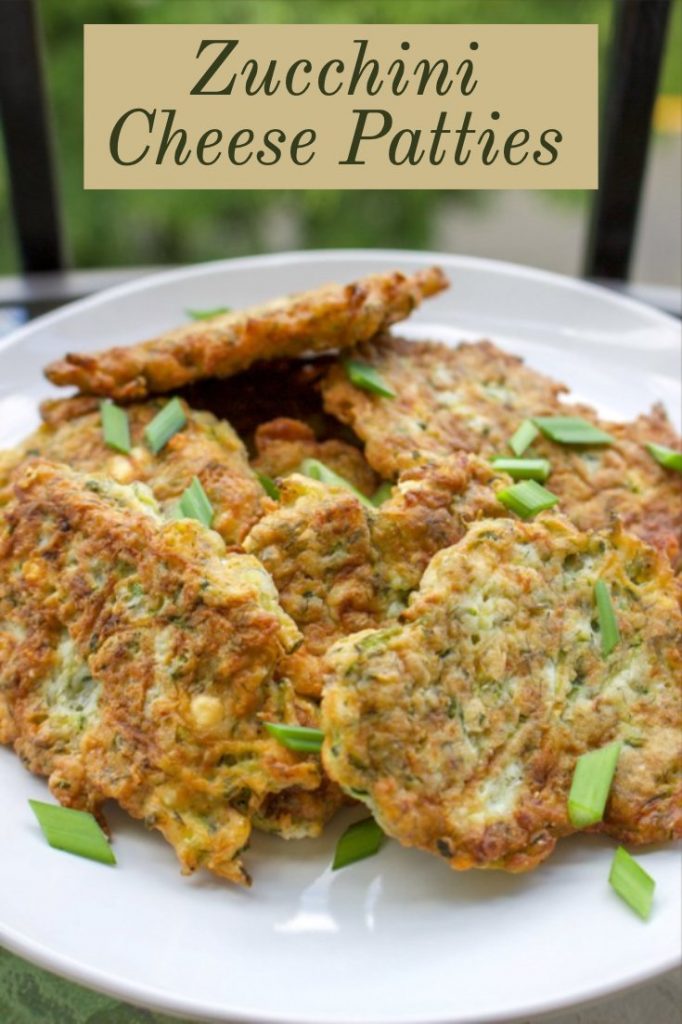 Zucchini is such a summer vegetable and these Zucchini Cheese Patties are so easy to make and delicious.
When I have too many zucchini in the fridge (because I am a vegetable hoarder when I go to the Farmer Market), I like to use them in this awesome recipe.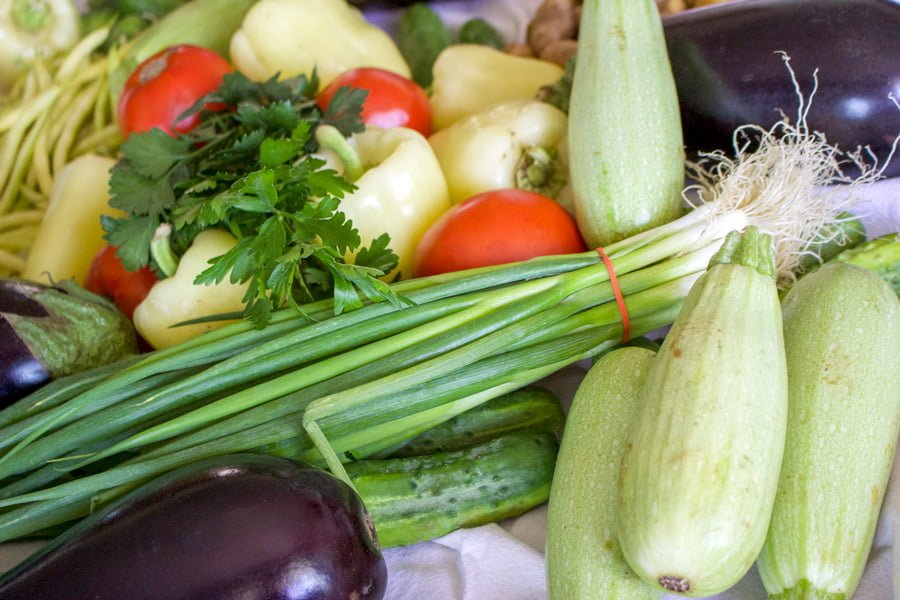 There are so many things you can do with zucchini from soups to desserts. For example, I make this Zucchini and Tomato Soup that I like a lot. Or this Zucchini Tomato And Mozarella Baked Dish that is super easy to make and delicious.
I remember my grandmother and also my mom making zucchini cheese patties in the summer or just fried zucchini, when they would slice the zucchini, toss them in flour mixed with salt and pepper and fry them in oil.
Separately, they would make a little sauce with few crushed garlic cloves, hot water, oil, salt and pepper and toss the fried zucchini in that sauce!
Oh my! The zucchini made this way were DELICIOUS! The memories about food, the way it smelled and the flavors are still very strong and they will probably stay with me for ever.
This recipe, in particular, is very simple and easy to put together. The zucchinis contain a lot of water, so the first step is to prepare them for the patties.
After you peel and shred them, you have to place them in a colander with salt. The salt helps removing the excess water from the zucchini.
Be careful, as if you don't squeeze them well of that water, the patties will not stay together, the mixture will have a loose texture and frying watery zucchini will result in a disaster in the kitchen. The water and hot oil don't go well together.
Anyway, after you squeeze the water really well, then you can go ahead and mix the zucchini with the rest of the ingredients. Make patties with a tablespoon and fry them in hot oil for few minutes on each side.
This is a Romanian recipe and the traditional way of making these patties is with Telemea, which is similar with Feta. Telemea is usually made from cow, sheep or goat milk. We like all of them, so feel free to do the same and choose your favorite cheese.
I saw many recipes out there using all kinds of cheese, but if you want to try the traditional Romanian way, then Feta is the answer.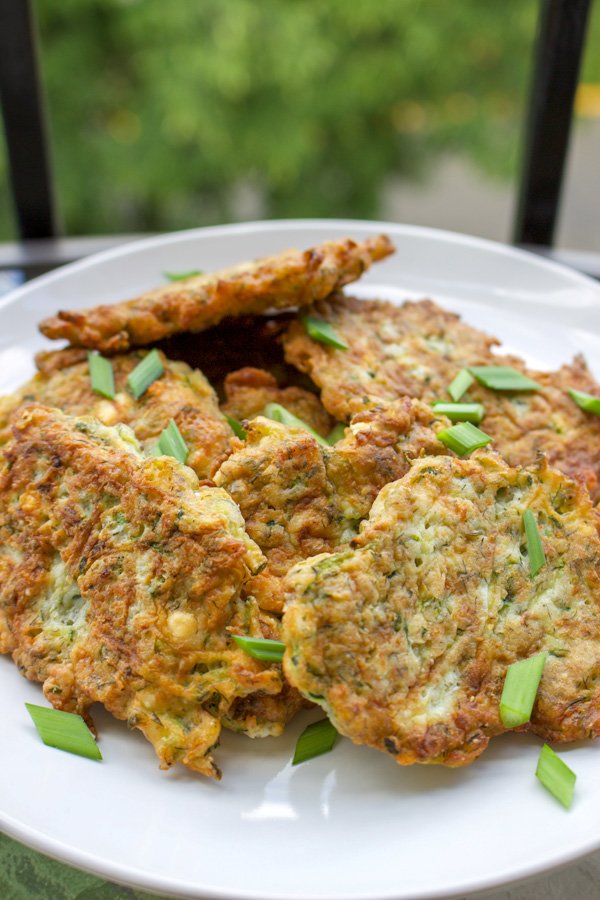 These zucchini cheese patties are usually served as appetizers with sour cream, sometimes with a garlic sauce or yogurt, but they could make a good meal next to a salad, for example.
Another way to eat them is in between two pieces of bread and sliced tomatoes.
That is the perfect summer sandwich for me and a perfect lunch or light dinner. Here is a delicious and super easy recipe to make bread at home: No Knead Bread
Enjoy and let me know what you think!
Yield: 6 servings
Zucchini Cheese Patties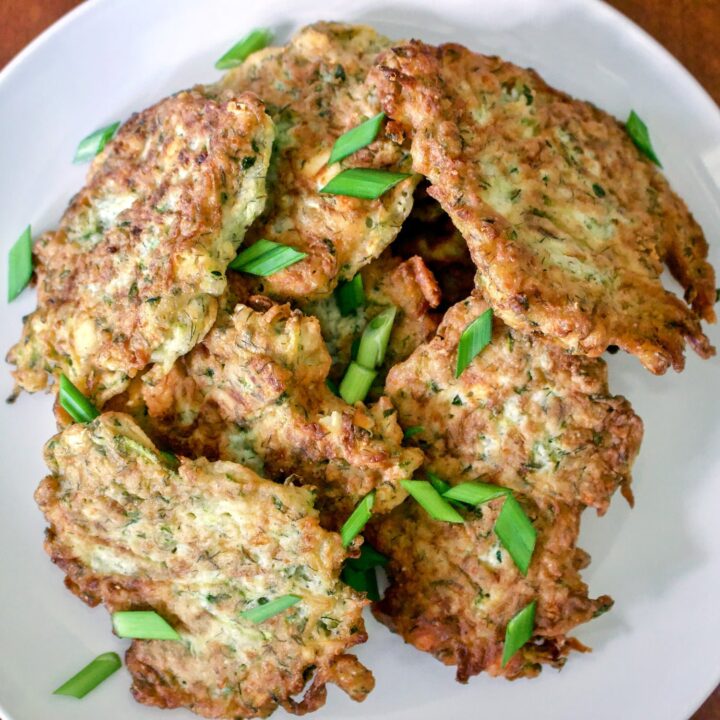 Zucchini Cheese Patties is a summer dish that is easy to make and delicious. These patties are made with Feta cheese and dill, which are traditional for this Romanian recipe.
Total Time
1 hour
15 minutes
Ingredients
3 zucchini peeled and grated
1 teaspoon salt
1 cup(6oz) grated Feta cheese
1/2 cup all-purpose flour
2 large eggs, beaten
freshly ground black pepper, to taste
1 tablespoon chopped fresh dill
Light vegetable oil for frying(I used sunflower oil)
Instructions
In a colander, toss the zucchini with 1 teaspoon salt. Let stand for 30 minutes.
Rinse throughly under cold running water. Drain and squeeze the zucchini to remove the excess water and pat dry on paper towels. Place the zucchini in a bowl.
Add cheese, dill, pepper and mix well.
Beat the flour together with the eggs and add to the zucchini mixture. Mix well and correct the taste with more salt and pepper if necessary.
Measure enough oil into a large skillet to come up about 1/2 inch. Heat the oil until very hot.
Drop about 1 1/2 tablespoons of the batter into the skillet for each patty, spacing them about 1 inch apart. Pat the patties lightly with a spatula to flatten. Fry until golden on both sides.
Remove and let drain on paper towels.
The patties are served hot with yogurt, sour cream, as appetizers, or as a side dish with salads.
Recommended Products
As an Amazon Associate and member of other affiliate programs, I earn from qualifying purchases.
Nutrition Information:
Yield:
6
Serving Size:
1
Amount Per Serving:
Calories:

112
Total Fat:

5g
Saturated Fat:

2g
Trans Fat:

0g
Unsaturated Fat:

3g
Cholesterol:

66mg
Sodium:

423mg
Carbohydrates:

11g
Fiber:

1g
Sugar:

2g
Protein:

5g