Note: "We are a participant in the Amazon Services LLC Associates Program, an affiliate advertising program designed to provide a means for us to earn fees by linking to Amazon.com and affiliated sites."
You got zucchini from the Farmers Market and don't know what to do with it? This recipe is for you. I love zucchini and this is such a summer item that needs to be cooked while still in season. The recipe is very simple and can be made in no time. You just need some fresh tomatoes, garlic(yum!), few slices of mozzarella and a little bit of cheddar cheese to sprinkle over. Bake and eat! Quite simple, if you ask me, and oh, so delicious!
I served this dish with roasted chicken, but it goes perfectly with grilled meats or just simple, by itself, maybe with a delicious salad that you enjoy.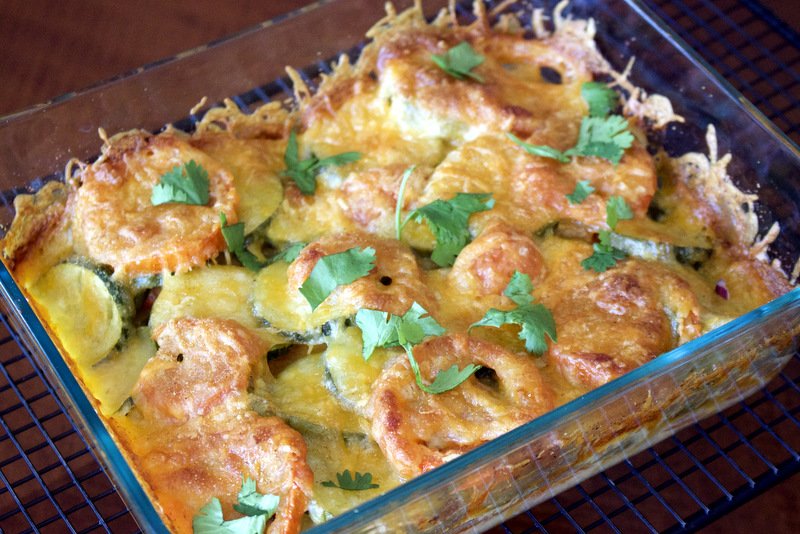 Try to pair it with my recipe of No breaded fried chicken  or Chicken Breast Schnitzel, which I was told is to die for.
Also, if you make this recipe, share it with the hashtag #thebossykitchen on Instagram, Facebook and Twitter so we can all see what you're cooking!
Or maybe you want to join The Bossy Kitchen community group where you can share your creations made from this blog or from other sources. Everyone is welcome to join!

Baked Zucchini Tomato and Mozzarella Casserole
Author:
The Bossy Kitchen
Ingredients
2 medium zucchini sliced
3-4 medium tomatoes
2 garlic cloves
1 teaspoon garlic powder
4 slices of fresh mozzarella
2 Tablespoons shredded cheddar cheese
salt and pepper to taste
2 Tablespoons butter
1 Tablespoon fresh chopped parsley
Instructions
Preheat oven to 375F.
Wash the zucchini and the tomatoes.
Slice the zucchini and place the round pieces in a bowl.
Sprinkle salt, pepper and a little bit of garlic powder over them and mix gently to coat the vegetables. Set aside.
Repeat the step with the sliced tomatoes.
Butter an 8x8-inch glass baking dish and arrange the slices of zucchini in the dish, alternating with slices of mozzarella cheese and tomato, so that the slices overlap each other in a neat row pattern.
Bake in the oven for about 20 minutes.
Remove and add the crushed garlic and the shredded cheddar cheese. Bake for another 5 minutes.
Serve hot with fresh chopped parsley on top.