Note: "We are a participant in the Amazon Services LLC Associates Program, an affiliate advertising program designed to provide a means for us to earn fees by linking to Amazon.com and affiliated sites."
I grew up with a German grandmother and schnitzel was something she made quite often. My mother always made it any time meat available. Chicken Breast Schnitzel is something I also made all my adult life. I usually have to make a bunch of schnitzels as my family never gets tired of them. There are also very easy to make and much better than any chicken nuggets or breaded chicken you ever had in your life.
You can also follow the same recipe and make schnitzels with veal, or pork. I love the pork schnitzels. Turkey breast is awesome too.
We have them for lunch, or dinner, we take them with us when we travel, we use them in sandwiches. My daughter grew up with them. Her face lightens up when I say the word "Schnitzel". And I don't even have to mention my husband who would have them all the time. This being said, I invite you to make them at least once and let me know if you liked them or not.
HOW TO MAKE THE CHICKEN BREAST SCHNITZELS:
Clean the chicken breast and slice it into thinner pieces, horizontally, like this: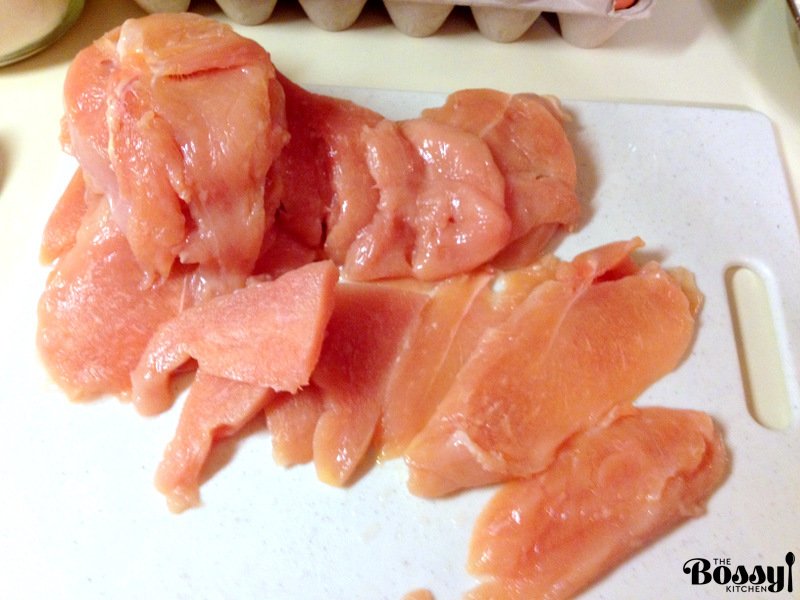 The chicken breast is usually very tender so you do not need to pound the meat before, but if you prefer to do this, go ahead.
 You will need two plates or trays. On one plate we will have flour, salt, and pepper. On the other plate, we will have beaten eggs. Take one slice of meat and toss it in flour both sides.
Shake the excess flour. Dip the meat in the egg.
Heat up the oil in a skillet and add the coated chicken. Make sure the oil is hot, otherwise your chicken and batter will absorb a lot of oil.(the temperature should be around 350F).
Fry them on medium heat for about 4-5 minutes on each side, or until golden brown. Make sure you do not crowd the schnitzels in the skillet. When done, transfer the schnitzels to a plate. This is my first batch:
Continue the same process until you finish all the meat. Serve it inside of a sandwich, warm or cold. Or next to mashed potatoes, or roasted ones. Or even better, with French fries(yum!) or potatoes with butter and dill.
Or any other raw or cooked vegetable you like. Make a salad also to complement your meal and here you have a gorgeous lunch or dinner! It will also become a favorite for your kids and the frozen bags of chicken nuggets will be a sad memory! Remember: Cooking is love made visible!
If you make this recipe, share it with the hashtag #thebossykitchen on Instagram, Facebook, and Twitter so we can all see what you're cooking!
Or maybe you want to join The Bossy Kitchen community group where you can share your creations made from this blog or from other sources. Everyone is welcome to join!
Easy Chicken Breast Schnitzel
Author:
The Bossy Kitchen
Ingredients
4-5 chicken breasts
1 cup all-purpose flour
2 large eggs
½ teaspoon salt
¼ teaspoon ground black pepper
vegetable oil for frying(I used sunflower oil)
Instructions
Clean and slice the chicken breast horizontally into thinner pieces.
Grab a deep frying pan and pour the vegetable oil into it. Heat up the oil while you prepare the chicken.
Prepare a plate with flour where you add salt and pepper. Mix well.
Prepare another plate with beaten eggs.
Take one slice of meat and toss it in flour both sides.
Shake the excess flour.
Transfer to the other plate and dip the meat into the egg.
Place the coated chicken in the pan and fry on medium high heat about 4-5 minutes on each side, or until golden brown.
When done, transfer the schnitzels to a plate and serve warm or cold.