Note: "We are a participant in the Amazon Services LLC Associates Program, an affiliate advertising program designed to provide a means for us to earn fees by linking to Amazon.com and affiliated sites."
I love to make chicken dinners because they are easy and versatile. I can use different parts of chicken available in the fridge and also play with ingredients and spices. The other night,  after a day of running errands around the Twin Cities, I did some brainstorming with my husband, while both of us were in the kitchen looking for some dinner. We were thinking to go out and eat, but too tired and in no mood to conquer the cold weather outside again, so we started to look around the kitchen for something to put together as dinner.
We had chicken in the freezer, organic chicken wings and some thighs, so that was a good start. Growing up in an environment where the food was hard to find, I learned that being flexible and accommodating is a good thing when it comes to cooking.
I also have years of experience, so I kind of know what goes with what, which helps me improvise and play with ingredients. For example, I like to buy chicken parts or whole chickens, with the bones in. Chicken legs, chicken thighs also with the skin attached, chicken breast are in general my favorite parts of chicken to cook with.  I can de-bone the meat and use the bones for making a soup, or bone broth. 
We love soups and they are also a perfect solution for cold seasons. I could also use chicken thighs with the bone removed and make pan fried chicken, like my grandma used to make.
I don't know about you, but in the state where we live, the meat is quite expensive, so I try to find different solutions to keep the cost low. Buying chicken with the bone in is one of them.
Getting back to my story with the dinner in the making, we looked around the kitchen and found potatoes. Husband got me some red onions from the store the other day, so we picked two big ones from the bag.
A lemon was looking at us from the fruit bowl on the counter, waiting to be used, so we grabbed that one too. Rosemary, olive oil, some mustard, garlic and we were ready to make an awesome meal. To this dish, we added a salad, because life is better when there is a salad around, right?
Anyway, I grabbed a baking tray and started to throw stuff in it, chicken, potatoes, garlic cloves, sliced onions. I made a marinade out of olive oil,  lemon juice, zest, mustard, salt, pepper and dried rosemary and threw that in the pan as well. I mixed everything to coat the vegetables and the chicken and baked the tray until the chicken looked golden brown and yummy.
What do you think? Looks good, right? While the chicken was baking, I made a green salad with lettuce, tomatoes, cucumber and some green onions, put some olive oil, salt and vinegar over and we were ready to eat!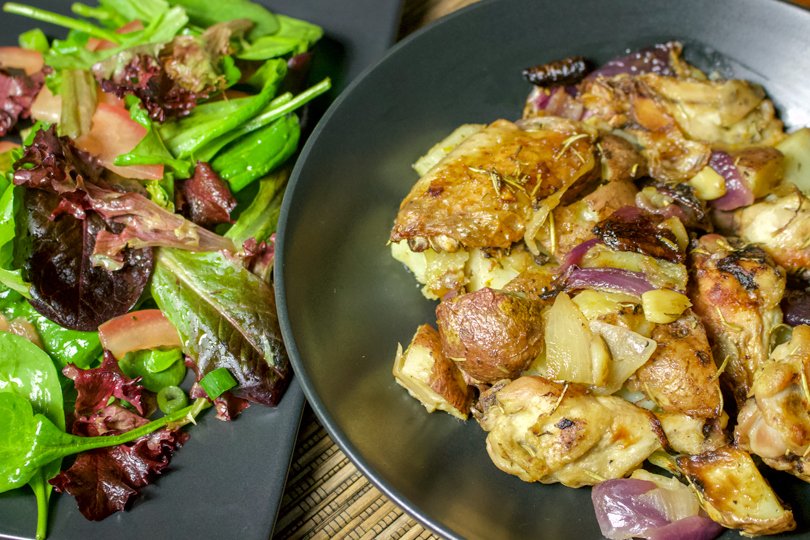 So, here you have the recipe for this easy and delicious dish. Both my husband and I declared the dinner to be a successful one. It was easy to make, it was cheap and the left overs were awesome!
Here is an approximate cost for this dish which made about 4 servings:
Lemon:    $1
Mustard: $.10
Garlic:     $.10
Red Potatoes: $2
Bone in, skin-on chicken thighs and wings: $6.99
Rosemary: $.20
Olive oil:    $.80
Total:         $11.19
Per person: $2.80
Enjoy!

Lemon Rosemary Roasted Chicken With Potatoes And Red Onion
Author:
The Bossy Kitchen
Ingredients
¼ cup olive oil
1 lemon(zested and juiced)
1 tablespoon Dijon mustard(or regular)
3 cloves of garlic, chopped
2 medium red onions sliced
1½ lbs. red potatoes, cut into 1-inch cubes
1½ bone in, skin on parts of chicken(thighs, drums, wings etc)
1½ teaspoons dried rosemary
Instructions
Preheat oven to 425F/218C.
In a small bowl, whisk the olive oil, lemon zest, juice and mustard. Season the dressing with salt and pepper. Set aside.
On a rimmed baking sheet, toss the potatoes, chicken, onions, garlic and rosemary with the dressing. Add more salt and pepper if you feel necessary.
Arrange the potato and chicken mixture, skin side up, in a single layer.
roast, turning the potatoes once, until the potatoes are golden brown and tender and the chicken is cooked through, about 40-50 minutes.
Serve with a green salad.