This is an easy way to put together a healthy dinner in no time. This Acorn Squash With Chicken & Fennel is a recipe of roasted winter vegetables with chicken ready in less than an hour.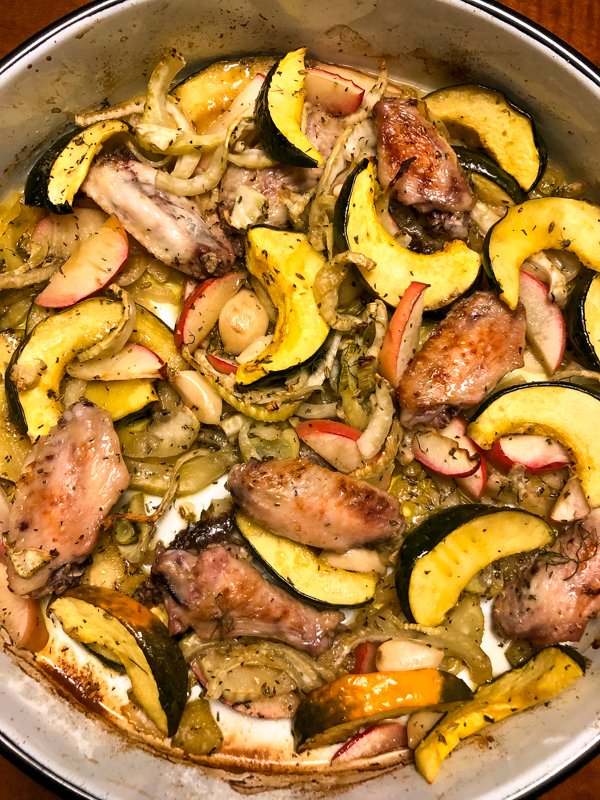 Sometimes I think about ingredients, cuisines, and flavors, and I realize that I need another lifetime to experiment with all of them. There are so many out there that it is really difficult to cook or try everything.
I wish I could because my curiosity is insatiable when it comes to food preparation. If you wonder where I got this passion for cooking and baking from, I think the guilty one is my maternal grandmother.
She was a very talented cook and also baker. However, I do not remember her even owning a cooking book.
Everything was passed from generation to generation as cooking was definitely a way of surviving and a skill you needed.
Her kitchen was small. I have no idea how she managed to come up with such delicious meals in that tiny kitchen.
Her house was also very tiny, and Sundays, when the entire family was there, eating and spending time together, she was very busy making sure everyone went home well fed and satisfied.
Most of us are so used to have big homes, with huge kitchens that nobody uses anymore. It makes you wonder how people were able to thrive in small environments and never complain.
For sure, I never heard my grandma complaining. It was the way of life, I guess.
The baking tray you see in the pictures below is similar to what my grandmother used to have probably 50 years ago.
I found the tray in some small Eastern European store in Minnesota and I was so happy for it!
It reminded me of my grandmother's way of cooking, lots of food to feed a crowd, especially on Sundays, when we would go to her house and have the Sunday meal together.
Acorn Squash With Chicken&Fennel
Getting back to this recipe, my inspiration came from a British recipe sitting in my collection of recipes for years. (Here is the actual link for it)
I found it to be a winner in my book, perfect for entertaining but also good for any day of the week. I love acorn squash in the winter, especially roasted one with coconut oil.
The interesting ingredient in this dish is the apple cider, which is such a popular ingredient in the British cuisine.
I don't cook much with apple cider, but I have to say that I really liked it. It gives the dish the sweetness and the acidity that it needs without overpowering it.
The combination of squash, fennel and apples in this recipe does not need a lot of description.
The title says it all: perfection. It is also a versatile recipe because you can roast the vegetables alone without adding any meat to create a side dish.
If you want it with some meat besides chicken, sausages are a good option as well, like fennel sausages, for example. Pork is awesome, too, especially thinly cut pork chops if you prefer. (The original recipe actually uses sausages)
For this occasion, I made it with chicken. I think the roasted vegetables with meat would stay proudly on any dinner table when you entertain.
While you roast these beauties, you can prepare an appetizer or drinks for your guests.
How to make this acorn squash with chicken&fennel
Step one.
To start the recipe, gather the vegetables, clean and slice them according to the instructions.
Remove the fennel core. Slice the fennel thinly using a sharp knife or a mandolin.
Core the apples and cut them into segments. Do not peel the apples. The skin of the apples has a lot of nutrients. Peel the garlic cloves.
Cut the acorn squash into rings and remove the seeds.
Place them on the baking tray .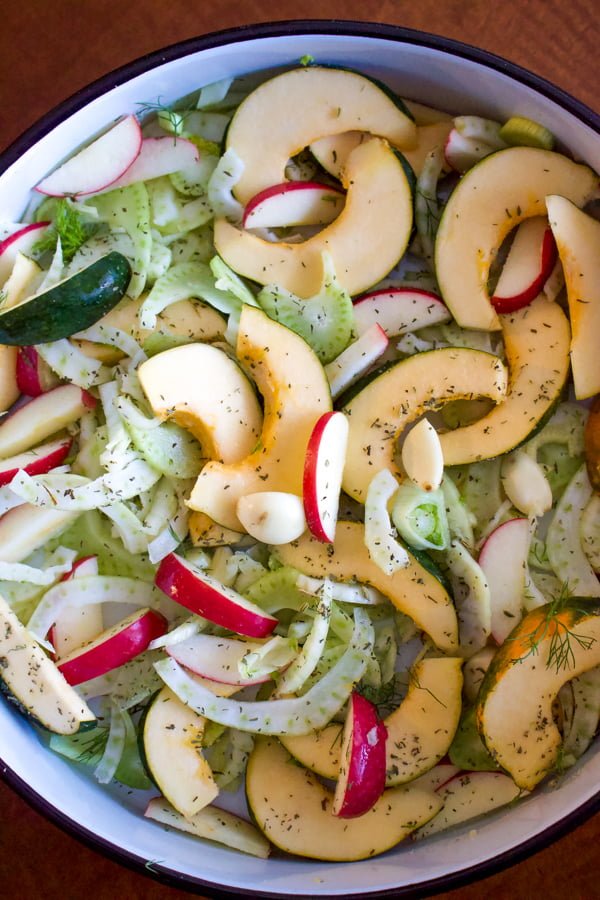 Step 2.
Place the pieces of chicken on top of the vegetables. Sprinkle the spices. Also add the olive oil and apple cider.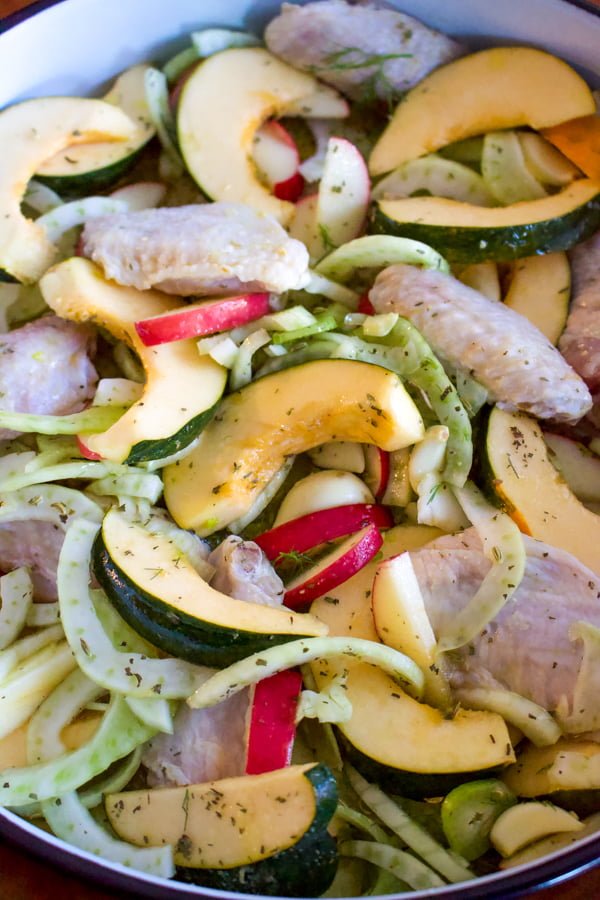 Step 3.
Toss everything together to coat and bake in the oven for 40 minutes. How easy is that?
Optional, you can use creme fraiche to serve the vegetables, but if you don't have that, use sour cream or skip it completely for lower calories—no big deal.
This is the perfect recipe, especially when your mind is going blank and you don't know what to cook anymore, especially in winter, when lettuce salad doesn't sound that appetizing.
I don't know about you, but I live in a super cold climate, and warm meals are all I think about, besides carbs and bread. 🙂
I try really hard to eat salads, but tomatoes and cucumbers in the middle of February, when you have a foot of snow outside and -50F windchill, don't sound very good.
They also sound really wrong, especially because they don't taste like anything. For me, eating in season is a healthier way of life.
Squash, fennel, potatoes, all kind of roots, like beets and parsnip are fulfilling, comforting and delicious.
If you look for a perfect salad in winter, here is a recipe that has some of these items. It can be served warm or cold, based on your preference.
I hope you try the recipe, and if you do, drop a note in the comments and let me know what you think. Until then, stay well, my friends!
PIN HERE FOR LATER: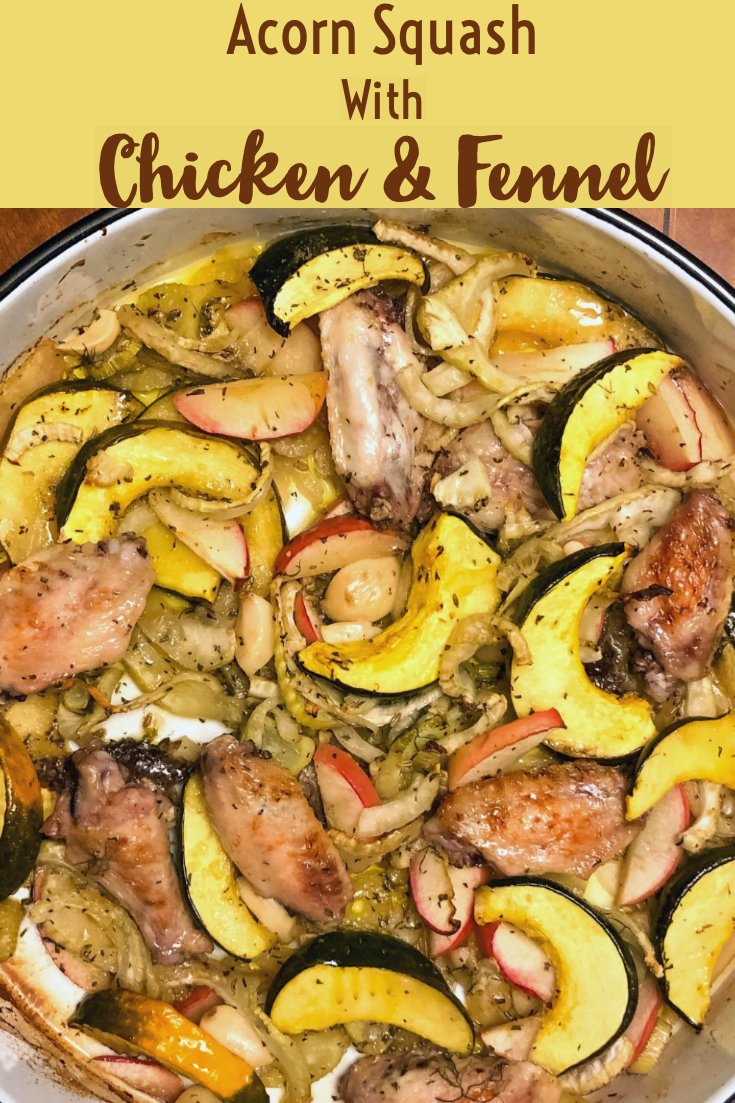 MORE RECIPES TO LOVE:
Orange Fennel and Arugula Salad
Strawberry Arugula Salad With Pecans And Avocado
Yield: 6 servings
Acorn Squash With Chicken & Fennel
Delicious winter baked tray of vegetables with chicken, perfect for dinner during the week or entertainment.
Ingredients
1 fennel bulb
2 apples
12 garlic cloves
3 acorn squash
1 teaspoon fennel seeds
1 tablespoon fresh chopped tarragon or 1 teaspoon dried tarragon
1 cup/200ml apple cider
2-3 tablespoons of olive oil
3 pounds chicken parts(legs, thighs, wings, breast or a mixture of them)
Optional: crème fraiche or sour cream for serving
Instructions
Preheat the oven to 180C.
Remove the fennel core. Slice the fennel thinly using a sharp knife or a mandolin.
Core the apples and cut them into segments. Do not peel the apples.
Peel the garlic cloves.
Cut the acorn squash into rings and remove the seeds.
In a roasting dish, scatter the fennel, apples, squash, and garlic. Place the pieces of chicken on top.
Add the fennel seeds, tarragon, and apple cider to the tray and the olive oil. Toss everything to coat.
Bake for 40 mins and serve.
Optional: Serve with crème Fraiche or sour cream.
Recommended Products
As an Amazon Associate and member of other affiliate programs, I earn from qualifying purchases.
Nutrition Information:
Yield:
6
Serving Size:
1
Amount Per Serving:
Calories:

706
Total Fat:

39g
Saturated Fat:

11g
Trans Fat:

0g
Unsaturated Fat:

25g
Cholesterol:

220mg
Sodium:

185mg
Carbohydrates:

32g
Fiber:

7g
Sugar:

11g
Protein:

57g
Note: "We are a participant in the Amazon Services LLC Associates Program, an affiliate advertising program designed to provide a means for us to earn fees by linking to Amazon.com and affiliated sites."