Chicken Marbella From The Silver Palate Cookbook– a delicious, classic American recipe that is great for entertaining. Very elegant!
I don't know about you, but I love entertaining. I grew up in a culture where people still like hosting and the hospitality plays an important role.
Even if we did not have much when I was a child, the kitchen was always the most important room in the house. Sunday meals were a must.
I do remember my grandmother's food, but mostly I remember her effort to make the dining table look beautiful.
A clean table cloth, the "good silverware", the fancy napkins kept for the occasion, the tall glasses for wine, all made the table look elegant and inviting.
Music was always playing in the background while the family enjoyed the meal.
The food was simple, hearty and delicious. My grandmother showed her love to her family through food. It was her way to tell us that she loves us by bringing us all together around her table.
Entertaining should not be complicated, elaborated or crazy. There are a gazillion recipes out there that can be made in advance, so you feel overwhelmed.
The food is the instrument to bring people together. And that inspired me to share this recipe with you today, a recipe that is one of the most popular American recipes for entertaining.
This recipe of Chicken Marbella from The Silver Palate Cookbook is not a new one. I decided to post it here because I fell in love with it, and it is one of my favorite recipes when I entertain.
It is a spectacular recipe to serve for a dinner and it's great both hot or cold.
The capers, prunes and olives will make the dish elegant. The spices and the white wine will give the dish lots of flavor.
The overnight marination is essential for the finished product.
Try it and you will not regret it. Elegant, beautiful and delicious dish! And also easy to put together…
For everyone who has access to Amazon books, I really recommend you to get The Silver Palate Cookbook.
It is a wonderful book that will help you out in many occasions when you have to entertain and have no inspiration for the meal.
Tip for this recipe: Feel free to use whatever chicken you have around.
The recipe requires 4 chickens, quartered, but I used different parts of the chicken with great success in many occasions.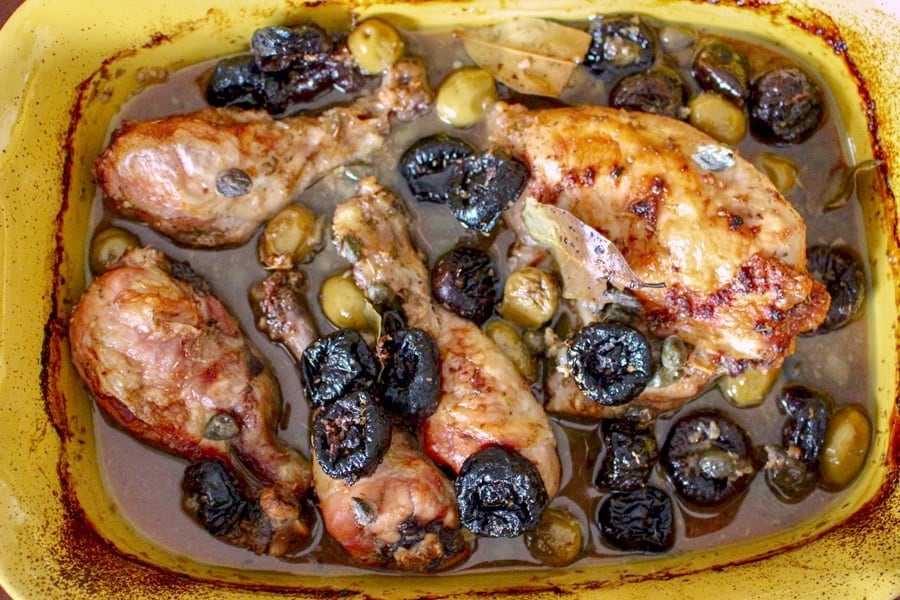 Make sure you calculate about 6 to 8 ounces of chicken per person when you plan the menu. You can get away preparing only this dish, beside some light appetizers and maybe a salad as a starter.
For dessert, if you don't want to make anything complicated, serve this easy recipe that you cannot fail at: Five Minutes Triffle.
If you feel like baking something, then try this Orange Almond Flan– a Spanish delicious recipe that will end the meal in style and everyone will enjoy.
And the results are amazing. As a matter of fact, I cannot wait to have it for lunch tomorrow.
I just made another batch tonight and it came out divine. Leftovers are great too.
Enjoy!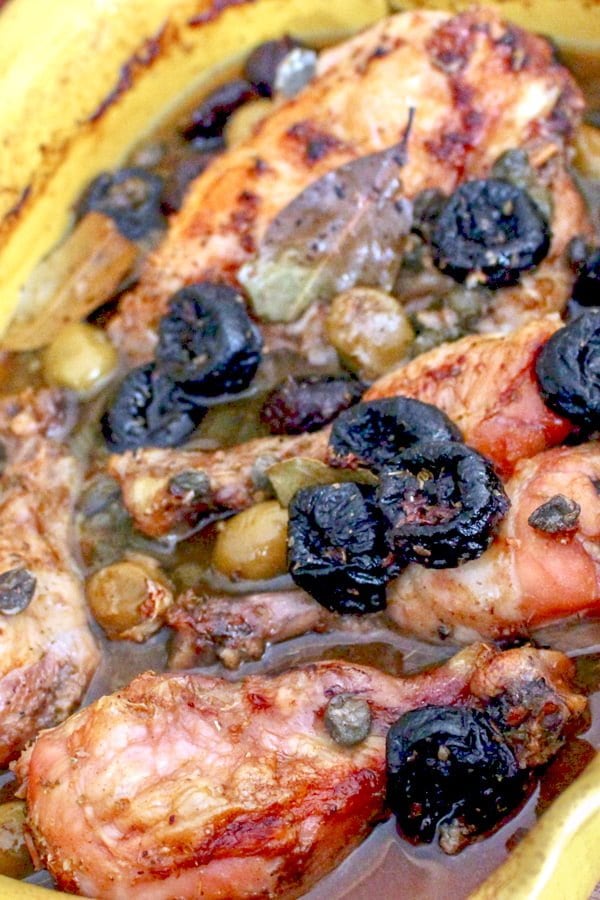 Yield: 10 servings
Chicken Marbella From The Silver Palate Cookbook
Chicken Marbella From The Silver Palate Cookbook- a delicious, classic American recipe that is great for entertaining. Very elegant!
Total Time
9 hours
20 minutes
Ingredients
4 chickens 21/2 pounds each, quartered (you can use any part of chicken you prefer with bones or without)
1 head of garlic peeled and finely pureed
¼ cup dried oregano
coarse salt and freshly ground black pepper to taste
½ cup red wine vinegar
½ cup olive oil
1 cup pitted prunes
½ cup pitted Spanish green olives
½ cup capers with a bit of juice
6 bay leaves
1 cup brown sugar
1 cup white wine
¼ cup Italian parsley or fresh coriander finely chopped, cilantro
Instructions
In a large bowl combine chicken quarters, garlic, oregano, pepper and coarse salt to taste, vinegar, olive oil, prunes, olives, capers and juice, and bay leaves. Cover and let marinate, refrigerated, overnight.
Preheat oven to 350F.
Arrange chicken in a single layer in one or two large, shallow baking pans and spoon marinade over it evenly.
Sprinkle chicken pieces with brown sugar and pour white wine around them.
Bake for 50 minutes to 1 hour, basting frequently with pan juices. Chicken is done when thigh pieces, pricked with a fork at their thickest, yield clear yellow (rather than pink) juice.
With a slotted spoon transfer chicken, prunes, olives and capers to a serving platter. Moisten with a few spoonfuls of pan juices and sprinkle generously with parsley or cilantro. Pass remaining pan juices in a sauceboat.
To serve Chicken Marbella cold, cool to room temperature in cooking juices before transferring to a serving platter. If chicken has been covered and refrigerated, allow it to return to room temperature before serving. Spoon some of the reserved juice over chicken.
Nutrition Information:
Yield:
10
Serving Size:
1
Amount Per Serving:
Calories:

363
Total Fat:

18g
Saturated Fat:

3g
Trans Fat:

0g
Unsaturated Fat:

14g
Cholesterol:

40mg
Sodium:

422mg
Carbohydrates:

36g
Fiber:

3g
Sugar:

28g
Protein:

11g