Note: "We are a participant in the Amazon Services LLC Associates Program, an affiliate advertising program designed to provide a means for us to earn fees by linking to Amazon.com and affiliated sites."
A trifle is a wonderfully indulgent dessert. Sweet, creamy, with the added textures of fruit, sponge or lady fingers, it is an ideal finish to a meal. And if you like a little extra zing in your dessert, trifles will happily accommodate a dash of  sherry or your favorite liqueur. The trifles are great for serving a light dessert after a copious meal, especially during the holidays. Christmas is a perfect one for enjoying this fabulous dessert, but Thanksgiving is great too, especially if you are not into the pumpkin/apple pie tradition. And,  how about summer? There are so many fruits in season that could be used for a quick dessert on a hot day when nobody is in the mood to bake.
But what is it about a trifle that everyone likes?
Simplicity:
One of the great things about a trifle is that it's easy to make. And I love easy desserts with lots of flavors. Trifles are a sturdy dessert that can be made successfully by even the most inexperienced cook. They keep well and can be made ahead of time, leaving you free to concentrate on the more demanding elements of your meal.
Serving: 
Trifles are usually served in glass bowls to display the colourful layers that make up this dessert. While there are many different trifle recipes, most trifles are build on layers of sponge or lady fingers, fruit, custard, whipped cream and, optionally, some form of alcohol. Variation among trifles comes most often in the choice of fruit, the flavors and the type of alcohol used.
Trifle alternatives:
If you are feeling adventurous you can consider some alternatives. For example, instead of a layer of sponge you can use angel food cake, muffin slices, lady fingers, waffles or chocolate cake. Instead of using sherry, try an aromatic liqueur like Kahlua, Amaretto, Cointreau or anything else you like. Use any sort of creamy mousse instead of custard or pudding.
My version of trifle involves that zing I was telling you about. I used raspberry liqueur. And lady fingers. I also used frozen raspberries, but feel free to use fresh ones if you have access to them. If not, raspberry preserves would work perfectly. Instead of using custard, mousse or pudding, I just used sweetened heavy whipping cream. Cuts down on calories but it is still creamy and delicious.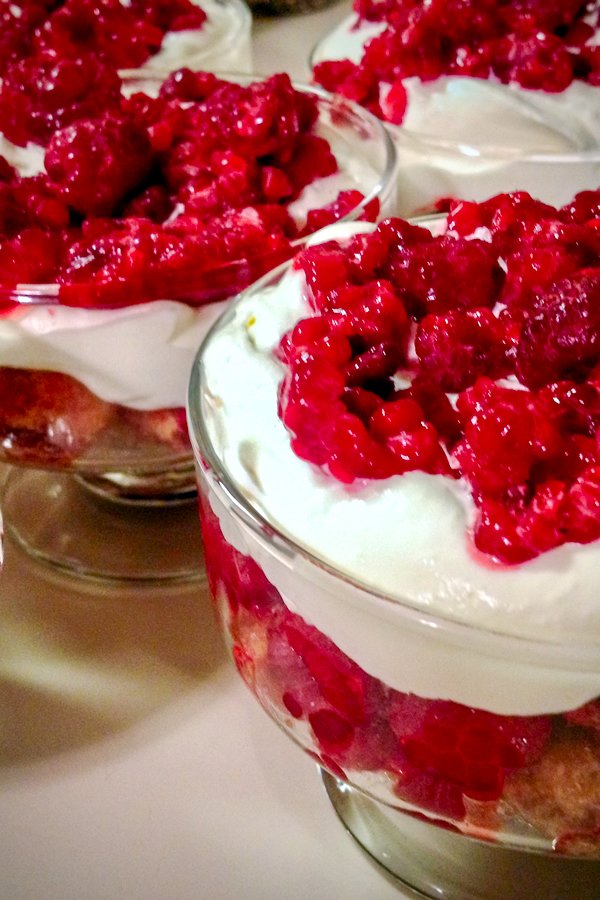 Five minutes dessert, right? So, I placed ladyfingers on the bottom of each trifle glass. I drizzled a modest amount of liqueur over them. Then, I added a layer of whipped cream and a layer of raspberries.
Finally, I topped the fruits with another layer of whipped cream and more fruit.  Optional, you could decorate with almonds.
It's a fancy desert. It looks gorgeous and it tastes heavenly. Enjoy!
Five Minutes Trifles Dessert
Author:
The Bossy Kitchen
Ingredients
16 ounces pound cake optional: use 2 packages (3 ounces each) lady fingers
3-4 tablespoons brandy or rum or any favorite liqueur
2 cups sweetened heavy whipping cream
16 ounces fresh or frozen raspberries
Optional: almonds slivered or sliced
Instructions
Line bottom of attractive glass bowls with ladyfingers or thinly sliced pound cake.
Drizzle modest amount of brandy/rum or any favorite liqueur over the ladyfingers.
Add a layer of whipped cream.
Add a layer of fresh of frozen fruit.
Top with whipped cream, almonds sauteed in butter, and raspberries.
Chill and refrigerate.
Keeps well in the fridge for only 2-3 days.
A fancy trifle. Looks gorgeous, tastes heavenly.