Check out these 30 trifle dessert recipes that are some of the best you will ever find. Easy to make, light, and versatile, trifle desserts are perfect as show stoppers on the table for any celebration, from Christmas to New Year's Eve, to Easter, or even for a Sunday family gathering.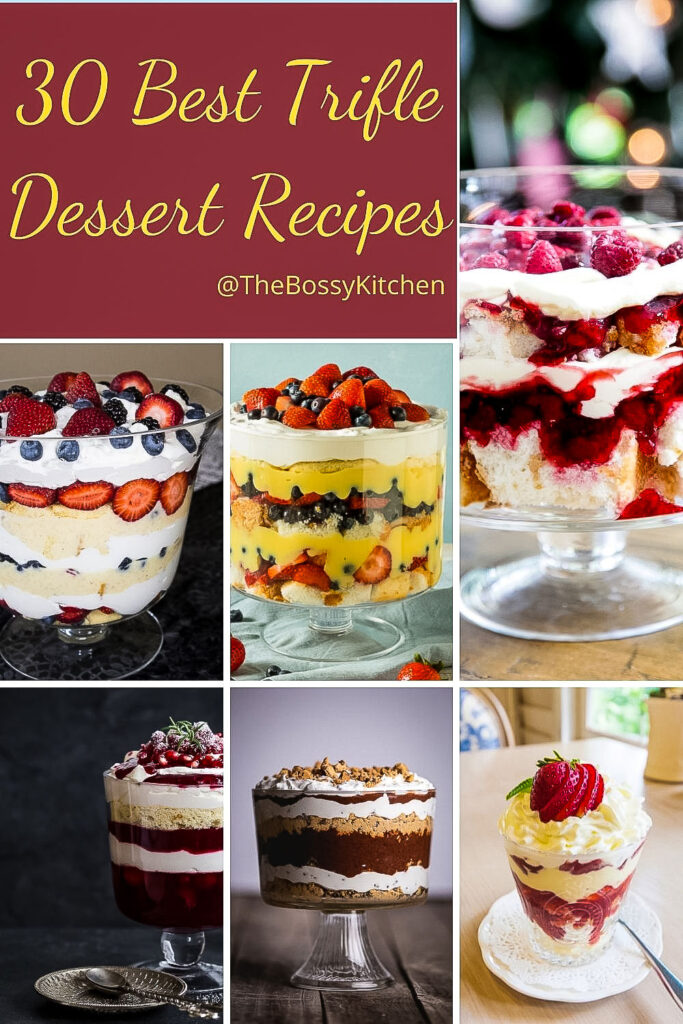 What is a trifle dessert:
A trifle is a wonderfully decadent dessert. It is a layered dessert made out of sponge cake, ladyfingers, cake, custard, whipped cream, fruits, and sometimes some alcohol to spice things up.
This dessert originated in England, but many countries around the world adopted the recipe and made it their own.
Trifles are great for serving a light dessert after a copious meal, especially during the holidays.
Why people like trifles so much?
Easy to make.
One of the great things about a trifle is that it's easy to make. I love easy desserts with lots of flavors.
Trifles can be made successfully by even the most inexperienced cook. They keep well and can be made ahead of time, leaving you free to concentrate on the more demanding parts of the meal you will serve.
2. Versatile.
This dessert is highly versatile, and you can make it with ingredients you might already have in your kitchen. For example, instead of using sponge cake, you can use ladyfingers, angel food cake, muffin slices, waffles, shortbread cookies, or even chocolate cake.
If you want to add some alcohol, you can use a liqueur like Cointreau, Amaretto, Kahlua, or anything else you like and fits with the other ingredients you are using.
The creamy part of this dessert could be either whipped cream, custard, mousse, or jello.
3. Show stopper.
This dessert looks gorgeous if you place it in a suitable bowl. Trifles are show stoppers, and a big bowl will beautifully show the fruits of your labor. Go for a deep, clear glass bowl(affiliate link), and your trifle will look spectacular.
So, if you are looking for an impressing dessert that will be a crowd-pleaser, check out these 30 trifle recipes. I am sure you will be able to find something for your guests.
More recipes to love:
35 Festive Christmas Punch Recipes
30 Best Trifle Dessert Recipes
Note: "We are a participant in the Amazon Services LLC Associates Program, an affiliate advertising program designed to provide a means for us to earn fees by linking to Amazon.com and affiliated sites."