The recipe of super easy green peas with mint is an "easy-peasy" one! Perfect for a quick dinner served with a favorite piece of meat.
Soooo, how do you like your peas? How do you make them? Do you have a love-hate relationship with them? I personally love them.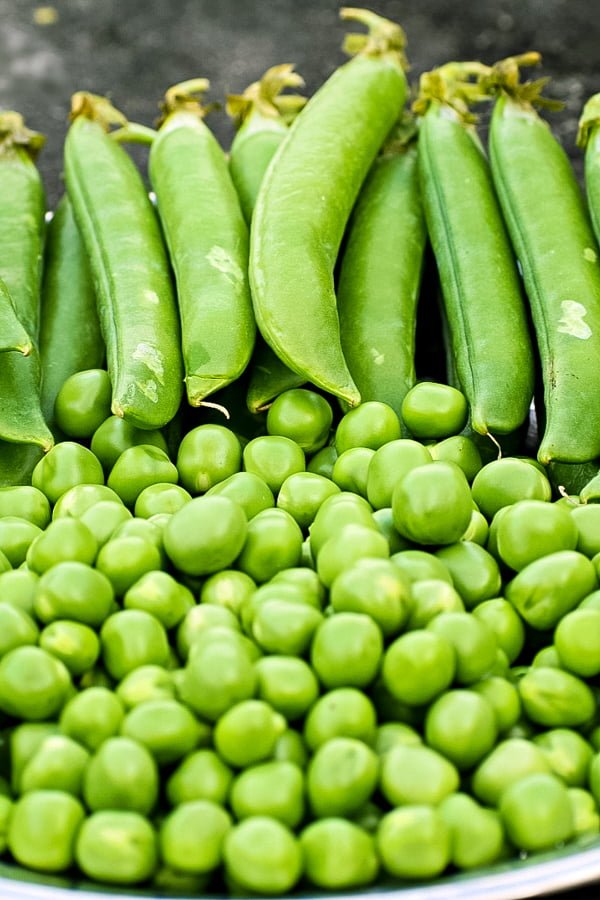 I use peas in many recipes of soups, salads or as a side dish. I have more access to the frozen ones here, where I live, but sometimes, late summer, I find them at the Farmers Market and buy them.
So sweet and so delicious!
The recipe today is an "easy-peasy" one! Perfect for a quick dinner and served with some Fried Chicken my way or Chicken Schnitzels, peas are a delicious choice even for the kids.
You can also serve them to a fancy dinner with this Roasted Bacon Wrapped Pork Tenderloin. And also, you should try them with the traditional Romanian Chiftele, just like my grandmother used to serve them to us.
I personally love the simplicity of this dish. I love peas in general.
This recipe comes from Ireland, where peas were consumed as early as 14th century. The most traditional way to eat peas in Ireland is to make the so called "mushy peas", that are cooked using dried peas.
These mushy peas are mixed with butter and served with fried fish, roast chicken or grilled salmon.
However, fresh peas right out of the garden, which should never be cooked until they are mushy, are often served with mint, which we know that they have a natural affinity.
When I was growing up, we did not have any frozen vegetables available, so for that matter, we were eating lots of peas while in season, and lots of canned ones during the winter.
Now, you can find frozen peas all year round and to tell you the truth, I prefer them when I have no access to the fresh ones.
I really think that frozen peas taste better than the canned ones, don't you think?
How To Make This Super Easy Green Peas Recipe:
For this recipe you will need some basic ingredients:
Onion- which can be regular or green (I used green onions for this occasion)
Peas- which can be fresh or frozen
Mint– Fresh or dried
Oil to saute the vegetables or butter
Water
In a little sauce pan warm up a little bit of oil and add the chopped onion. Saute it until translucent.
Add the green peas and a little bit of water and simmer until the peas are soft, but not mushy and the water reduces to half.
Add chopped mint, salt and pepper to taste and toss everything together. Serve warm with your favorite piece of meat, as a side dish.
This dish is extremely easy to make and delicious. Even your kids will love it.
The mint bring lots of flavor to the peas and make them really delicious. It is a basic recipe that is worth trying.
Note: Many recipes out there require sugar to cook the peas. I say that sugar is not necessary, because peas are usually a sweet vegetable that doesn't require much to taste delicious.
Optional add some lemon juice when you serve, just to make it fancy.
Suggestions of recipes with peas:
ANDOUILLE SAUSAGES WITH PEAS POTATOES AND LEEKS
EASY GREEN PEAS WITH HAM- SPANISH RECIPE
ROMANIAN BEEF SALAD(SALATA DE BOEUF)
Enjoy!
Yield: 4 servings
Super Easy Green Peas with Mint Recipe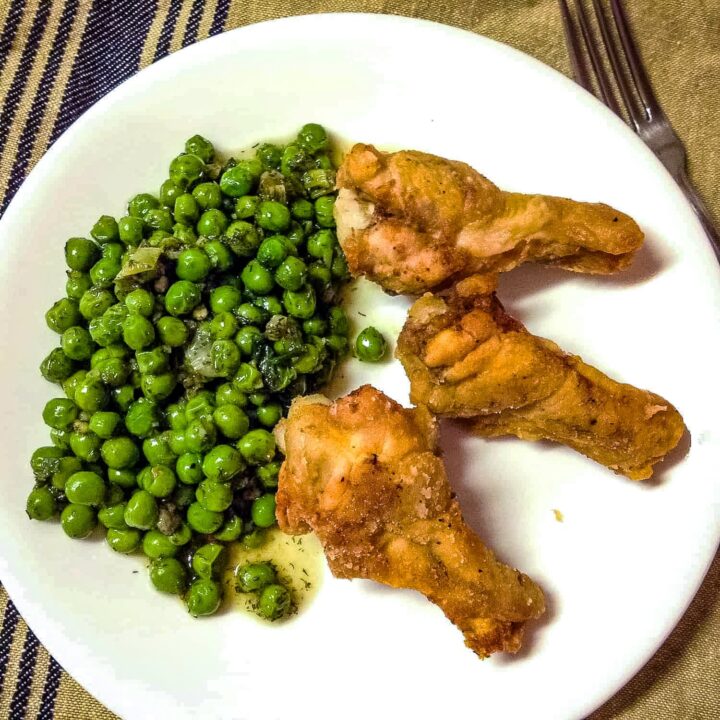 The recipe of super easy green peas recipe is an "easy-peasy" one! Perfect for a quick dinner served with a favorite piece of meat.
Ingredients
16 oz frozen or fresh green peas
1-2 Tablespoons vegetable oil or butter
salt and pepper to taste
1/2 teaspoon dried mint or 1-2 teaspoons of fresh chopped mint
1 small onion or 2-3 green onions
enough water to cover the peas
Optional: lemon juice when you serve them.
Instructions
In a pan, add the chopped onion and saute it in oil/butter for few minutes until becomes translucent.
Add the green peas and enough water to cover them.
Add salt and pepper to taste and let the peas simmer until they get soft but not mushy.(about 5-7 minutes)
When peas are soft, add the chopped mint.
Serve the peas as a side dish next to any kind of meat.
Nutrition Information:
Yield:
4
Serving Size:
1
Amount Per Serving:
Calories:

230
Total Fat:

10g
Saturated Fat:

2g
Trans Fat:

0g
Unsaturated Fat:

7g
Cholesterol:

8mg
Sodium:

107mg
Carbohydrates:

28g
Fiber:

9g
Sugar:

11g
Protein:

9g
Note: "We are a participant in the Amazon Services LLC Associates Program, an affiliate advertising program designed to provide a means for us to earn fees by linking to Amazon.com and affiliated sites."