This Russian cooked vegetable salad is perfect for fall and winter. The vegetables are cooked in advance and seasoned with a simple vinaigrette.
Salads are recognized as an important part of the meal. In many countries, salad is served with the main dish, while in United States, is a meal in itself.
In Eastern Europe, the sophistication and finesse of western salad are still in the early ages, therefore the salads remain simple and down to earth.
For many years, because of the enormous premium paid on fresh vegetables, many people preferred to eat them without any dressing at all, or just lightly sprinkled with oil and vinegar, or lemon juice.
Most of my salads on the blog are like that. I grew up this way and I have a hard time buying dressing in the store. I also could not find something to fall in love with.
If I think about, this is also the new recommendation for eating, less dressing and more olive oil and vinegar or lemon juice when it comes to salads, right?
However, just when you thought you ran out of all the conceivable vegetable salad recipes, here is a treat from Russia for your next potluck.
This Russian cooked vegetable salad is a lovely recipe, perfect for fall and winter seasons. There is a reason why this salad is considered to be good in winter.
For many years, in Eastern Europe root vegetables were the only vegetables available during the cold season, so people were used to make versatile recipes out of potatoes, carrots, beets and pickles .
This recipe is no exception.
It makes a good recipe for vegetarians or vegans, but it is also a great side for a meal that includes meat.
I think this would be really good with fried sausages, or a steak, or a grilled pork chop.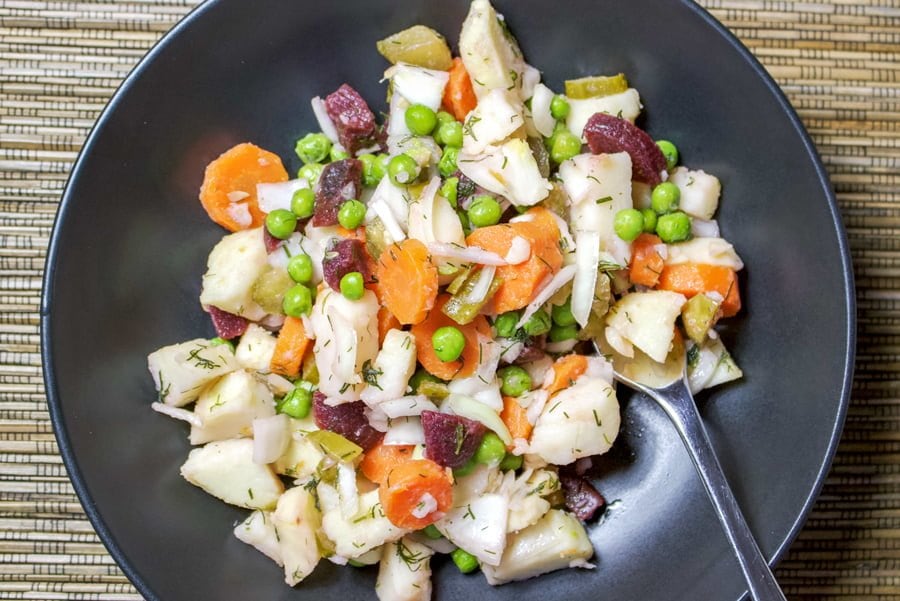 The root vegetables are cooked in advance, so leftover or canned vegetables are a great option to use.
The dressing on this salad is a simple vinaigrette made out of sunflower oil, red wine vinegar, a little bit of sugar, and salt and pepper to taste.
To tell you the truth, I like this type of dressing more than any dressing from the store, but I grew up with this stuff, so don't mind me.
Low in fat and full of nutritious vegetables, this salad is also portable, does not require refrigeration, so you can make it for a potluck or picnic.
The leftovers are great too. Some foods are better after few days and this salad falls into that category.
The vegetables absorb the tangy flavor of the vinaigrette and get friendlier with each other.
Dare to try it? Delicious!
Yield: 6 servings
Russian Cooked Vegetable Salad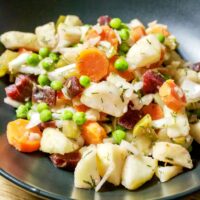 This Russian cooked vegetable salad is perfect for fall and winter. The vegetables are cooked in advance and seasoned with a simple vinaigrette.
Cook Time
1 hour
25 minutes
Total Time
2 hours
5 minutes
Ingredients
1 large beet or 1 can beets(16 oz) drained and cut into ½ inch dice
3 medium-size boiling potatoes peeled
2 medium-size carrots peeled
¾ cup onion chopped
3 medium-size dill pickles diced
1 can(8½ oz) can peas drained (frozen peas and cooked are accepted too)
¼ cup finely chopped fresh dill
Salt and freshly ground black pepper to taste
For Dressing:
½ teaspoon sugar
3 Tablespoons red wine vinegar
⅓ cup sunflower oil
salt and pepper to taste
Instructions
If using a fresh beet, preheat oven to 375F.
Wrap the beet in aluminum foil and bake until tender, about 1¼ hours. When the beet is cool enough to handle, peel it, and cut it into ½-inch dice.
Cook the potatoes in lightly salted boiling water for 10 minutes. Add the carrots and cook until the vegetables are tender, but not mushy, about 10 minutes more.
Let cool, then cut the vegetables into ½-inch dice.
In a large salad bowl, combine the potatoes, carrots, onion, pickles, peas, beet and dill.
Toss gently, taking care not to crush the vegetables.
In a small bowl, whisk together sugar, vinegar, oil and season with salt and pepper.
Toss the salad with the dressing. Taste and correct the seasoning if necessary.
Cover and refrigerate for 30 minutes before serving, so the vegetables have some time to marinade and absorb some of the dressing.
Nutrition Information:
Yield:
6
Serving Size:
1
Amount Per Serving:
Calories:

247
Total Fat:

12g
Saturated Fat:

1g
Trans Fat:

0g
Unsaturated Fat:

11g
Cholesterol:

0mg
Sodium:

267mg
Carbohydrates:

30g
Fiber:

5g
Sugar:

6g
Protein:

5g