Easy Green Peas With Ham- Spanish recipe- is an easy dish that can be made in no time using fresh or frozen peas. For authenticity, use Jamon Serrano.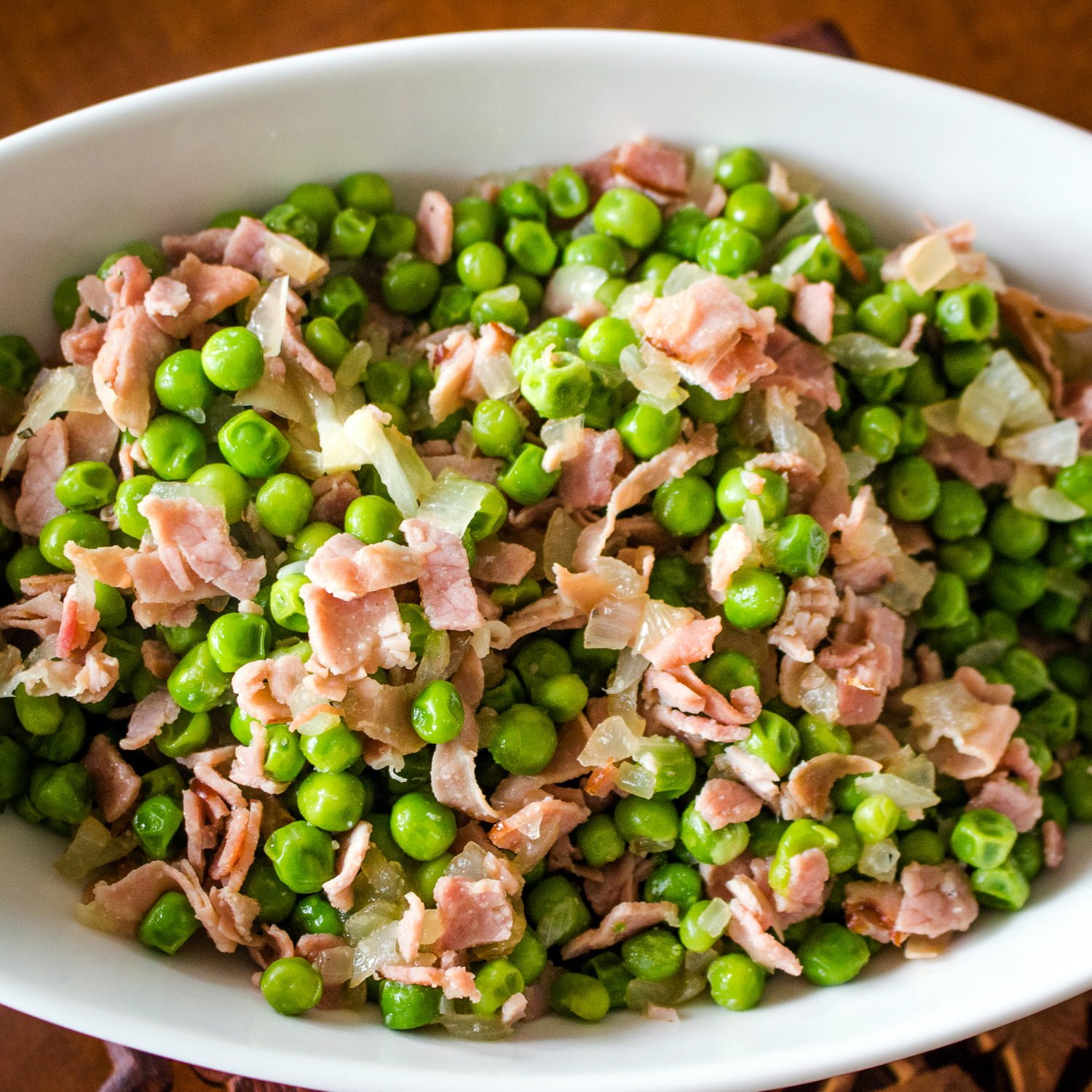 We are finally back home from our vacation in Spain. We stayed in Madrid but traveled a little to Sevilla and Granada for a few days. Granada is my daughter's favorite city in Spain, and she wanted to take us there, where her heart seems to be.
I tried to rest as much as possible, but I was also excited to be in Spain, researching Spanish cuisine and learning about the food. I came back with cooking books, recipes, and lots of ideas for the following posts on my blog.
Jump to:
Discover the Magic of This Recipe
I always loved easy, simple recipes that can be put together in no time. For that matter, I fell in love with Spain because it fits so much my love for simple foods.
My daughter kept asking me every day: "What would you like to have today? " And my constant answer was, "Spanish cuisine." I had so many choices, from Spanish cuisine to American, to Chinese or Thai.
I kept choosing the Spanish one because I wanted to experience the flavors, ingredients, and recipes that the Spanish people use every day. I wanted to go to restaurants where Spanish people go.
We tried to avoid the tourist areas because the food is made to suit the non-Spanish population. Immersing yourself in the cuisine of the country you visit helps you better understand the culture and the way people live.
Dishes like pasta with tomato and ham or fried calamari are everywhere, and people might be surprised to see such simple foods on the menu at the restaurant, but this is how Spanish people eat in general. Simple and delicious.
I noticed that there was no salt and pepper on the table and no dressings for the salads besides olive oil and vinegar. Food is properly seasoned, not very salty, and delicious. Perfect for me.
This recipe that I will share with you is inspired by a meal we had in Madrid, Guisantes con Jamon y Huevos or Green Peas with Ham and Eggs. Simple and satisfying, this dish is easy to make and very delicious.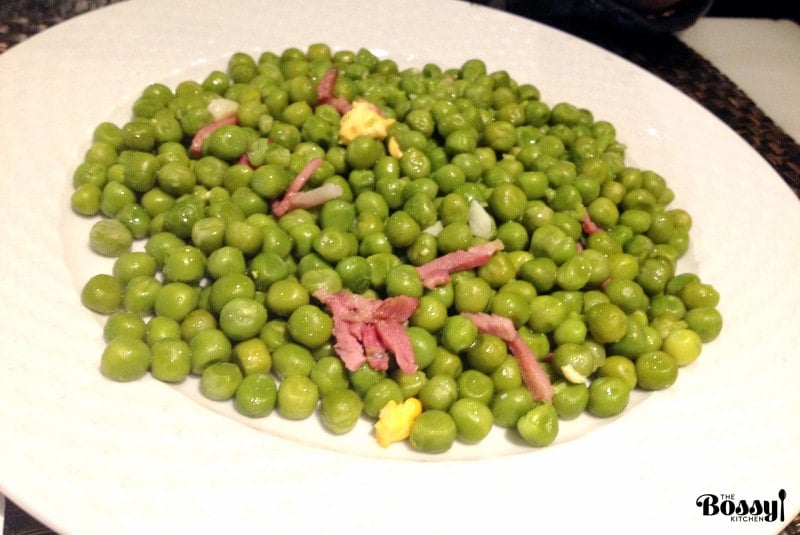 The day we ate these peas, we were coming back from a visit to the Royal Palace in downtown or Palacio Real de Madrid and stopped at a restaurant to have lunch.
"The menú del día" is one of the great culinary joys of Spain. Very filling, often delicious, multi-course midday meals are provided by bars and restaurants for a very reasonable fixed price, alcohol included.
Some of them are better than others, of course. You can pay €10 for a really average 3-course lunch, or €15 for a great one. However, menús del día are only available on weekdays and only for lunch.
I have to say that we had a great experience. I loved the simplicity of this dish. I do not have access to jamón serrano, but I can make this dish with regular ham or bacon.
If you prefer it without eggs, add a small red pepper chopped in cubes, as I found in one of my Spanish cookbooks. In Spain, we had this dish by itself, but if you think it is too simple, serve it next to a piece of meat.
I personally made it last night with some roasted chicken.
This dish can also be served as a side dish for the holidays. I know many people who have peas as a side dish, so this might be a great option if you like them.
How to make these green peas with ham
Start by chopping an onion and a few cloves of garlic. Chop the ham or bacon very small. Heat some extra virgin olive oil in a cooking pan and add onions, garlic, red pepper, and ham.
Saute them until translucent. Add the green peas (I added frozen ones) and let them cook together.
Lower the heat to medium-low and add 3-4 tablespoons of water. Cover the pan with a lid and let the peas cook until soft.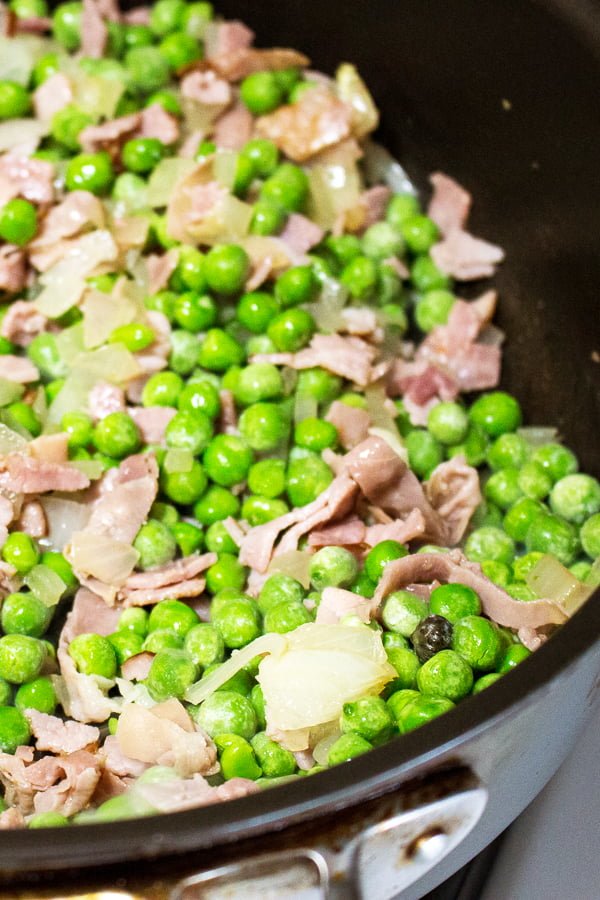 Add salt and pepper to your taste.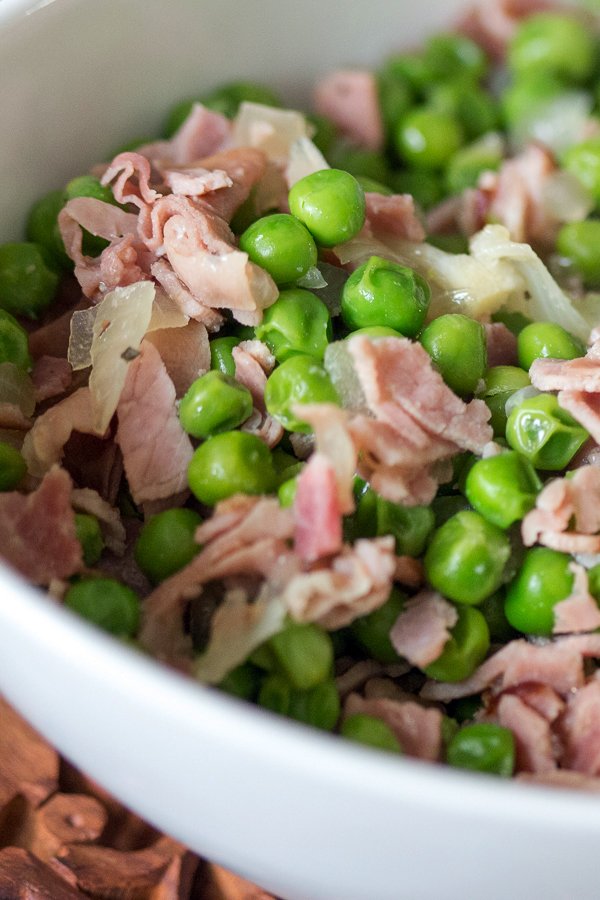 Serve warm by itself or as a side dish with some meat or a salad.
That's it! Nothing else!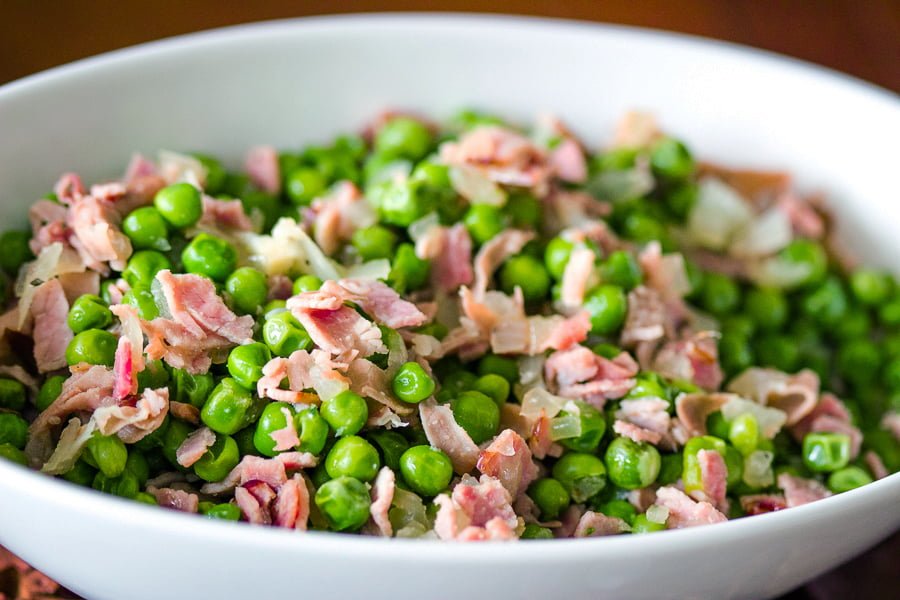 My husband tried the peas and asked me: "God, woman, why do you have to make them so good? I could eat the whole thing right now!" 🙂
That how good they were!
Notes & Tips
If you want to make them the same way we had them in Spain, scramble one egg, chop it small and mix it with the peas. You can even have this dish for breakfast. Leftovers are great too!
Enjoy!
Yield: 4 servings
Easy Green Peas with Ham- Spanish Recipe
Easy Green Peas With Ham- Spanish recipe- is an easy dish that can be made in no time using fresh or frozen peas. For authenticity, use jamon Serrano.
Ingredients
16 ounces green peas(a bag of frozen peas is perfect)
8 ounces of regular ham or bacon chopped small
1 medium onion chopped small
3 garlic cloves chopped small
¼ teaspoon salt
¼ teaspoon ground pepper
3 tablespoons extra virgin olive oil
4 tablespoons water
Optional: ½ small red pepper chopped into small cubes
Instructions
Heat up the oil in a medium size pan.
Add the ham/bacon, onion, garlic and red pepper(optional).
Saute them until the onion becomes translucent and the meat is cooked.
Add the peas and the water.
Cover with the lid and let them cook together for few minutes until the peas are soft.
Serve warm by itself or as a side dish with a piece of your preferred meat.
Nutrition Information:
Yield:
4
Serving Size:
1
Amount Per Serving:
Calories:

322
Total Fat:

16g
Saturated Fat:

3g
Trans Fat:

0g
Unsaturated Fat:

12g
Cholesterol:

45mg
Sodium:

837mg
Carbohydrates:

23g
Fiber:

7g
Sugar:

9g
Protein:

22g