Discover the joy of making Romanian meatballs, also known as chiftele, right in your own kitchen. These meat patties, a delightful mix of ground pork and beef pan-fried to golden perfection, are a cherished classic in Romanian cuisine, promising a burst of flavor with every bite.
Jump to:
Why do I like this recipe?
This recipe is extremely popular where I come from. It is one of these recipes you make when you have ground meat in the fridge and no inspiration on what to do with it. The meat patties are an easy solution for a quick meal.
The mixture also has bread crumbs, spices, garlic, and eggs. In some regions of Romania, a shredded potato is also added.
Neither my grandmother nor my mother added potato to the meat, so my recipe today is the basic one I grew up with.
The slightly flat shape is traditional, but sometimes, we make them smaller and round and serve them as appetizers.
It was a cheap, delicious way to combine different ingredients and come up with these almost flat meatballs served in sandwiches, snacks, next to a salad, French fries, mashed potatoes, or other vegetables.
Sometimes, the women in my family would make a delicious tomato sauce for them and create the so-called "Chiftele Marinate" dish or "Marinated Meatballs."
The sauce was very tasty espcially when served with mashed potatoes or simply served with some white crusty good bread for dipping. 
How to make these meat patties
The recipe is not very difficult to put together.
Step 1.
Gather the ingredients.
Place the meat in a medium bowl, dice the onion, garlic, also dill, and add them to the meat.
Note: You can use either ground pork, beef, or both.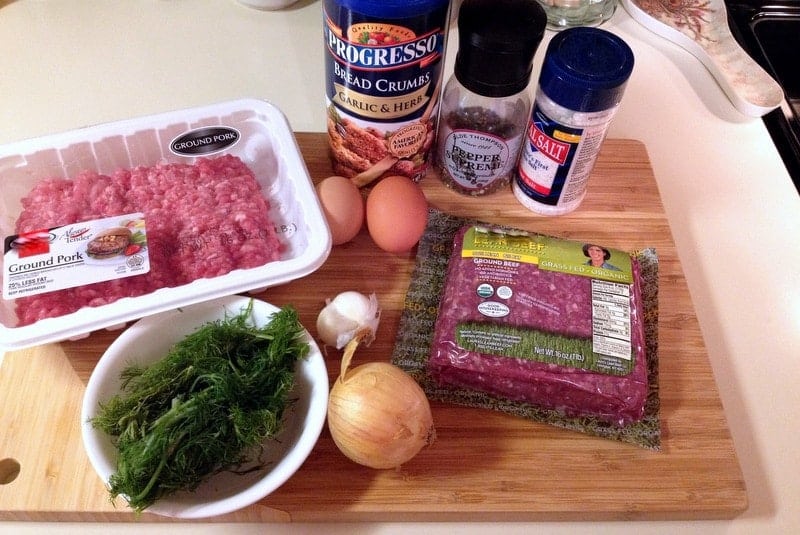 Add the rest of the ingredients to the meat mixture (bread crumbs, water, salt, and pepper to your taste.)
If you do not have bread crumbs, grab 1-2 slices of stale bread and place them in a bowl with water. Let it absorb the moisture, squeeze the water out of the bread, and add it to the mixture.
Step 2.
Mix everything into a smooth paste.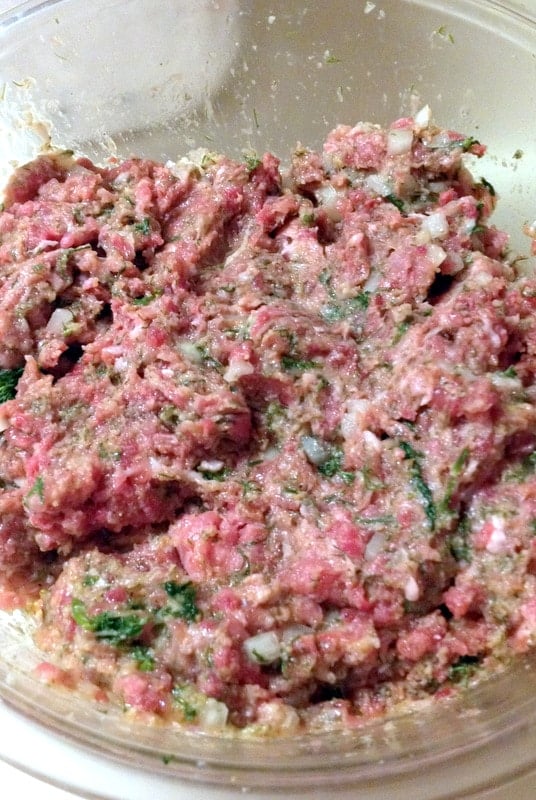 Step 3.
Grab a different bowl and place a few tablespoons of flour in it. Sprinkle the table with a little bit of flour also.
Dust your palms with flour and grab a small amount of meat mixture.
Make a round meatball and roll it in the bowl with flour. Coat the meatball with flour, flatten it, but keep its round shape.
Set the meatballs on the floured surface(they will not stick to the surface) and keep working on the rest of them.
Step 4.
Meanwhile, place a pan with oil on the stove and heat it.
Grandma's tip
How to check if the oil is hot enough for frying?
If you insert a wooden spoon into the oil, it will bubble around the stick when it's ready for frying. If you have a thermometer, the temperature should be between 300-325F, and you should aim to keep it that way.
When the oil is hot, gently slide them into the skillet and fry them for 4-5 minutes on each side until they get brown.
Remove them from the pan and place them on paper towels to drain.
Serve the meatballs warm, but cold are also good. I love them in sandwiches with mustard or with slices of tomatoes.
If you make them round, they are perfect as appetizers.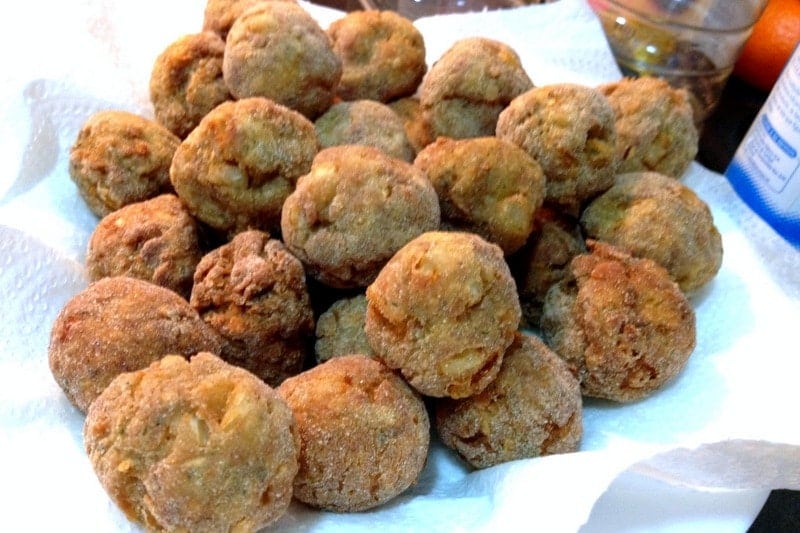 Enjoy!
More recipes to love
Romanian Meatballs Sour Soup (Ciorba De Perisoare)
If you make this recipe, share it with the hashtag #thebossykitchen on Instagram, Facebook, and Twitter so we can all see what you're cooking!
Or maybe you want to join The Bossy Kitchen community group to share your creations made from this blog or other sources.
Everyone is welcome to join!
Yield: 25
Romanian Meatballs(Chiftele) Recipe
The Romanian meatballs (chiftele) recipe is a traditional Romanian one. Meat patties are made with ground meat, spices, and bread crumbs, then deep-fried.
Ingredients
1 pound ground pork
1 pound ground beef
1 onion
3-4 garlic cloves
½ cup bread crumbs
¼ cup water
2 eggs
1 bunch fresh dill
salt and pepper
4-5 tablespoons flour for dusting them before frying
½ cup oil for frying
Instructions
In a medium bowl, place the ground pork and beef together.
Add bread crumbs, diced onion, crushed garlic, chopped dill.
Add eggs and salt and pepper to taste.
Add the water and mix everything really well to combine.
Tip: Mixing all the ingredients with your hand would work better than a spoon
On a clean surface, sprinkle some flour.
Also, grab a smaller bowl and put 4-5 tablespoons of flour in it.
Dust some flour on your palms and grab a small amount of meat mixture.
Make a round meatball and roll it in the bowl with flour.
Coat the meatball with flour really well, then flatten it slightly, but keep it round.
Set the meatballs on the floured surface and keep working on the rest of them.
Meanwhile, warm up the oil in a skillet on medium heat.
When the oil is hot, slide the meatballs carefully in the skillet and fry them for 4-5 mins on each side until they get browned.
Serve warm with mashed potatoes, French fries, a simple tomato salad, sandwiches, pita bread served with fresh tzatziki dip, hot sauce, etc.
They freeze really well. Just reheat them at 400F in the oven until warm. Very versatile!
Nutrition Information:
Yield:
25
Serving Size:
1
Amount Per Serving:
Calories:

165
Total Fat:

12g
Saturated Fat:

3g
Trans Fat:

0g
Unsaturated Fat:

8g
Cholesterol:

48mg
Sodium:

63mg
Carbohydrates:

3g
Fiber:

0g
Sugar:

0g
Protein:

11g