This Lemon Garlic Roasted Chicken Legs recipe is a lifesaver for the days of the week when you are busy and dinner has to be made fast.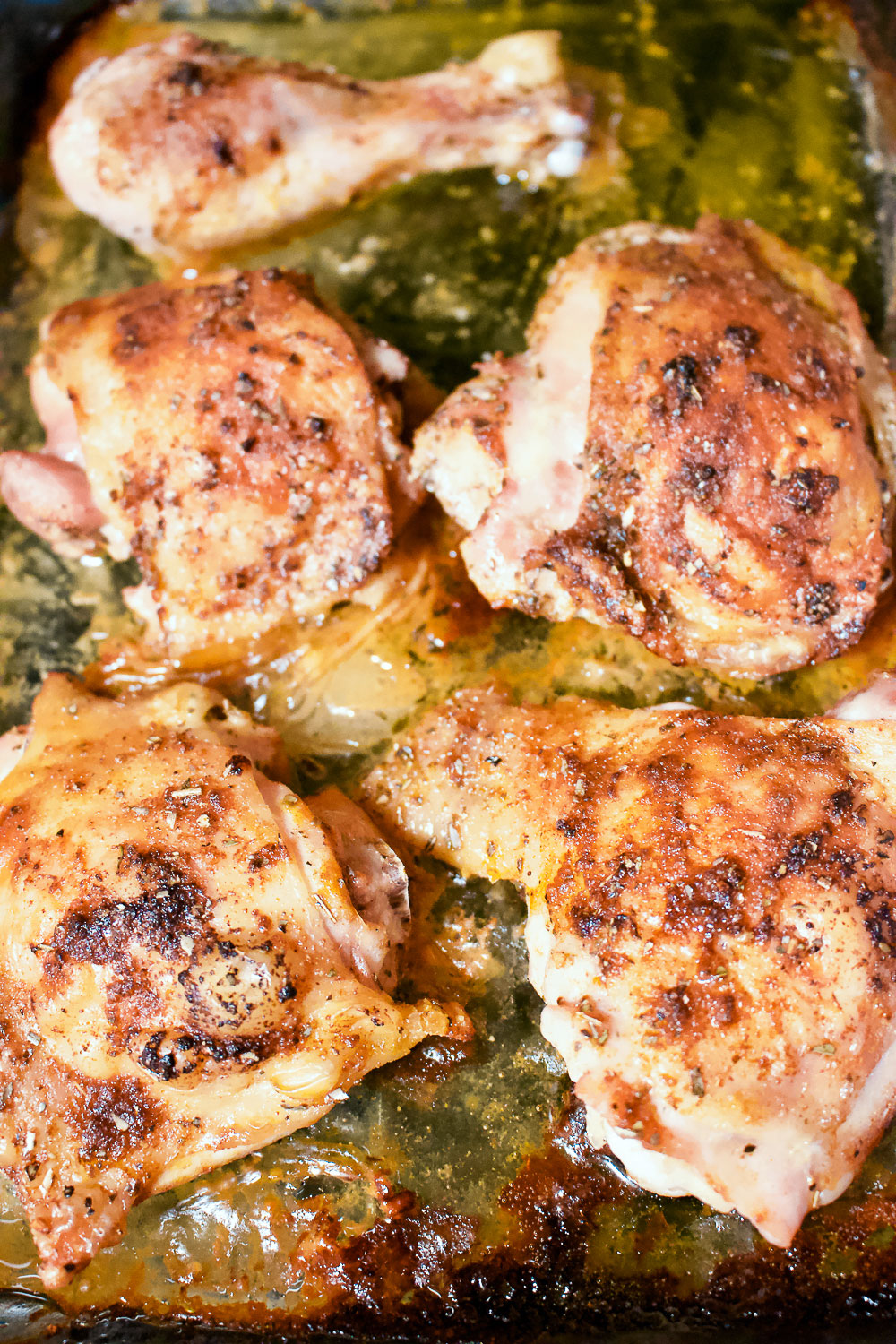 Jump to:
Why you should try this recipe
This simple recipe of chicken will save dinner during the week. You only need about an hour to make it, and meanwhile, you can prepare a salad or some vegetables to go with it.
It's made in the oven with literally one plastic bag to mix the ingredients and a roasting pan. I love lazy recipes like this one!
I have made this recipe for years. It was always my fast way of putting dinner on the table during the week. It is easy to make, delicious, and you are ready to serve an excellent meal with just a few ingredients.
Chicken legs are the cheapest part of the chicken, making this recipe economical and budget-friendly.
More than anything, everybody loves chicken drumsticks, so it is a win-win scenario.
Ingredients
Check the recipe card at the bottom of this article for quantities and more information.
Chicken
I used chicken drumsticks, but I also used skin-on, bone-in chicken thighs in the past. You can also use chicken leg quarters. For me, these are the most delicious parts of the chicken. If you have only chicken breast, use that. The chicken skin has lots of flavors and the bone-in keeps the meat moist inside.
Lemon
We are going to use lemon zest and also juice.
Salt, black pepper paprika, oregano
This is a pretty classic combination of spices, but feel free to replace them with what you want. For example, instead of oregano, you can do thyme. Instead of paprika, you can do smoked paprika or something spicy. Here is when your favorite spices make this recipe your own.
Garlic
I used garlic powder because it was easier, but you can definitely use fresh garlic. Crush it and mix it with the rest of the ingredients.
Oil
Use olive oil, sunflower oil, and vegetable oil. the idea is to use an oil that is not very strong in flavor. The oils I use are pretty neutral.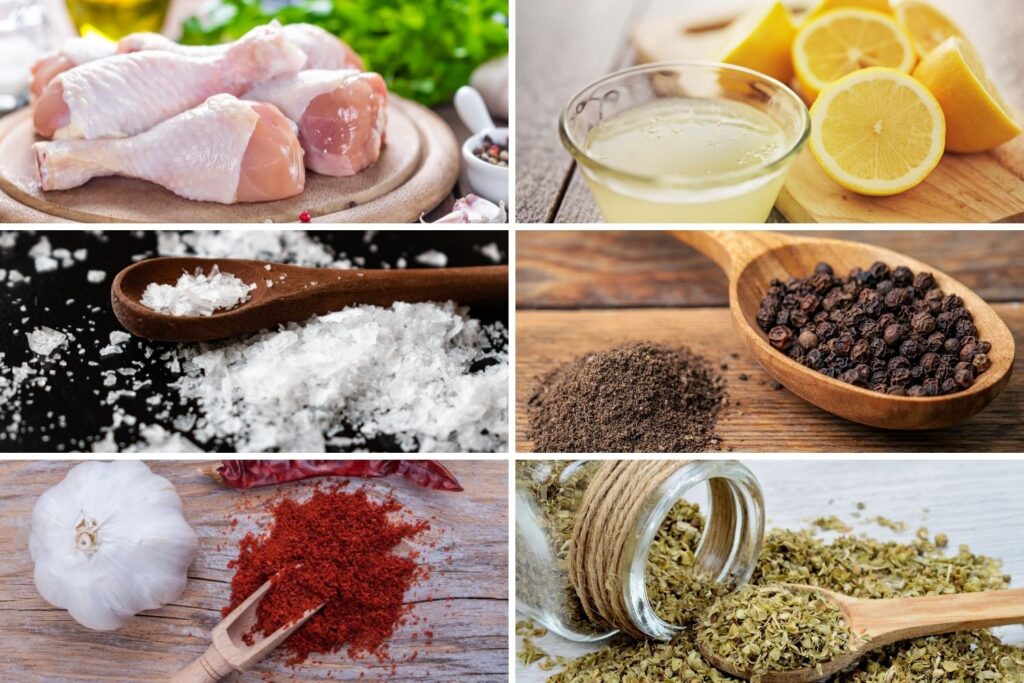 How to make lemon garlic roasted chicken
Preheat oven to 375F.
Combine the spices.
Make a combination of oregano, salt, pepper, ground pepper, onion powder, garlic powder (or crushed garlic cloves), and paprika. If you prefer other spices, go ahead and use them.
I like these ones. They are delicious when combined with lemon. Place all dried ingredients into a big sealable bag.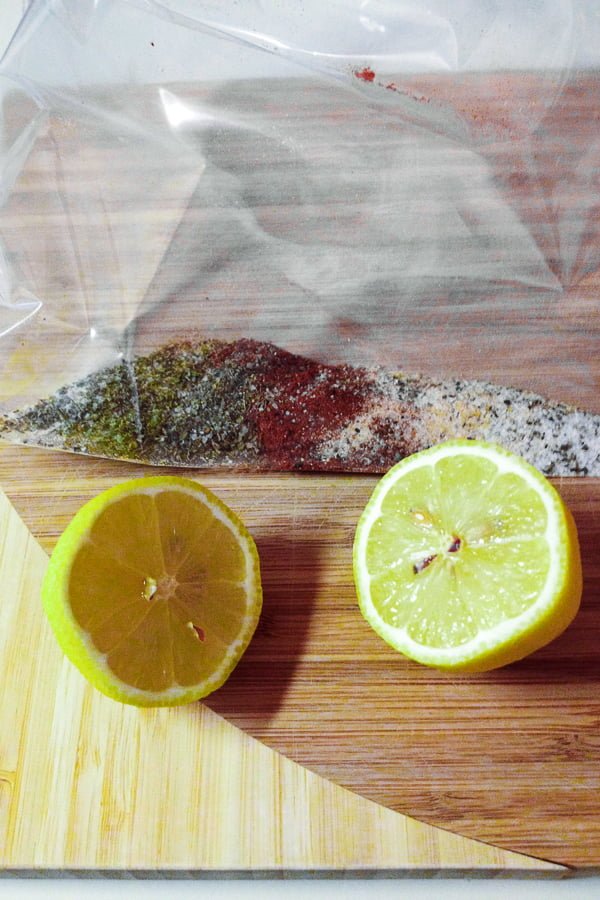 3. Add the rest of the ingredients.
Add oil and lemon juice, and mix well. Place the chicken inside the bag, close it, and massage the meat, so it gets coated with the ingredients. This simple marinade will cover nicely the meat, and you will end up with delicious roasted chicken with a crispy skin.
4. Prepare the pan and the chicken for baking.
Grab a baking dish. Place the chicken legs or/and skin-on chicken thighs in the pan on a single layer. Pour over the chicken juices (chicken marinade).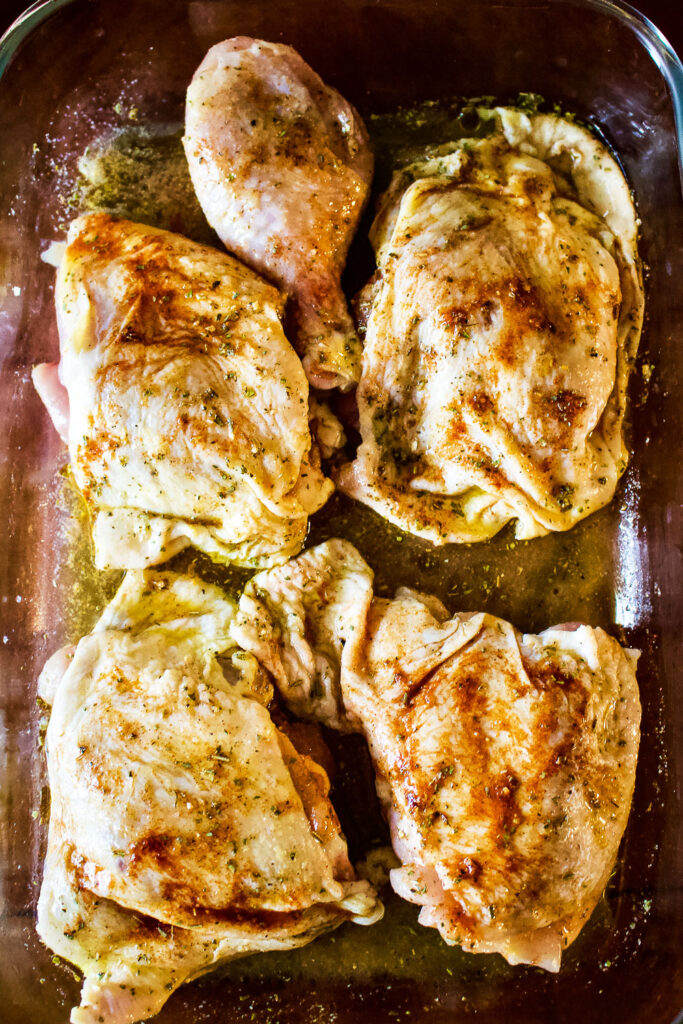 Bake the chicken at an oven temperature of 375F for about 35-40 minutes to an hour or until the meat reaches 180F inside. A cooked chicken is safe to eat when the thickest part of it reaches at least 165F. (Use an instant-read thermometer)
Baste the chicken once in a while with the juices from the pan. Remove the baking pan from the oven, and this is what the chicken looks like. Perfectly cooked and ready for dinner: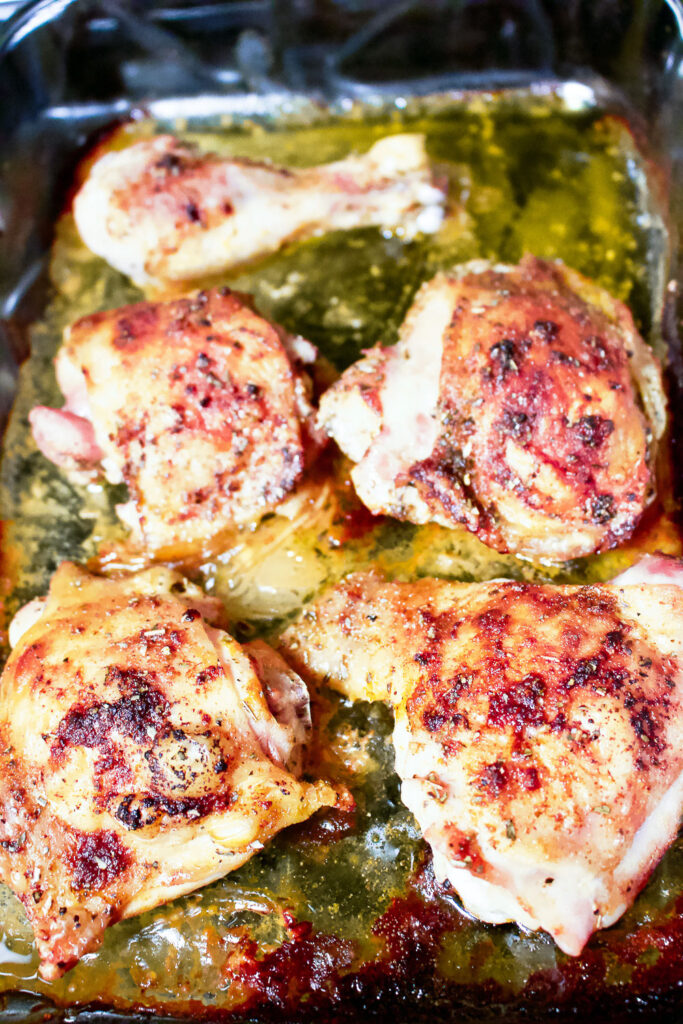 Glorious, if you ask me, and perfect for the whole family.
Serve with creamy mashed potatoes, French fries, roasted vegetables, and more fresh lemon juice squeezed over the chicken. It goes well with any salad too. Versatile and super delicious!
This recipe doesn't have a reputation for being fancy. It is just a good old-fashioned, easy-to-make recipe that uses everyday ingredients from your pantry.
It is also a good-looking, mouthwatering recipe that will make your life easier and your family happy.
The recipe goes perfectly with the following items that can be made while you are waiting for the chicken to bake:
 Mexican Chipotle mushrooms
Green peas with mint
Salad
Tomato Cucumber and Pepper Salad.
Boston Lettuce And Endives Salad
How to store the leftovers
Wait until the chicken cools down, then store it in the refrigerator in an airtight container for up to 3 days.
If you want to freeze the baked chicken
Place it in airtight containers in the freezer for up to 4 months (according to the USDA.gov). When you are ready to serve it, allow it to thaw in the refrigerator overnight, then reheat it in the oven for a few minutes.
This recipe is low-carb and also naturally gluten-free.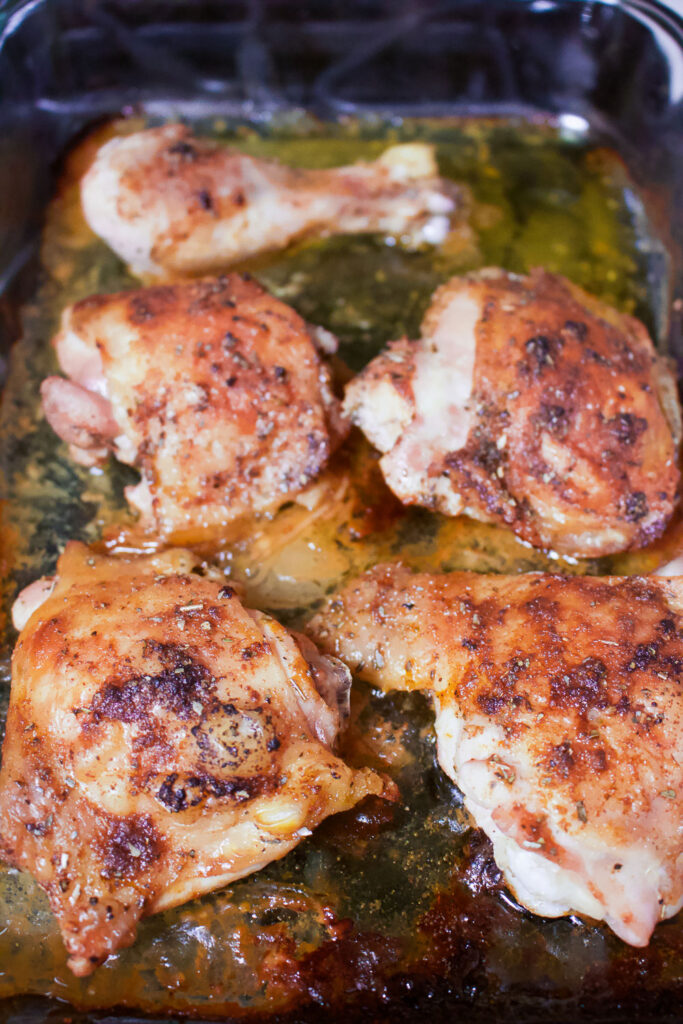 More chicken recipes to love
Brandy-Vanilla Butter Roasted Chicken Drumsticks
Check out the web story for this recipe: Roasted Chicken With Garlic And Lemon
Enjoy!
📖 Recipe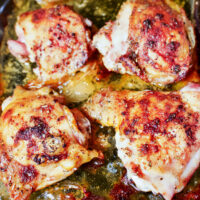 Lemon Garlic Roasted Chicken Legs
This roasted lemon chicken drumsticks recipe is a life saver for the days of the week when you are busy and dinner has to be made fast.
Print
Pin
Share
Grow
Saved!
Rate
Ingredients
6

chicken drumsticks

2

teaspoons

oregano

1

teaspoon

salt

1

teaspoon

fresh ground pepper

2

teaspoons

garlic powder

1

teaspoon

onion powder

2

teaspoons

paprika

The juice from 2 lemons

3-4

tablespoons

extra virgin olive oil
Instructions
Preheat oven to 375F.

Place all the dry ingredients inside a big Ziploc bag.

Add the lemon juice and the extra virgin olive oil.

Mix everything inside the bag.

Add the chicken drumsticks.

Close the bag tight and massage the chicken, so it gets coated well with the mixture.

Grab a baking dish and place the chicken in one layer. Pour the juices over.

Bake at 375F for about 35-45 minutes to an hour or until it reaches 180F inside.

Baste the chicken once in a while with the juices from the pan.

Serve warm.
Nutrition
Serving:
1
g
|
Calories:
382
kcal
|
Carbohydrates:
4
g
|
Protein:
27
g
|
Fat:
28
g
|
Saturated Fat:
6
g
|
Polyunsaturated Fat:
5
g
|
Monounsaturated Fat:
16
g
|
Trans Fat:
0.1
g
|
Cholesterol:
139
mg
|
Sodium:
936
mg
|
Potassium:
424
mg
|
Fiber:
1
g
|
Sugar:
0.3
g
|
Vitamin A:
753
IU
|
Vitamin C:
0.2
mg
|
Calcium:
47
mg
|
Iron:
2
mg
Tried this recipe?
Please leave a comment on the blog or like us on Facebook!