Learn how to roast carrots in the oven, a basic way of bringing this beautiful vegetable to the table when you entertain. Pair it with any meat and add a green salad to it. Delicious!
An easy way to roast carrots in the oven
This is a straightforward roasted carrots recipe but so powerful when it comes to entertainment. It is elegant, can be served with any roasted meats, and is delicious.
I often make this baked carrots recipe, especially in the winter and during the holidays.
Today's roasted carrots in the oven recipe ask us to forget what we know about cooking carrots. There is NO slicing. NO cutting into pieces. NO boiling.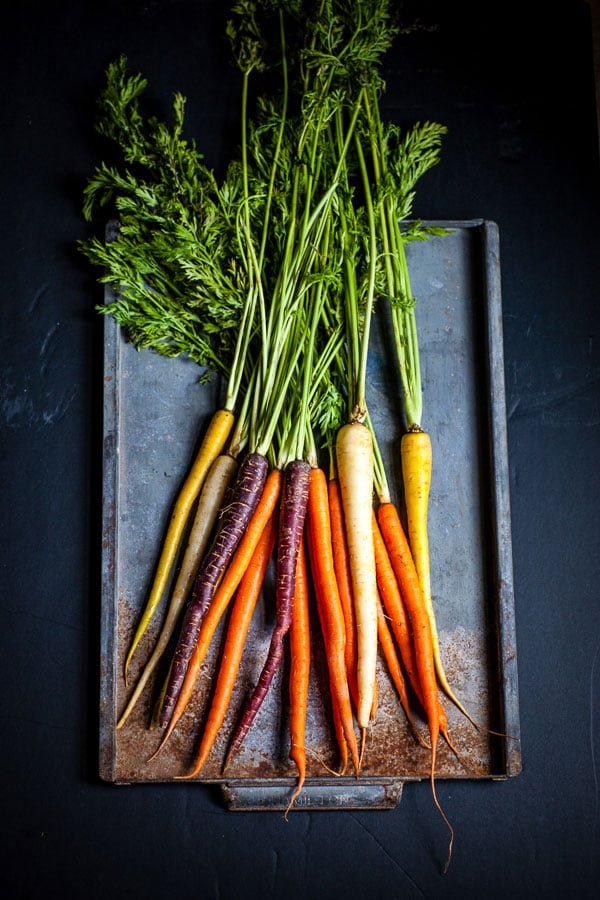 We're going for whole roasted carrots, making a wonderful statement on the dinner table (especially the colorful variety) with half the effort!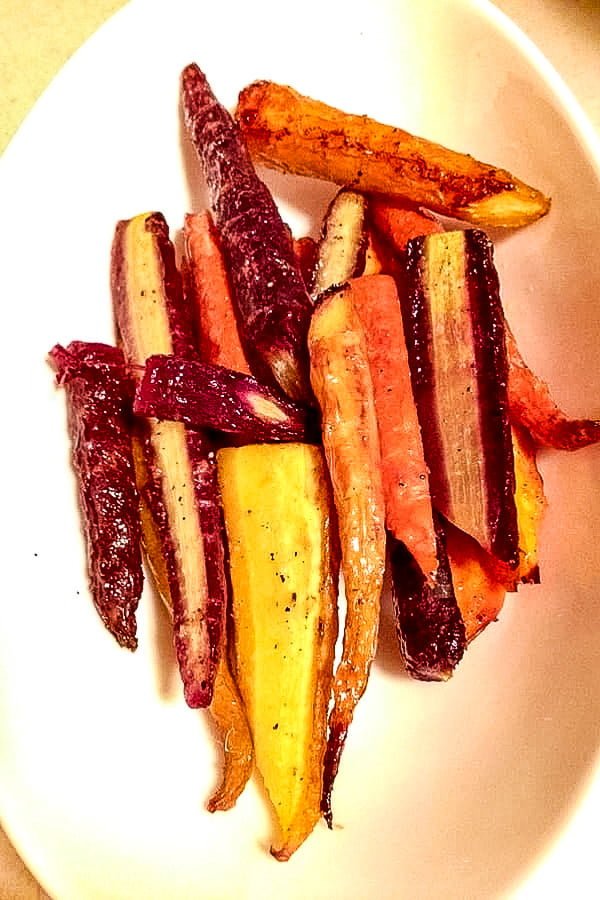 How to make roasted carrots:
I used colored organic carrots that I cleaned very well before. I did not peel them because they were organic, and I love the caramelized crust on them when roasted.
If you have no access to organic carrots, use other carrots but peel them first.
A little fat of sorts plus a pinch of salt and pepper may be all you need. My fat of choice here is extra virgin olive oil, which will help our bodies absorb more vitamin A from the carrots.
You can add other spices if you like. I sometimes go for garlic powder, but I do not want to miss the natural flavor of the carrots by overwhelming them with all sorts of spices.
Pour olive oil over them and sprinkle with salt and pepper. Toss to coat.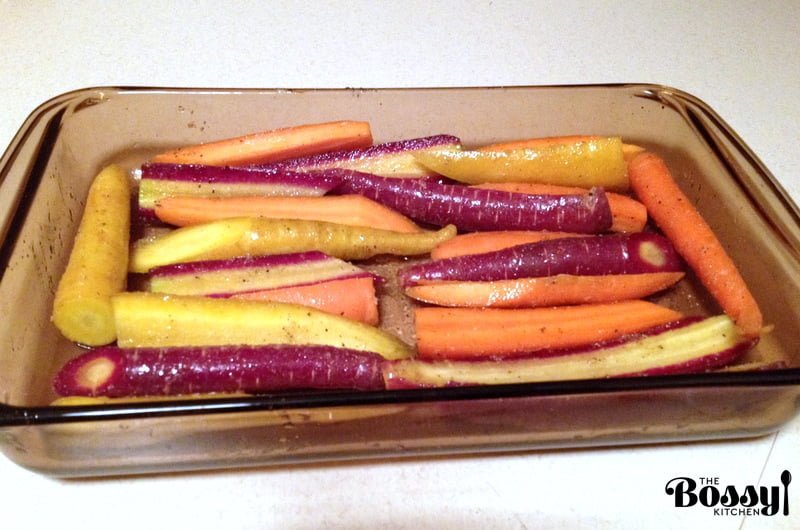 How long does it take to roast carrots:
It depends on the temperature you set for your oven. For best results, spread them in one layer on the baking sheet. I set my oven to 425F and bake them for 25 minutes until tender.
Voila, here you have your super easy roasted carrots recipe.
How easy is that? Serve them with pork, chicken, or beef in any form. I suggest you try this roasted wrapped in bacon pork tenderloin or this roasted boneless center pork chops in wine.
If you don't like pork, try this easy chicken breast "schnitzel."
Transform a simple dinner into an elegant one with these carrots. They will think you worked in the kitchen for hours because they are so good. Enjoy!
More recipes to love and make:
How To Make A Classic Pot Roast In The Slow Cooker
Celeriac (Celery Root) Apple And Carrot Salad
Pineapple Carrot Cake with Cream Cheese Frosting
Homemade Raffaello Coconut Almond Confections
Yield: 4 servings
HOW TO ROAST CARROTS IN THE OVEN
Beautiful, easy recipe of Roasted Carrots- perfect for entertaining. Pair it with any meat and add a green salad to it. Delicious!
Ingredients
For 4 persons:
8 medium carrots
3-4 Tablespoons olive oil
1/2 teaspoon salt
1/4 teaspoon black pepper
Optional: 1/4 teaspoon garlic powder
Instructions
Preheat oven to 425F.
Rinse and scrub the carrots with a vegetable brush to remove embedded soil.
Line a baking sheet with foil.
Place carrots in the pan in a single layer and pour olive oil over them.
Sprinkle salt, pepper over the vegetables and toss them to coat. Optional, add garlic powder.
Bake at 425F for about 25 minutes or until tender.
Serve with roasted potatoes and roasted meats and a simple salad.
Nutrition Information:
Yield:
4
Serving Size:
1
Amount Per Serving:
Calories:

153
Total Fat:

14g
Saturated Fat:

2g
Trans Fat:

0g
Unsaturated Fat:

11g
Cholesterol:

0mg
Sodium:

318mg
Carbohydrates:

8g
Fiber:

3g
Sugar:

3g
Protein:

1g
Note: "We are a participant in the Amazon Services LLC Associates Program, an affiliate advertising program designed to provide a means for us to earn fees by linking to Amazon.com and affiliated sites."