Note: "We are a participant in the Amazon Services LLC Associates Program, an affiliate advertising program designed to provide a means for us to earn fees by linking to Amazon.com and affiliated sites."
This is a very simple recipe, but so powerful when it comes to entertaining. It is elegant, can be served with any kind of roasted meats and it is delicious. I personally make these Easy Roasted Carrots quite often, especially in the winter.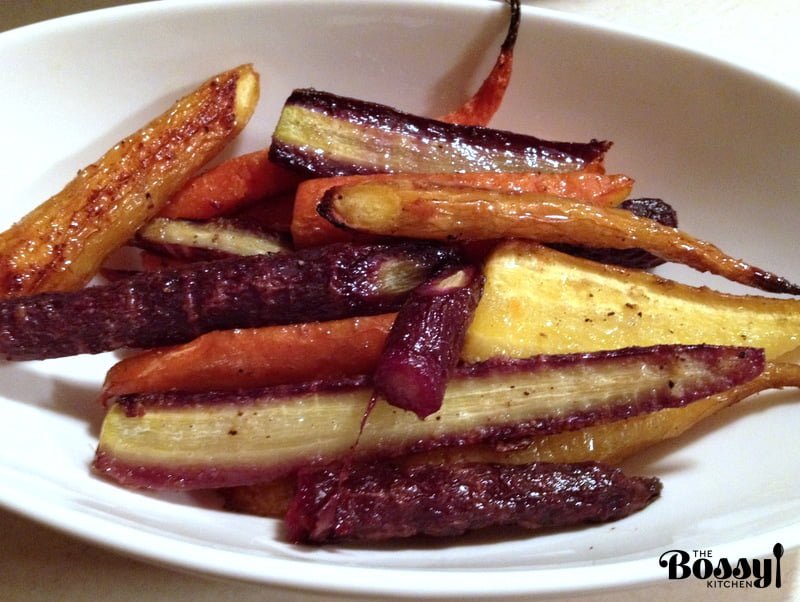 I used colored organic carrots that I cleaned very well before. A brush for vegetables is great.
Slice them into thinner pieces if the carrots are too thick.
Pour olive oil over them and sprinkle with salt, pepper and garlic powder. Toss to coat.
Spread them in only one layer on the baking sheet.
Bake for 25 minutes at 425F until tender.
Voila, here you have your easy-peasy roasted carrots.
If you have never tried them before, you have missed a lot. They are amazing!
Easy Roasted Carrots
Author:
The Bossy Kitchen
Ingredients
For 4 persons:
8 medium carrots
3-4 Tbsps olive oil
½ tsp salt
½ tsp garlic powder
¼ tsp black pepper
Instructions
Preheat oven at 425F.
Rinse and scrub the carrots with a vegetable brush to remove embedded soil.
Line a baking sheet with foil.
Place carrots in the pan in single layer and pour olive oil over them.
Sprinkle salt, pepper and garlic powder over the vegetables and toss them to coat.
Bake at 425F for about 25 minutes or until tender, stirring occasionally.
Serve with roasted potatoes and roasted meats.