Estimated reading time: 4 minutes
This Spanish Orange and Fennel Salad recipe is great for any occasion when you want to use up oranges. This salad is sweet from the oranges, salty from the olives, fresh and crunchy from the fennel. Absolutely delicious!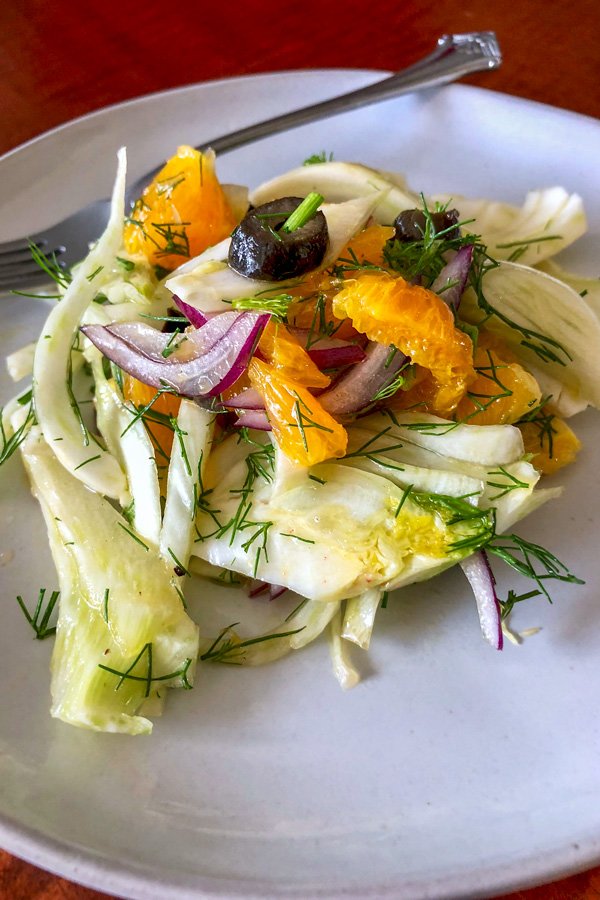 Spanish Orange And Fennel Salad
This recipe of Spanish Orange and Fennel Salad is truly an authentic Mediterranean recipe. It is an unusual recipe because we are so used to eat oranges in desserts or fruit salads, not in savory recipes.
However, in my humble opinion, if there's one thing that goes perfectly with a beautifully pan-fried fish fillet, it's fennel and orange salad.
Salad makes a lighter accompaniment to fish than potatoes especially when it is warm outside.
The combination of fennel with orange and mild red onions is something I have never imagined would work so well together, but boy, let me tell you, you have to try it before you form an opinion!
I am sure there are many versions out there, and everyone thinks their recipe is the best. However, the core ingredients for this salad are oranges and fennel. The rest are options that only complement the flavors.
Refreshing, a little bit sweet, a little bit spicy, this salad has great crunchiness from the fennel. You can use any kind of olives you like, black as an accent color to the salad, or Spanish green olives for authenticity.
The olives are a great addition to the salad if you ask me. Make sure you also use good quality olive oil. This recipe has a variety of textures that are combining really well together.
This salad might be a little bit unusual compared with other salads you had in the past, but it deserves some attention. It is a delicious recipe for entertaining, served next to grilled meats and a glass of your favorite wine.
It has beautiful colors, and it is elegant and very appetizing as well! It is also a good way to enjoy some vitamin C in the winter when flu and colds hunt us down. Our immune system can benefit from it!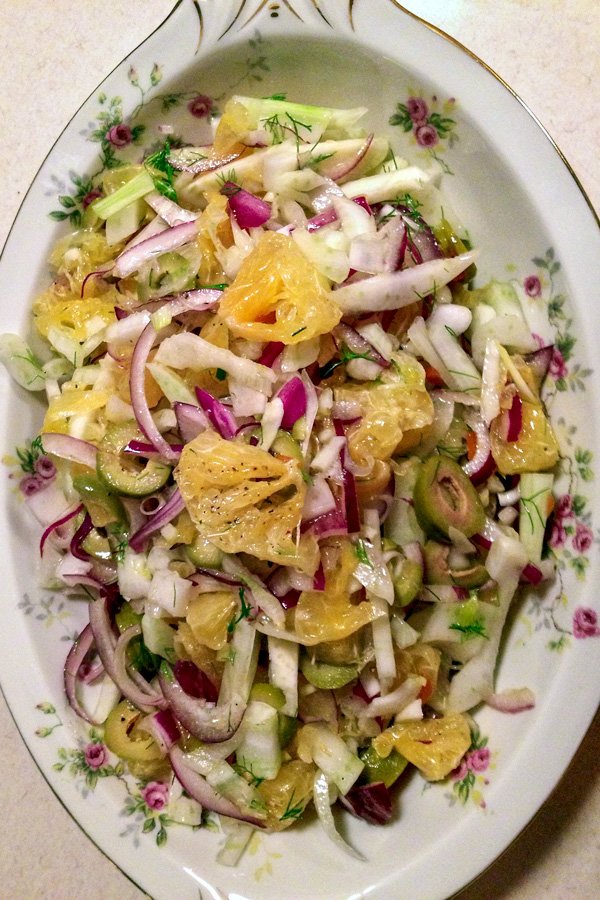 Finally, while I sit down here trying to tell you more about this recipe, nothing comes to my mind.
How many times shall I say that I love fennel and orange together? Or how good is the recipe? Or how much I love salads all year round?
I could go on and on with stories that you are probably not interested in reading, or I can just tell you: Make this salad. It's incredibly delicious.
It's sweet and salty and fresh. And you'll love it. I could also let the pictures speak for themselves.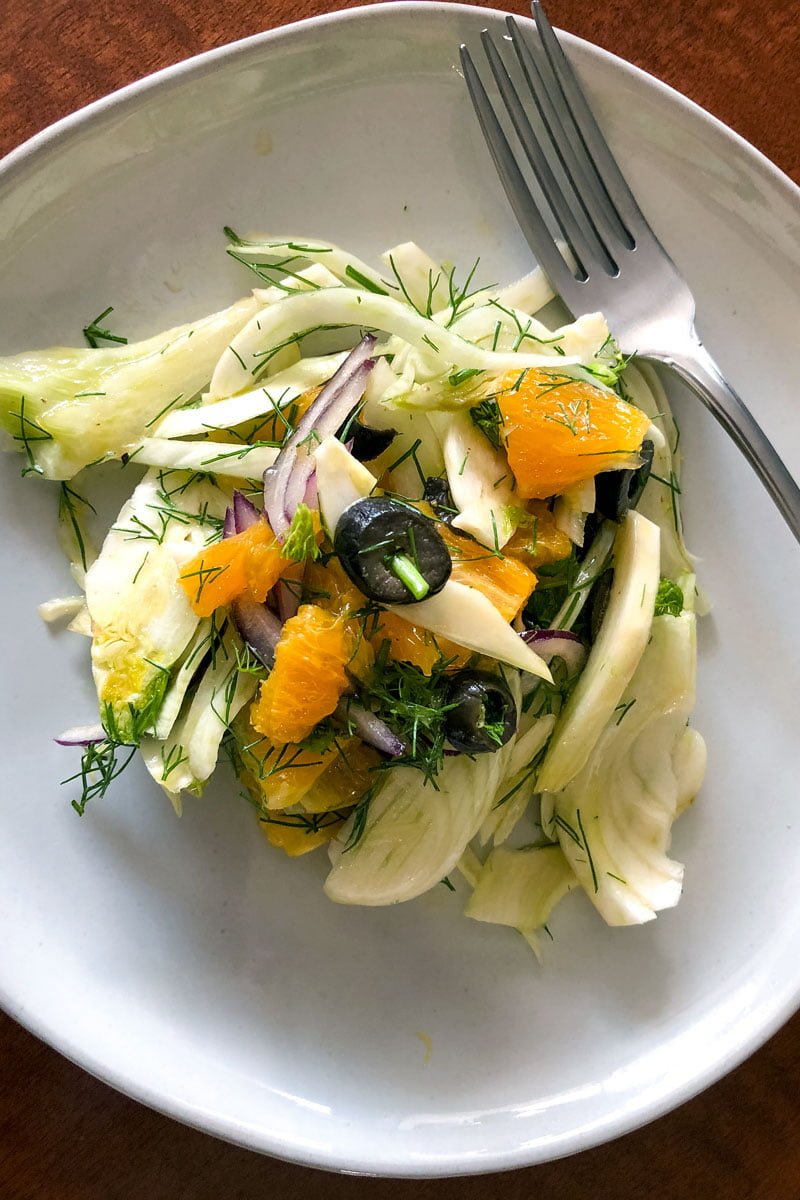 Last word of advice: Make sure you make the salad before you serve it. It takes a very short amount of time to put it together, so you can make it while you cook the meat.
Suggestions for what to serve the salad with:
Chicken
Grilled shrimp
Grilled or roasted pork
Pan-seared tuna
Grilled or poached salmon
Other Spanish Recipes:
SPANISH MIGAS CON CHORIZO-GARLIC PAN FRIED BREAD&CHORIZO SAUSAGE
CHICKPEAS GREEN BEANS WITH PORK AND SPANISH CHORIZO
SPANISH ORANGE-ALMOND FLAN RECIPE- A MAGIC GLUTEN FREE DESSERT
SPANISH POTATO SALAD (ENSALADILLA RUSA)- A SPANISH FAVORITE
CARNE CON TOMATE(MEAT IN TOMATO SAUCE)
Enjoy it!
Yield: 4-6 servings
Spanish Orange And Fennel Salad
This recipe of Spanish Orange and Fennel Salad is great for a party, especially in the summer. It's sweet, salty, fresh, and crunchy from the fennel.
Ingredients
4 large, juicy oranges
1 large fennel bulb, very thinly sliced
1 mild red onion, finely sliced
7-8 plump Spanish Olives or Black olives, pitted and thinly sliced
2 tablespoons finely chopped parsley
Salt and pepper to taste
2 tablespoons olive oil
Instructions
Grate the rind from the oranges into a bowl and set it aside.
Using a small serrated knife, remove all the white pith from the oranges, working over a bowl to catch the juices.
Cut the oranges horizontally into thin slices.
Toss the orange slices with the fennel and onion slices.
Whisk the olive oil with salt, pepper, and the reserved orange juice.
Pour it over the salad.
Sprinkle the olive slices and orange rind over the salad.
Decorate with parsley and serve on French bread.
Nutrition Information:
Yield:
6
Serving Size:
1
Amount Per Serving:
Calories:

118
Total Fat:

5g
Saturated Fat:

1g
Trans Fat:

0g
Unsaturated Fat:

4g
Cholesterol:

0mg
Sodium:

101mg
Carbohydrates:

19g
Fiber:

4g
Sugar:

12g
Protein:

2g
Note: "We are a participant in the Amazon Services LLC Associates Program, an affiliate advertising program designed to provide a means for us to earn fees by linking to Amazon.com and affiliated sites."