Note: "We are a participant in the Amazon Services LLC Associates Program, an affiliate advertising program designed to provide a means for us to earn fees by linking to Amazon.com and affiliated sites."
This recipe of Spanish Orange and Fennel Salad is truly an authentic one. It is great for a tapas party, especially in the summer. The combination of fennel with orange and mild red onions is something I have never imagined would work so well together, but boy, let me tell you, you have to try it before you have an opinion!
Refreshing, a little bit sweet, a little bit spicy, this salad has great crunchiness from the fennel. You can use any kind of olives you like, black as an accent color to the salad, or Spanish green olives for the authenticity. The olives are a great addition to the salad.
Make sure you also use good quality olive oil. This recipe has a variety of textures that are combining really well together. A little bit unusual, but deserves some attention. Very good for entertaining, or just served next to grilled meats and a glass of your favorite wine.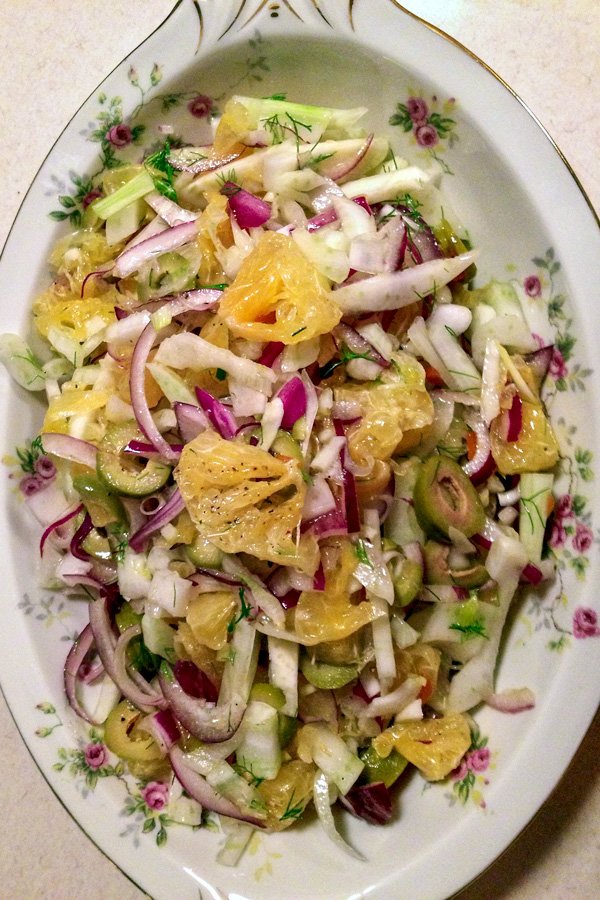 Enjoy it!
Spanish Orange And Fennel Salad
Author:
The Bossy Kitchen
Ingredients
4 large, juicy oranges
1 large fennel bulb, very thinly sliced
1 mild red onion, finely sliced
7-8 plump Spanish Olives or Black olives, pitted and thinly sliced
2 Tbsp finely chopped parsley
Salt and pepper to taste
2 Tbsps olive oil
Instructions
Grate the rind from the oranges into a bowl and set aside.
Using a small serrated knife, remove all the white pith from the oranges, working over a bowl to catch the juices.
Cut the oranges horizontally into thin slices.
Toss the orange slices with the fennel and onion slices.
Whisk the olive oil with salt, pepper, and the reserved orange juice.
Pour it over the salad.
Sprinkle the olive slices and orange rind over the salad.
Decorate with parsley and serve on French bread.