Ribollita is a famous Tuscan hearty soup made with bread, vegetables, and sometimes meat. This version of Italian Ribollita Soup is made with ground pork and lots of vegetables.
Jump to:
What is Ribollita soup?
I always believed that soups heal the body and also the spirit. I find them essential in any diet and great for keeping you full and satisfied.
I love them in any form, cold, hot, simple, or more complicated. I make soup almost every week, year-round.
Soup is a great meal for children as an excellent way to experience lots of vegetables and flavors at the same time.
The traditional Ribollita is a famous Tuscan hearty soup made with bread, vegetables, and sometimes meat. The leftover bread is used to add body and thicken the soup. Zuppa di ribollita is the Italian name.
This soup is like a minestrone but includes beans instead of pasta. In Italy, this is traditionally served ladled over bread and a rich green vegetable, although you can omit this for a lighter version.
It uses inexpensive vegetables, like carrots, spinach, cannellini beans, garlic, zucchini, and potatoes.
It is actually made with available vegetables, so feel free to make this recipe your own by adding or removing vegetables as you like.
There are many, many versions of this Ribollita soup out there. Some have only vegetables, but some use mild Italian sausage, ground beef, or pork.
I even saw some versions with bacon. However, my version of this recipe has ground pork for a heartier version of this fantastic soup.
As I said before, use whatever meat you have and play with the flavors you like.
Serve the soup with shaved parmesan on top and a glass of white wine next to it. It is an excellent soup for cold days, very fulfilling and delicious.
What ingredients go into this soup?
It would not be Italian soup if we used some random vegetable oil. Use good-quality olive oil to start the soup.
I used red onions here because I like their mildness. You can also use regular onion.
Carrots, parsley root, and green celery
These three vegetables are the base for most soups, making a tasty sofrito together with the onions. They add flavor and nutritional value to any recipe.
I like garlic in the soups, but you can skip it if you don't like it. I think it also adds another layer of flavor. Garlic is also good for your immune system, so why not use it?
Ground pork is an ingredient that I absolutely love in recipes. If you do not believe me, here is a collection of recipes that use pork and beef ground meat.
Spinach/Kale or any other greens you like
I used frozen spinach for convenience, but you can also use fresh. Fresh is better. Frozen is easier. I made this soup with kale many times or a combination of spinach and kale. Feel free to use other greens you like.
Use a red skin potato or new potatoes. They hold their shape well and give the soup some texture.
A small to medium size zucchini would be enough for this soup.
A can of beans is all we need for the soup. Cannellini beans are the preferred beans in the recipe, but you can also use navy beans or pinto beans.
You need a can of chopped or diced tomatoes. If you have tomato puree, that works too.
Any dry wine would work. Think Pinot Grigio, Chardonnay, Sauvignon Blanc, Riesling, etc. If you want to skip the wine, replace it with chicken stock/broth or water.
We use two tablespoons of vinegar in the soup to balance the taste and give it a little kick. You will be surprised how delicious the soup will be with the addition of vinegar.
How to make
For this soup, I put together a few ingredients: white wine, already cooked beans ( you can use cans of beans to make your life easier), frozen spinach and kale, potatoes, red onion, garlic, celery, parsley root, and carrot, zucchini, chopped tomatoes, ground pork.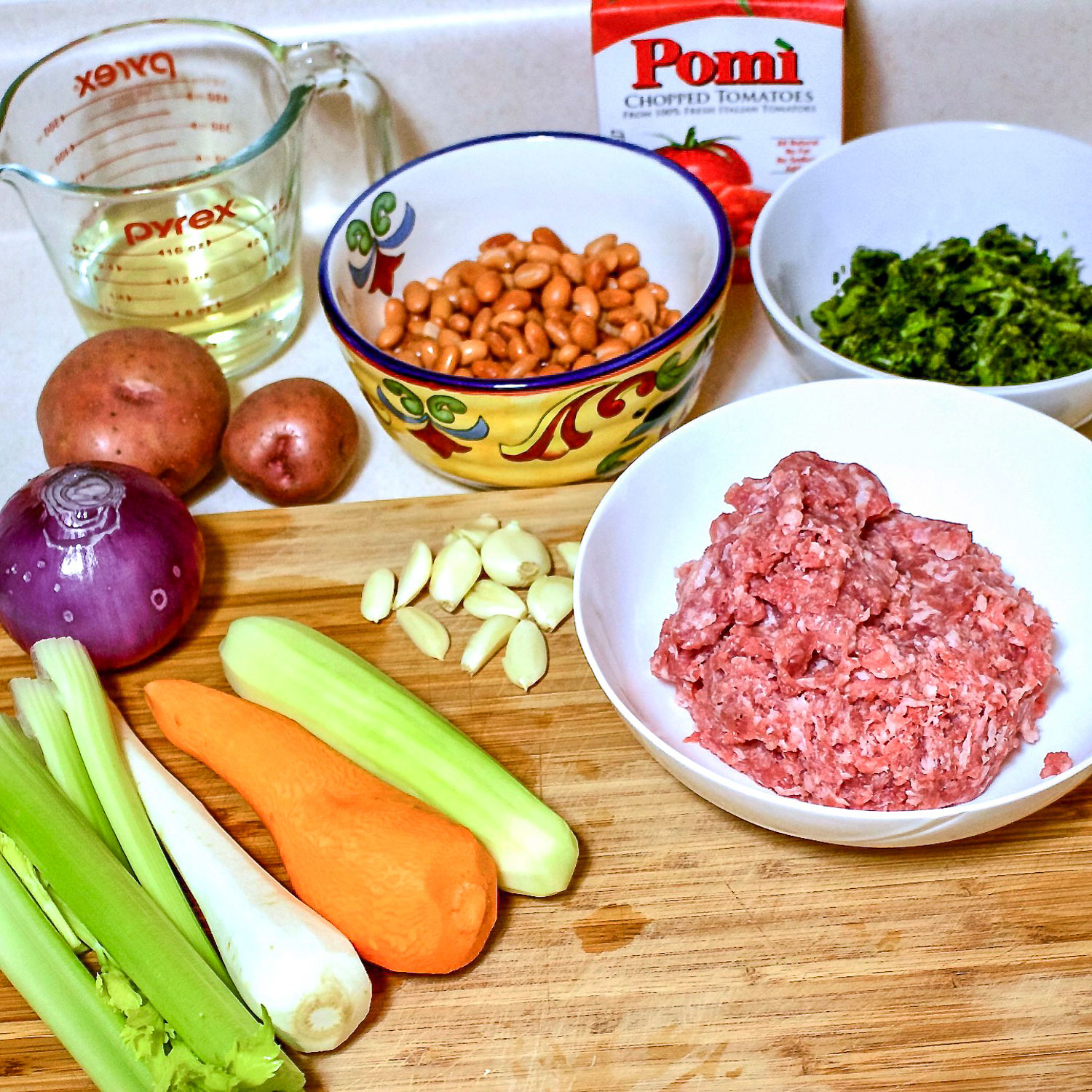 I cleaned and chopped the root vegetables, celery, garlic, and onion.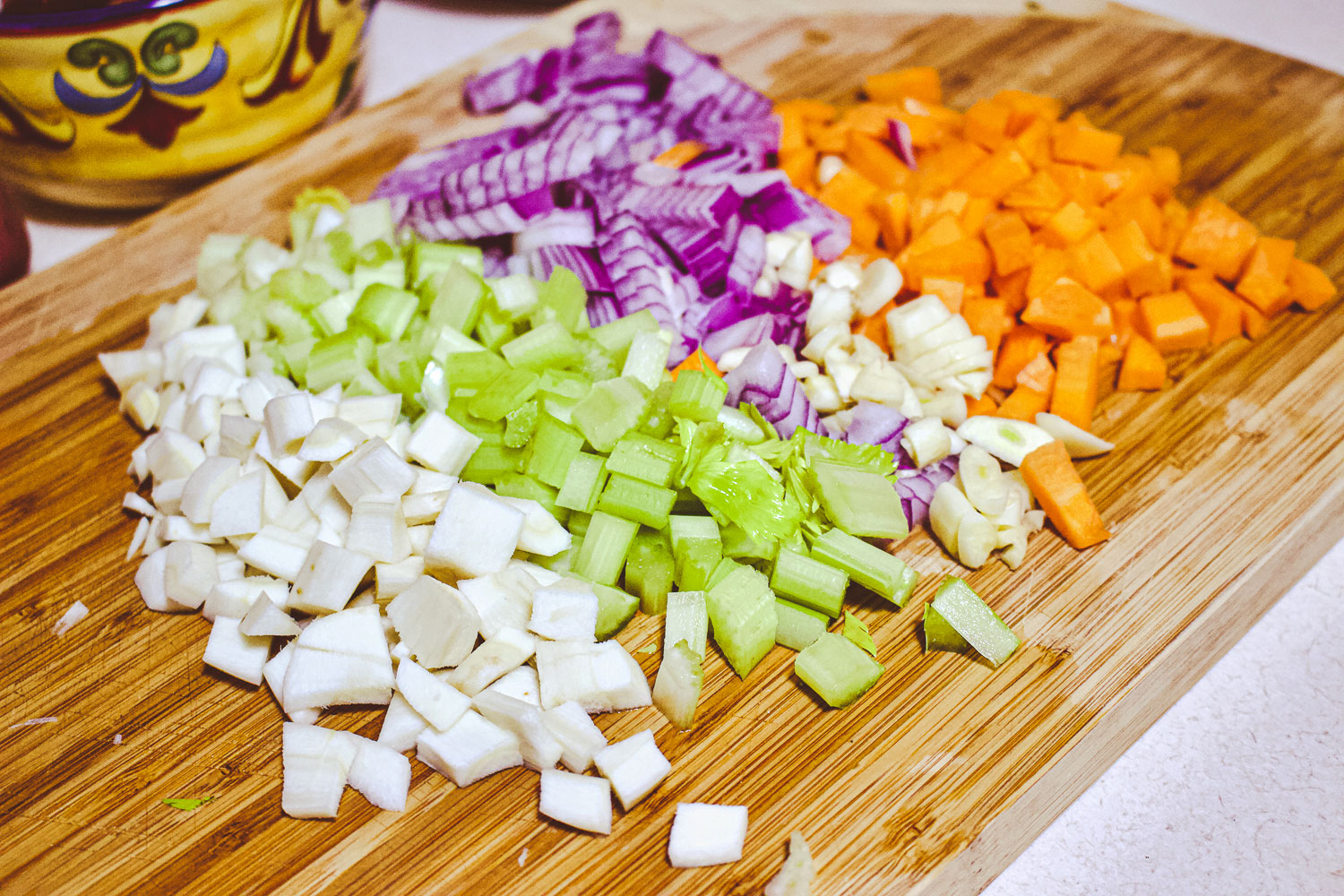 I also mixed the ground pork with the white wine. Yes, with the white wine.
I heated up some olive oil in a soup pot and placed the meat inside.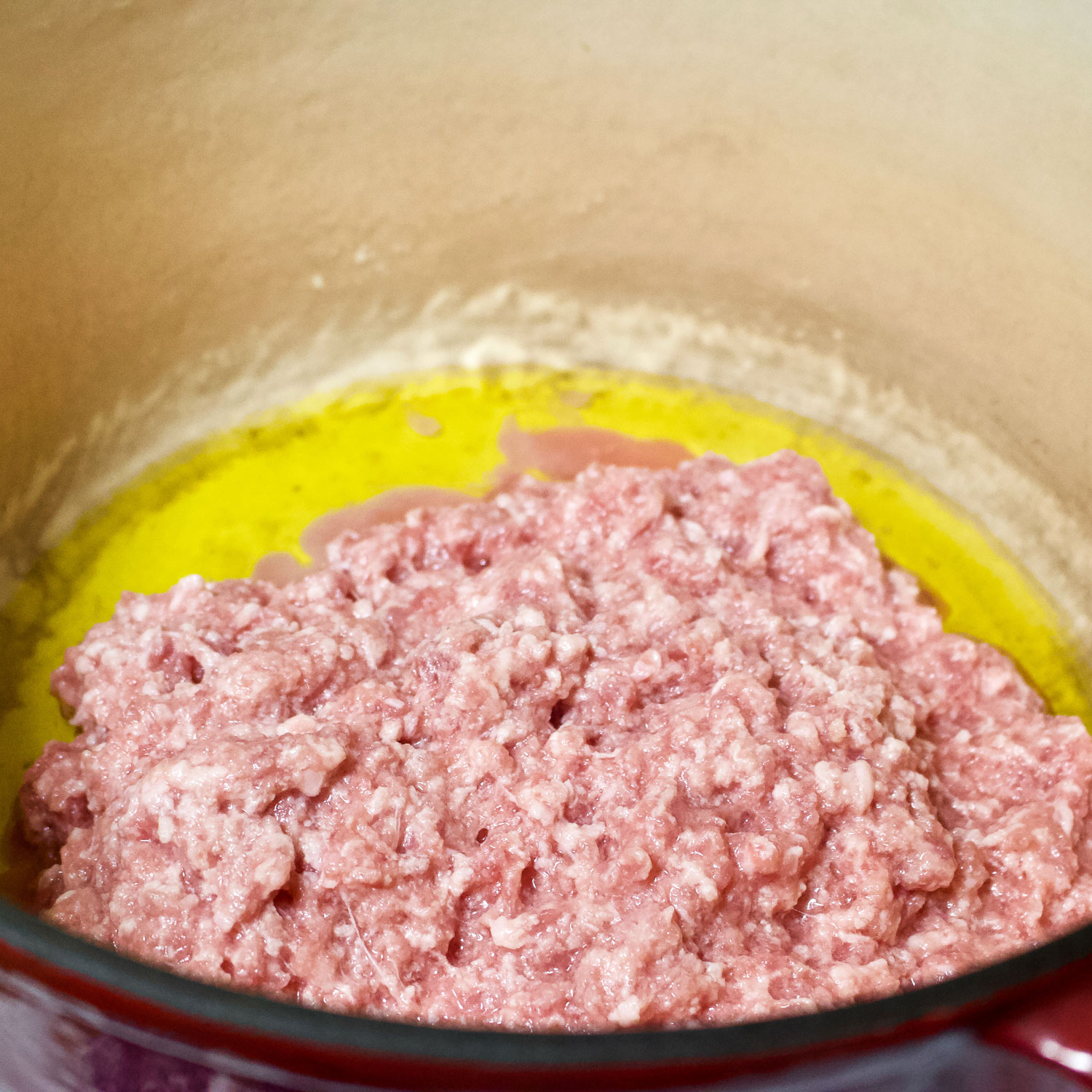 I cooked the meat, stirring once in a while until the liquid evaporated. I added the chopped vegetables.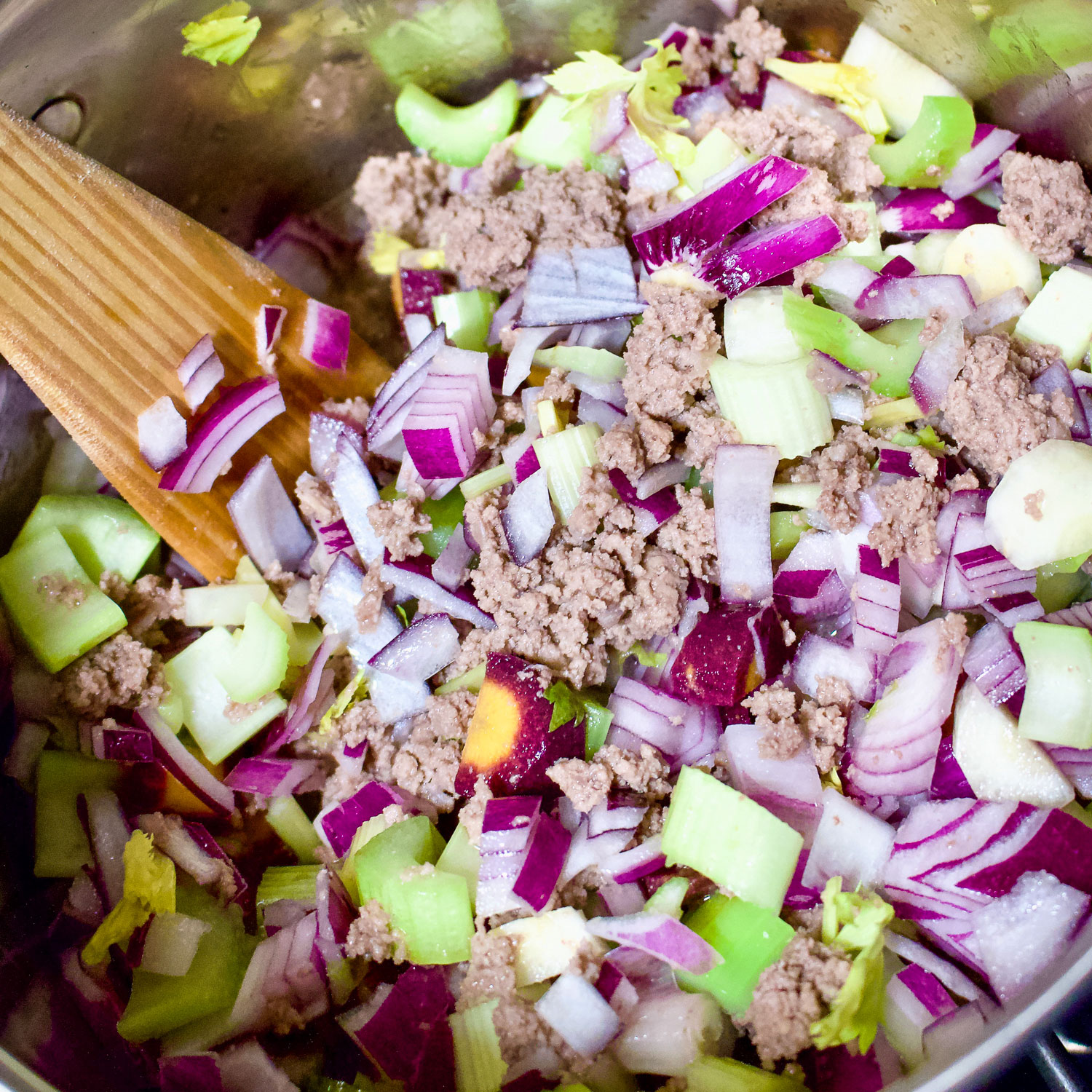 I continued to stir and cook the vegetables together with the meat. When the vegetables became translucent, I added frozen spinach and some kale.
I added the chopped zucchini and the potatoes.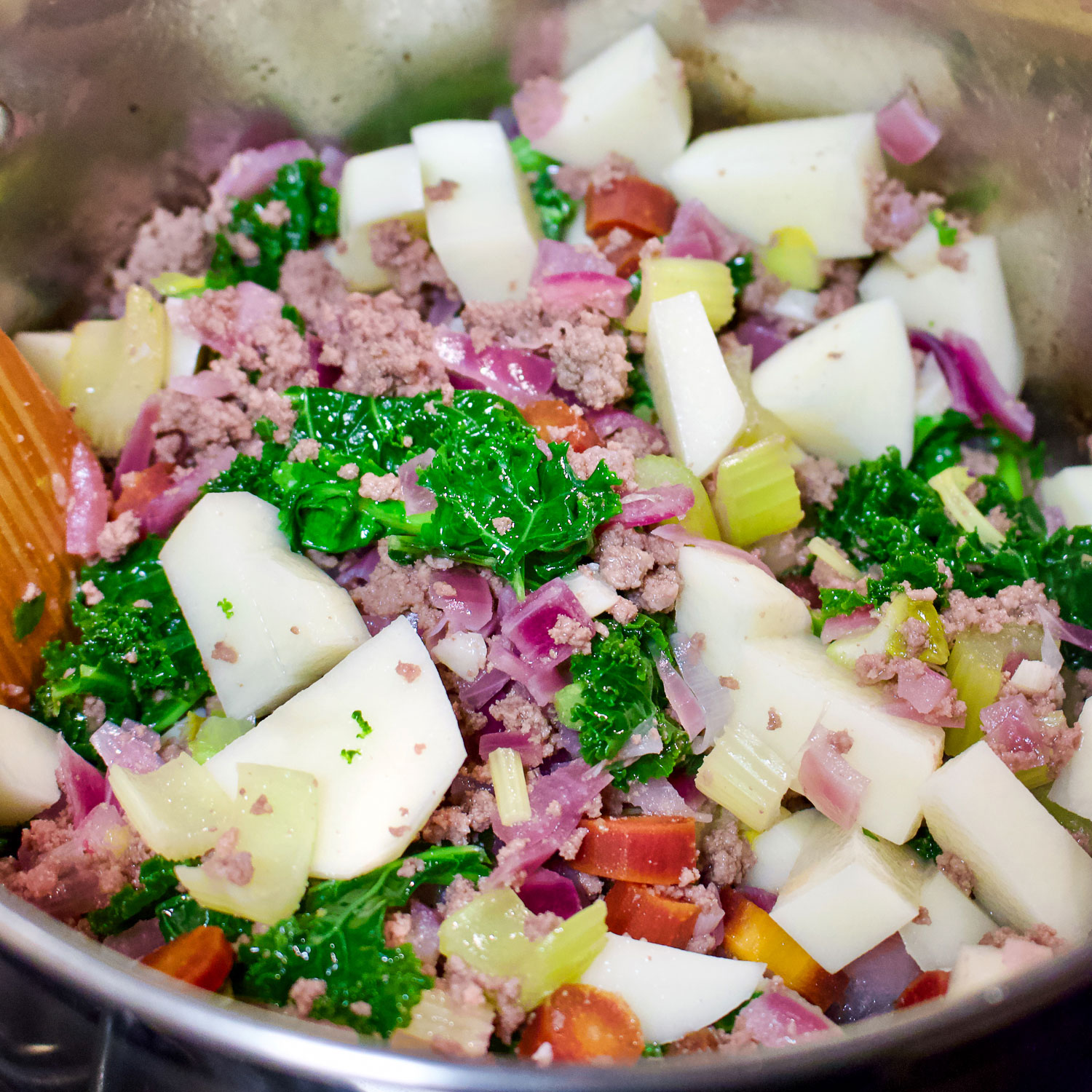 The tomatoes also went in the "pool " together with the cubed potatoes. I seasoned it with salt.
I stirred and added chicken broth.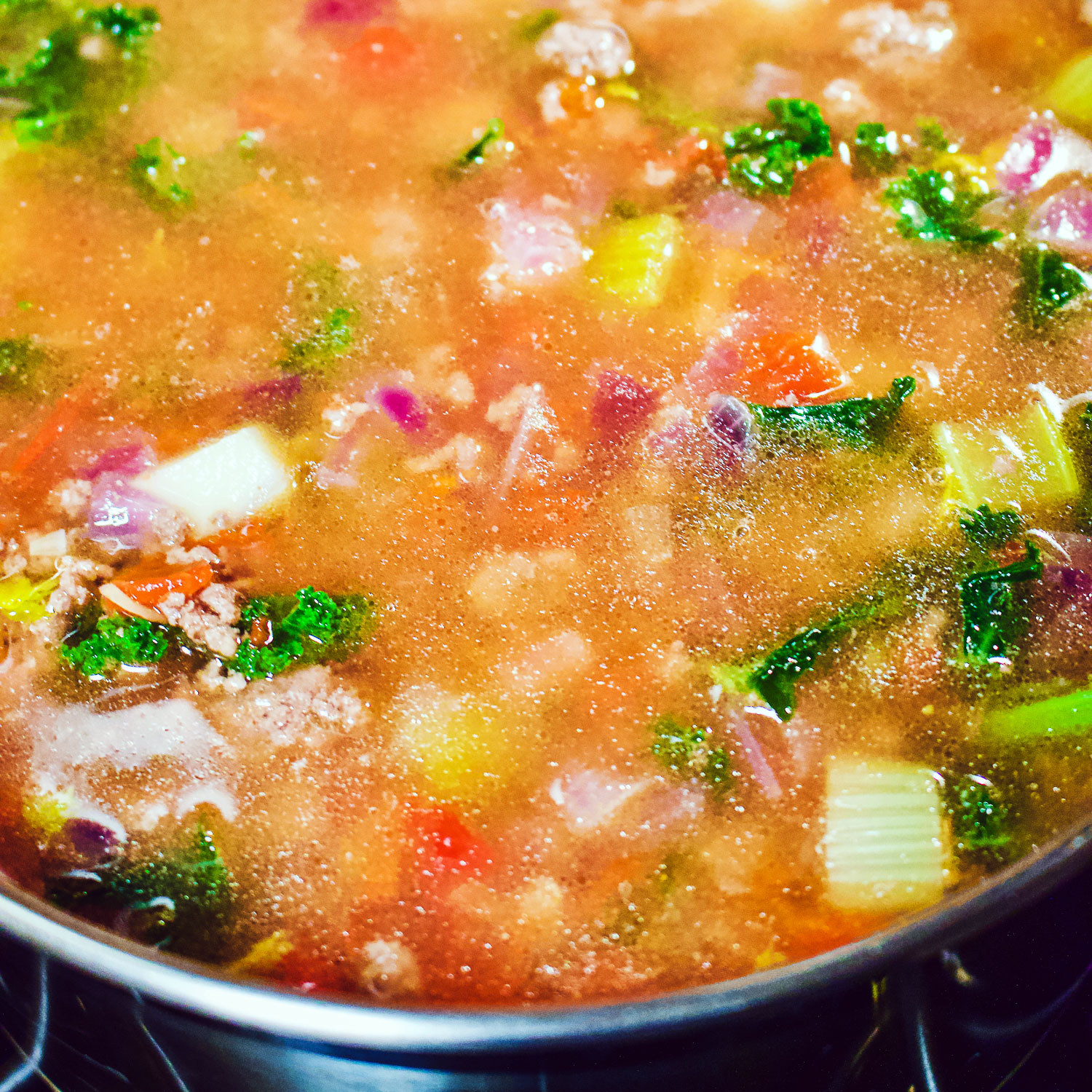 While the soup was simmering, I prepared the bread croutons. Leftover good bread is excellent for this recipe.
The bread in the picture is the bread I make at home very often. If interested, here is the recipe for the easiest no-kneading bread you will ever need.
So, I cut the bread into cubes and placed them on a baking sheet.
I drizzled extra virgin olive oil over the bread, salt, oregano, and rosemary.
I toasted the bread at 350F/180C, occasionally stirring, until the bread cubes became golden brown and crunchy, for about 15–18 minutes.
Keep an eye on it so the bread doesn't burn.
While the bread was in the oven, I continued working on the soup. Because the vegetables were already cooked, especially the potatoes, I added the beans and a little vinegar and corrected the taste with salt and pepper.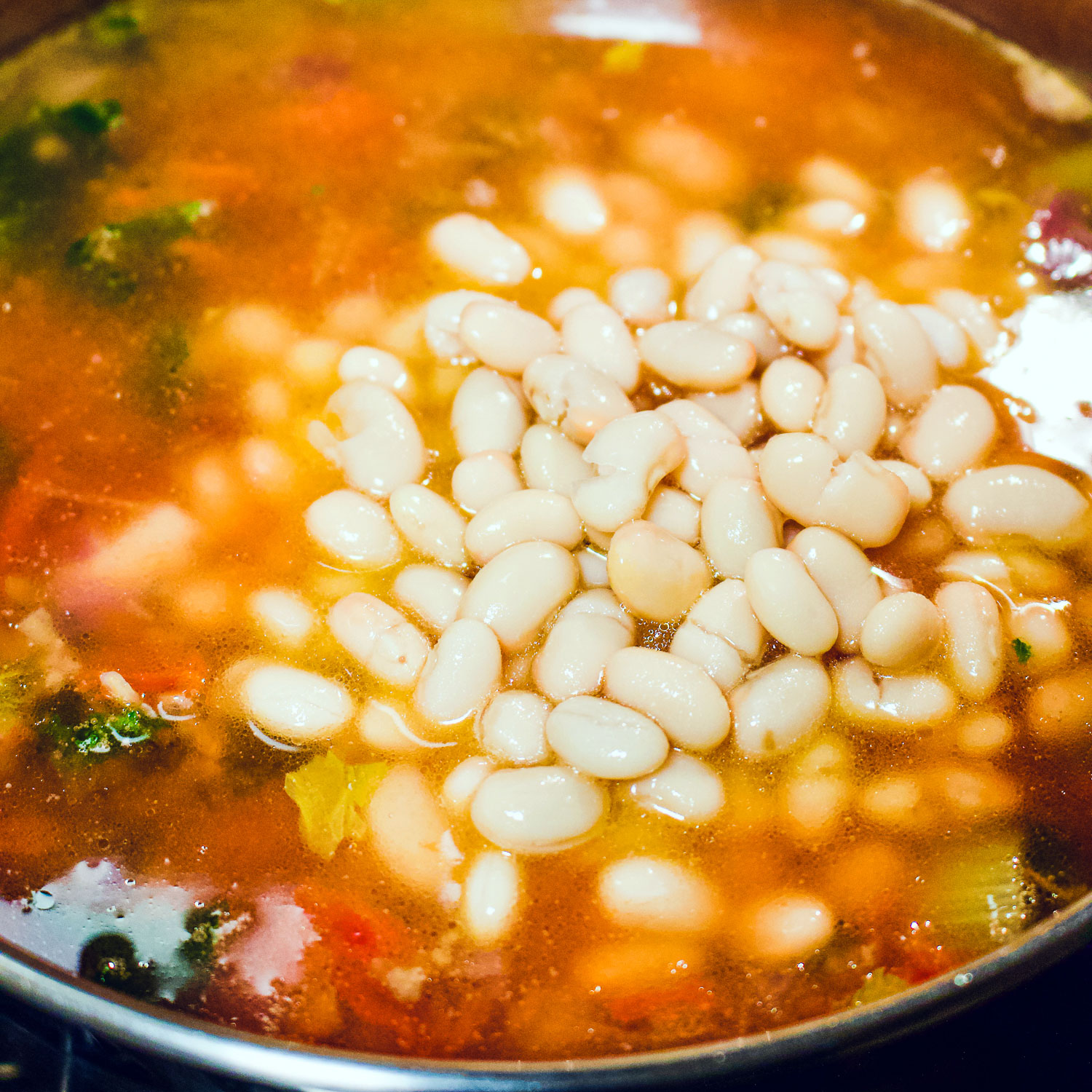 The original soup recipe is made with bread added during the cooking process, so the soup thickens slightly. I disliked the idea, so my version had added bread croutons when I served it.
You can also skip the bread croutons and use regular toasted bread instead.
I kind of like the texture and the crunchiness of the croutons in the soup.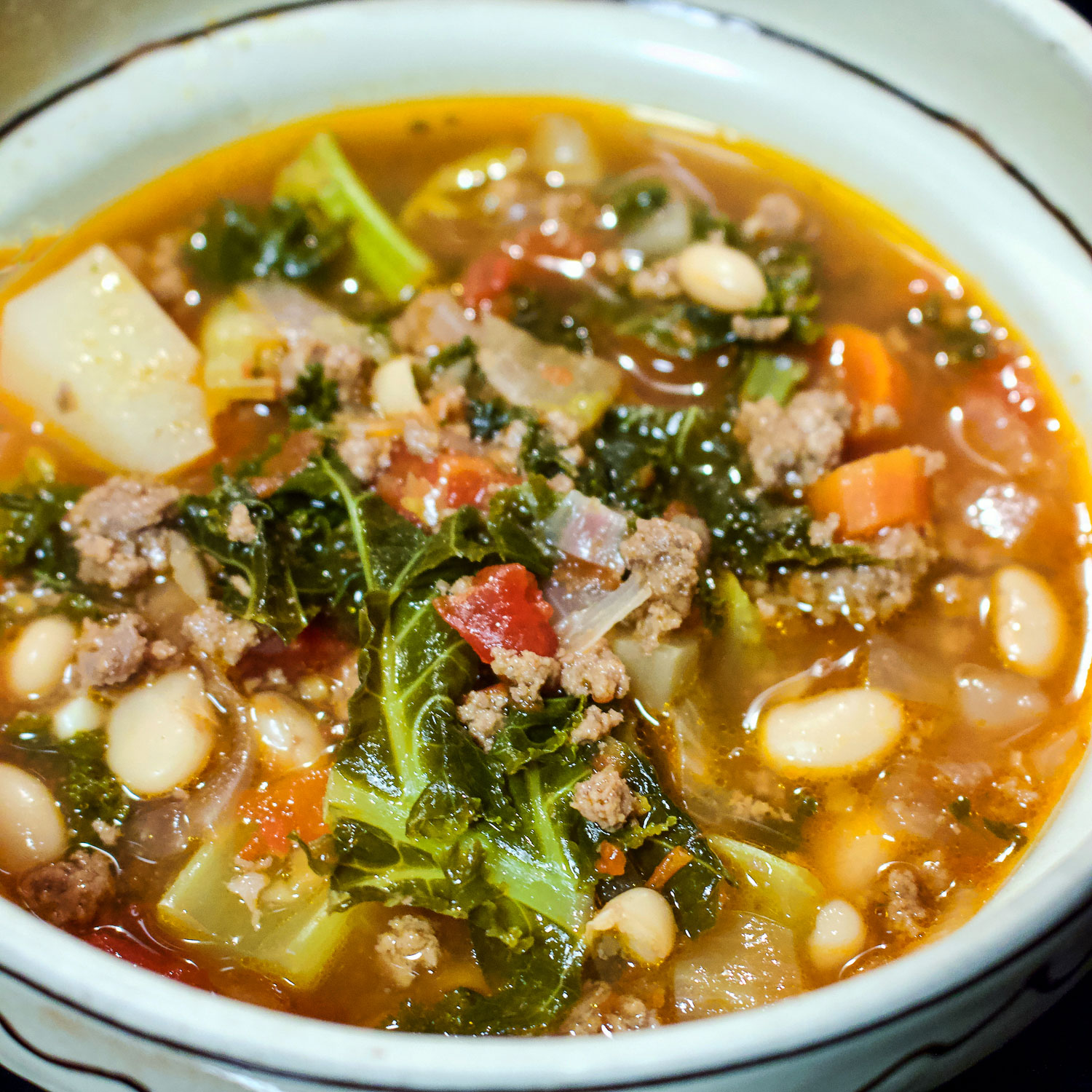 If you want to go really fancy, shave some Parmesan cheese on top of each bowl of soup when you serve it. It definitely adds flavor and texture, and it is delicious.
How to store the leftovers
Any leftover soup should be refrigerated in airtight containers. Heat it in the microwave or on the stove. The leftover soup is good for up to a week if you properly store it in the refrigerator.
It makes a great lunch, but could definitely be a hearty dinner.
You can also freeze it for later use. It is good for up to three months.
Stay warm, my friends, and don't forget: Cooking is love made visible!
More recipes to love
15 Ground Meat Recipes (Beef And Pork)
Traditional Romanian Sour Soup with Pork and Vegetables
Chicken Soup With Sour Cream And Garlic
Instant Pot Beef Vegetable Soup
Check out the web story for this recipe: How to make Italian Ribollita Soup (Tuscan White Bean Soup)
Craving more? Subscribe to The Bossy Kitchen to get new recipes and a newsletter delivered straight to your inbox! Stay in touch on Facebook, Twitter, Pinterest, and Instagram for all of the latest updates. Don't forget to use the star rating and leave a review.
📖 Recipe
Italian Ribollita Soup
Italian Ribollita Soup with Ground Pork- Ribollita soup is a famous Tuscan hearty soup made with bread, vegetables and sometimes meat.
Print
Pin
Share
Grow
Saved!
Rate
Ingredients
1

red onion chopped

2

medium carrots chopped

1

parsley root chopped

3

celery stalks chopped

4-5

cloves

garlic sliced

2

tablespoons

olive oil

1

pound

ground pork

1

cup

dry white wine

4

ounces

frozen spinach/kale or any other greens you like

8

cups

water or chicken stock

1

small zucchini cubed

2

medium potatoes peeled and cubed

15

ounces

chopped tomatoes

canned

15

ounces

cannellini beans

canned, or navy beans or pinto beans

2

tablespoons

red wine vinegar

4

ounces

parmesan cheese shaved

salt and pepper to taste
For the bread croutons:
2

cups

coarsely cubed leftover sourdough or crusty bread

3-4

tablespoons

extra virgin olive oil

½

teaspoon

oregano

½

teaspoon

rosemary or basil

½

teaspoon

salt
Instructions
Clean and chop the carrots, celery, garlic, onion and parsley root.

Mix ground pork with the white wine.

In a soup pot, pour olive oil and place the pot on medium heat on the stove.

Add the meat with the wine and cook until the liquid evaporates. Stir often.

Add the chopped carrots, garlic, celery, onion and parsley root.

Stir to combine all ingredients. Cook until vegetables are translucent.

Add the greens and stir.

Add chicken stock, cubed zucchini and potatoes.

Add tomatoes. Stir.

Reduce heat and simmer, stirring occasionally until zucchini and potatoes are soft, for about 30 minutes.

Add the beans.

Add the vinegar and correct the taste with salt and pepper.

Serve with bread croutons and shaved Parmesan cheese.
How to make the bread croutons:
Choose leftover bread.

Preheat oven to 350°.

Toss bread with 3-4 tablespoons olive oil, salt, oregano, rosemary or basil, on a rimmed baking sheet, squeezing to moisten.

Toast in the oven, tossing occasionally, until golden brown and crunchy, 15–18 minutes. Let croutons cool then use.
Nutrition
Serving:
1
g
|
Calories:
443
kcal
|
Carbohydrates:
31
g
|
Protein:
20
g
|
Fat:
25
g
|
Saturated Fat:
7
g
|
Polyunsaturated Fat:
3
g
|
Monounsaturated Fat:
12
g
|
Trans Fat:
0.1
g
|
Cholesterol:
48
mg
|
Sodium:
1097
mg
|
Potassium:
802
mg
|
Fiber:
5
g
|
Sugar:
7
g
|
Vitamin A:
3660
IU
|
Vitamin C:
20
mg
|
Calcium:
192
mg
|
Iron:
3
mg
Tried this recipe?
Please leave a comment on the blog or like us on Facebook!