Note: "We are a participant in the Amazon Services LLC Associates Program, an affiliate advertising program designed to provide a means for us to earn fees by linking to Amazon.com and affiliated sites."
Ribollita is a famous Tuscan hearty soup made with bread, vegetables and sometimes meat. This version of Italian Ribollita Soup is made with ground pork and lots of vegetables.
Ribollita is a famous Tuscan hearty soup made with bread, vegetables and sometimes meat. The leftover bread is used to add body and thicken the soup. It also has inexpensive vegetables, like carrots, spinach, cannellini beans, garlic, zucchini and potatoes. It is actually made with vegetables that are available, so feel free to make this recipe your own by adding or removing vegetables as you like.
There are many, many versions of this Ribollita soup out there. Some of them have only vegetables, but some of them use Italian mild sausage, ground beef or pork.
I even saw some versions with bacon. However, my version of this recipe has ground pork, because I am bossy in the kitchen (you already know that, right?) and I like to put my own stamp of flavors on the foods I make.
As I said before, use whatever meat you have around and play with the flavors you like.
Serve the soup with shaved parmesan on top and a glass of white wine next to it. It is a great soup for cold days, very fulfilling and delicious.
I always believed that soups are healing the body and also the spirit. I find them important in any diet and great for keeping you full.
I love them in any form, cold, hot, simple or more complicated. I cook a soup almost every week, year around.
A soup is a great meal for children as a good way to experience lots of vegetables and flavors at the same time.
How to make the Italian Ribollita Soup With Ground Pork:
For this soup I put together few ingredients: white wine, already cooked beans ( you can use cans of beans to make your like easier), frozen spinach, potatoes, red onion, garlic, celery, parsley root and carrot, zucchini, chopped tomatoes, ground pork.
I cleaned and chopped the root vegetables, the celery, garlic and onion.
I also mixed the ground pork with the white wine. Yes, with the white wine. In a soup pot, I heated up some olive oil and placed the meat inside.
I cooked the meat stirring once in a while, until the liquid evaporated. I added the chopped vegetables.
I continued to stir and cook the vegetables together with the meat.  When the vegetables became translucent, I added the frozen spinach.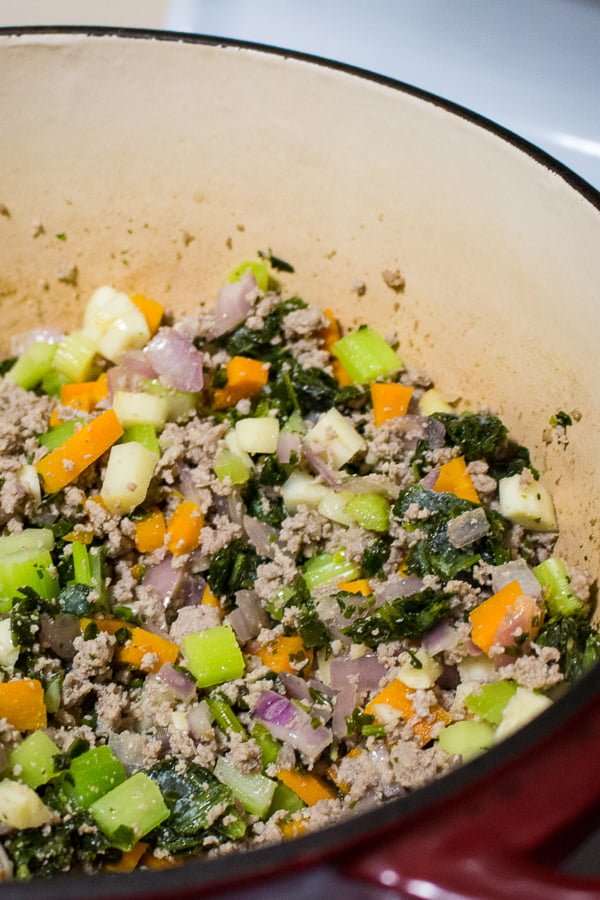 After I added water to the pot, I also added the chopped zucchini.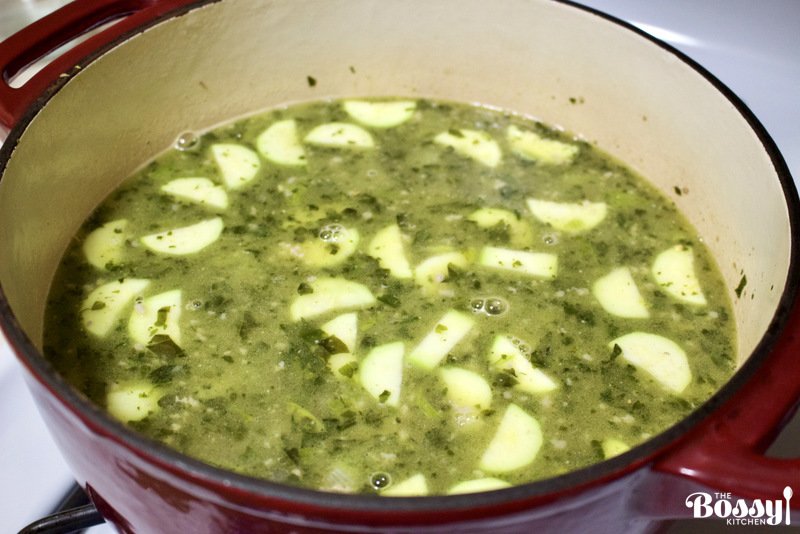 The tomatoes went also in the "pool " together with the cubed potatoes. I seasoned with salt.
While the soup was simmering, I prepared the bread croutons. Left over good bread is great for this recipe.
The bread in the picture is the bread I make at home very often. If interested, here is the recipe of the easiest no kneading bread that you will ever need.
So, I cut the bread in cubes and placed them on a baking sheet.
I drizzled extra virgin olive oil over the bread, salt, oregano, rosemary and tossed it, squeezing to moisten. I toasted the bread at 350F/180C, tossing occasionally, until golden brown and crunchy, for about 15–18 minutes. Keep an eye on it, so it doesn't burn.
While the bread was in the oven, I continued working on the soup. Because the vegetables were already cooked, especially the potatoes, I added the beans, a little bit of vinegar and corrected the taste with salt and pepper.
The original soup had bread in it that is boiled together with the rest of the vegetables. I kind of disliked the idea, so my version had added bread croutons when I served it. I kind of like the texture and the crunchiness of the croutons in the soup.
If you want to go really fancy, shave some Parmesan cheese on top of each bowl of soup when you serve it. It definitely adds a lot of flavor and texture and it is delicious.
Voila! Here is the soup, not too complicated, right? I hope you will enjoy it as much as we did!
Now, I am going to grab a bowl and have some! Stay warm, my friends and don't forget: Cooking is love made visible!
Yield: 6-8 servings
Italian Ribollita Soup With Ground Pork
Italian Ribollita Soup with Ground Pork- Ribollita soup is a famous Tuscan hearty soup made with bread, vegetables and sometimes meat.
Total Time
1 hour
15 minutes
Ingredients
1 cup dry white wine
1 red onion chopped
2 medium carrots chopped
1 parsley root chopped
3 celery stalks chopped
4-5 cloves garlic sliced
4 oz frozen spinach
1 can chopped tomatoes 15 oz
1 can cannellini beans(navy beans or pinto beans), 15 oz
8 cups water or chicken stock
1 small zucchini cubed
2 medium potatoes peeled and cubed
2 tablespoons red wine vinegar
4 oz parmesan cheese shaved
salt and pepper to taste
For the bread croutons:
2 cups coarsely cubed leftover sourdough or crusty bread
3-4 Tbsp extra virgin olive oil
½ tsp oregano
½ tsp rosemary or basil
½ tsp salt
Instructions
Clean and chop the carrots, celery, garlic, onion and parsley root.
Mix ground pork with the white wine.
In a soup pot, pour extra virgin olive oil and place the pot on medium heat on the stove.
Add the meat with the wine and cook until the liquid evaporates. Stir often.
Add the chopped carrots, garlic, celery, onion and parsley root.
Stir to combine all ingredients. Cook until vegetables are translucent.
Add spinach and stir.
Add water, cubed zucchini and potatoes.
Add tomatoes. Stir.
Reduce heat and simmer, stirring occasionally until zucchini and potatoes are soft, for about 30 minutes.
Add the navy beans.
Add the vinegar and correct the taste with salt and pepper.
Serve with bread croutons and shaved Parmesan cheese.
How to make the bread croutons:
Choose leftover bread.
Preheat oven to 350°.
Toss bread with 3-4 tablespoons olive oil, salt, oregano, rosemary or basil, on a rimmed baking sheet, squeezing to moisten.
Toast in the oven, tossing occasionally, until golden brown and crunchy, 15–18 minutes. Let croutons cool then use.