Cabbage puff pastry triangles is a recipe made with puff pastry filled with cooked cabbage and optional bacon. This recipe is great for parties.
Pastries filled with cabbage- bacon is optional
Today, I am going to give you a recipe for cabbage puff pastry triangles, that is very easy to make and can satisfy a crowd, vegetarians or not.
Make them for a party and these heavenly pastries are going to be the stars on the table. If you want to make them non vegetarian, add some bacon when you cook the cabbage. Yum!
Filled pastries are very popular in Eastern Europe. It is a versatile snack that can be savory or sweet. You can have it for breakfast, or lunch(if you pair it with a salad, for example).
I am sure the ones who traveled not only to Eastern Europe, but all over Europe, they noticed that every corner of the street has a little pastry shop that will offer a multitude of bake goods, from pretzels to pies and pastries.
Some of them are so popular that people are waiting in line for them. It is an "on the go" type of meal when you run around the city with business. It is also a very cheap way of eating.
HOW TO MAKE THE CABBAGE PUFF PASTRY TRIANGLES:
I bet that if you are here on this page is because you have some frozen puff pastry in the freezer and you need to do something with it.
Step 1– Defrost the puff pastry
First thing first, you will need to defrost it. I always have a package in the freezer for emergencies or cravings of all sorts. Sometimes I use cheese, sometimes I use ham, or even ground meat.
One piece of advice I have for defrosting the puff pastry is to not forget about it on the counter.
Ideally, it should sit at room temperature for no more than 40 minutes, otherwise will be hard to work with it.
Step 2– Make the filling
While the puff pastry is defrosting, chop the onion and shred the cabbage. Grab a skillet and heat up a little bit of oil.
Add the chopped onion. Saute until translucent, then add the shredded cabbage, salt and pepper and cook until soft.
If you want to add bacon, this is the time to do it. Cook the bacon first, then add the onion and the cabbage to it.
Set aside and let cool a little bit.
Step 3- get the puff pastry ready for filling
Meanwhile, on a floured surface roll out the puff pastry sheet and cut it to squares of the desired size.
Step 4- Make the pastries
Place a spoonful of cabbage in the middle, fold and close with the help of a fork or fingers.
Place each pastry on a baking pan lined with parchment paper or silicone mat.
Step 5- Bake the pastries
Brush them with beaten egg (use a pastry brush) and bake the pastries at 400F for 15-17 minutes or until golden brown.
Make sure you don't burn your tongue trying to munch on them right out of the oven! They are VERY HOT! Otherwise, enjoy !
If you make the recipe, share it with the hashtag #thebossykitchen on Instagram, Facebook and Twitter so we can all see what you're cooking!
Are you interested in more puff pastry recipes? Here is my collection of pastries made with this delicious type of dough.
The Bossy Kitchen Group on Facebook is a community of people who share the passion for cooking and baking and where everyone is welcome to share ideas, tips and culinary experiences. Click HERE if you would like to join!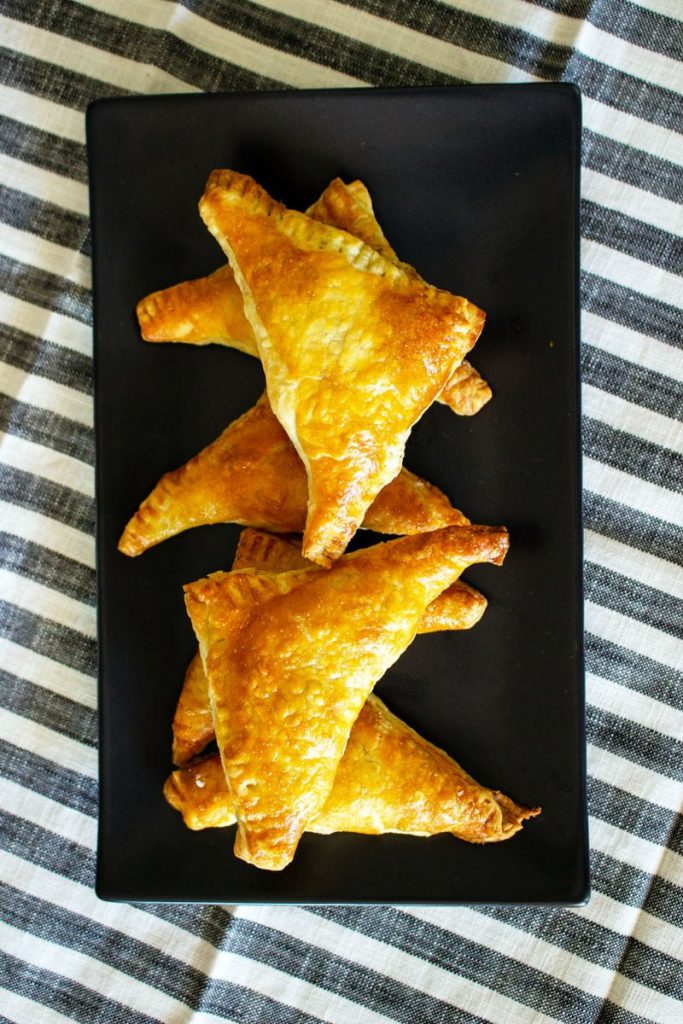 Note: "We are a participant in the Amazon Services LLC Associates Program, an affiliate advertising program designed to provide a means for us to earn fees by linking to Amazon.com and affiliated sites."