Note: "We are a participant in the Amazon Services LLC Associates Program, an affiliate advertising program designed to provide a means for us to earn fees by linking to Amazon.com and affiliated sites."
I wrote on the blog some while ago another recipe for pastries made with farmers cheese. Today, I thought that you might like to try another beauty and favorite around my house, so I present you the feta and black caraway pastries. If you visit Romania and especially Bucharest, the capital of the country where I grew up, you will find those at every corner of the street. There are so many bakeries and pastry businesses that you cannot even imagine. Pretzels, savory pastries filled with cheese, meat, sausages or hot dogs, or sweet ones filled with apples, pumpkin or farmer's cheese. Options are for everyone and for every taste.
However, there is nothing better than home made pastries. you can have them as appetizers, snacks, breakfast and anything in between.  In the past, I used to be afraid to work with puff pastry, but I discovered how easy it is, and since then, I love making all kinds of pastries with it.
How to make these Savory Feta and Black Caraway Pastries:
You will need to thaw the puff pastry first. For this recipe in particular, I used puff pastry squares that were approximately 5×5 inches each. However, sheets of puff pastry are easy to find in the grocery stores, so you can cut them the same size.
Then, preheat the oven to 400F/200C.
The filling is made with only two ingredients, feta cheese and egg. My favorite feta is made with sheep or goat milk, but cow milk feta is fine too.  Beat the egg with a fork in a bowl. Crumble the feta and add it to the egg to make the filling. Place a dollop of the cheese mixture in the middle of each pastry, then fold the dough like a triangle or just in two, as you prefer.
With a fork, seal the pastry together, so the cheese doesn't come out while baking.
Beat an egg and brush the top of each pastry with it.
Sprinkle black caraway seeds on each pastry and bake at 400F for about 20-25 minutes or until golden brown.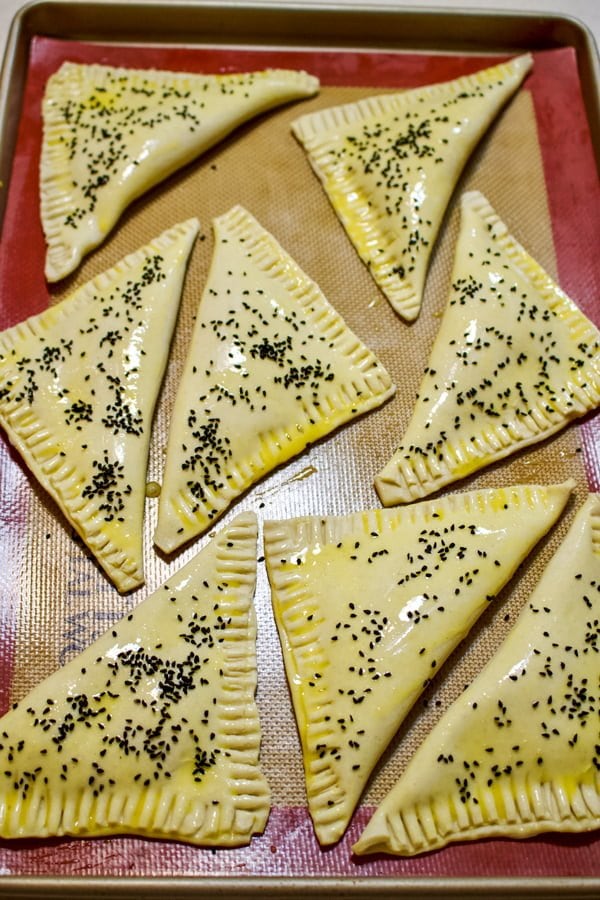 Serve warm or cold. They are great even the next day, but I assure you, you will not have any leftovers. They are delicious!
If you make this recipe, share it with the hashtag #thebossykitchen on Instagram, Facebook and Twitter so we can all see what you're cooking!
Or maybe you want to join The Bossy Kitchen community group where you can share your creations made from this blog or from other sources. Everyone is welcome to join!

Savory Feta And Black Caraway Seeds Pastries
Author:
The Bossy Kitchen
Ingredients
1 package (17.3 oz) Puff Pastry Sheets thawed
8 oz. Feta Cheese
1 large egg for the cheese mixture
1 large egg for brushing the pastries
2 tablespoons black caraway seeds
Optional: 2-4 tablespoons fresh dill or 1 teaspoon dried dill
Instructions
Preheat oven to 400F.
Defrost the puff pastry for about 40-45 minutes and use it while still cold.
If you use regular puff pastry sheets, cut the pastry in aprox. 5x5 inches squares.
In a medium bowl, place the feta cheese and mash it with a fork.
Add the egg and mix well.
Place a dollop of the cheese mixture in the middle of the puff pastry squares and fold the pastry in half or as a triangle.
Use a fork to seal the pastry around.
Place each pastry on a parchment paper covered baking sheet.
Brush each pastry with the other egg and sprinkle them with black caraway seeds.
Bake at 400F/200C for about 20-25 minutes or until golden brown.
Serve warm or cold.