Craving some delectable crepes? Look no further! This essential recipe for homemade crepes is a must-have in any kitchen-savvy repertoire.
With this guide, you'll whip up crepes that are delightfully thin, irresistibly buttery, and guess what? No need for blenders, mixers, or special pans.
Just a handful of basic ingredients and you're all set to create these culinary delights. Whether you're in the mood for sweet or savory, the fillings and toppings are up to you. So grab your apron and let's get cooking!
This recipe is part of my collection of Breakfast dishes. One of my favorite recipes in this category is this Easy Banana-Buttermilk Pancakes, but you might also like a great recipe for Homemade Granola, or this Ham and Cheese Hash Brown Casserole.
Jump to:
Why do I like this recipe?
Where I come from, kids love crepes, especially if you serve them with their favorite jam.
Most of my recipes on this blog have a story. Many of them are recipes I grew up with and loved all my life, while others are inherited from friends and family.
This easy crepes recipe comes from a dear friend. She taught me two of her favorite recipes she grew up with, and I am more than honored to share them with you.
One is this recipe of crepes, and the other is her famous doughnuts recipe.
What are crepes
Crepes are the European cousin of American pancakes. They are thin and made with flour, milk, and eggs without the use of a leavening agent that you see in the American pancakes. The batter is spread very thin in a frying pan and cooked on both sides.
Simple and easy to make, this recipe is a staple for many European countries. They are the most popular in France, but every country has a version of this wonderful dish.
Where I come from, the concept of pancakes is not very well known, but crepes are made in any household.
The men, in particular, take pride in showing you how to flip the pan, so the crepes get cooked evenly on both sides.
Moms or grandmas disappear in the kitchen, only to come out with a mountain of warm crepes filled with homemade jams and preserves.
Crepes are a big deal back there but also a cheap and delicious breakfast or dessert that can be consumed during the day. 
I do not remember having crepes for breakfast, but for sure I had them as a dessert after lunch, as a snack in the afternoon, or even for dinner.
The crepe batter is made in advance and allowed to rest, so the flour swells and any air beaten in during preparation has time to dissipate.
Allowing the batter to rest will ensure that the crepes are soft and even. This is an important step.
How to pronounce Crêpes
Crêpes, one of the delightful culinary treasures from France! However, the pronunciation can be a bit tricky for English speakers.
In French, "crêpe" is pronounced as "krep." The "r" sound is soft and almost whispered, and the "e" is short, like the 'e' in "bet."
In English, you might hear it pronounced more like "krayp," with a long 'a' sound, but the French pronunciation is considered more authentic.
Are crepes the same as American pancakes?
No, they are not. Crepes are a thinner version of a pancake. While both items are made with the same ingredients, the crepes batter is runny, while the pancake one is thicker and dense.
Also, the pancakes batter has either baking powder or baking soda.
Make them either savory or sweet
Savory Crepes: These crepes lean towards the meal side of things and are often enjoyed as breakfast, lunch, or even dinner.
The batter itself might be seasoned with herbs or spices, and the fillings typically consist of ingredients like cheese, meats, vegetables, or eggs.
Think of them as a delicate, thin pancake that's wrapping up all your favorite mealtime flavors. They can be served with various sauces or dips, adding a rich and hearty touch to the experience.
Sweet Crepes: Sweet crepes are the dessert or snack version and are often served as a delightful treat.
The batter for sweet crepes usually contains a touch of sugar or vanilla, which sets the stage for a plethora of sweet fillings and toppings.
Common choices include fruits, chocolate, whipped cream, Nutella, or even just a sprinkle of powdered sugar. Drizzle them with some honey or syrup, and you have a delightful dessert that's as pleasing to the eye as it is to the taste buds.
Crepes can be made with all-purpose flour or buckwheat. If you make them with buckwheat (a naturally gluten-free flour), they are called galettes and are very popular in the region of Brittany, France. They are typically filled with ingredients like cheese, ham, eggs, or vegetables.
In other parts of France and in broader culinary terms, a galette may also refer to a rustic, freeform tart or pie.
Ingredients for a basic recipe
You need just a few ingredients: eggs, milk, flour, oil or butter and a pinch of salt. If you want to make them sweet, then you will need to add some sugar to the batter.
How to make them
Step 1. Prepare the batter.
Blend eggs and milk together, add oil and sugar, then gradually add flour and salt.
Mix until smooth and lump free.  To achieve a lump-free consistency of the thin batter, you need to whisk really well. If you have a blender, you can blend the batter until it is smooth, but you can make crepes without it.
To tell you the truth, as we are in the era of multiple kitchen gadgets, most bloggers out there use a blender for making the crepes batter.
If you do not have one, there is not a big deal. Use a whisk or a fork and work that batter really well until all the lumps are gone. 
Step 2. Allow the batter to rest.
The next step will be to clean up and allow the batter to sit for about 15-30 minutes before you start cooking the crepes.
The batter can sit in the fridge for up to one day if you choose, for example, to make the crepes in the morning, but prepare the batter the night before.
Step 3. Make the crepes.
Using a 5-6 inches skillet, spoon out some batter into the center of the skillet and then roll the pan to let the batter run to the edge, to keep it as thin as possible.
Let it bubble and then with a fork or knife, lift a corner of the crepe and flip it. Both sides should be a little brown but still soft.
Step 4. Place the cooked crepe on a plate. Continue the same way with the rest of the batter. Stack the crepes on top of each other.
My grandmother used to cover the crepes with a plate positioned upside down to keep the crepes warm.
Secret: Butter the rims of each crepe to keep it soft.
You can also roll them in an easier way, as you can see in the photo below, or just fold them in four.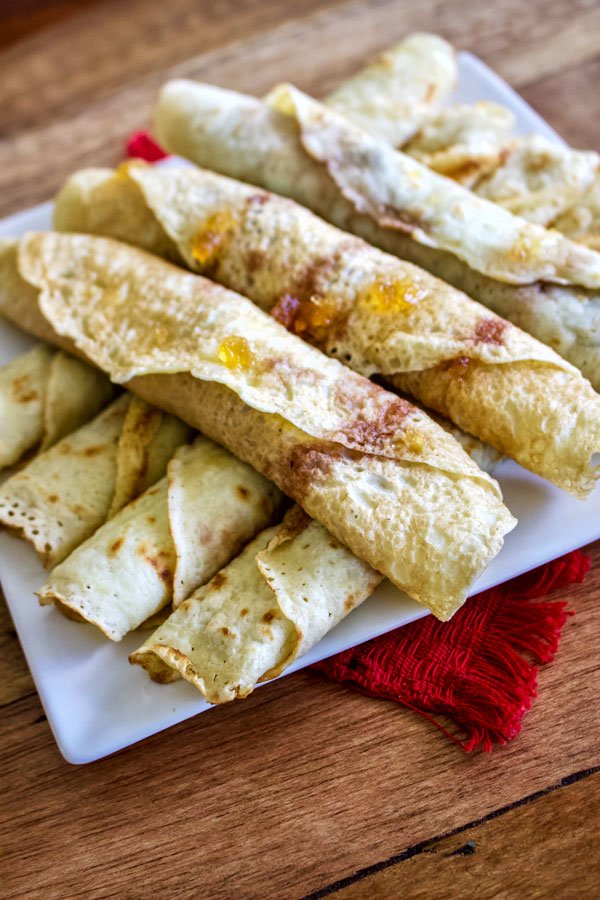 Can I replace the milk?
Yes, you can. Use any kind of milk you have. You can also use almond milk, cashew milk, soy milk, or even water. Seltzer water is another good one for this recipe.
What kind of savory fillings you can use
Shredded Chicken
Cooked Mushrooms
Ham and Cheese
Seafood
Smoked Salmon and Cream Cheese(add some chopped herbs like dill or parsley)
Cooked Hamburger Meat with Tomato Sauce
Cooked Broccoli with Bacon
Cooked Spinach and Feta Cheese
Omelet with Feta Cheese and Dill
What kind of sweet fillings you can use
Cottage Cheese/Farmer Cheese with raisins and sugar
Nutella
Nutella and Slices of Banana
Sliced Bananas and Caramel Sauce
Cream Cheese with Orange Preserves
Sweetened Whipped Cream and Fresh Fruits, like berries or peaches
Faqs
Can I use self-rising flour?
Yes, you can, but keep in mind that self-rising flour contains baking soda, so the crepes will come out thicker due to the rising agent in the flour.
Can I freeze them?
Yes, you can absolutely freeze crepes, and the process is very simple.

You can make a large batch, wrap them in parchment paper, place them inside the freezer bags, then put them in the freezer.

They should be kept for up to 3 months. Defrost them slowly in the refrigerator or in the microwave in 10 seconds increments.
More recipes to love
📖 Recipe
Best Crêpes Recipe
This easy crepes with jam recipe is a delicious option for a simple breakfast or dessert. Kids love crepes especially if you serve them with their favorite jam!
Print
Pin
Share
Grow
Saved!
Rate
Instructions
Blend together eggs, milk, oil and optional sugar, if you make them sweet.

Gradually add flour and salt.

Mix until smooth and lump free.

Let mixture sit for up to 15 minutes in a covered bowl.

Heat up 5-6 inch skillet with melted butter.

Spoon out mix into center of skillet and then roll the pan to let the batter run to the edge to keep it as thin as possible.

Let it bubble and then with a fork or knife lift a corner and flip the crepe.

Both sides should be a little brown but still soft.

Remove and stack. Butter the rims of each pancake to keep soft.

Fill them with your favorite savory or sweet fillings. Roll them up and serve warm.

Recipe can be cut in half for a smaller batch.
Nutrition
Serving:
1
g
|
Calories:
70
kcal
|
Carbohydrates:
8
g
|
Protein:
3
g
|
Fat:
3
g
|
Saturated Fat:
1
g
|
Polyunsaturated Fat:
1
g
|
Monounsaturated Fat:
1
g
|
Trans Fat:
0.01
g
|
Cholesterol:
26
mg
|
Sodium:
40
mg
|
Potassium:
66
mg
|
Fiber:
0.2
g
|
Sugar:
2
g
|
Vitamin A:
85
IU
|
Calcium:
45
mg
|
Iron:
0.5
mg
Tried this recipe?
Please leave a comment on the blog or like us on Facebook!