If you think that granola is hard to make, please think again. This recipe of homemade granola with berries will show you that you can create a great breakfast or snack for the entire family with just a few healthy ingredients.
This recipe is made with naturally gluten-free oats, seeds, dry berries, and coconut flakes.
Granola is easy to make at home.
It is so easy to make granola at home that you might never buy it in the stores again. With just a few ingredients that you might already have in the pantry, you can go crazy and create your favorite granola to enjoy for any meal of the day.
Granola could be fun to make as you can tailor the recipe to fit your needs or liking. Fruits, nuts, and seeds can be added or removed, Most granolas are made with oats, but other grains could be added for a more complex texture. Barley, wheat germs, and wheat bran are just a few examples.
Are whole grain cereals good for us?
When you consume them in moderation, wholegrain cereals are very good for our bodies. They are complex carbohydrates that break down slowly in your body, providing you with vitamins, minerals, and fibers.
High-fiber foods are filling and, therefore, discourage overeating. Fibers are necessary to keep your intestines working properly. When combined with plenty of fluid, they help move food through the digestive system to prevent constipation.
What kind of ingredients do you need to make this homemade granola recipe?
Dry ingredients:
Oats.
Rolled oats are the star of this recipe. They are also called old-fashioned or whole oats. These oats look flat and have an irregular round shape. When processed, the oats are steamed to make them softer, then pressed to flatten them.
Rolled oats absorb more liquid than steel-cut oats and are commonly used to make granola, granola bars, and other baked goods like muffins or cookies.
Can I use steel-cut oats to make granola? What about instant oats?
I would not recommend it. Steel-cut oats are too chewy and dry for granola recipes. While some people might enjoy the texture, most people don't.
Instant oats are the most processed oats out there. You can use them instead of rolled oats, but if you want to have some health benefits, you will need to stick with rolled oats.
Pumpkin seeds.
Pumpkin seeds or pepitas have lots of health benefits. I like them in this recipe for their texture and color. I used raw seeds, as they will roast in the oven together with the oats.
Dried Berries.
Dried berries are some of my favorite dried fruits out there. There are so many of them to choose from, and they are so good. I used cranberries and raisins in this recipe, but feel free to use dried strawberries, raspberries, blueberries, cherries, currants, Goji berries, etc. Trader Joe's has a good variety of dried fruits, but I am sure you can find them in other grocery stores as well.
Unsweetened Coconut Flakes or Chips.
Oh, how I love coconut flakes! Sometimes you will find them under the name of chips. Coconut flakes are used in baking, and I love that they are not sweet.
I did not work with sweet coconut flakes in this recipe, so I don't have an opinion on whether you can use them or not. I prefer my granola to be less sweet, and I love coconut chips, so here you have it.
Coconut flakes are not the same as shredded coconut. You can replace the flakes with shredded ones, but keep it unsweetened, please, so you can experience what this recipe is about.
Wet ingredients:
Maple syrup.
Use any real maple syrup you have available. The grade doesn't matter, but as I always say, you cannot have good food using low-quality ingredients. Choose the best maple syrup you can afford, and you will be fine.
Honey.
Any running honey is good. I always look for organic, raw honey, but I also understand that good honey is not available everywhere unless you specifically order it online. Use what you have.
Vanilla extract.
Please use real vanilla and not an artificial one. There is a huge difference in taste between the two of them.
Vegetable oil.
Vegetable oil is used to coat and protect the oats from burning while baking in the oven. You do not need any fancy oil here. I used sunflower oil because this is what I have in the house. Because we also use coconut flakes, you can replace the vegetable oil with coconut oil for extra flavor.
How to make homemade granola with berries?
Step 1. Preheat the oven.
See the instructions at the bottom of this article, under the recipe card.
Step 2. Make the syrup.
Mix maple syrup, oil, vanilla, and honey in a small bowl. Set aside.
Step 3. Mix dry ingredients.
Mix ONLY oats and pumpkin seeds. Add the syrup you set aside and stir until the oats are well coated. Spread them on a baking tray covered with parchment paper and bake them for 15 minutes.
The oats need to be a little crowded on the pan, but not too crowded as they will not toast evenly.
Tip: Use parchment paper on the baking tray, so the syrup sticks to the oats and not to the pan.
Step 4. Add the rest of the dry ingredients to the tray.
Remove the baking tray from the oven and add the dried fruits and coconut flakes. Use a wooden spoon to stir all the ingredients together, then return the tray to the oven for ten more minutes.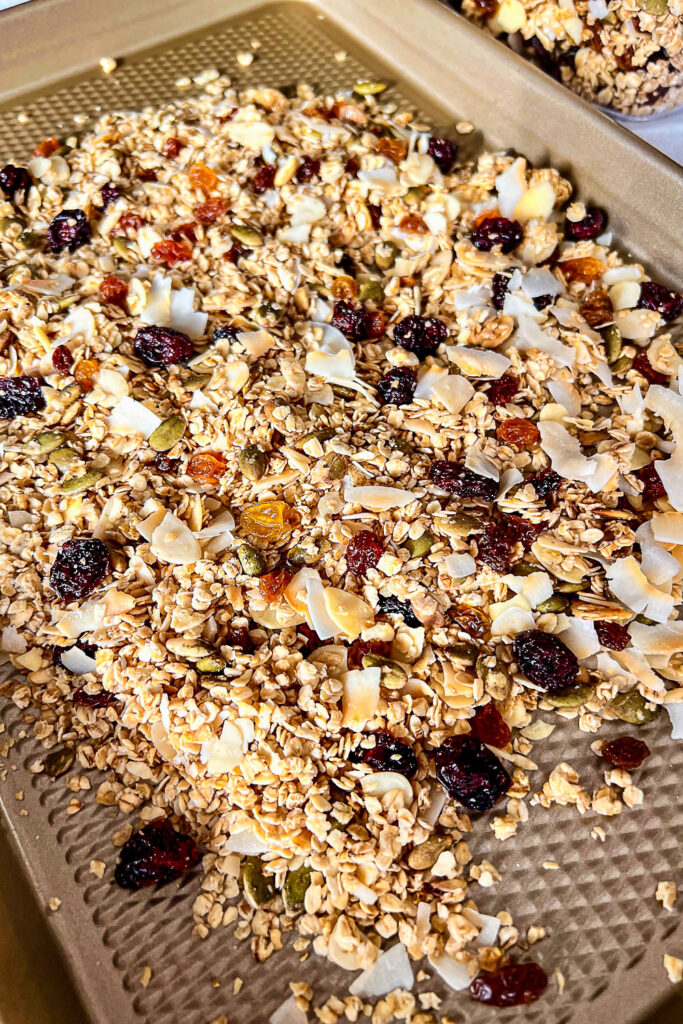 Step 5. Remove, cool completely, and store.
Remove the tray from the oven, cool in the pan completely, then store it in airtight containers. Voila, you just made homemade granola with berries! Isn't that awesome?
You might be used to seeing granola that is darker in color, but this recipe is different. You can, of course, leave the oats in the oven for five more minutes if you like them darker, but you also need to be careful that the coconut or the seeds don't burn.
Also, the dried fruits might get too dry and become harder to chew.
My recipe doesn't contain nuts, and it is suitable for people who cannot have them. However, if you want to add some nuts, prepare the basic recipe, adding ½ cup chopped pecans and ½ cup chopped hazelnuts.
How to serve this homemade granola:
Serve it with milk, fruits, yogurt, or on its own. While some people might find this weird, I like to warm up the milk, especially on colder days when I need something to "stick to my ribs."
How to store granola with berries:
Store it in an airtight container for up to two weeks. I would not store it in the fridge, as it might lose the crunch due to the humidity.
Some people freeze it for later use, but I never tried. If you consume it in these two weeks, it will not go stale.
Enjoy!
More recipes to love:
Blueberry Bread Pudding With Cheddar
Yield: 5 ⅔ cups
Homemade Granola With Berries
This recipe of homemade granola with berries will show you that with just a few ingredients, you can create a great breakfast for the family.
Ingredients
Ingredients for the syrup:
2 tablespoons vegetable oil(like sunflower, canola, grapeseed oil)
Dry ingredients:
Instructions
Preheat oven to 300F.
Mix the maple syrup, honey, vanilla, and oil in a small bowl.
In a large bowl, mix well oats and pumpkin seeds. Pour over the syrup and stir until all the dry ingredients get coated.
Grab a large baking sheet and cover it with parchment paper. Spread the oats mixture on this pan and bake it in the oven for 15 minutes.
Remove the pan from the oven, add the dried berries and coconut, and mix well. Return the pan to the oven and continue baking for another 10 minutes.
Remove again from the oven and allow the granola to cool in the pan.
Store in an airtight container.
Notes
Use any kind of dried berries you like.
Use any kind of vegetable oil you have available. I use sunflower oil, but other neutral oils can work as well.
Use unsweetened coconut. I used unsweetened coconut flakes.
Tip: My recipe doesn't contain nuts, and it is suitable for people who cannot have them. However, if you want to add some nuts, prepare the basic recipe, adding ½ cup chopped pecans and ½ cup chopped hazelnuts.
How to serve this homemade granola:
Serve it with milk, fruits, yogurt, or on its own.
Recommended Products
As an Amazon Associate and member of other affiliate programs, I earn from qualifying purchases.
Nutrition Information:
Yield:
9
Serving Size:
⅔ cup
Amount Per Serving:
Calories:

226
Total Fat:

21g
Saturated Fat:

16g
Trans Fat:

0g
Unsaturated Fat:

4g
Cholesterol:

0mg
Sodium:

11mg
Carbohydrates:

9g
Fiber:

5g
Sugar:

3g
Protein:

2g