Scalloped Corn with vegetables is one of my favorite recipes for Thanksgiving dinner. Very easy to put together and delicious, this recipe is perfect for the holidays.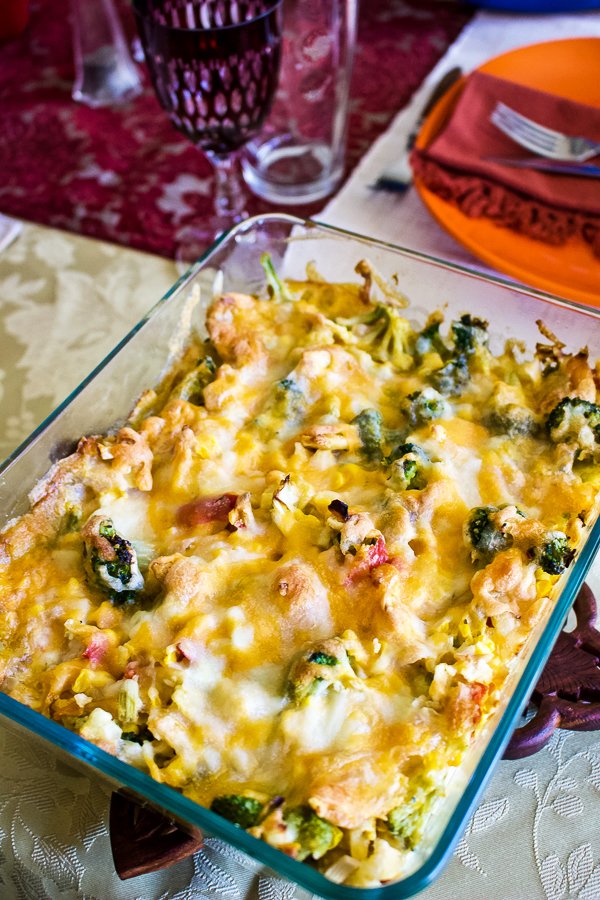 I love this version of Scalloped Corn With Vegetables. It has lots of vegetables and it is the perfect side dish for the winter holidays, especially Thanksgiving.
I have this recipe for a number of years now and I continue to make it every year.
When I tried it the first time, on my first year in United States, I fell in love with it. Since then, it definitely became my favorite side dish for this holiday.
I grew up with corn in my diet. From corn on the cob to the popular polenta, served instead of bread with the traditional Romanian stuffed cabbage rolls,
to sweet breads and cheese pies, corn was part of the Romanian diet for centuries.
We do not eat corn as much as people eat it here on the continent, but it is interesting how corn is so completely integrated in our lives, from food to fuel and everything in between.
It isn't just a dish on our table, it has become a staple in our society.
For me, it would not be Thanksgiving without a corn dish on the table. It is part of what America is and we have to celebrate it properly.
If you do not live in US, probably you will not have access to the cans of cream style corn, but this is not a problem, because you can easily use any kind of corn you have, can, frozen or even fresh version.
I used all kinds over the years and the results are almost similar.
I love frozen and fresh corn, though. That would be my first choice, if I would have to choose from these options.
Amazingly, I've found that many people aren't as familiar with this recipe. I saw recipes of scalloped corn that do not have any vegetables.
This recipe is lighter and healthier and tastes really delicious.
This is comfort food, pure and simple. It is homey, it is uncomplicated, and it goes well with a huge variety of entrees.
How To Make Scalloped Corn with Vegetables:
Start preheating the oven to 350F.
In a large bowl, place crushed soda crackers and corn.
The original recipe uses crushed soda crackers, but any salty crackers you find in the grocery stores around the world should be very good.
We will also need some evaporated milk ( not condensed milk as that one has tons of sugar that we do not need) .
Prepare all the vegetables. Chop peppers, celery and onions and add them to the bowl.
Any kind of bell pepper works. I love red bell pepper, it brings color to the dish.
Add eggs.
Add cheese(I used Cheddar Cheese).
Add broccoli, that can be frozen. If you use fresh broccoli, just chop it bite size.
Combine all ingredients together. Place them into a greased 8x8x2 inch baking dish.
Bake the dish for 35-40 minutes or until golden brown.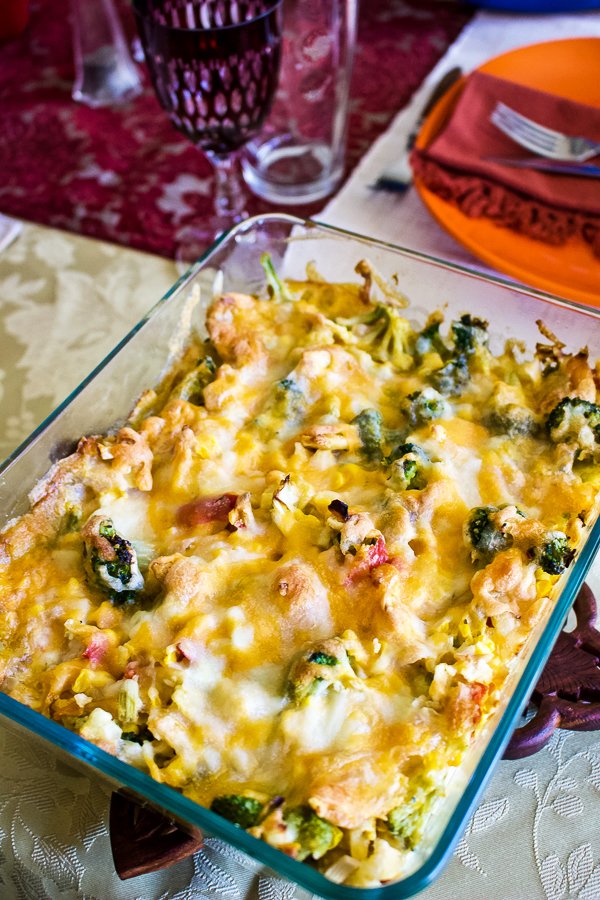 I mean, HOW easy is that? Believe me, it is delicious! And good not only for the Thanksgiving meal, but for any dinner or potluck! Enjoy!
Tip: If you need to make a bigger batch, just double the recipe. Also, you can make the dish in advance. I usually make it the day before and reheat it on the day you serve it.
Some other suggestions for the Thanksgiving or Christmas meals:
Best Thanksgiving and Christmas Turkey recipes
Easy Sausage, Cranberries and Walnuts Stuffing
Baked Brandied Cranberry Sauce
Best Thanksgiving Side Dish Recipes
Best Thanksgiving Pies And Tarts
Yield: 6 servings
Scalloped Corn with Vegetables
Scalloped Corn with vegetables is my favorite recipe for Thanksgiving. Very easy to put together and delicious, this recipe is perfect for the holidays.
Ingredients
17 ounces regular corn in a can or frozen
2 large eggs
½ cup crushed soda crackers
¼ cup melted butter
½ cup evaporated milk
10 ounces chopped frozen broccoli very well drained, Fresh broccoli is great too
¼ cup colored bell peppers chopped
1-2 chopped celery sticks
1 teaspoon chopped onion
½ teaspoon sugar
½ teaspoon salt
½ cup shredded Cheddar cheese
Instructions
Preheat oven to 350F.
Beat the eggs.
Chop broccoli, peppers, celery sticks onions.
In a large bowl, place corn, crushed crackers, eggs, butter, evaporated milk, vegetables, cheese, salt and sugar.
Stir to combine.
Put into a greased 8x8x2 inch baking dish.
Bake at 350F for 35-40 minutes or until golden brown.
If you need to make a bigger batch, just double the recipe.
Recommended Products
As an Amazon Associate and member of other affiliate programs, I earn from qualifying purchases.
Nutrition Information:
Yield:
6
Serving Size:
1
Amount Per Serving:
Calories:

276
Total Fat:

16g
Saturated Fat:

8g
Trans Fat:

0g
Unsaturated Fat:

6g
Cholesterol:

98mg
Sodium:

410mg
Carbohydrates:

27g
Fiber:

4g
Sugar:

8g
Protein:

11g