Note: "We are a participant in the Amazon Services LLC Associates Program, an affiliate advertising program designed to provide a means for us to earn fees by linking to Amazon.com and affiliated sites."
These almond-cranberry shortbread cookies remind us of the holidays. Perfect recipe for potlucks, cookies swap parties and any holiday event.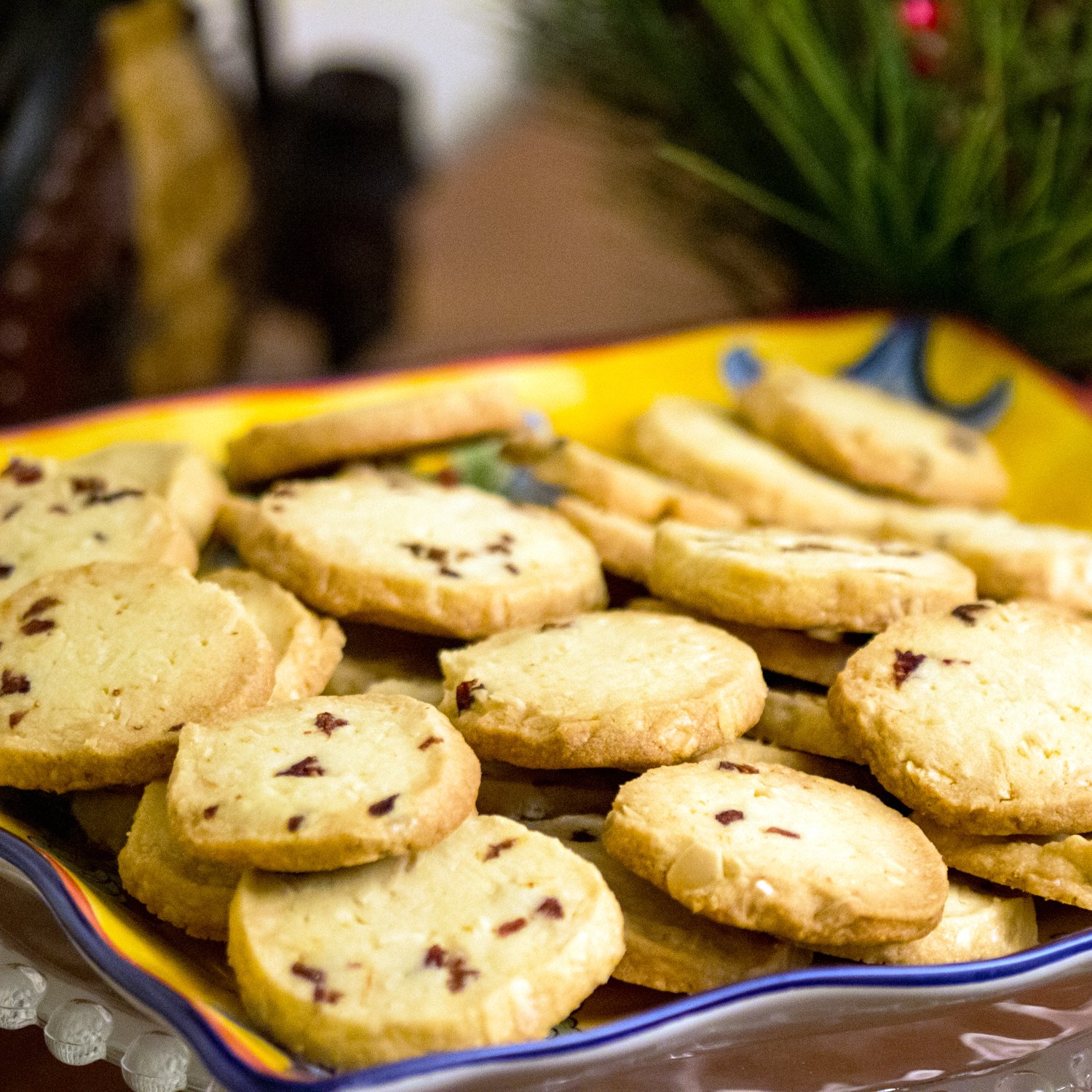 The cool weather is settling in slowly but surely in Minnesota. So far, we had a long fall, but as we are approaching the holidays, the snow and the wind chill are taking over the Twin Cities.
It feels good to bake when it snows and cookies are always perfect with some hot tea or my favorite Turkish coffee. Also, the holidays are the perfect time to reach out to friends and family. I'm always a fan of doing that with food and make edible gifts to friends and family.
Shortbread cookies are considered Christmas cookies, at least in the US. In other parts of the world, these cookies are enjoyed all year round.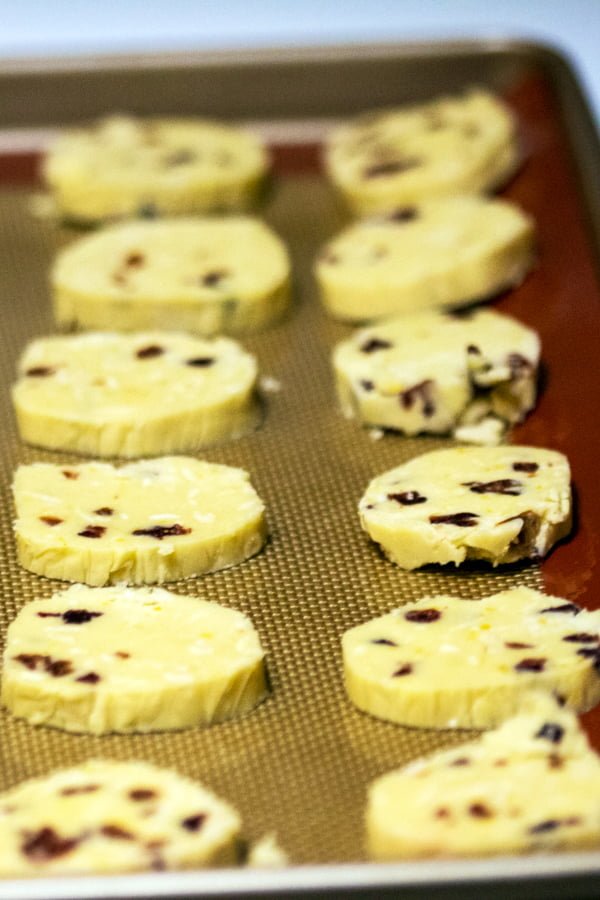 These shortbread cookies are not regular shortbread cookies, the orange hint from the orange zest and the chewy and crunchy texture from cranberries and almonds makes them festive and perfect for this time of year.
I made these cookies in a stand mixer, but the dough can also be made in a food processor. The recipe is simple and the cookies can be put together in no time. Handle the dough as little as possible to ensure the characteristic texture of the shortbread cookies.
The balance between the almond flavor and the rest of these beautiful ingredients, make these cookies the perfect treat for Christmas.
Easy to make and beautiful. Happy Holidays!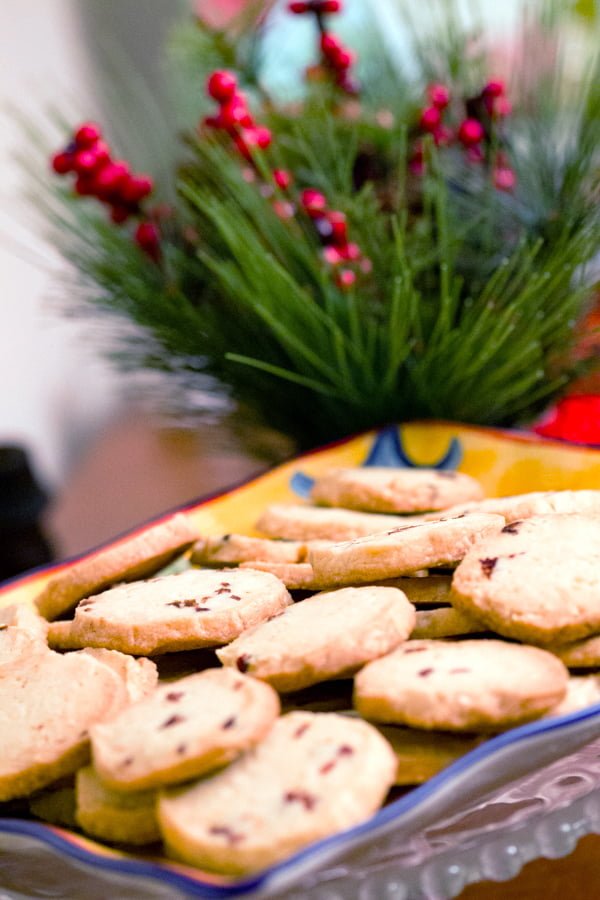 Yield: 36 cookies
Almond-Cranberry Shortbread Cookies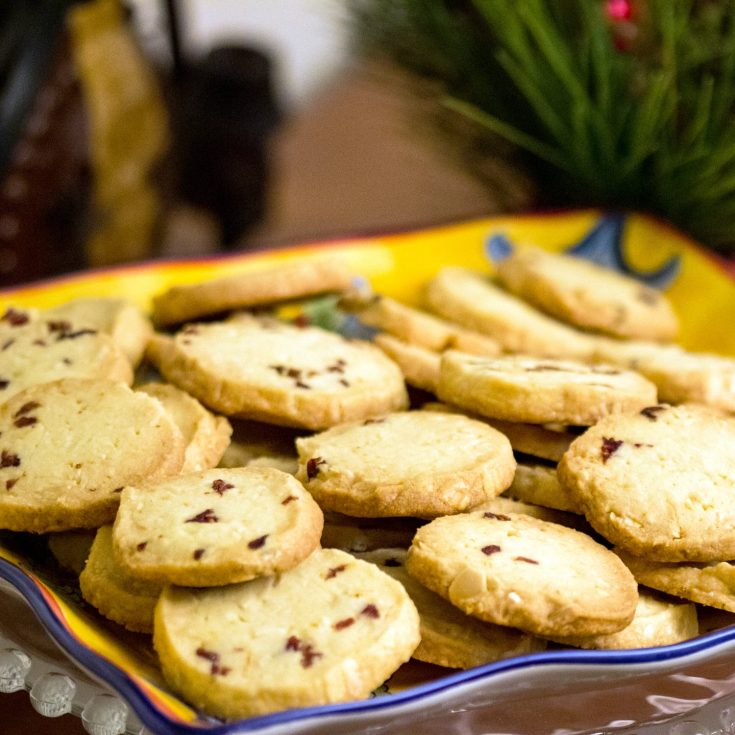 These almond-cranberry shortbread cookies remind us of the holidays. Perfect recipe for potlucks, cookies swap parties and any holiday event.
Additional Time
1 hour
5 minutes
Total Time
1 hour
40 minutes
Ingredients
1 cup powder sugar
1 cup unsalted butter room temperature
1/2 tsp salt
3/4 tsp almond extract
2 cups all purpose flour
1 Tbsp orange zest
1/3 cup dried cranberries, chopped or tart cherries
2/3 cup sliced almonds toasted
Instructions
Preheat the oven to 325F.
Using a standing mixer, mix the butter, powder sugar, almond extract and salt until smooth, around 3 minutes.
Turn mixer on low speed and gradually add flour and orange zest.
A dough will form.
Stir in the cranberries and almonds with a spatula.
Form dough into a ball, then form a log shape, about 2 inches diameter.
Wrap dough in plastic and refrigerate for at least an hour.
Remove the dough from the refrigerator and slice into 1/4-inch thick slices.
Place cookies on a parchment paper lined cookie sheet, about 1 inch apart.
Bake for aprox. 20 minutes, just until the edges start to turn golden.
Let cool for 5 minutes on the cookie sheet before removing them and place them on a cooling rack.
Tip: The dough can be kept frozen for up to 3 months.
Recommended Products
As an Amazon Associate and member of other affiliate programs, I earn from qualifying purchases.