Whip up a Cranberry Upside-Down Cake, the ideal easy-to-make winter treat that brings the best of the season into one delightful dish.
Making the most of cranberries in season, whether fresh or frozen, this cake offers a beautiful balance of tart and sweet, promising to be the highlight of your festive feast.
Gather your loved ones and enjoy the comfort and joy this heartwarming recipe brings to every occasion.
Jump to:
Why I like this recipe:
Perfect for the holidays: This cake is a great choice for the holiday season, fitting right in at both Thanksgiving and Christmas dinners. Its bright red cranberries add a cheerful splash of color that feels festive and welcoming.
Simple but satisfying: This dessert may look simple, but it's big on flavor, holding its own against more elaborate desserts. It brings a cozy, homey touch to any winter gathering, offering a taste that's both comforting and rich without being very sweet.
A few words about cranberries:
Cranberries are the so-called "superfood." They are packed with antioxidants and nutritious value. Native to North America, cranberries are a staple on the Thanksgiving dinner and during the holiday season.
If you live in the US, dried cranberries are available wildly in the stores all year round, while fresh ones are available mainly in the fall around Thanksgiving.
For this reason, I tend to buy and freeze cranberries for later use. There is nothing better than making recipes with this fantastic little fruit that can last in the freezer for up to a year.
This recipe uses buttermilk:
This recipe differs from other recipes out there because it uses buttermilk instead of regular milk.
If you like baking, you already know that buttermilk makes baked goods moist and delicious, so we will use it in this recipe.
Cake Ingredients:
Cranberry Mixture:
Unsalted butter: You need melted butter.
Brown sugar: Use light brown sugar. Pack it inside the cup when you measure it. If you do not have it, use dark brown sugar instead.
Fresh or frozen cranberries: Both are perfect for the recipe. Use what you have available. I sometimes freeze cranberries when they are in season to bake with them later in the year.
Cake Batter:
Unsalted butter: This butter needs to be at room temperature (if you are in a hurry, place the butter in the microwave and warm it up in 10-second increments until soft but not melted)
Granulated sugar
Eggs: Use large eggs.
Vanilla extract
All-purpose flour: Do not use self-rising flour, as we already have baking powder in the recipe. Baking powder, salt, spices: I used cinnamon powder, allspice
Buttermilk
Buttermilk Substitutes:
Milk and lemon juice or vinegar– mix 6 fl oz whole milk with 1 tablespoon lemon juice or white vinegar and let it stand for 5-10 minutes until it is slightly curdled. It will look disgusting, but congratulations, you are now the proud owner of some sour milk, which you can use in any recipe that calls for sour milk or buttermilk.
Natural yogurt– make up a 3:1 mixture of yogurt and water (and also try this recipe of cheese pie if you have leftovers).
Sour cream– make up a 3:1 mixture of sour cream and water.
Kefir– thin the kefir with water or milk until it has the consistency of buttermilk.
Buttermilk powder- follow the instructions on the package.
Expert tip:
Before diving in, always read through the entire recipe to grasp the process and avoid surprises during cooking.
It's crucial to gather and measure all the ingredients first to ensure a smooth and enjoyable baking experience without the frustration of discovering missing essentials midway.
How to make cranberry upside down cake:
Step 1- Preheat the oven:
You will thank me later for this one. The oven needs to be prepared when you are ready to put the cake inside. Cold oven= Unsuccessful cake
I am a fan of parchment paper, especially for cakes like this one. The first time I made the cake, the cranberries and part of the cake got stuck to the pan, and I was super disappointed.
However, I think it is pretty normal. With all the amount of sugar and butter on the bottom of the pan, it is impossible not to have parts of the cake sticking to the bottom.
As much as I wanted the cake to be perfect so you can enjoy beautiful pictures of the dish, I had to admit that imperfections need to be embraced.
Line a 9 inch cake pan with parchment paper.
Step 2- Cranberry mixture:
Pour the melted butter into the bottom of a 9-inch cake pan. Mix the brown sugar with cranberries and arrange them in a single layer over the butter. Set aside.
Step 3- Make the cake batter:
Start by beating the softened butter and granulated sugar in a large bowl until they're nicely mixed and creamy. Next, add the eggs, but do it one at a time, mixing well after each addition. Stir in the vanilla for that extra hint of flavor.
In a separate bowl, get your dry ingredients together. Mix the flour, baking powder, salt, cinnamon, and allspice so they're all well combined. Now, it's time to merge the wet and dry ingredients.
Do this bit by bit, adding some of the dry mix to your butter mixture, then a splash of buttermilk, and repeat until everything is in one bowl and mixed well.
Carefully pour the batter over the cranberries, spreading it out evenly. Pop it into your 350°F preheated oven and let it bake for around 55 minutes. You'll know it's ready when you can stick a toothpick in the middle and it comes out clean.
After baking, let your cake cool down a bit, then it's time for the big reveal! Turn it over onto a serving plate. And remember, if you somehow don't finish it all in one go, keep the leftovers in the fridge.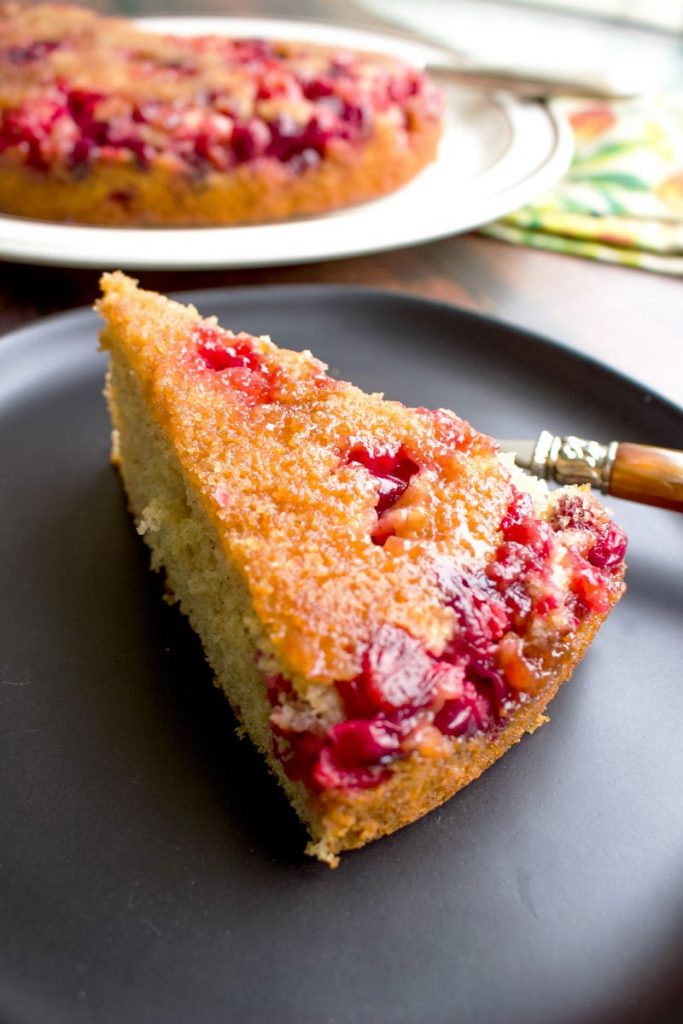 Pretty easy recipe, right? Serve it with dollops of whipped cream and a Turkish coffee if you want to be really fancy.
How to make the whipped cream:
Use 1 cup of cold heavy cream and 2-3 teaspoons of sugar. Grab a mixing bowl and the metal whisks from the mixer and place them in the freezer for 20 minutes. Take them out and put the sugar and heavy cream in the bowl.
Beat the heavy cream until you obtain stiff peaks. Don't over-mix unless you want butter instead of whipped cream.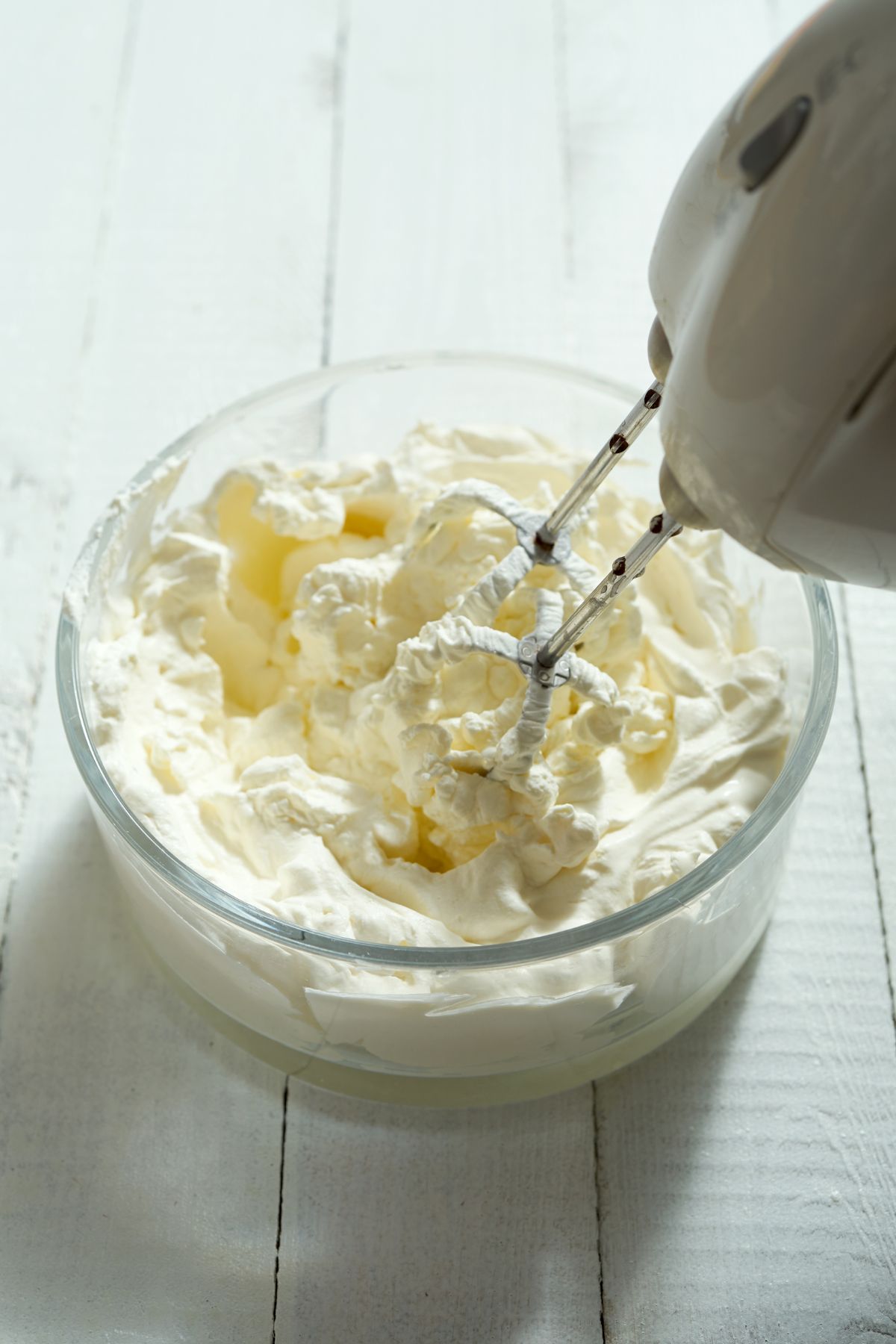 It happened to me, you know, and while it was the best butter I ever ate, it was not what I intended to do with that heavy cream.
Serve the whipped cream with your dessert. Store leftovers in an airtight container in the fridge for about four days.
Tools I used:
Parchment paper rounds- Perfect for lining the pan, so the cake comes out easily.
Cake pans - I love those- easy to clean and use.
Hand mixer- a lifesaver in the kitchen
For more tools and fun stuff, go here. (Affiliate links)
Storage instructions:
After you've enjoyed your freshly baked Cranberry Upside-Down Cake, any leftovers should be stored properly to maintain its freshness.
Wrap the cake tightly in plastic wrap or aluminum foil and place it in an airtight container. It can be stored in the refrigerator for up to 5-7 days.
If you prefer to enjoy your cake warm, you can reheat individual slices in the microwave for 10-15 seconds before serving.
Recipe Faqs:
Can I use frozen cranberries instead of fresh ones?
Absolutely! You can use either fresh or frozen cranberries for this recipe. If you opt for frozen, there's no need to thaw them; just use them straight from the freezer.
Is it possible to make this cake gluten-free?
Yes, you can substitute the all-purpose flour with a gluten-free flour blend to make this cake gluten-free. Just keep in mind that the texture might slightly change depending on the blend you use.
Can I freeze this cake?
This cake freezes well. Once it is completely cool, wrap it tightly in plastic wrap and then in aluminum foil. It can be stored in the freezer for up to 3 months. When you're ready to enjoy it, allow it to thaw in the refrigerator overnight, then bring it to room temperature or warm it slightly in the oven before serving.
More recipes to love:
Sweet and Savory Cranberry Recipes
Cranberry Custard Pie with Cream Cheese Crust
Thanksgiving recipes:
📖 Recipe
Cranberry Upside-Down Cake
If you like cakes that are not overly sweet, this Cranberry Upside-Down Cake is for you. This dessert is perfect for fall and winter, especially when cranberries are in season.
Print
Pin
Share
Grow
Saved!
Rate
Ingredients
Cranberry mixture:
4

tablespoons

unsalted butter melted

¾

cup

firmly packed brown sugar

3

cups

fresh or frozen cranberries
Cake batter:
½

cup

butter unsalted and softened

One stick of butter

1

cup

granulated sugar

3

large eggs

1 ½

teaspoons

vanilla extract

1 ¾

cups

sifted all purpose flour

2

teaspoons

baking powder

¼

teaspoon

salt

½

teaspoon

cinnamon

½

teaspoon

all spice

¾

cup

buttermilk
Instructions
Preheat oven to 350F. Line the bottom of a 9-inch round cake pan with sides at least 2 inches high with a circle of parchment paper.
Cranberry mixture:
Pour the melted butter into the bottom of the cake pan.

In a bowl, mix brown sugar with cranberries. Try to arrange them in a single layer over the butter. Set aside.
Cake batter:
In a large bowl, beat the softened butter with granulated sugar until well blended.

Beat in eggs one at a time. Add the vanilla and mix.

Separately, mix the dry ingredients together: flour, baking powder, salt, cinnamon, allspice.

Add the dry ingredients to the creamed butter alternating with the buttermilk.

Spoon batter evenly over cranberries.

Bake for 55 minutes or until a toothpick inserted in the center comes out clean.

Cool the cake in the pan on a rack for 10 minutes.

Use a dull knife to go around the edge of the cake pan, separating the cake from the sides. Flip the cake onto a serving dish.

Refrigerate leftovers.
Notes
Given the amount of batter and cranberry mixture your recipe contains, I would recommend using a pan that is at least 2 to 2.5 inches deep. 
Nutrition
Serving:
1
g
|
Calories:
484
kcal
|
Carbohydrates:
72
g
|
Protein:
6
g
|
Fat:
20
g
|
Saturated Fat:
12
g
|
Polyunsaturated Fat:
1
g
|
Monounsaturated Fat:
5
g
|
Trans Fat:
1
g
|
Cholesterol:
109
mg
|
Sodium:
298
mg
|
Potassium:
148
mg
|
Fiber:
2
g
|
Sugar:
48
g
|
Vitamin A:
680
IU
|
Vitamin C:
5
mg
|
Calcium:
141
mg
|
Iron:
2
mg
Tried this recipe?
Please leave a comment on the blog or like us on Facebook!