This is a quick and easy beer bread recipe perfect for the holidays and not only. The bread is soft and delicious with soups, stews or other favorites.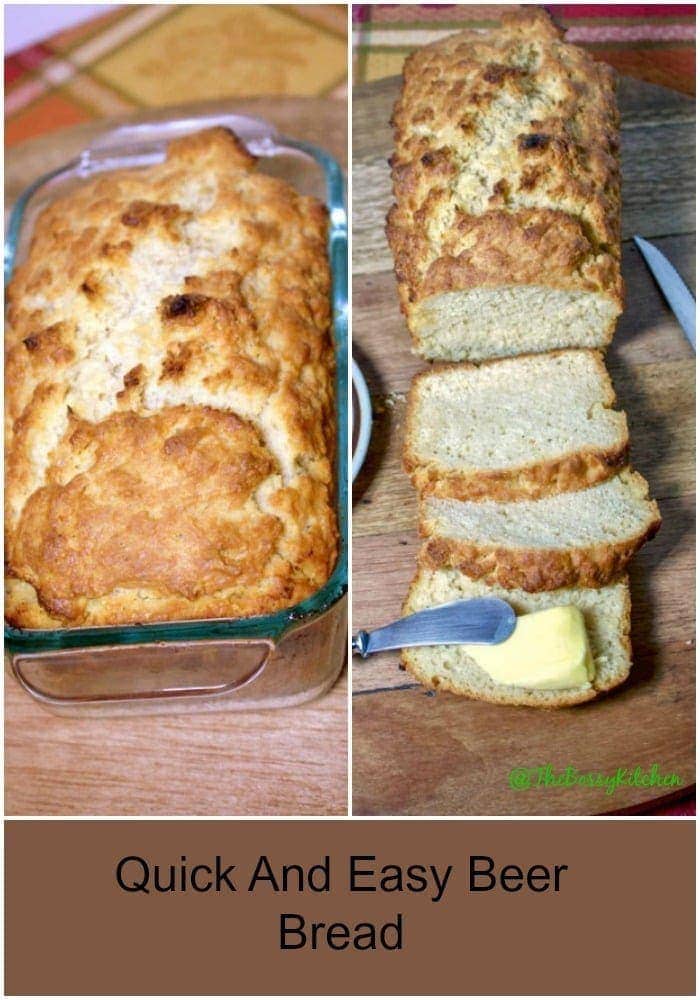 Quick Easy Beer Bread Recipe
Blogging about food can get interesting around my house sometimes. I was working on this recipe the other night, baking and writing the notes for the blog.
My husband was at work, so I made the bread and a pork stew with vegetables and left them on the kitchen counter to cool off. I was getting ready to shoot some good pictures of the bread when my husband came home.
I left him in the kitchen and went to grab my camera, but I forgot to mention that he cannot touch the food yet, as I need to take few good pictures. I came back to this:
Not to mention what else he was doing when I got there. This!!!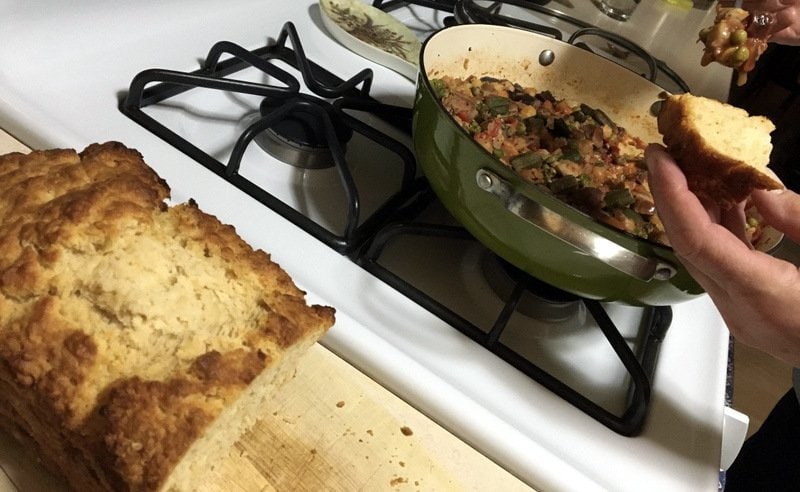 YES! He actually peeled off the crust from the top of the bread and dipped it directly in the pot! I was like:" What are you doing? I did not have a chance to take pictures of that! "
I was laughing, but I knew I had to make the bread again, just for the pictures…and also because we ended up that night having half of the bread with that stew and with butter, like naughty kids! It was so good!
Anyway, there are many quick beer bread recipes in the world but this is my favorite one. I received this recipe from my very good friend A., who masters the Minnesotan cuisine.
The yummy, quick breads that do not need rising before baking, are a specialty around here in Minnesota and this recipe is one of the many I learned to treasure over the years.
This bread is best when you make it right before your guests arrive, because it is delicious warm, but it slices better when it is completely cool.
It is soft, moist and divine with some butter, or some soup, or some stew, like we had the other night. 🙂
Few thoughts before you make this Quick Easy Beer Bread Recipe:
You can use any kind of beer you want or any flavor your heart desires.
You can replace the butter with oil without a problem. Pouring melted butter/oil on top of the dough, makes the bread less crusty and softer. You can skip the grease entirely if you want, but I like it this way.
I used less sugar in my bread than the recipe requires, because I like my bread less sweet. It is just a matter of preference.(original recipe requires 4 tablespoons of sugar, I used only 2 and loved it)
I used only baking powder. Most beer bread recipes use baking powder and baking soda. I personally do not like the after taste of the baking soda in my baking goods, so I try to avoid it, if possible. This bread is a quick bread and will rise because of the baking powder and the yeast from the beer. You will also see recipes that use self rising flour which you can use if you don't have baking soda and baking powder in the house. I don't buy that kind of flour because I like to control the amount of leavening in my baking. The bread batter has this consistency: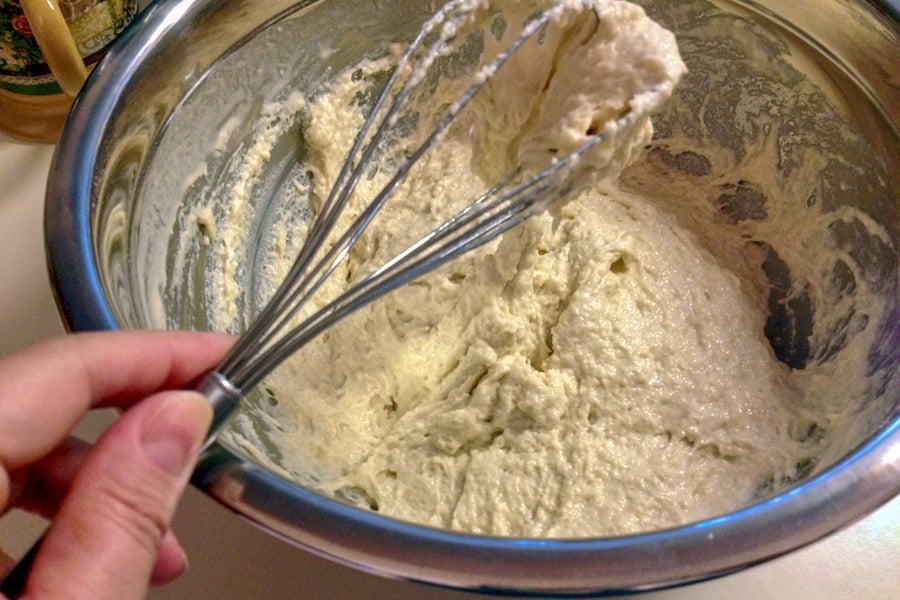 After you bake it, the bread looks like this:
It is a quick recipe, easy to make and saves you from going to the grocery stores for bread. Besides that, who doesn't like the smell of fresh homemade bread? I hope you enjoy making it once in a while.
Otherwise, you can also try this awesome Irish Brown Soda Bread With Molasses, that is to die for!
If you make the recipe, share it with the hashtag #thebossykitchen on Instagram, Facebook and Twitter so we can all see what you're cooking!
The Bossy Kitchen Group on Facebook is a community of people who share the passion for cooking and baking and where everyone is welcome to share ideas, tips and culinary experiences.
Click HERE if you would like to join!
Yield: 1 loaf
Quick Easy Beer Bread Recipe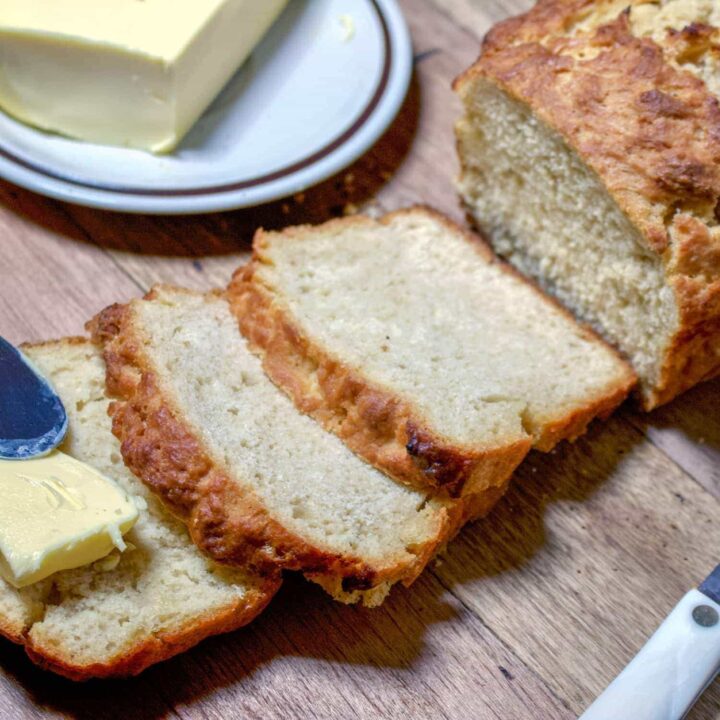 This is a quick and easy beer bread recipe perfect for the holidays and not only. The bread is soft and delicious with soups, stews or other favorites.
Total Time
1 hour
5 minutes
Ingredients
3 cups flour
2 tablespoons Sugar
1 1/2 teaspoon Salt
1 tablespoon Baking Powder
2-3 tablespoons melted butter(oil)
12 oz/341 ml Beer(flat is fine, fizzy is fine too) If you don't care for beer use seltzer water instead.
Optional ingredients: poppy seeds, sesame seeds, caraway seeds, chopped sundried tomatoes, chopped olives, crumbled herbs.
Instructions
Heat up the oven to 375F.
Sift the flour first.
Grease a 9x5 inch(23x13 cm) loaf pan.
In a large bowl, stir together the flour, sugar, baking powder and salt.
Add the beer and mix.
Add the optional ingredients and stir into a gluey batter.
Spread the batter into a well greased bread pan.
Pour the melted butter over the batter.
Bake at 375F for approximately 45 to 50 minutes until golden brown and no longer goey in the center.
Remove loaf from pan and serve warm, or let cool on a rack and serve later. it cuts better when it is cold.
Recommended Products
As an Amazon Associate and member of other affiliate programs, I earn from qualifying purchases.
Nutrition Information:
Yield:
12
Serving Size:
1
Amount Per Serving:
Calories:

139
Total Fat:

2g
Saturated Fat:

0g
Trans Fat:

0g
Unsaturated Fat:

1g
Cholesterol:

0mg
Sodium:

390mg
Carbohydrates:

27g
Fiber:

1g
Sugar:

2g
Protein:

4g