Note: "We are a participant in the Amazon Services LLC Associates Program, an affiliate advertising program designed to provide a means for us to earn fees by linking to Amazon.com and affiliated sites."
Lecso is a Hungarian dish that is very similar to the Italian peperonata. This dish is made with bell peppers, especially red sweet ones, onions, garlic and tomatoes. The sweet paprika, the most popular condiment used in the Hungarian and Transylvanian cuisines, is added to the sauce for a rich flavor.
The stew can also carry smoked bacon, sausages or even pork. In other words, it could be vegetarian/vegan or not. If you choose to not add any meat to it, then it can be a delicious side dish that can complement any grilled, roasted or fried meats. You can try it with my favorite Chicken Schnitzel.
The recipe is ready in under an hour, the peppers stay a little bit crunchy, but the flavors together with the onions and garlic are divine. You can also eat it cold or warm, on a good piece of crusty bread, for a quick snack.
HOW TO MAKE LECSO- HUNGARIAN PEPPER-TOMATO STEW:
I started with the sliced onion that I placed in a pan with the vegetable oil. I cooked the onion slowly until it became translucent. You can use regular or red onion.
I added the chopped peppers and tossed them together with the onions.
I then added some chopped garlic.
Also, some paprika, salt, and pepper.
After 5 minutes of cooking everything together, I added the canned diced tomatoes, but fresh chopped tomatoes are perfect too. Remember, you can make this dish in the winter too, with ingredients you get at your local grocery store. Keep cooking on low-medium heat for 10 minutes or until the peppers get softer.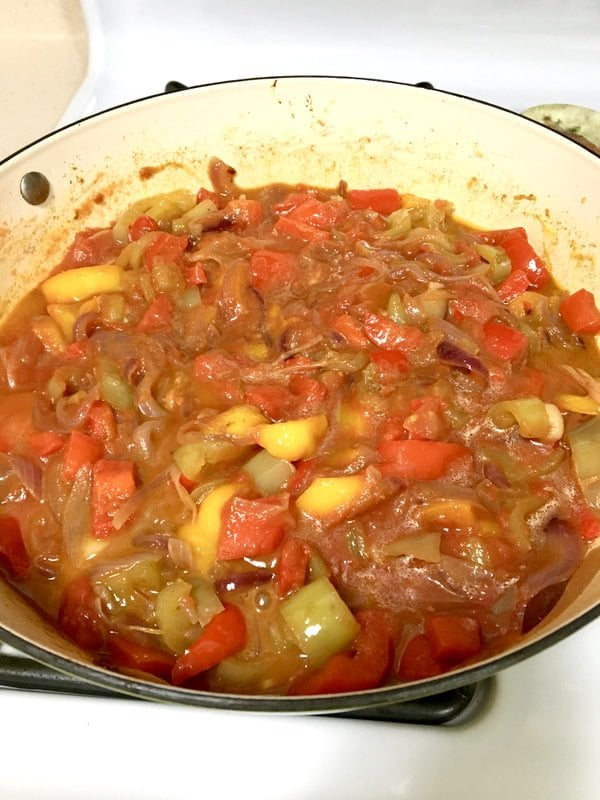 Serve warm or cold, as a side dish next to your favorite meats.
If you make the recipe, share it with the hashtag #thebossykitchen on Instagram, Facebook, and Twitter so we can all see what you're cooking!
Or maybe you want to join The Bossy Kitchen community group where you can share your creations made from this blog or your favorite recipes!
Enjoy!

Lecso- Hungarian Pepper-Tomato Stew
Author:
The Bossy Kitchen
Ingredients
2 pounds fresh red, yellow and orange peppers stemmed, seeded, and sliced lengthwise ½ inch thick
3 large onions (regular or red) chopped
4 garlic cloves chopped
3-4 big tomatoes chopped small or canned diced tomatoes
1 teaspoon salt
½ teaspoon ground black pepper
2 teaspoons sweet paprika
4 tablespoons vegetable oil(I used sunflower oil, but olive oil is good too)
Optional: 1-2 sausages, smoked bacon etc.
Instructions
Heat the oil in a fairly large pan and saute the chopped onion until translucent.
Add the chopped peppers and toss them together with the onions for about 5 minutes.
Add the chopped garlic, then paprika, salt and pepper. Mix and cook for another 5 minutes.
Add the chopped tomatoes of the canned diced tomatoes.Cook until the sauce reduces and the peppers are soft and cooked.
Serve as a side dish with your favorite meats.
Optional: If you add bacon or sausages, start by cooking the bacon and sausages first, then continue with the recipe the same way.