Lecsó- Hungarian Pepper-Tomato Stew is a dish made with peppers, tomatoes, onions, and garlic.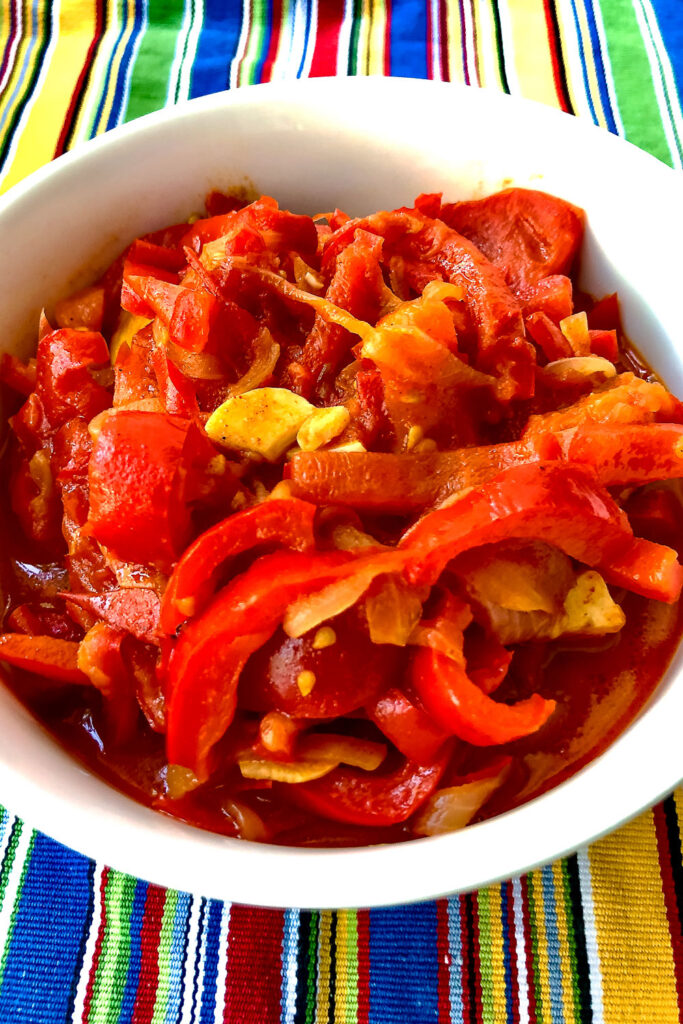 Summer Delight
This dish is a summer delight made traditionally with Hungarian wax peppers or Hungarian sweet peppers, onions, garlic, and tomatoes. The sweet paprika adds a rich flavor to the sauce.
Lecsó, this Hungarian Pepper-Tomato Stew can also carry smoked bacon, sausages, or even pork. In other words, it could be vegetarian/vegan or not.
If you choose not to add any meat, it can be a delicious side dish that can complement any grilled, roasted, or fried meats. You can try it with my favorite Chicken Schnitzel.
What peppers can I use?
Hungarian Wax Peppers are a variety of hot peppers that originated in Hungary. They are pretty hot peppers and can be used in many dishes.
These peppers are not very popular in the US, but you might find them sometimes in Farmer's Markets. You can also grow them in your garden. (affiliate link)
If you cannot find Hungarian wax peppers, banana peppers or humble bell peppers are fine to use. My favorite ones are the red ones, and this is what I used today. You can also use yellow or orange bell peppers.
A few words about paprika
What you need to remember about Hungarian cuisine is that what truly defines this delicious cuisine is the skillful use of seasoning.
Hungarian cooks believe that seasoning is essential and requires a delicate touch.
Any Hungarian cuisine will contain a wide variety of spices. Caraway seeds, cinnamon, dill, and poppy seeds are frequently used.
However, the Hungarian national spice is paprika. Paprika is what makes Hungarian cooking different than any other cuisine.
Paprika is available in three strengths: sweet, semisweet, and hot. If you are familiar with Hungarian paprika, you already know which strength you like. If you are unfamiliar with it, I suggest you start with the sweet one.
If you like it, then you can go further and use semisweet or even hot in your Hungarian recipes. Start small if you have never used paprika in your recipes until now.
Being the most popular condiment used in Hungarian cuisine, of course, this Lecso dish will have paprika in it.
Play with the taste of the dish and use, according to your liking, sweet, hot, or even smoked paprika.
Do you know what else carries good amounts of paprika? Goulash! If you have never made this dish, you should try it. It is very comforting and satisfying on chilly days.
Lecsó
Traditionally, this dish is made with lard, but not many people out there use lard in their cooking anymore, so I used oil.
Note: I see some pretty crazy ingredients in some recipes that are called authentic and that they don't have anything to do with Lecso, like liquid smoke and coconut oil. Lecso doesn't use smoked peppers or grilled ones. Therefore, the liquid smoke has no place in the recipe.
And please, for the love of God, do not add coconut oil to this dish, there is nothing Hungarian, authentic, or traditional about it, and it will ruin the taste of the beautiful vegetables. No lard? Use oil. That simple!
The recipe is ready in under an hour, and the peppers will have a little bite to them, but the flavors, together with the onions and garlic, are divine.
Even if it doesn't take a lot of time to make it, do not make it in a hurry. Stew it slowly over a low fire until the various tastes and flavors create a marvelous blend.
You can also eat it cold or warm, on a good piece of crusty bread, for a quick snack, as a dip, or as an accompaniment for omelets or meats.
HOW TO MAKE LECSÓ / HUNGARIAN PEPPER TOMATO STEW:
Start by slicing the onions.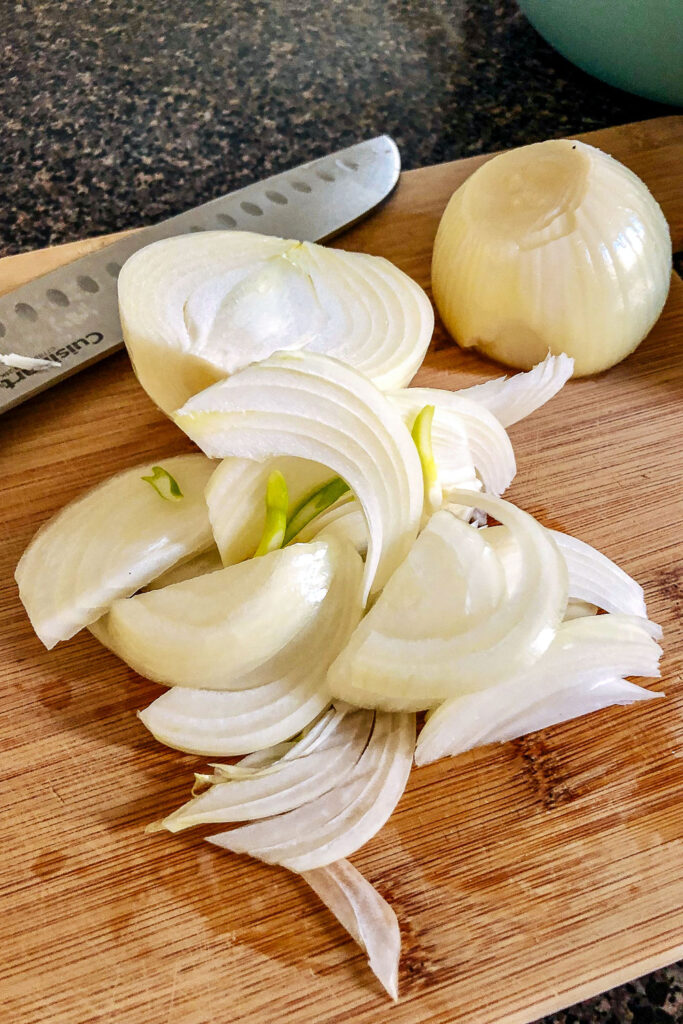 Place them in a pan with the vegetable oil or lard.
You can use regular or red onion, as you like, or based on availability. There are no rules.
Cook the onions slowly until they become translucent.
While the onions are cooking, wash the peppers,
and clean the inside by removing the core and the seeds.
Cut the peppers in quarters,
then in thin slices, about half-inch thick.
It will take about 10 minutes for the onions to cook down and become translucent. Make sure you stir them once in a while because you want the onions to cook slowly, not to fry.
Add the chopped peppers and toss them together with the onions.
Chop the garlic.
Add it to the pan.
Also, add paprika, salt, and pepper.
After 5 minutes of cooking everything together, add the fresh chopped tomatoes you bought from the Farmers Market or the canned diced tomatoes.
Remember, you can make this dish in the winter, too, with ingredients you get at your local grocery store, like canned diced tomatoes.
Keep cooking on low-medium heat for 10 minutes or until the peppers get softer.
Serve warm or cold as a side dish next to your favorite meats.
Variations of this Hungarian ratatouille dish
Serve this dish with mixed-in scrambled eggs for breakfast.
Fry an egg and serve it on top of Lecso.
Cook pork pieces and add them to the dish. Replace the pork with sausage or cooked bacon.
Add a cup of cooked rice when the dish is cooked. Mix and serve as a side dish.
What to do with leftovers
I hope you don't have leftovers, but if you make extra, they keep well in an airtight container, in the fridge for up to 4 days. You can also freeze and use them in winter as a quick meal.
In Hungary, people preserve this dish for winter by placing the stew in sterilized jars, sealing them, and processing them in a hot water bath for 30 minutes. There is nothing better than opening a jar of this Lecsó in the winter and serving it next to roasted meats. It is like opening a jar of summer!
Pin This For Later: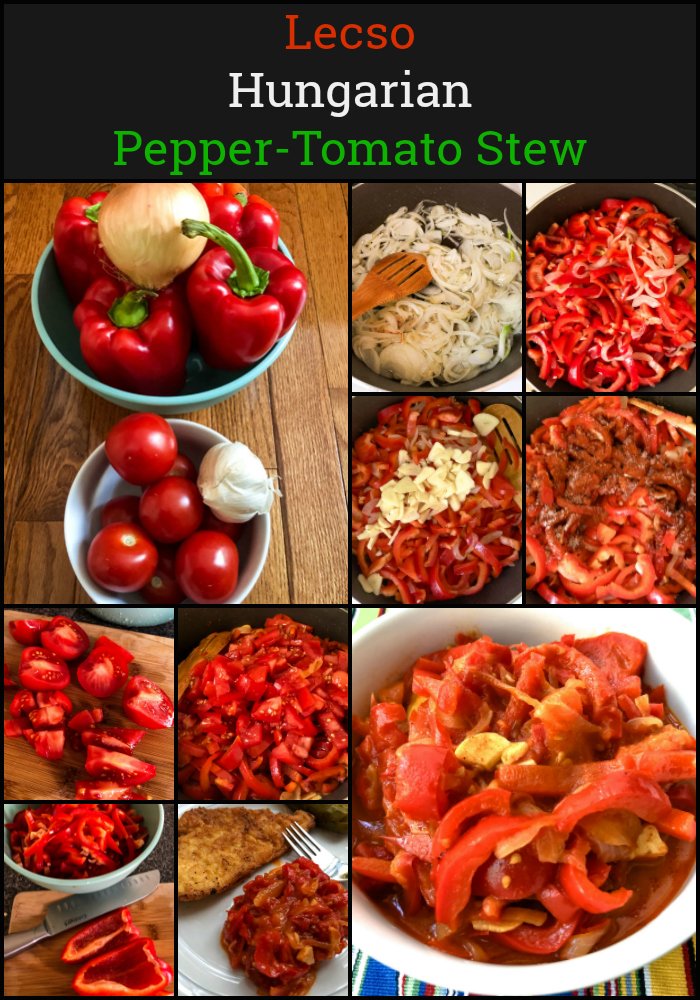 More recipes to love
Hungarian Decadent Chocolate Cake- Rigo Jancsi
Walnut and Jam Bars -Hungarian Londoni Szelet
If you make the recipe, share it with the hashtag #thebossykitchen on Instagram, Facebook, and Twitter so we can all see what you're cooking!
Or maybe you want to join The Bossy Kitchen community group, where you can share your creations made from this blog or your favorite recipes!
Enjoy!
📖 Recipe
Lecsó- Hungarian Pepper-Tomato Stew
Lecsó- Hungarian Pepper-Tomato Stew is a summer dish where the star of the recipe is the red sweet pepper. This dish is made with bell peppers, onions, garlic and tomatoes. The sweet paprika is added to the sauce for a rich flavor.
Print
Pin
Share
Grow
Saved!
Rate
Ingredients
4

tablespoons

vegetable oil

I used sunflower oil, but olive oil is good too

3

large onions

white or red, chopped

2

pounds

fresh Hungarian Wax peppers

, or banana peppers or red, yellow and orange bell peppers stemmed, seeded, and sliced lengthwise ½ inch thick

4-5

garlic cloves chopped

1

tablespoon

sweet paprika or to taste

3-4

big tomatoes chopped small or canned diced tomatoes

1

teaspoon

salt or to taste

½

teaspoon

ground black pepper

Optional: 1-2 sausages

smoked bacon etc.
Instructions
Heat the oil in a fairly large pan and saute the chopped onion until translucent.

Add the chopped peppers and toss them together with the onions for about 5 minutes.

Add the chopped garlic, then paprika, salt and pepper. Mix and cook for another 5 minutes.

Add the chopped tomatoes of the canned diced tomatoes.Cook until the sauce reduces and the peppers are soft and cooked.

Serve as a side dish with your favorite meats.

Optional: If you add bacon or sausages, start by cooking the bacon and sausages first, then continue with the recipe the same way.
Nutrition
Serving:
1
g
|
Calories:
147
kcal
|
Carbohydrates:
15
g
|
Protein:
3
g
|
Fat:
10
g
|
Saturated Fat:
2
g
|
Polyunsaturated Fat:
6
g
|
Monounsaturated Fat:
2
g
|
Trans Fat:
0.1
g
|
Sodium:
2464
mg
|
Potassium:
484
mg
|
Fiber:
4
g
|
Sugar:
4
g
|
Vitamin A:
1875
IU
|
Vitamin C:
83
mg
|
Calcium:
88
mg
|
Iron:
2
mg
Tried this recipe?
Please leave a comment on the blog or like us on Facebook!