This Deviled Ham Stuffed Eggs recipe is a classic for stuffed eggs with ham, green onions, and pickle relish. Whether it is a backyard summer party or a New Year's Eve celebration, these tasty little treasures are easy to make and delicious.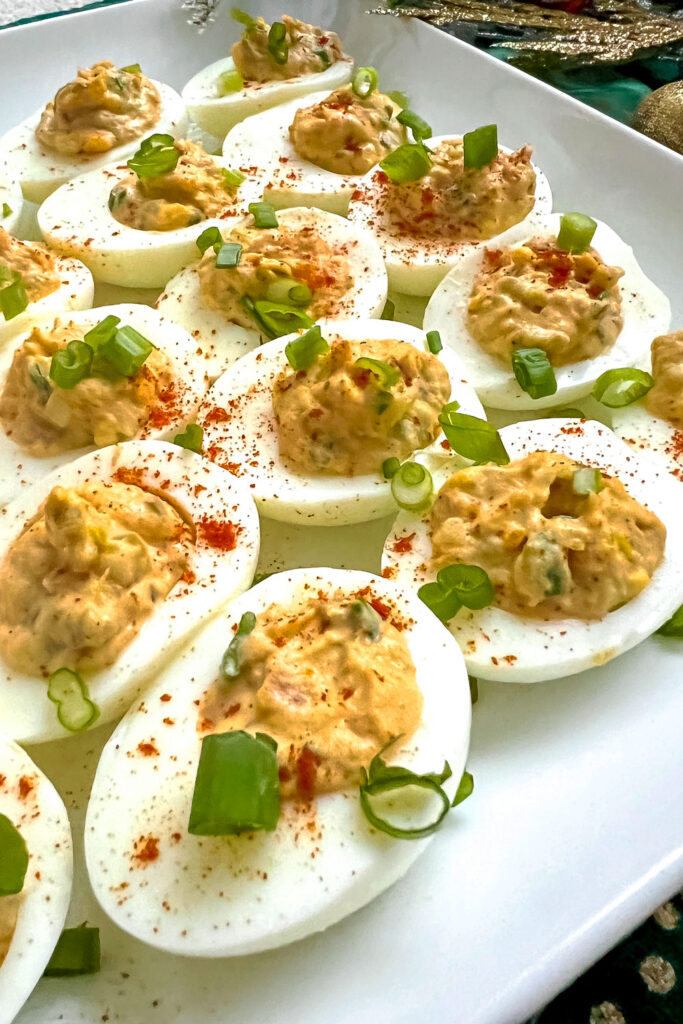 Jump to:
Any day is a good day to make deviled eggs.
There is something about deviled eggs that everyone likes. They are so delicious and easy to make, so any day is an excellent opportunity to make them. Think Memorial Day, 4th of July, birthday parties, and winter holidays. These little treasures will always be there for you to impress your loved ones.
Deviled eggs, also known as stuffed eggs or dressed eggs, are hard-boiled eggs, shelled, cut in half, and filled with a mixture of egg yolk, mayonnaise, mustard, and other ingredients. These eggs are served cold as appetizers and are very popular at any party.
Stuffed eggs are not a modern invention. In fact, from ancient Rome's cuisine to the medieval one, hard-boiled eggs stuffed with herbs, dried fruits, and cheese were a popular item on their tables.
The deviled eggs as we know them today, with the addition of mayonnaise, were invented in the 18th century in England and were brought to America later in the 19th century.
There are so many deviled recipes out there, and all are so good! I like deviled eggs for any occasion, but you can always make them when you have leftover hard-boiled eggs after Easter.
In fact, I created a collection of recipes for leftover Easter hard-boiled eggs you can check out. Potato salad, deviled eggs salad, and pasta salad are just a few recipes you can try.
Ingredients
We all know that the most common mistake when people boil eggs is overcooking them. This leads to a dark green around the yolk and a funky, sulfurous taste. The recipe card at the bottom of this article will teach you how to boil the eggs for excellent results.
Hard-boiled eggs last about a week in the refrigerator. If you wait a week until you make the deviled eggs, serve them immediately.
Ham and why we do not use in this recipe "deviled ham":
You will see many recipes for deviled eggs that also contain deviled ham. Deviled ham used to be a pantry staple in Southern homes. It is canned, plain, ground-up ham packed with spices, like turmeric, hot sauce, mustard, or cayenne pepper for an extra kick.
While many people might still use these cans of deviled ham, we are trying to avoid them, as they are very high in sodium and preservatives like sodium nitrate.
We want to make this deviled ham stuffed eggs recipe healthier but as good, if not more delicious, than the ones made with canned ham.
This way, you can use leftover ham, and leftover boiled eggs to create a wonderful dish that everyone will rave about.
We use the whole green onion for color and taste.
Pickle relish- what is it?
In general, relish is part of a big family of condiments, but in the US, relish always refers to pickle relish.
The pickle relish is a jam-like condiment made from pickles or fresh cucumbers cooked with vinegar, onions, salt, sugar, and spices.
I don't have a sweet pickle relish. What can I use instead?
While the taste will be slightly different, the best options are dill pickles, finely chopped. Some people might also use chopped green olives, capers, or just chopped dill.
We use it for flavor and texture.
Use any regular mayonnaise you like or have available.
Note: Can you use Miracle Whip instead of mayonnaise?
Yes, you can. Miracle Whip is sweeter and tangier as it has corn syrup and vinegar. Miracle Whip was developed as a cheaper alternative to mayonnaise, but people use it as a replacement to mayonnaise quite often.
Mustard is a key ingredient in any recipe for deviled eggs. I personally used regular mustard in this recipe, but feel free to use a spicy one if this is what you like.
How much or how little you season these deviled ham-stuffed eggs is up to you. However, there are a few things to keep in mind. Different mayonnaise brands will vary widely in saltiness, so make sure you taste the filling before adding more salt. Also, the ham and pickle relish or just pickles will all add saltiness to the dish.
Paprika in this recipe goes on top of the stuffed eggs, so you can choose what you like. There are many types of paprika, from hot to sweet to smoked ones, and they are all good.
How to make
To make this recipe of relish and ham-deviled eggs, we need to start with boiled eggs.
Step 1.
Slice the eggs in half, lengthwise. Remove yolks and set the whites aside.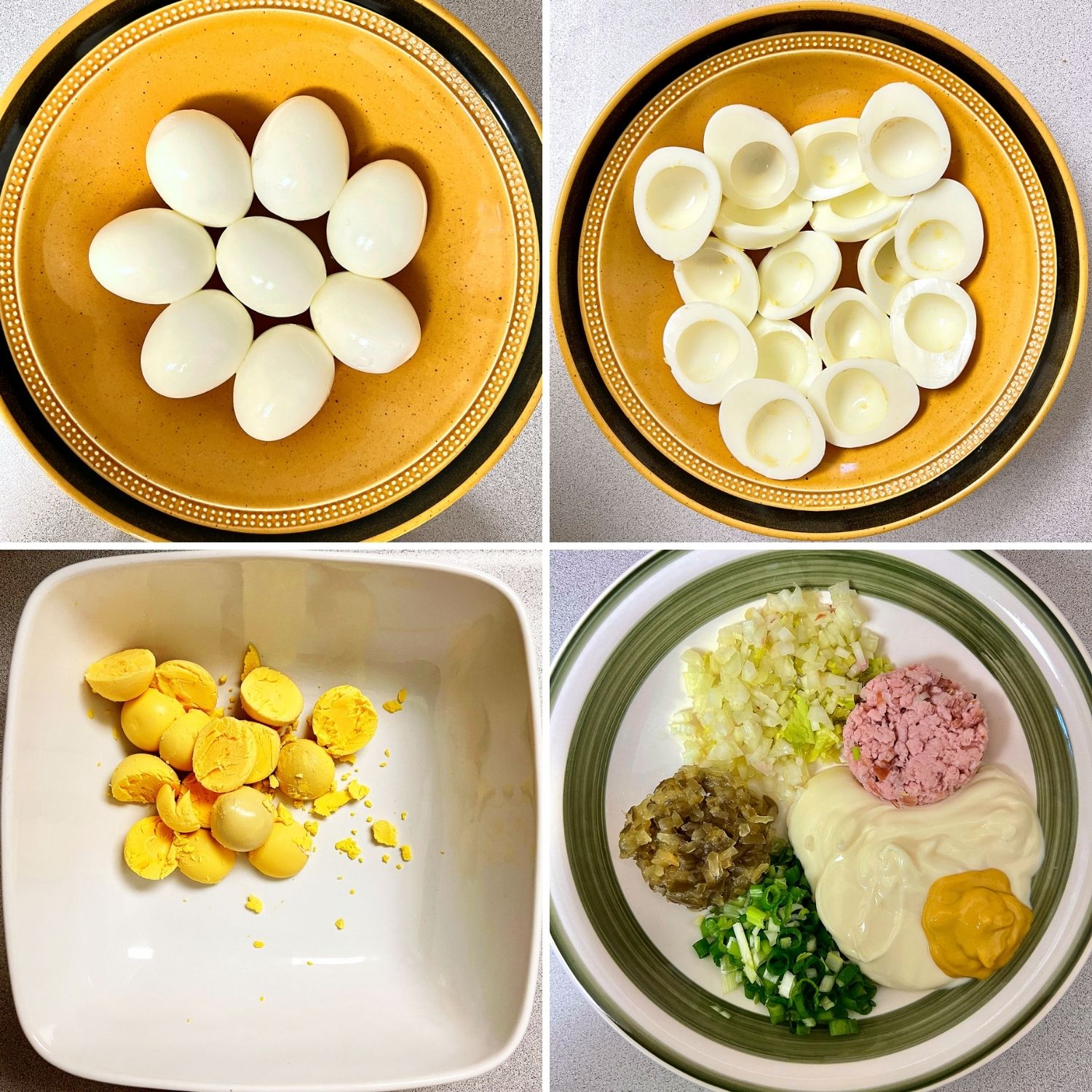 In a small bowl, mash yolks with a fork. Add ham, green onions, sweet pickle relish, celery, mayonnaise, mustard, salt, and pepper. Mix well.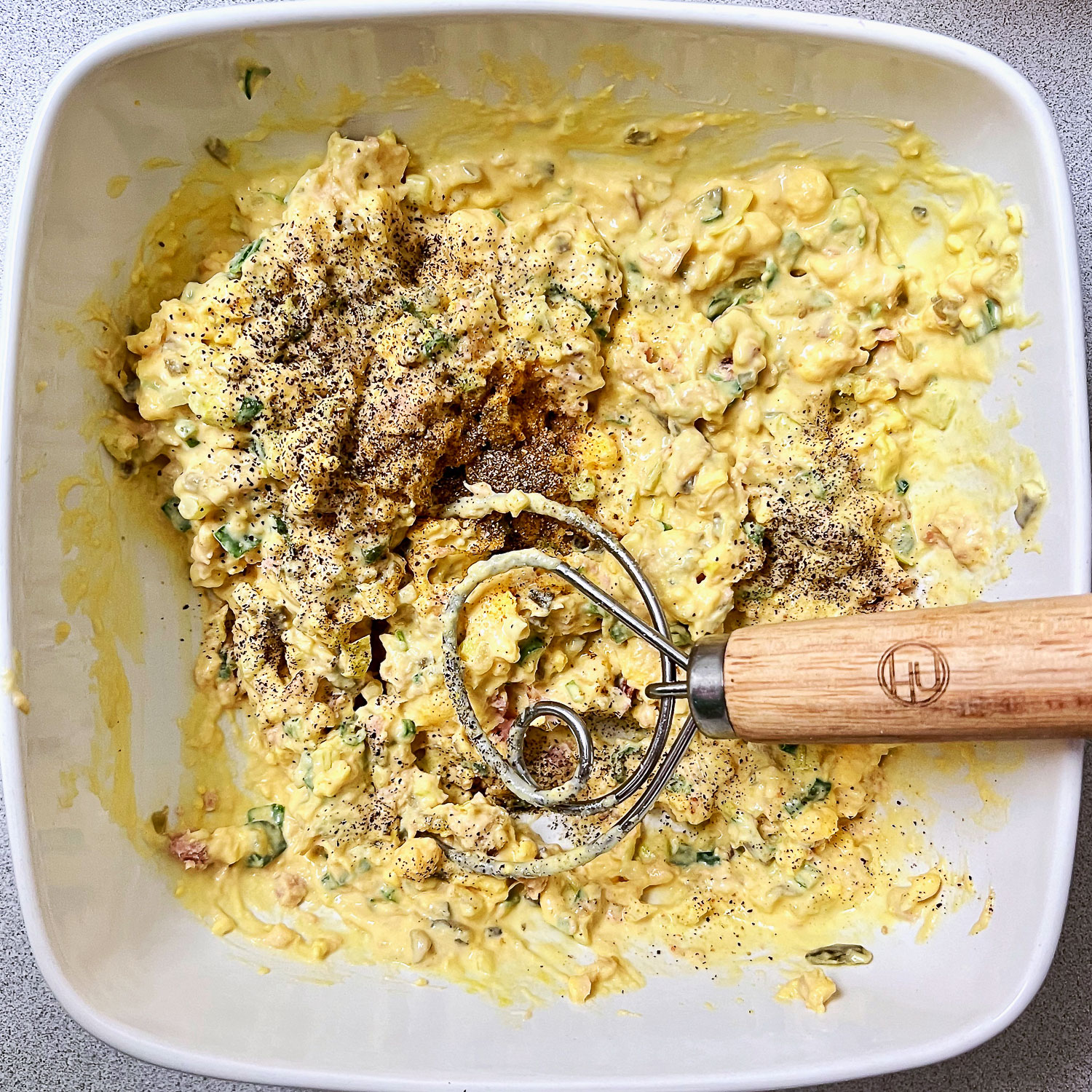 Step 2.
Stuff the egg whites with the yolk mixture or pipe it for a nicer/professional look. Sprinkle with paprika. Refrigerate until ready to serve.
How to store deviled eggs
Cover them with plastic wrap once the eggs are filled, and refrigerate them if you are not serving them right away.
To store the leftovers, place them in an airtight container in a single layer and refrigerate them for up to 4 days. I think after two days they are not as fresh and tasty as they used to be, so aim to finish them before that.
How to serve
Deviled ham-stuffed eggs are served cold as appetizers. If you make them the day before, do not place any garnishes or decorations on top of them. Do that before serving them so they look their best. Also, do not keep them at room temperature for more than two hours.
And now, the recipe: The best-deviled ham-stuffed eggs for you to enjoy!
More recipes to enjoy
Walnut Cake with Egg Yolk Glaze
Easy American Traditional Easter Recipes
Mini Peppers Stuffed With Farmer Cheese
Craving more? Subscribe to The Bossy Kitchen to get new recipes and a newsletter delivered straight to your inbox! Stay in touch on Facebook, Twitter, Pinterest, and Instagram for all of the latest updates. Don't forget to use the star rating and leave a review.
📖 Recipe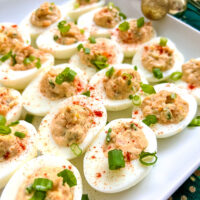 Deviled Ham Stuffed Eggs
This recipe of Deviled Ham Stuffed Eggs is perfect for any celebration, but to be honest, every day is a good day for deviled eggs. This is a classic recipe of stuffed eggs with ham, green onions and pickle relish.
Print
Pin
Rate
Ingredients
8

hard-boiled eggs

¼

cup

ham

finely diced

¼

cup

green onions

finely diced

¼

cup

sweet pickle relish

½

cup

celery

finely chopped

½

cup

mayonnaise

1

teaspoon

regular mustard

⅛

teaspoon

salt

⅛

teaspoon

pepper

⅛

teaspoon

sweet paprika
Instructions
Boil the eggs:
Place eggs in a saucepan. Make sure not to crowd the eggs in the pan. They should fit comfortably.

Fill the pan with cold water, enough to cover the eggs.

Bring the water to a rolling boil on the stovetop over high heat. Once the water starts boiling, cover the pan with a lid and remove the pan from the heat.

Set a timer for 10-15 minutes, as we need fully set hard-boiled eggs.

Fill a large bowl with ice and water, remove eggs from the hot water using tongs and place them gently into the icy water. Allow them to cool for about 10 minutes.

When you are ready to use the eggs, tap them against a hard surface and peel away the shell. If you have any bits of shell, rinse the eggs under cold water and pat them dry with a paper towel.
Make the deviled ham stuffed eggs:
Slice eggs in half, lengthwise. Remove yolks and set the whites aside.

In a small bowl, mash yolks with a fork. Add ham, green onions, sweet pickle relish, celery, mayonnaise, mustard, salt, and pepper. Mix well.

Stuff the egg white with the mixture or pipe it for a better look. Refrigerate until ready to serve. Sprinkle with paprika.


Nutrition
Serving:
1
g
|
Calories:
196
kcal
|
Carbohydrates:
4
g
|
Protein:
8
g
|
Fat:
17
g
|
Saturated Fat:
4
g
|
Polyunsaturated Fat:
7
g
|
Monounsaturated Fat:
5
g
|
Trans Fat:
0.03
g
|
Cholesterol:
195
mg
|
Sodium:
314
mg
|
Potassium:
107
mg
|
Fiber:
0.3
g
|
Sugar:
3
g
|
Vitamin A:
438
IU
|
Vitamin C:
1
mg
|
Calcium:
32
mg
|
Iron:
1
mg