Note: "We are a participant in the Amazon Services LLC Associates Program, an affiliate advertising program designed to provide a means for us to earn fees by linking to Amazon.com and affiliated sites."
Are you looking for a fun&festive little appetizer to make for your next party? Here is a recipe that can be made ahead. Mini peppers stuffed with farmer cheese is a super easy to put together recipe that is delicious and also beautiful on the table.
I am not a big appetizer maker. This is an area where I always choose simplicity, because the rest of the meals I put together for entertaining are quite elaborated. I wish to learn more about how to NOT over-do-it. Yes, I am like that. Complicated dishes, lots of food and always the hope that my guests will be famished and eat all I make. It never happens and I never learn!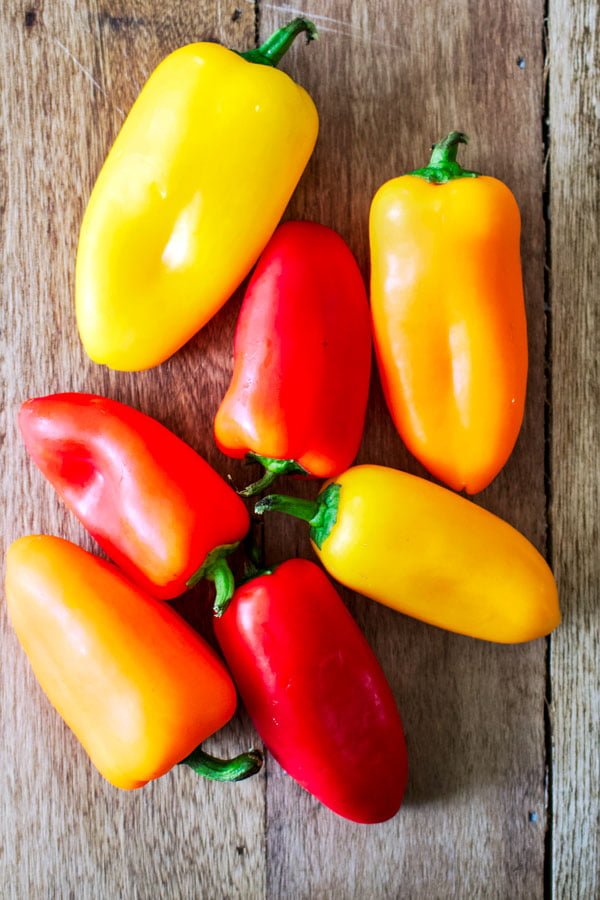 However, I do understand that simple things in life are sometimes better, so today, I am sharing with you the simplicity of a dish that you might fall in love with. For stuffing the peppers, I am using Farmer Cheese(Cottage Cheese) but cream cheese or goat cheese can be used as well.
This Farmer cheese stuffing is an old recipe I found in my antique Romanian cooking book, a recipe that is very popular for entertaining. I use it for many years now and I am personally in love with it. I sometimes stuff peppers with it, like this time, but sometimes I just place the cheese in a bowl and serve it as a dip with fresh vegetables. Some other times I just decorate the cheese with olives or radishes and place slices of crusty French baguette right next to it.  Let me tell you, people are going crazy for it. It is SO delicious!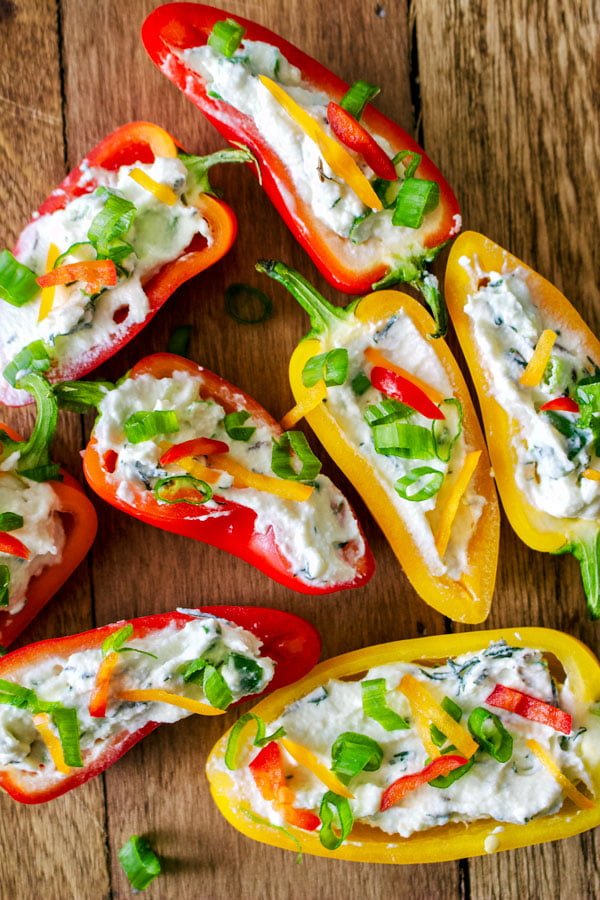 I also love the mini peppers. They are thin skinned, with very small seedpods and membranes. I buy them quite often and always have a bag in the refrigerator.  I use them for a lot of dishes I make: scrambled eggs for breakfast, soups, salads or stews. They are sweet, delicious and easy to work with.
Note to remember: For this dish, you will probably have a little filling left over, but it's nice as a spread so it won't go to waste. These mini peppers stuffed with farmer cheese will keep well in the refrigerator for about 3 days. Bring them to room temperature before serving.
What else you can do with Farmer Cheese- you could try these recipes:
Romanian Farmer Cheese Pastries
Romanian Traditional Sweet Cheese Pastries- Poale in Brau(Branzoaice)
Mini Peppers Stuffed With Farmer Cheese
Author:
The Bossy Kitchen
Ingredients
10 mini sweet peppers halved lengthwise
8 oz farmer cheese
1-2 tablespoons sour cream(or mayonnaise)
1 medium green onion(or more according to your taste) chopped small
1-2 teaspoons fresh chopped dill( or ½ teaspoon dried dill)
½ teaspoon caraway seeds
¼ teaspoon salt (or to your taste)
Optional:
¼ teaspoon sweet paprika(that will make the cheese a little bit pink)
If you use the cheese only as a dip, decorate with olives, radishes, peppers etc.
Instructions
In a small bowl, softened the cheese with a fork. Add the sour cream or the mayo.
Add the chopped green onion, dill, caraway seeds and salt. Optional add sweet paprika.
Mix everything well and correct the salt if necessary.
Spoon the cheese mixture into pepper halves. Place them on a platter and sprinkle over them chopped dill or green onions chopped small.
The cheese mixture will last for 3 days in the refrigerator. Bring to room temperature before serving.
The mixture can be made ahead of time.