This is a popular dessert from Transylvania, known as German Peach Kuchen. It's made with peaches, custard, and a shortbread crust.
It is tasty, simple to prepare, and just right for summer. Think of it as peaches and custard baked together until they're soft and juicy, all on top of a soft cookie base.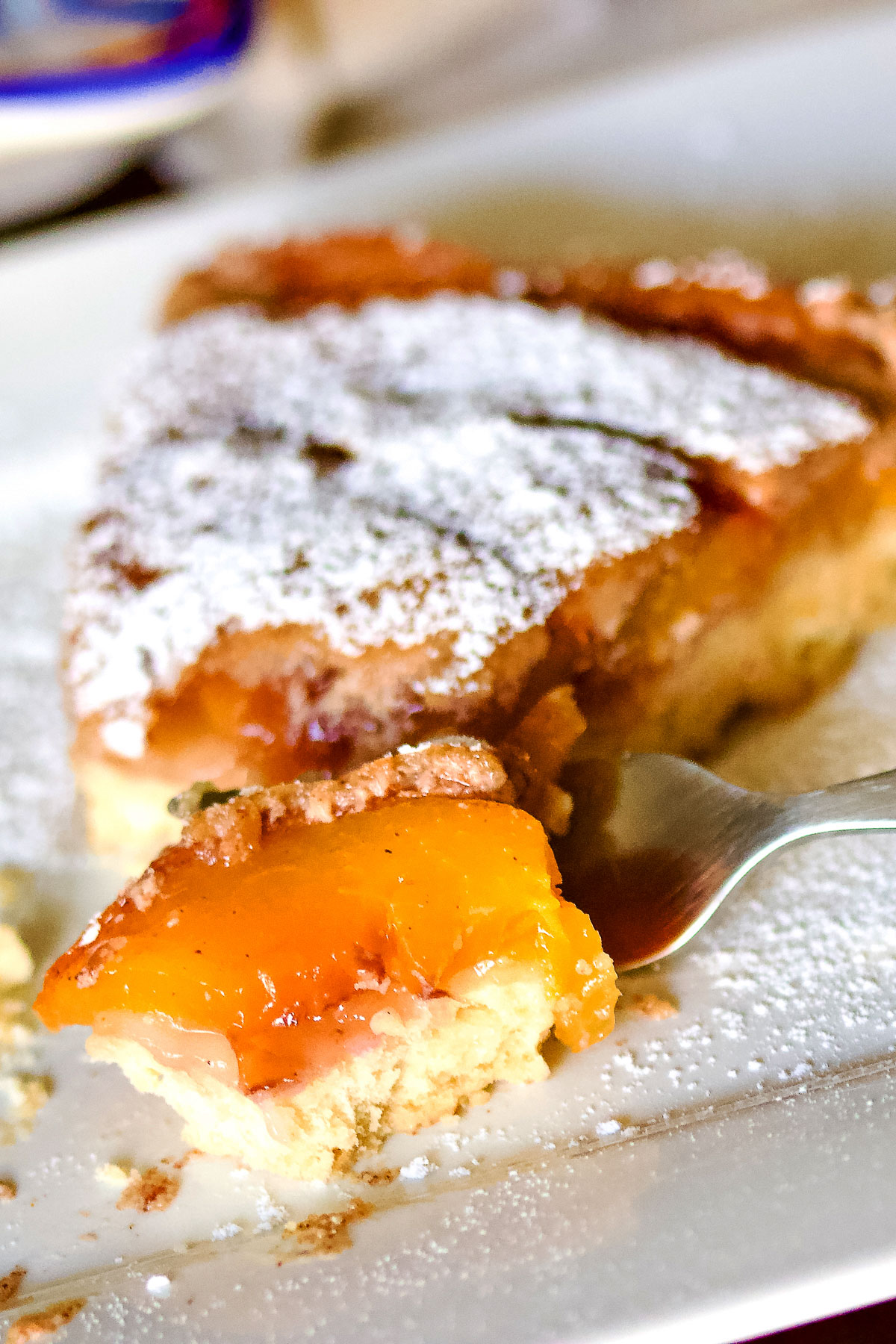 If you like German recipes, you might also enjoy this German Plum Kuchen- Pflaumenkuchen, a fabulous German Riesling Apple Cake, or this Walnuts And Cinnamon Coffee Cake.
For a savory delicious side dish you could try this Baked Cheesy German Spaetzle pasta with caramelized onion.
Jump to:
What is a German Peach Kuchen/Tart?
A typical kuchen consists of sweet dough and a fruit or custard filling, which is exactly how this dessert is prepared.
The German Peach Kuchen features a crust adorned with peaches, sugar, and cinnamon, all baked briefly. Then, a blend of egg yolks and sour cream is poured over it, and it's baked until it's just right.
There's a huge variety of kuchen recipes and styles, as many as the people who make them. But this specific recipe is my favorite. Its simplicity and delicious taste are what make it stand out.
You can enjoy it warm with some ice cream or just as it is when it's cold. It's such a beloved recipe that I even found a version of it in a Saxon Cookbook from 1955, written by Transylvanian Saxons who moved to the U.S.
Of all the versions I've tried, this is hands down the best one.
Transylvania's cuisine is diverse, drawing influences from many cultures. Germans, Romanians, Hungarians, and others lived together harmoniously for years, sharing their cultural heritage.
If you have ties to Eastern Europe, this delightful dessert might bring back pleasant memories.
What type of peaches should you use?
I've received many inquiries about the kind of peaches to use, so I thought I should clarify.
This recipe is designed for fresh summer peaches. I've only used fresh fruit in this recipe, so I'm not sure how to advise on using canned or frozen fruit. But I can offer my personal recommendation if you don't have fresh fruit available.
Fresh peaches: Some folks have reported that the peaches were too juicy and made a mess in the oven.
To fix this, combine the peaches with sugar and cinnamon, and let them sit for about 10-15 minutes. This will cause some juice to leak out from the fruit, which you should remove. Then, place the fruit on the crust and bake it as directed.
This approach should solve the issue of overly ripe, excessively juicy fruit.
These peaches are generally preserved in water and sugar, which might affect the amount of sugar used in the recipe. Be sure to drain the fruit thoroughly. Use only half or three-quarters of a cup of sugar since the peaches are already in syrup and won't need much more sugar.
Proceed with the recipe from there.
Frozen peaches: Frozen peaches release a lot of water when they defrost, which could result in a soupy tart and a soggy crust. To avoid this, thaw the peaches first, drain them thoroughly, then add the sugar and cinnamon, and follow the rest of the recipe.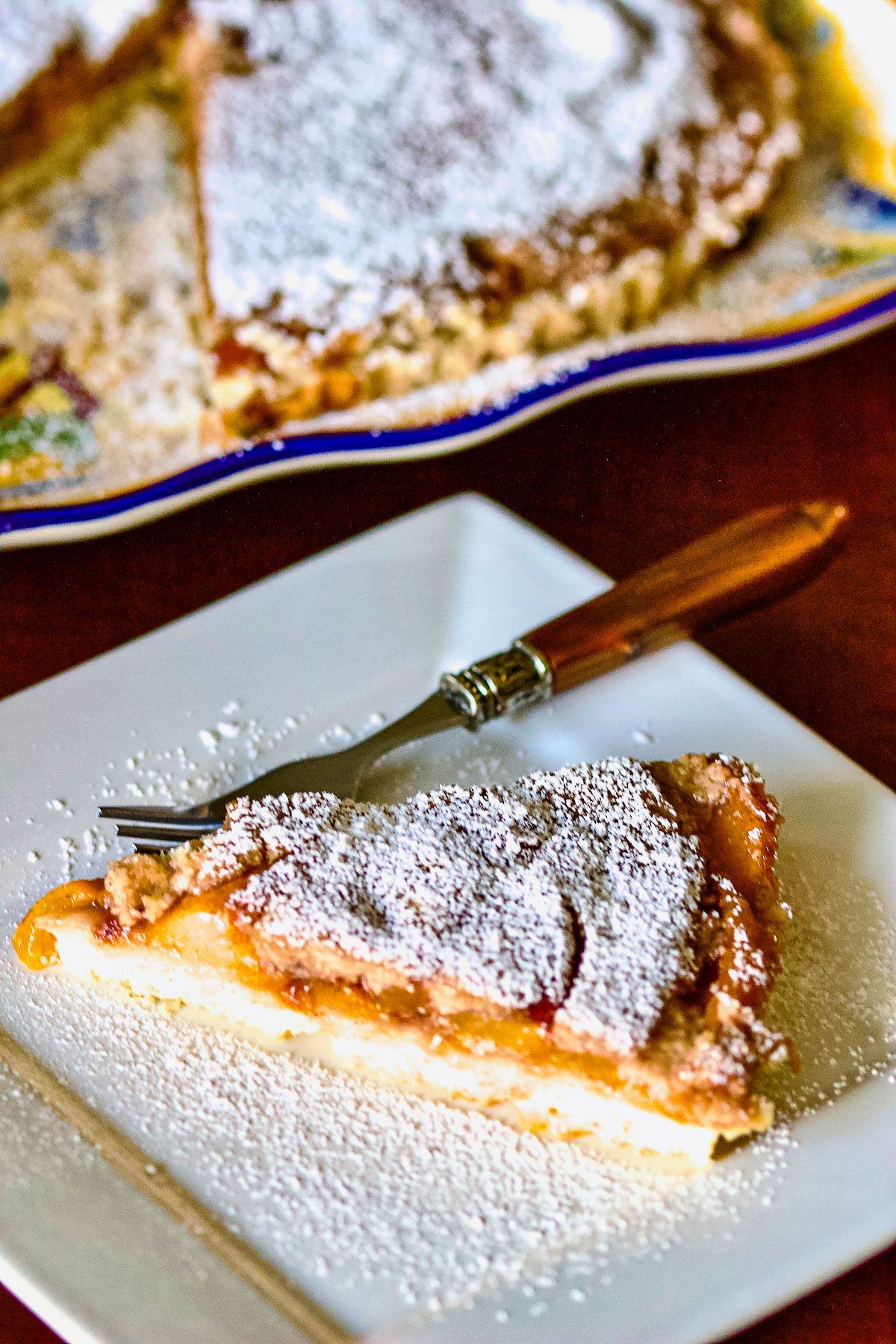 What are the ingredients needed for this dessert
FOR THE CRUST:
Unsalted cold butter: Choose butter that's very cold and cut it into small cubes. This will mix well with the flour and sugar, creating delicious spots of flavor as the crust bakes.
All-purpose flour: I've only used regular all-purpose flour for this recipe, so I can't advise on using other types of flour.
Baking powder and salt: These are essential for the crust. The baking powder acts as a rising agent, making the crust light and fluffy when it bakes. Meanwhile, the salt enhances the crust's overall flavor, balancing out the sweetness and elevating the other flavors.
Granulated sugar: Take two tablespoons of the sugar meant for the fruits and mix it with the flour and butter instead.
FOR THE FILLING:
Peaches: You'll need fresh peaches for this recipe, sliced in half with the stone removed. The juicy sweetness of fresh peaches is vital for the authentic flavor of this dessert.
Granulated sugar: This is used to sweeten the peaches and the overall dessert. It helps bring out the flavor of the peaches while balancing the other ingredients.
Cinnamon powder: A sprinkle of this warm, fragrant spice will be added to the peaches, lending a delightful layer of complexity to the dessert's taste.
Egg yolks: These are used in the custard part of the filling. They give the custard its rich and creamy texture.
Sour cream- For this recipe, it's important to use full-fat, genuine sour cream. This contributes to the rich and creamy texture of the dessert. Substituting it with something else would significantly alter the dessert's texture and could compromise the end result.
How To Make The Best Peach Kuchen
Step 1. Preheat the oven, gather and weigh the ingredients.
Step 2. Prepare the crust.
Combine the butter, flour, baking powder, salt, and two tablespoons of sugar. Keep blending until the mixture has a texture similar to cornmeal.
Press this dough into an 8-inch round or square pan that isn't greased. Use your hands to form a consistent layer along the bottom and halfway up the sides of the pan.
You don't need to chill or roll the crust first, making it simpler for those with limited baking equipment.
You could also use a food processor to save time when making the dough, though this isn't a requirement.
Tip: Consider doubling the batch and freezing half for a future tart.
Step 3. Get the fruits ready.
Refer back to the section detailing the different ways to prepare peaches, such as using fresh, frozen, or canned ones. This step is crucial for an excellent kuchen.
Arrange the fresh peach halves or slices with the cut side facing up on the crust in an appealing pattern. Dust a combination of cinnamon and the remaining sugar over the peaches, then bake for 15 minutes.
IMPORTANT: If the fruit you're using is especially juicy, here's a tip: Combine the peaches, sugar, and cinnamon in a bowl and stir gently. Let the peaches absorb some sugar and release some juice. Drain the extra juice before proceeding with the recipe.
Step 4. Make the custard.
In a small bowl, whisk together the egg yolks and sour cream. Pour this mixture over the baked peaches, then bake for an additional 30 minutes.
Serve your kuchen with your favorite ice cream or simply with a cup of coffee or tea.
An 8 inch round tart pan or a square one is all you need for baking this recipe.
How to store
Room temperature: To store this German Peach Kuchen, allow it to cool completely after baking. Once cool, cover it tightly with plastic wrap or aluminum foil. It can be stored at room temperature for up to two days.
Refrigerator: If you'd like to store it for longer, you can refrigerate it. Wrapped properly, it should last in the refrigerator for about a week.
Freezer: If you're looking to store the kuchen for an even longer period, you can freeze it. Wrap the cooled kuchen tightly in plastic wrap, then add a layer of aluminum foil for extra protection.
When properly stored, it can be frozen for up to three months. To eat, thaw overnight in the refrigerator, then allow it to come to room temperature before serving.
Remember, it's always best to store the kuchen in a container that is both airtight and moisture-resistant to maintain its freshness and texture.
Recipe Faqs
Can I use a different fruit in this recipe?
While this recipe is designed for peaches, you can certainly try using other fruits. Apricots, plums, or berries could also work well. Just make sure the fruit you choose isn't overly juicy to avoid a soggy crust.
Can I make this dessert dairy-free or vegan?
For a dairy-free version, you can use a dairy-free margarine(or coconut oil) in place of butter and a dairy-free sour cream substitute. However, making it vegan is a bit more challenging due to the egg yolks in the recipe, which provide the custard-like texture. You might try a vegan egg substitute, but the results may vary.
What's the best way to serve Peach Kuchen?
This dessert can be served either warm or cold. It's delicious on its own, but it also pairs wonderfully with a scoop of vanilla ice cream or a dollop of whipped cream. You could also serve it with a warm cup of coffee or tea.
More recipes to love
Craving more? Subscribe to The Bossy Kitchen to get new recipes and a newsletter delivered straight to your inbox! Stay in touch on Facebook, Twitter, Pinterest, and Instagram for all of the latest updates. Don't forget to use the star rating and leave a review.
📖 Recipe
German Peach Kuchen
German Peach Kuchen- a Transylvanian dessert made with peaches, custard, and a shortbread crust. Delicious, easy to make, and perfect for summer.
Print
Pin
Share
Grow
Saved!
Rate
Ingredients
Crust:
½

cup

unsalted cold butter

2

cups

sifted all-purpose flour

¼

teaspoon

baking powder

½

teaspoon

salt

2

tablespoons

granulated sugar

from the filling
Filling:
12

peach halves

1

cup

granulated sugar divided

remove 2 tablespoons for the crust

1

teaspoon

cinnamon

2

egg yolks

1

cup

full fat sour cream
Instructions
Preheat oven at 400F/200C.
To make the crust:
Work the butter, flour, baking powder, salt, and 2 tablespoons of sugar together until the mixture is like cornmeal. Place the dough into the middle of an 8-inch non-greased round or square pan and pat an even layer over the bottom and halfway up sides of the pan with your hands.

Place the peach halves cut side up on top of the crust in a nice pattern. You can also use sliced pieces. Sprinkle a mixture of cinnamon and remaining sugar over peaches. Bake 15 minutes.
Filling:
Mix egg yolks and cream, pour over the peaches and bake 30 minutes longer.

Serve hot with ice cream or cold.
Notes
WHAT KIND OF PEACHES YOU CAN USE?
I get many questions about what kind of peaches people should use, so I had to go back to the article and specify a few things.
This recipe was created for summer fresh peaches. I used only fresh fruit in this recipe, so I have difficulty advising how to use canned or frozen fruit. However, I will give you my best personal recommendation and what I think you should do if you don't have fresh fruit around.
Fresh peaches: Some people complained that the peaches were too juicy and created a hot mess in the oven.
My solution is to mix the peaches with sugar and cinnamon and so to soak in the sugar. You will probably have some juice coming out of the fruits that you will need to discard. Then, place the fruit on top of the crust and bake as the recipe requires.
This will solve the problem of using fruits that are overly riped and too juicy.
Canned peaches: These peaches are usually preserved in water and sugar, so this might change things slightly when it comes to the sugar used in the recipe. One thing you need to do is to drain the fruit really well. Use only ½ cup or ¾ cup of sugar, as the peaches are already marinated in syrup, so they don't need that much sugar.
Then, continue with the recipe.
Frozen peaches: Frozen peaches contain a lot of water when they unthaw, which would create a soupy tart and a soggy crust. For that matter, defrost the peaches first, drain them really well, then add the sugar and cinnamon and continue with the recipe.
Nutrition
Serving:
1
g
|
Calories:
327
kcal
|
Carbohydrates:
51
g
|
Protein:
5
g
|
Fat:
13
g
|
Saturated Fat:
7
g
|
Polyunsaturated Fat:
1
g
|
Monounsaturated Fat:
3
g
|
Trans Fat:
0.3
g
|
Cholesterol:
64
mg
|
Sodium:
132
mg
|
Potassium:
236
mg
|
Fiber:
3
g
|
Sugar:
32
g
|
Vitamin A:
889
IU
|
Vitamin C:
6
mg
|
Calcium:
43
mg
|
Iron:
2
mg
Tried this recipe?
Please leave a comment on the blog or like us on Facebook!