Walnuts And Cinnamon Coffee Cake is an old Saxon recipe from Transylvania, Romania. The cake is made from a simple batter with butter, sugar, eggs, flour, and spices. Before it goes in the oven, the batter is sprinkled with walnuts.
This recipe is a family treasure inherited from my grandmother Herta.
Coffee Cake With Walnuts And Cinnamon
I was lucky enough to have grandmothers who loved cooking and baking. There are fond memories of them making specific recipes that I still love today.
Whenever I reconstruct an old family recipe, the scent or the first bite of a particular food can take me right back to the past. This recipe is one of them.
The cake is a humble coffee cake made with butter, eggs, sugar, flour, and spices, ingredients that most people would have in their pantries. Before it goes into the oven, the batter is sprinkled with walnuts for texture and flavor.
The cake is dusted with powdered sugar, cut into squares, and served with coffee when it comes out of the oven.
I adore Transylvanian desserts, and this recipe comes from there. It does not claim to be a fancy one, but it is an old treasure that I thought deserves some attention due to its simplicity.
Recipes from Transylvania use many walnuts, as walnuts grow well in that part of the world.
My grandmother used walnuts directly from her backyard walnut tree, but you can use almonds or pecans if you don't like walnuts.
The cake is very easy to put together and very delicious. As I said before, this is not a fancy recipe, but something my grandmother would rather make at the end of the week as a treat, using simple but quality ingredients available in her pantry.
It was the time when dairy products came directly from the farmers, and the eggs were fresh from the chicken coop; therefore, the final product was tasty and also nutritious.
During the week, people did not eat cake after the main dish at lunch or dinner. It was a treat for the end of the week and not because they were trying to save money or diet. It was a simple custom.
Sometimes though, they would have a home-style dessert that would replace the meat and vegetable course after the soup. It was something like a sweet noodle dish or dessert dumplings filled with fruits, all homemade.
Even today, when I try to reconstruct her recipes, I use the best ingredients I can find around. I often use organic flour, eggs, or milk.
I bake with real unsalted butter and sometimes even with lard if I want to recreate the taste of a recipe made with it.
Anyway, coffee cakes are easy to make and lovely, and I hope you will try this recipe! I wouldn't be shy to make this recipe for a potluck, a picnic, or just on a lazy Sunday for the family to enjoy!
And also eat it for breakfast, why not? Don't you love it when a recipe can be used for breakfast or dessert?
Coffee cakes are like that. I would even dare to say that it is also a relatively cheap recipe to bake.
More recipes to love:
Traditional Saxon Potato Tarragon Soup From Transylvania
Walnut cake with egg yolk glaze
Yield: 24 servings
Walnuts And Cinnamon Coffee Cake- A Saxon Old Recipe From Transylvania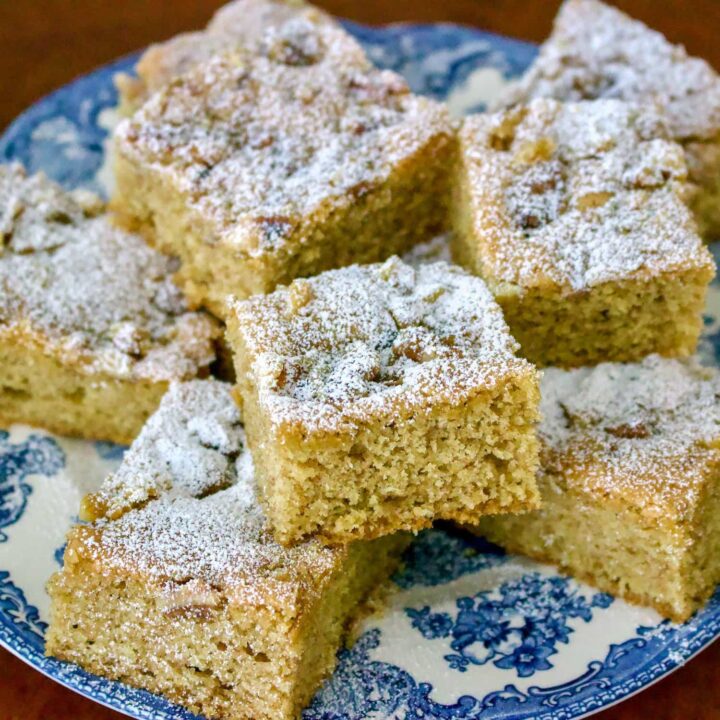 This Walnuts And Cinnamon Coffee Cake is an old Saxon recipe coming from Transylvania. My German grandma used to make this recipe very often. The cake is made from a simple batter with butter, sugar, eggs, flour and spices. Before it goes in the oven, the batter is sprinkled with walnuts. It is great for breakfast too!
Ingredients
1 stick Plus 6 tablespoons/210 g unsalted butter room temperature
1 1/2 cups/280g granulated sugar
4 large eggs
2 cups plus 4 tablespoons/280 g all purpose flour
1 teaspoon baking powder
1 teaspoon cinnamon
1/2 teaspoon ground cloves
1 cup/4oz/115 g walnuts finely chopped
1 tablespoon powder sugar for decorating
Instructions
Preheat oven to 350F/180C.
In a large bowl, beat together the butter and sugar until smooth.
Add eggs one by one and keep mixing. Set aside.
In a medium bowl, mix together flour, baking powder, cinnamon and cloves.
Add the dry ingredients gradually to the butter, eggs and sugar and mix well.
Oil a 9x13inch(23x33cm) baking tray and pour the batter in it.
Sprinkle the batter with the chopped walnuts.
Bake for 30-35 minutes or until the cake is golden brown and a toothpick inserted in the middle of the cake comes out clean.
When cool, dust the cake with powder sugar and cut in squares.
Recommended Products
As an Amazon Associate and member of other affiliate programs, I earn from qualifying purchases.
Nutrition Information:
Yield:
24
Serving Size:
1
Amount Per Serving:
Calories:

637
Total Fat:

47g
Saturated Fat:

27g
Trans Fat:

0g
Unsaturated Fat:

17g
Cholesterol:

144mg
Sodium:

39mg
Carbohydrates:

49g
Fiber:

2g
Sugar:

12g
Protein:

7g
Note: "We are a participant in the Amazon Services LLC Associates Program, an affiliate advertising program designed to provide a means for us to earn fees by linking to Amazon.com and affiliated sites."