Walnut And Cinnamon Coffee Cake is an old German coffee cake recipe from Transylvania, Romania. The cake is made from a simple batter with butter, sugar, eggs, flour, and spices. Before it goes into the oven, the batter is sprinkled with walnuts.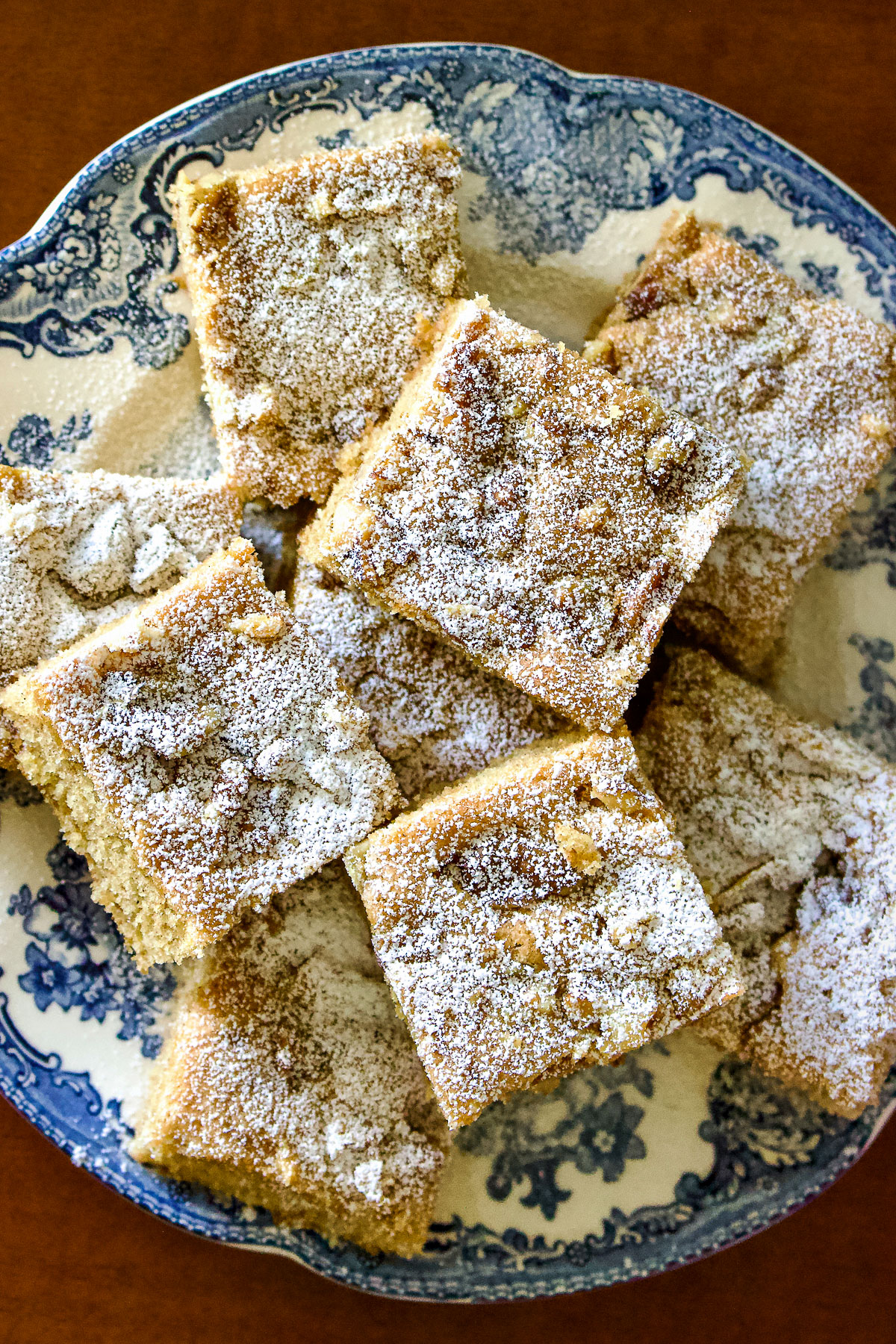 This is a family treasure recipe inherited from my grandmother Herta and part of my collection of Transylvanian foods I have on the blog.
If you like this coffee cake, check out some other recipes, like this popular German Peach Kuchen. These Walnut Shortbread Cookies are perfect for the holidays together with these Jam And Walnuts Rugelach Cookies, while this Walnut Cake with Egg Yolk Glaze is made to be enjoyed for a scrumptious dessert when entertaining.
As you can see, recipes from Transylvania use many walnuts, as they grow well in that part of the world.
My grandmother used walnuts directly from her backyard walnut tree, but if you don't have your own tree, go buy them or replace them with pecans.
Jump to:
Walnuts Cinnamon Coffee Cake
I was blessed with grandmothers who adored cooking, leaving me with cherished recipes and memories.
One bite of this humble coffee cake instantly transports me back in time. Made from pantry staples like butter, sugar, and spices, it's elevated by a sprinkle of walnuts before baking.
Once out of the oven, it's dusted with powdered sugar and served in squares, perfect with a cup of coffee.
While not fancy, this Transylvanian gem is an old but simple treasure that deserves the spotlight.
Why do I like this recipe:
Pantry-Friendly Ingredients: This recipe calls for simple items like butter, sugar, flour, and spices—things most people already have on hand. No need for a special trip to the store; you can whip this up on a whim.
Versatile Serving Options: Whether it's breakfast, a coffee break, or dessert, this cake has you covered. The walnuts add a textural twist that pairs perfectly with a morning brew or as a sweet ending to a meal.
Quick and Easy Prep: With a total time of just 55 minutes from start to finish, this coffee cake is as practical as it is delicious. Ideal for those looking for a satisfying but uncomplicated baking project.
Key Ingredients:
Unsalted Butter: Provides richness and moisture.
Granulated Sugar: Adds sweetness and helps in the creaming process.
Large Eggs: Act as a binding agent and provide structure.
All-Purpose Flour: The main dry ingredient, providing structure to the cake. It can be replaced with a gluten-free flour blend.
Baking Powder: A leavening agent that helps the cake rise.
Cinnamon: Adds warmth and spiciness. You can use nutmeg or allspice for a different kind of warmth or a spice blend like pumpkin spice for a seasonal twist.
Ground Cloves: Contribute a deep, aromatic spice note.
Walnuts: Add crunch and nutty flavor. They can be replaced with pecans or almonds for a different nutty profile.
Powdered Sugar: Used for decorating and adding a final touch of sweetness. You can replace it with a light drizzle of honey or maple syrup for a different kind of sweetness.
Brief Instructions:
Step 1. Preheat Oven: Set your oven to 350°F (180°C).
Step 2. Beat Butter And Sugar: In a large bowl, mix butter and sugar until smooth.
Step 3. Add Eggs: Beat in eggs one at a time.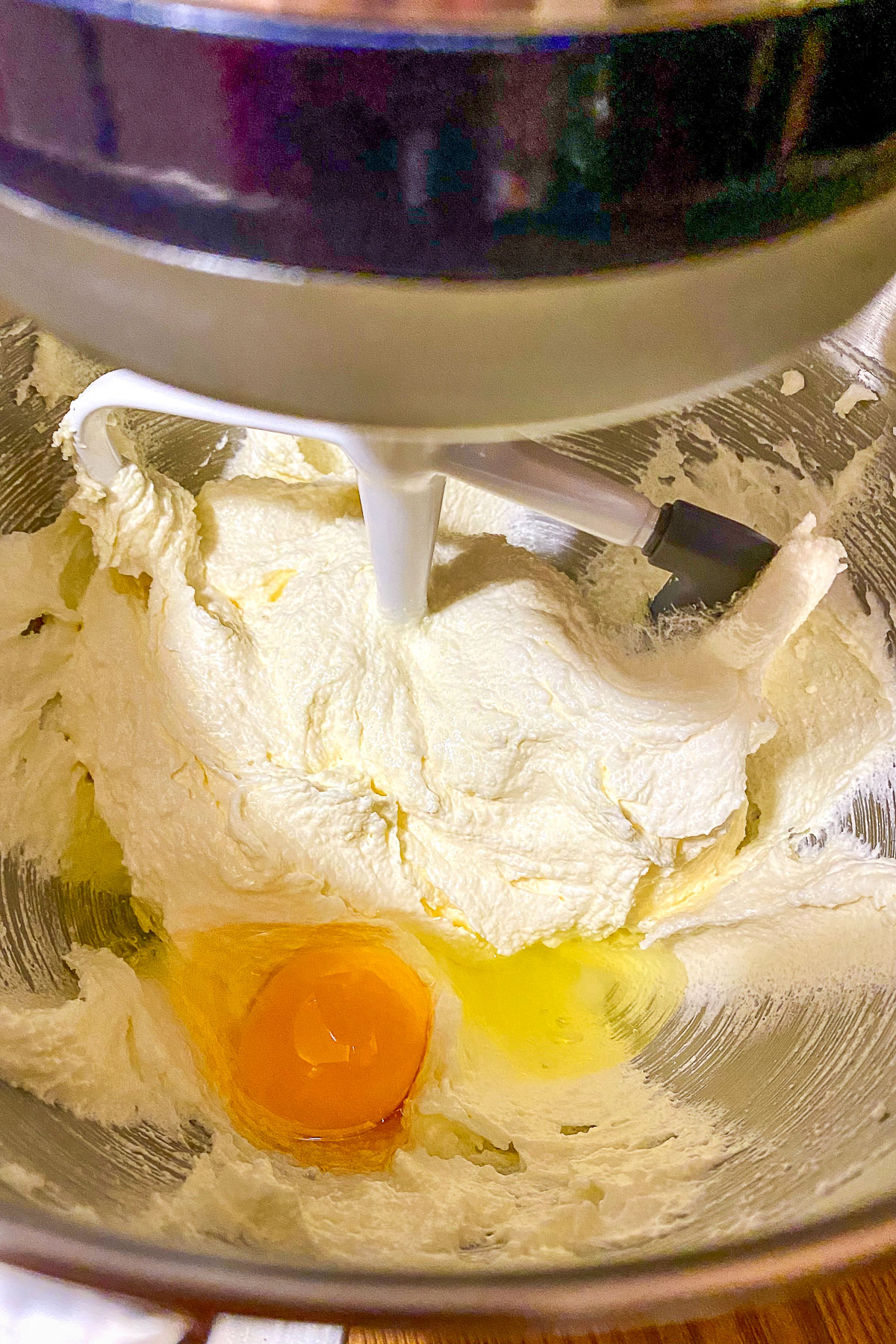 Step 4. Mix Dry Ingredients: In a separate bowl, whisk together flour, baking powder, cinnamon, and cloves.
Step 5. Combine Mixtures: Gradually add the dry mix to the wet ingredients, stirring until well combined.
Step 6. Prepare Pan: Grease a 9x13-inch baking tray.
Step 7. Pour Batter: Transfer the batter to the greased tray.
Step 8. Add Walnuts: Sprinkle finely chopped walnuts over the batter.
Step 9. Bake: Place in oven for 30-35 minutes or until a toothpick comes out clean.
Step 10. Cool & Dust: Let cool, then dust with powdered sugar and cut into squares.
Expert tips:
Always use room-temperature butter and eggs for a smoother batter. Cold ingredients don't blend as well and can result in an uneven texture.
To avoid overbaking, start checking for doneness at the 25-minute mark. Insert a toothpick in different areas of the cake to ensure it's evenly cooked.
Storage:
Room Temperature: Store the cake in an airtight container for up to 2-3 days.
Refrigerator: If you live in a hot or humid climate, it is best to refrigerate the cake. It will keep for up to a week when stored in an airtight container. Just remember that the refrigerated cakes and bread, in general, get dried out, so it's better if you consume it fast.
Freezer: For longer storage, wrap the cake in plastic wrap and place it in a zip-top freezer bag. Freeze for up to 3 months. Thaw in the refrigerator or at room temperature before serving.
Recipe faqs:
Can I use salted butter instead of unsalted?
Yes, you can use salted butter if you don't have unsalted butter available. Since the original recipe doesn't call for any additional salt, using salted butter will slightly alter the flavor but shouldn't drastically change the outcome.
Can I make this recipe gluten-free?
Yes, you can use a gluten-free all purpose flour.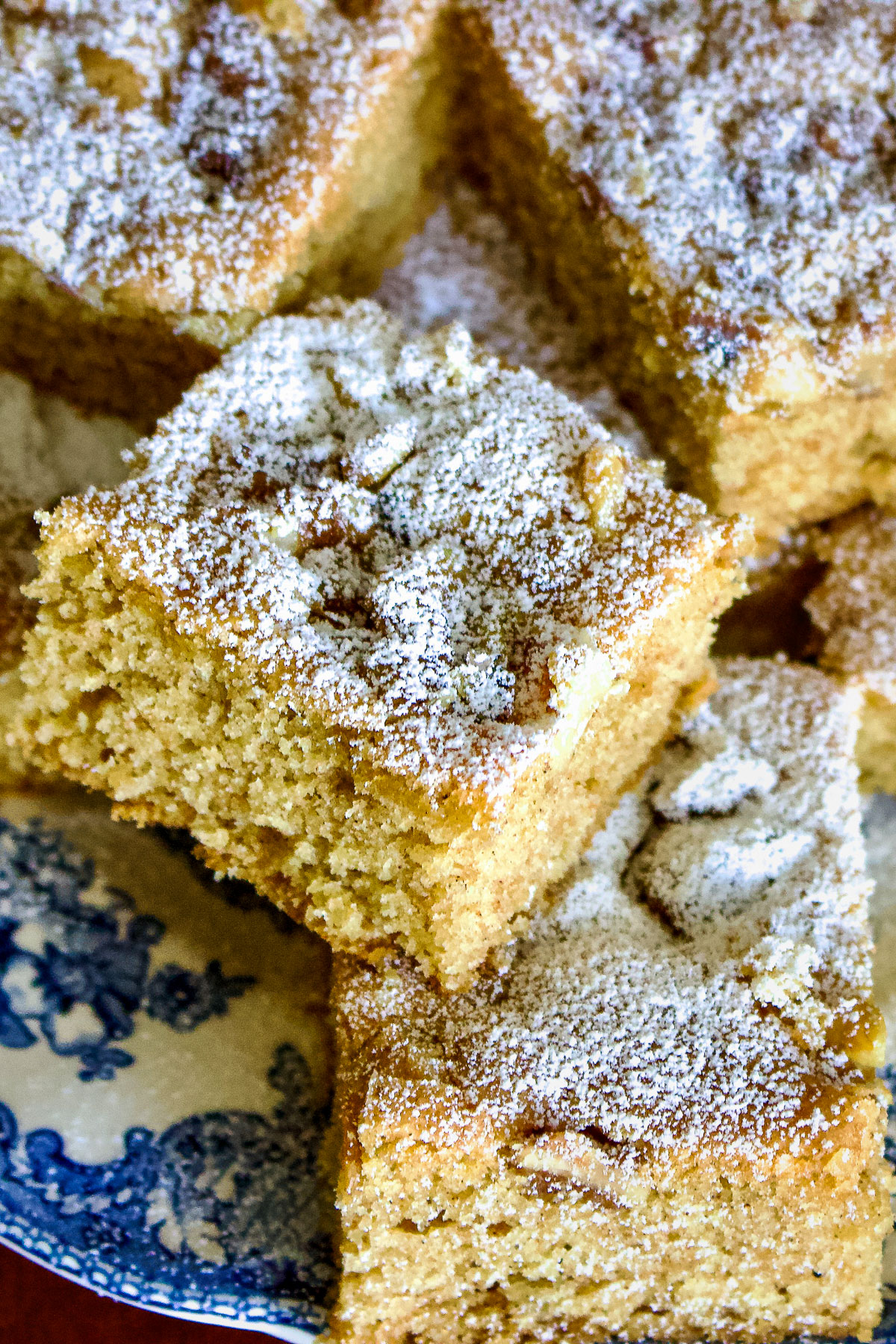 Anyway, coffee cakes are easy to make and lovely, and I hope you will try this recipe! I wouldn't be shy to make this recipe for a potluck, a picnic, or just on a lazy Sunday for the family to enjoy!
And also eat it for breakfast, why not? Don't you love it when a recipe can be used for breakfast or dessert?
Coffee cakes are like that. I would even dare to say that it is also a relatively cheap recipe to bake.
Enjoy!
Craving more? Subscribe to The Bossy Kitchen to get new recipes and a newsletter delivered straight to your inbox! Stay in touch on Facebook, Twitter, Pinterest, and Instagram for all of the latest updates. Don't forget to use the star rating and leave a review.
📖 Recipe
Walnut And Cinnamon Coffee Cake
This Walnut And Cinnamon Coffee Cake is an old German recipe coming from Transylvania. My German grandma used to make this recipe very often. The cake is made from a simple batter with butter, sugar, eggs, flour, and spices. Before it goes in the oven, the batter is sprinkled with walnuts. It is great for breakfast, too!
Print
Pin
Rate
Ingredients
1

cup

unsalted butter

room temperature

1 ½

cups

granulated sugar

4

large eggs

2 ¼

cups

all-purpose flour

1

teaspoon

baking powder

1

teaspoon

cinnamon

½

teaspoon

ground cloves

1

cup

walnuts finely chopped

1

tablespoon

powder sugar for decorating
Instructions
Preheat oven to 350F/180C.

In a large bowl, beat together the butter and sugar until smooth.

Add eggs one by one and keep mixing. Set aside.

In a medium bowl, mix together flour, baking powder, cinnamon and cloves.

Add the dry ingredients gradually to the butter, eggs and sugar and mix well.

Oil a 9x13inch(23x33cm) baking tray and pour the batter in it.

Sprinkle the batter with the chopped walnuts.

Bake for 30-35 minutes or until the cake is golden brown and a toothpick inserted in the middle of the cake comes out clean.

When cool, dust the cake with powdered sugar and cut in squares.
Notes
Room-Temp Butter: For best results, take the butter out of the fridge an hour before you start baking.
Mixing Order: Add eggs one at a time to the butter-sugar mix for a smoother batter.
Check Early: Start checking if the cake is done around the 28-minute mark to avoid over-baking.
Nutrition
Serving:
1
g
|
Calories:
203
kcal
|
Carbohydrates:
23
g
|
Protein:
3
g
|
Fat:
12
g
|
Saturated Fat:
5
g
|
Polyunsaturated Fat:
3
g
|
Monounsaturated Fat:
3
g
|
Trans Fat:
0.3
g
|
Cholesterol:
48
mg
|
Sodium:
25
mg
|
Potassium:
47
mg
|
Fiber:
1
g
|
Sugar:
13
g
|
Vitamin A:
277
IU
|
Vitamin C:
0.1
mg
|
Calcium:
26
mg
|
Iron:
1
mg