Note: "We are a participant in the Amazon Services LLC Associates Program, an affiliate advertising program designed to provide a means for us to earn fees by linking to Amazon.com and affiliated sites."
I was running out of ideas for cooking one day and digging through my pantry I found a bag of German Spaetzle Pasta, an egg pasta that is a traditional staple for many German households.  I do not cook a lot with egg pasta, so I had no idea what to do with it. I know Germans combine Spaetzle pasta with caramelized onions and cheese, so I thought that I could try to make a version of baked mac and cheese, but with Spaetzle and fried onion. The result? An amazing dish that disappeared in one day.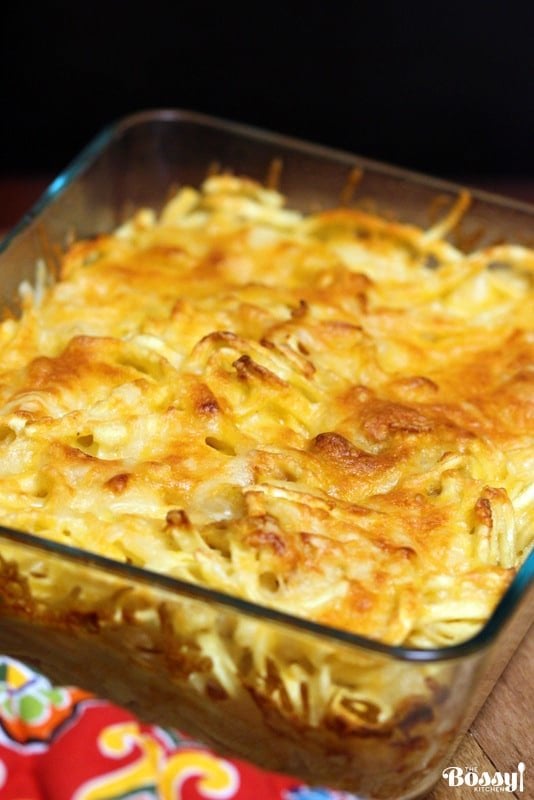 Do not worry if  you don't have German Spaetzle pasta, use any kind of pasta you like. Remember how I always tell you to let your creativity flow in the kitchen and use ingredients you have in the pantry to make a recipe? Don't get stuck.  Use any egg pasta you have, or like.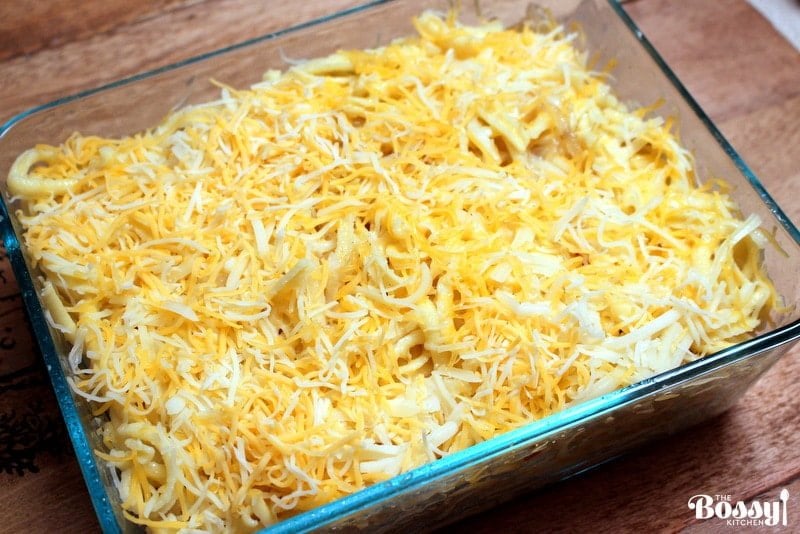 The dish is very easy to make and can be served as a side dish or by itself. It is great comfort food. The caramelized onion is a divine addition to the dish. For us, the best part was the crusty layer of cheese on top. I served it with some pork cutlets in a tomato sauce and roasted broccoli with salt, pepper, and garlic.
We officially declared that baked German Spaetzle with cheese and caramelized onions is our new favorite comfort food! I am already in the mood to make another batch of this awesomeness! Perfect meal!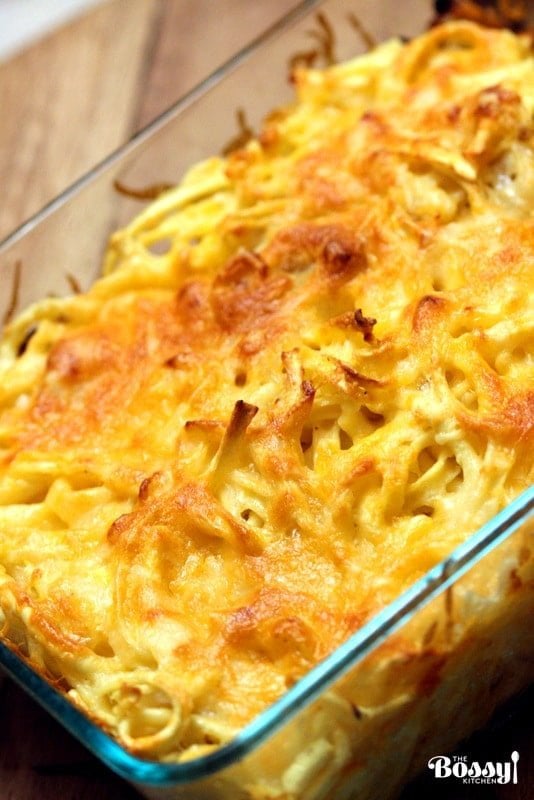 Baked Cheesy German Spaetzle Pasta with Caramelized Onions
Author:
The Bossy Kitchen
Ingredients
9 oz German Spaetzle pasta
1 large onion cut Julienne
½ cup mozzarella cheese
½ cup Monterey cheese
½ cup Cheddar cheese
4 tablespoons butter
salt and pepper to taste
Instructions
Preheat oven to 400F.
In a medium pot, cook Spaetzel pasta according to the package.
Meanwhile, slice the onion Julienne.
In a medium pan, heat up the butter and add the chopped onion.
Add salt and pepper to taste and cook until onion gets lightly caramelized. Mix frequently.
When ready, remove from heat and set aside.
In a baking dish, place noodles, cooked onions, and the cheese.
Mix to combine and bake at 400F for 25-30 minutes until cheese is melty and bubbly.