Note: "We are a participant in the Amazon Services LLC Associates Program, an affiliate advertising program designed to provide a means for us to earn fees by linking to Amazon.com and affiliated sites."
Summer is here and cherries are in season. This round-up is all about honoring cherries in a glass. You will find something for everyone, from drinks to cocktails to long drinks and smoothies and the cherries are the star of each and every recipe in this post.
As we usually serve cherries as a just pretty garnish on top of the glass, these cherry drink recipes make the fruit instead an integral part of the beverage with each sip. Sometimes cherries can be just as tart as they are sweet, but the fruit's flavor is versatile enough to be part of everything from smoothies to adult beverages, and also strong enough to hold its own alongside other fruit flavors.
When it comes to cherry-flavored drinks, the fresh summery flavor of bright red cherries is something that many people wish was around all year long. I hope you find something to enjoy!
Cherry Chocolate Chip Milkshake- By Champagne Tastes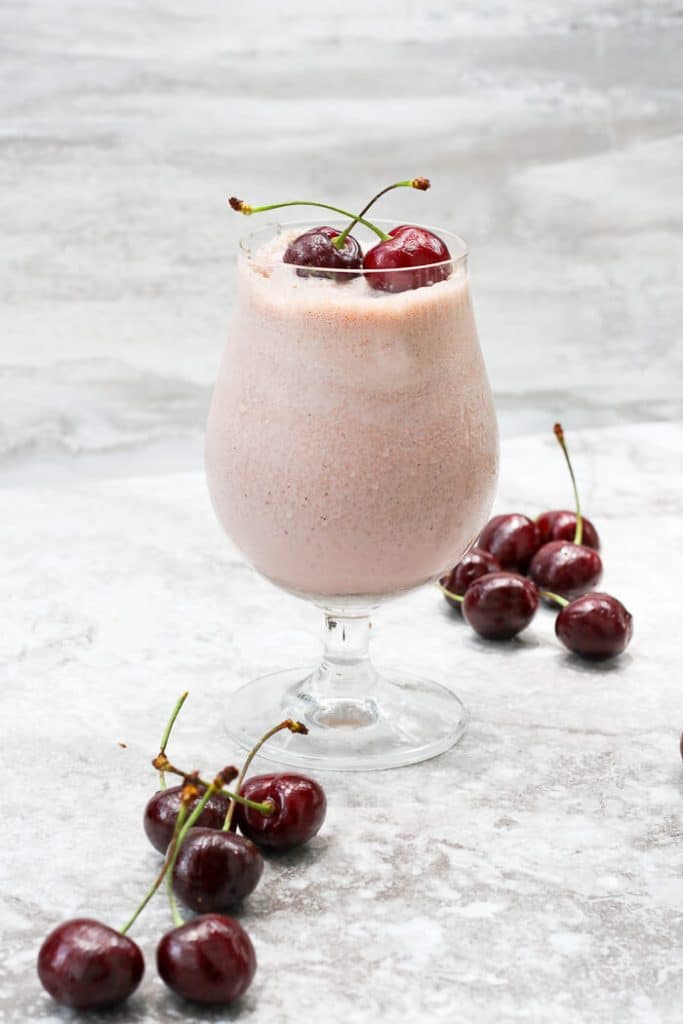 Cherry Moscow Mule- By Meg's Everyday Indugence
Cherry Sangria Recipe- By Teaspoon of Goodness
Chocolate Cherry Milkshake_ By Gluten Free Easily
Chocolate Covered Cherry Martinis- By The Kitchen Is My Playground
Sour Cherry Absinthe Cocktail- By Simple Seasonal
3-Ingredient Cherry Pineapple Smoothie- By Flavor The Moments
Pineapple Cherry Rum Punch Cocktail Recipe- By Three Little Ferns
Pineapple Cherry Smoothie- By My 3 Little Kittens
Cherry Moscato Slush- By Salt&Lavender
Easy Cherry Pit Liqueur With Cherry Syrup- By Kopiaste
Black Cherry Champagne Floats- By Soup Addict
Black Forest Smoothie- By Sweet Spicy Kitchen
Cherry Bourbon Slush- By Dessert For Two
Cherry Lime Slushie- By A Clean Bake
Tart Cherry Vodka Sour- By Home&Plate
Must Try Cherry Rose Spritzer- By April Golightly
Cherry Margaritas- By Seasonal Cravings
Thank you to all my fellow bloggers who participated in this round up! I hope everyone finds a recipe to try. Personally, cherries are one of my favorite fruits out there and not only for their incredible health benefits, but also for the delicious taste and versatility. Cherries are good for you in any form or shape and I love them not only in the summer, but also year around in jams, syrups, desserts or drinks.
Tip: When you use cherries in your recipes, don't throw away the stems. They make a wonderful tea that is very diuretic and good for the kidneys. Dry them out first, then make tea out of them. The cherry stem tea is a mild-tasting detox tea, a laxative and excellent for the treatment of urinary tract infections and kidney stones.
Enjoy!