Summer is here and cherries are in season. This round-up is all about honoring cherries in a glass. You will find something for everyone, from drinks to cocktails to long drinks and smoothies and the cherries are the star of each and every recipe in this post.
As we usually serve cherries as a just pretty garnish on top of the glass, these cherry drink recipes make the fruit instead an integral part of the beverage with each sip. Sometimes cherries can be just as tart as they are sweet, but the fruit's flavor is versatile enough to be part of everything from smoothies to adult beverages, and also strong enough to hold its own alongside other fruit flavors.
When it comes to cherry-flavored drinks, the fresh summery flavor of bright red cherries is something that many people wish was around all year long. I hope you find something to enjoy!
Cherry Chocolate Chip Milkshake- By Champagne Tastes
This Cherry Chocolate Chip Milkshake is a deliciously easy dessert for one– made with Bing cherries, chocolate chips, and sweet, creamy ice cream!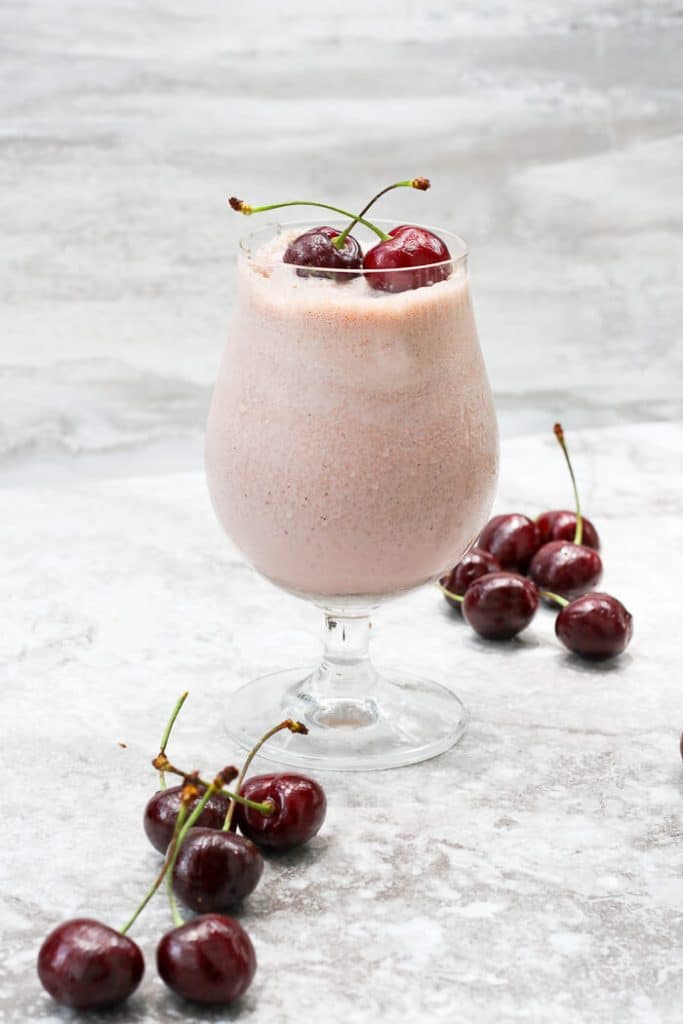 Cherry Moscow Mule- By Meg's Everyday Indugence
A spin on the traditional Moscow Mule, this Cherry Moscow Mule takes all the classic ingredients and adds sweet cherries to create the perfect drink for Spring. Light, zesty and sweet.
Cherry Sangria Recipe- By Teaspoon of Goodness
Using simple ingredients, my Cherry Sangria recipe is light and refreshing. The flavors come together nicely. I love that it is inexpensive to make and I can make large batches or smaller ones. This will easily become your go-to cocktail for getting together with your friends.
Chocolate Cherry Milkshake_ By Gluten Free Easily
A milkshake made with coconut milk, almond butter and raw cacao.
Chocolate Covered Cherry Martinis- By The Kitchen Is My Playground
Chocolate covered cherries are one of my very favorite classic Valentine treats. So why not enjoy their classic flavors in a scrumptious cocktail? That's right! ~ Chocolate Covered Cherry Martinis … a perfect way to get your chocolate covered cherry fix, and just perfect for sharing.
Sour Cherry Absinthe Cocktail- By Simple Seasonal
Impress your friends and raise some eyebrows when you serve this decadent, sweet, and seasonal cocktail. With each sip, the "little green fairy" will share some of her mysteries with you!
3-Ingredient Cherry Pineapple Smoothie- By Flavor The Moments
3-Ingredient Cherry Pineapple Smoothie is a 100% all fruit smoothie with no added sugar. It tastes just like a Big Stick Popsicle!
Pineapple Cherry Rum Punch Cocktail Recipe- By Three Little Ferns
A beautifully delicious tropical drink made with pineapple and cherry juice! Perfect for sipping on hot summer days!
Pineapple Cherry Smoothie- By My 3 Little Kittens
This delicious smoothie combines the flavors pineapple and cherry for the perfect combination!
Cherry Moscato Slush- By Salt&Lavender
This cherry moscato slush is a refreshing 2-ingredient drink that you can blend up in a flash.
Easy Cherry Pit Liqueur With Cherry Syrup- By Kopiaste
This easy Cherry Pit Liqueur is made using the leftover pits of cherries and leftover syrup from a cherry preserve.
Black Cherry Champagne Floats- By Soup Addict
For a colorful result, make sure you use a cherry liqueur eau de vie (which is normally red) and not kirschwasser, which is clear. The amount of ice cream and Champagne will depend on the size and volume of your glasses, so use the amounts listed as a guideline, scaling up or down as needed. Chill the liqueur and Champagne thoroughly beforehand so the ice cream doesn't melt too quickly.
Black Forest Smoothie- By Sweet Spicy Kitchen
Great combination of chocolate and cherries for delicious and creamy Smoothie. These beautiful smoothie will inspire your rushed meals and make your days more fruitful!
Cherry Bourbon Slush- By Dessert For Two
Bourbon slush recipe made with frozen cherries and a scoop of coconut sorbet or vanilla ice cream–your choice.
Cherry Lime Slushie- By A Clean Bake
Naturally Sweetened Cherry Lime Vodka Slushie – because delicious cocktails shouldn't be full of sugar and artificial ingredients!
Tart Cherry Vodka Sour- By Home&Plate
This cocktail is tart yet sweet and easy to make with only four ingredients. This Tart Cherry Vodka Sour is on my happy hour menu!
Must Try Cherry Rose Spritzer- By April Golightly
Cherry Rosé Spritzer is the perfect summer cocktail drink made with Cherry 7up, muddled black cherries, and light refreshing Rosé.
Cherry Margaritas- By Seasonal Cravings
Craving a margarita right about now? Me too! Do it up right with these Cherry Margaritas that are full of fresh lime flavor and are made easily with frozen cherries. Big batch Cherry Margaritas are perfect for spring and summer parties!
Thank you to all my fellow bloggers who participated in this round up! I hope everyone finds a recipe to try. Personally, cherries are one of my favorite fruits out there and not only for their incredible health benefits, but also for the delicious taste and versatility. Cherries are good for you in any form or shape and I love them not only in the summer, but also year around in jams, syrups, desserts or drinks.
Tip: When you use cherries in your recipes, don't throw away the stems. They make a wonderful tea that is very diuretic and good for the kidneys. Dry them out first, then make tea out of them. The cherry stem tea is a mild-tasting detox tea, a laxative and excellent for the treatment of urinary tract infections and kidney stones.
Enjoy!