Summer is here, and the need for a good cold drink is acute. This cucumber ginger lavender lemonade is easy to make, refreshing, and fits the purpose.
It is only the end of June, but the temperatures are high for this time of year.
At almost 100F, being outside is fun only if you do it very early in the morning or at night. This is the time to praise the air conditioning!
Lemonade is a mandatory drink we need to have in the fridge during this heat wave.
This recipe shows you how to make a delicious drink using simple ingredients, like a cooling cucumber, ginger, aromatic and summery lavender, and honey that brings sweetness and brightness to this lemonade.
The sweet and sour taste hits the spot every time I make this fantastic drink.
Jump to:
Why do I like this recipe:
Hydrating and refreshing: This lemonade, packed with cucumber and lemon, offers a refreshing and hydrating experience, making it a perfect choice for hot days or post-workout relaxation.
Health Boosting: The recipe is a powerhouse of health benefits with ingredients known for their anti-inflammatory, digestive, and calming properties, alongside a natural sweetener that offers vitamins and antioxidants.
Gourmet Experience: Elevate your lemonade experience with this recipe that blends diverse flavors harmoniously, offering a rich and layered taste profile that is both luxurious and easy to create at home.
Ingredients:
Fresh water
Lemons: we will use lemon slices and lemon juice.
Cucumbers: any type you have available- I'm not too fond of the waxy, thick cucumbers with lots of seeds, though, but I do like the English cucumbers and the garden small, young cucumbers that you do not need to peel. They are cooling and perfect for the recipe.
Fresh ginger: is widely available in grocery stores, and you need just a tiny root for the recipe.
Lavender: I used dried culinary lavender, and used a little bit of it. The lavender amount is small, as we just want to flavor the lemonade. Add more, and it will taste like soap. If you find fresh lavender or you grow it in your garden, use that. You need just a few fresh flowers.
Honey: The combination of lemon and honey is a divine one, but if you don't have some good honey, use sugar, agave, or whatever you want to sweeten it. I will not give you a measure for the honey because this is a matter of preference and taste. Put enough honey to make the lemonade pleasant.
Ice cubes
Optional: Mint - not mandatory, but adds a nice touch to the complex taste of the lemonade.
How to make the lemonade:
Wash all the ingredients really well. I usually scrub the lemons, as I want to make sure there is no wax on them.
Otherwise, I just buy organic ones so I can feel comfortable using the lemon peel in my dishes.
Scrub the cucumbers and the ginger. Gather all the ingredients together.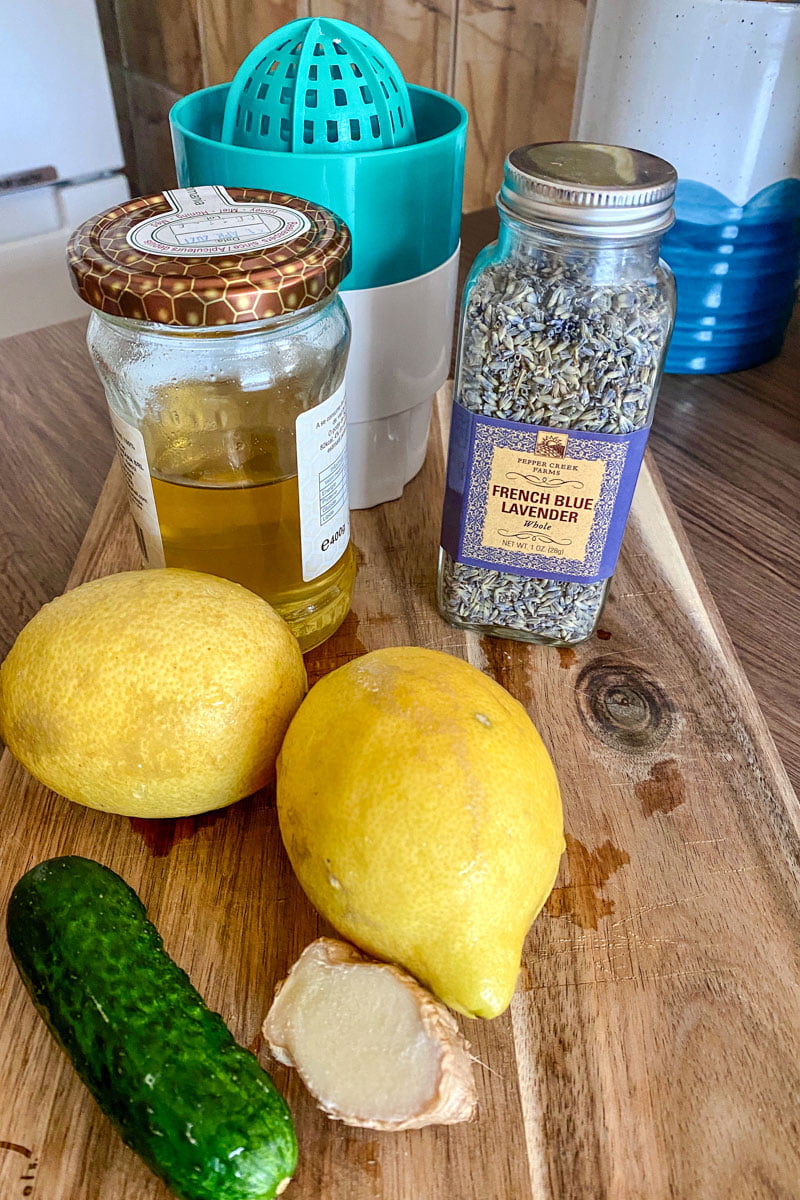 Slice the cucumbers very thin without peeling them. Do the same thing with the ginger. Slice half the lemon, also thin.
In a large pitcher, place the slices of ginger, cucumber, and lemon and add the dried lavender. Squeeze the rest of the lemons and pour the juice over the other ingredients.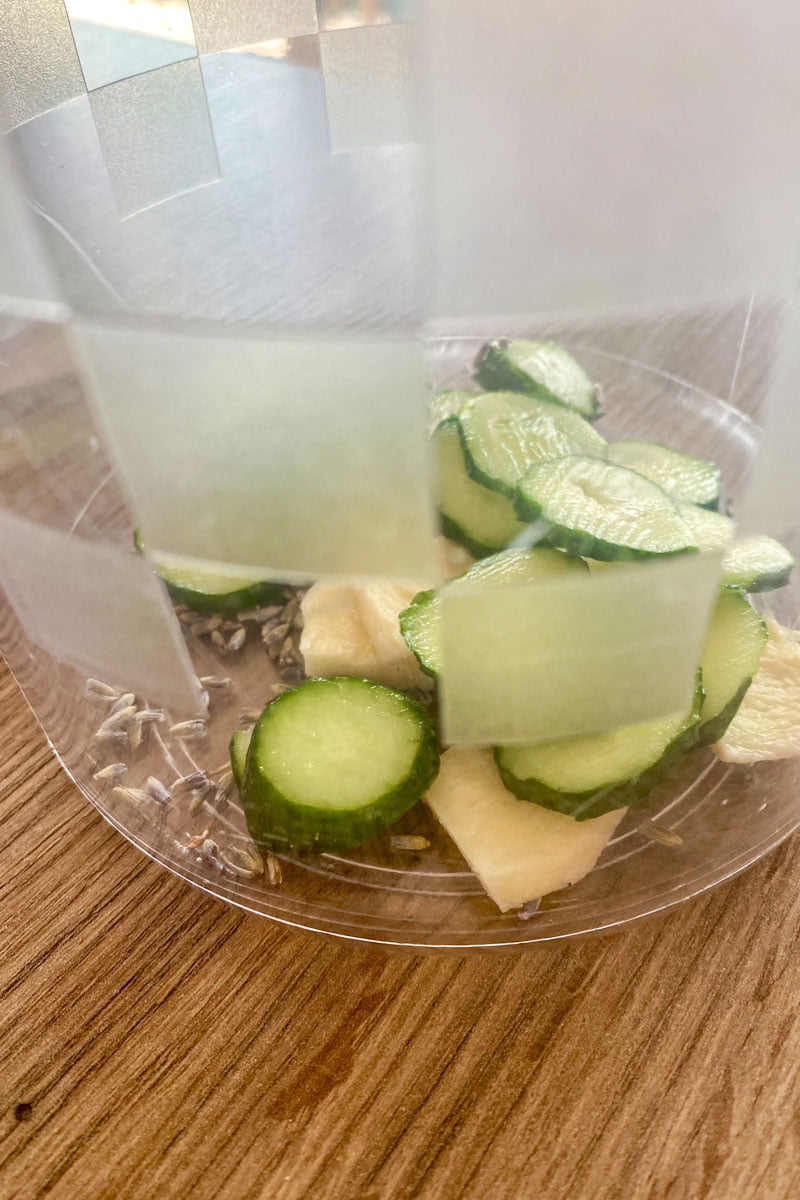 Add water and ice and mix well. The last step is to add honey as much as you like to make it pleasantly sweet.
If you are trying to stay away from sugar in general, you can skip the honey entirely or add other sweeteners.
Optional, add a few mint leaves. Place the pitcher in the refrigerator, allow the ingredients to flavor the water and get friendly with each other for about 15-20 minutes before you serve it.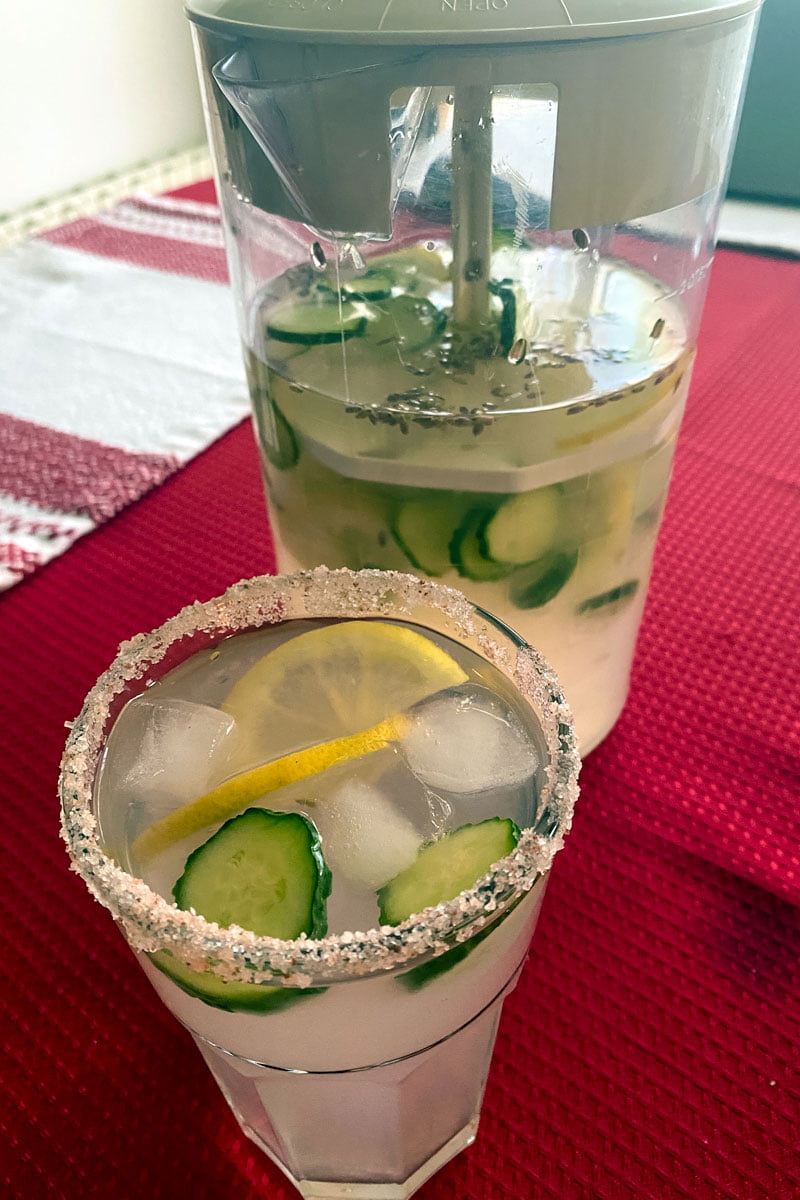 Recipe variations:
The best part of this recipe is the variations you can play around with:
Are you planning a party and would like to transform this lemonade into a cocktail? Add some gin, vodka, or even tequila to it.
You can dip the rim of the glasses in lemon juice, then salt, and add tequila to your lemonade! Absolutely divine!
Add sparkly water or mineral water instead of regular, and make this lemonade fizzy.
Skip the ginger and add pieces of melon, watermelon, or both. You can also add berries, like raspberries or blueberries, to it.
This is a perfect lemonade that you will find yourself making over and over again for parties and picnics.
Storage:
For the best results, I would recommend storing your cucumber ginger lavender lemonade in a sealed pitcher or airtight container in the refrigerator.
It should retain its fresh flavor and vibrant characteristics for up to 2-3 days. After that, while it will still be safe to drink for several more days, the flavors might start to fade, and the ingredients could become a bit soggy.
If you want to enjoy the lemonade at its freshest, plan to drink it within the first day or two.
Also, I would advise against freezing it, as the cucumber and lemon slices may become mushy upon thawing, negatively impacting the texture and flavor.
Before serving, give it a good stir to ensure that the flavors are well-distributed. Serve it over ice if you prefer it extra cold.
Freezer:
Before freezing, make sure to strain out all the solid ingredients, leaving only the liquid.
You might want to freeze the liquid in an ice cube tray, which will allow you to take out as much as you need at a time.
Once the lemonade ice cubes are frozen, you can transfer them to a zip-top bag and store it in the freezer to save space and prevent freezer burn.
When you're ready to enjoy it, you can either let it thaw in the refrigerator or at room temperature or use the frozen cubes in your drinks.
Recipe faqs:
What can I replace the lavender with?
If lavender is not to your liking or unavailable, you can replace it with a few fresh mint leaves or a small amount of rosemary to add a different yet delightful flavor profile to the lemonade.
Can I use bottled lemon juice?
While fresh lemons are preferred for their vibrant flavor and zest, you can use bottled lemon juice in a pinch. The general conversion is 2-3 tablespoons of bottled lemon juice for each large lemon.
Is this lemonade kid-friendly?
Absolutely, kids generally love this lemonade! However, it's a good practice to introduce new flavors like ginger and lavender gradually, and you might want to adjust the quantities to suit younger palates.
Recipes to love:
Cherry Flavored Drinks & Cocktails & Smoothies
Hibiscus-Cinnamon Tea- Te de Jamaica y Canela
More recipes for summer:
📖 Recipe
Cucumber Ginger Lavender Lemonade
Summer's in full swing, and let's face it, we're all looking for a way to cool down. This Cucumber Ginger Lavender Lemonade is not only super easy to make, but it's also the perfect refresher for those hot days.
Print
Pin
Rate
Ingredients
4

cups

fresh cold water

2

large lemons

Slice half a lemon thinly and squeeze the lemon juice out of the rest.

1

medium cucumber

3

inches

long piece of fresh ginger root

1

teaspoon

edible dried lavender

¼

cup

honey or to taste

Optional: a few fresh mint leaves

ice cubes for serving
Instructions
Gather all ingredients together. Give the cucumber and ginger a good wash.

Slice the cucumber very thin without peeling it. Do the same thing with the ginger. Slice half the lemon, also thin.

In a large pitcher, place the slices of ginger, cucumber, lemon and add the dried lavender.

Squeeze the rest of the lemons and pour the juice over the other ingredients. Add water and ice and mix well.

Add honey and mix well.

If you are trying to stay away from sugar in general, you can skip the honey entirely.

Optional: add a few mint leaves. Place the pitcher in the refrigerator and allow the ingredients to get friendly with each other for about 15-20 minutes before serving it.
Notes
Sweetness Level: The honey quantity is adaptable to your taste preferences. Feel free to add more or less to suit your liking. You can even use a sugar alternative if you're watching your sugar intake. Lavender Caution: The lavender is a strong flavor and less is more. Start with the recommended amount and you can always add more if you'd like, but remember that too much can make the lemonade taste soapy. Cucumber Choices: The type of cucumber you use can impact the overall flavor of the lemonade. English cucumbers are less bitter and usually a safe bet for a smoother taste. Alcohol Options: For an adult twist, consider adding a splash of your favorite liquor. This lemonade works well with gin, vodka, or tequila. Serving Suggestions: For a touch of elegance, serve the lemonade over ice with a garnish of lemon slices or a sprig of mint. It makes for a beautiful presentation at gatherings.
Nutrition
Serving:
1
g
|
Calories:
94
kcal
|
Carbohydrates:
25
g
|
Protein:
1
g
|
Fat:
0.3
g
|
Saturated Fat:
0.04
g
|
Polyunsaturated Fat:
0.1
g
|
Monounsaturated Fat:
0.01
g
|
Sodium:
16
mg
|
Potassium:
209
mg
|
Fiber:
2
g
|
Sugar:
20
g
|
Vitamin A:
70
IU
|
Vitamin C:
32
mg
|
Calcium:
37
mg
|
Iron:
1
mg