This Easy Lavender Citrus Curd Pie is a recipe that uses three different types of citrus. You can make it anytime you crave the warmth of the sun, and it is perfect for any occasion and any season.
Jump to:
Lemons
Let's talk about lemons. And what to do with them when life gives you too many. You have some choices.
Either make a ton of lemonade OR add some limes and oranges to the pile of lemons and make a citrus curd that you can put in a baked pie shell flavored with lemon and lavender.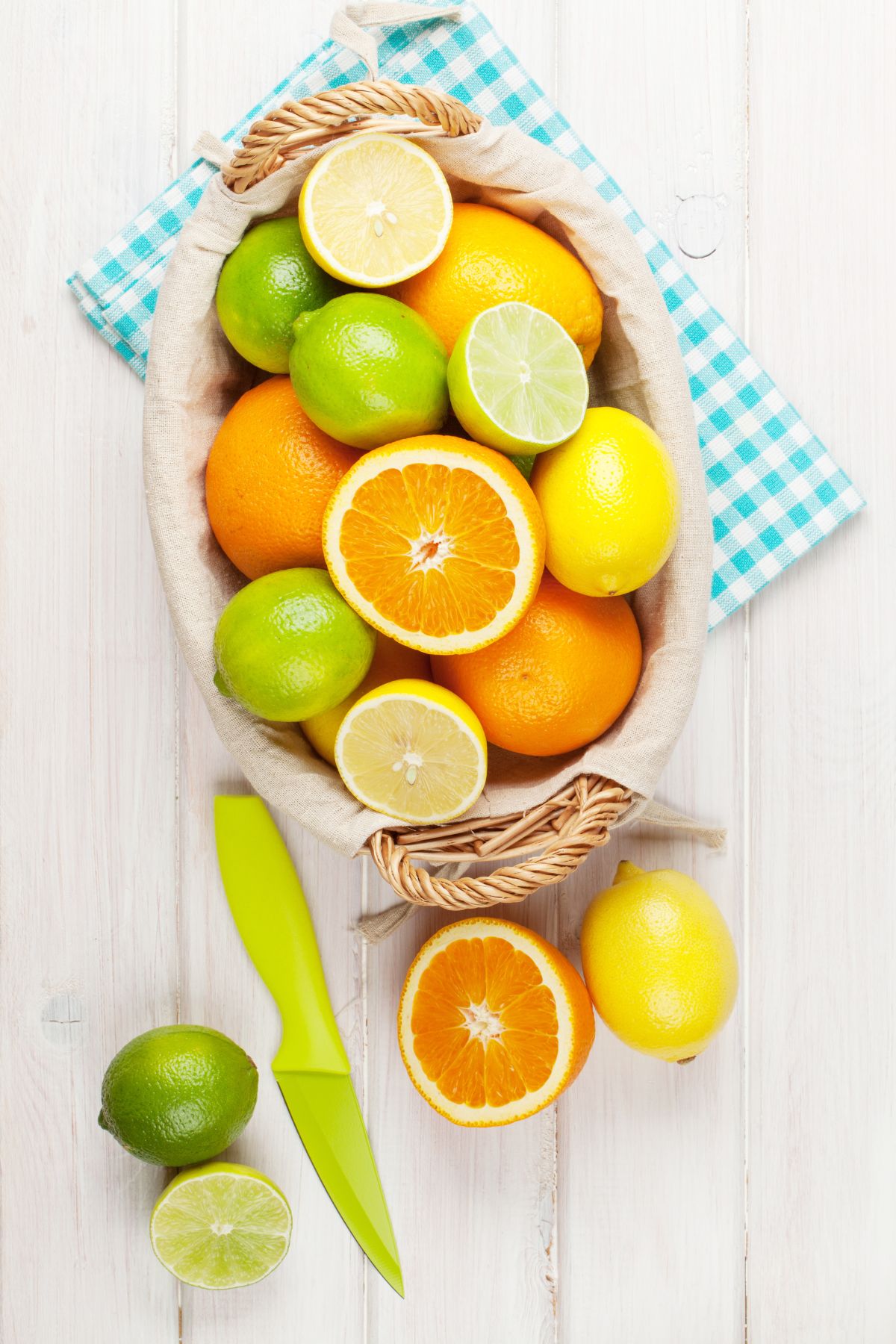 Lavender
Lavender is known for improving a negative mood and also alleviating stress. It is used in small amounts in many beautiful recipes of cookies, baked goods, and other desserts.
And boy, I really need some lavender in my life. I need some help here. We are buried in tons of snow this year, and it was bitter cold for most of the winter.
If the pattern stays the same as last winter, we might end up with snow again, even at the end of April!!
Until then, what to do? Bake, eat soups, and carbs, and drink hot tea.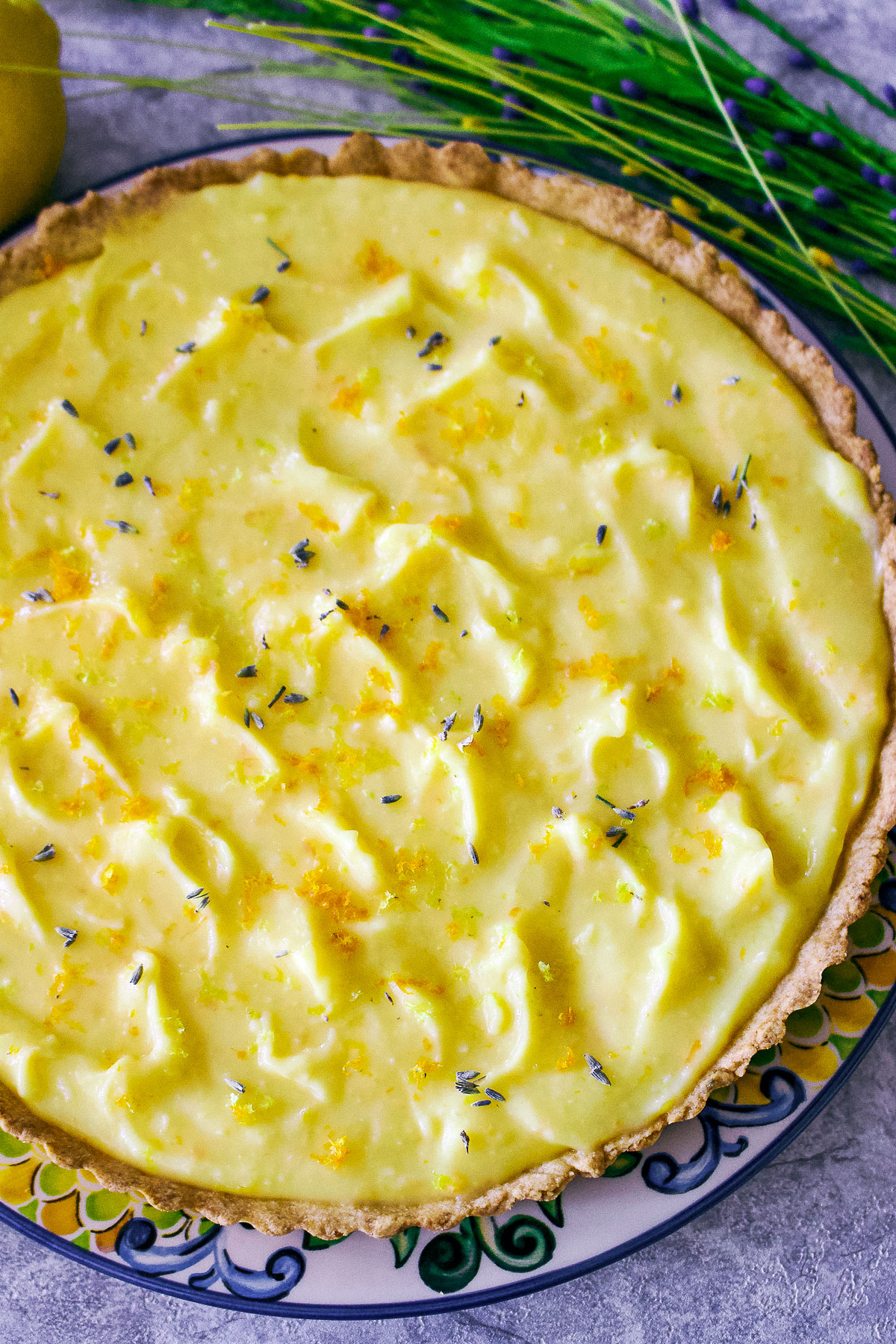 During the holidays, my daughter introduced us to the Outlander series on the Starz channel, and we got obsessed with the show. If you watched the show, you know what I am saying, right?
We genuinely love the story, the adventures, and the characters. For those who do not know what I am talking about, please Google it.
The show is based on Diana Gabaldon's books, and the story starts in Scotland. I never went to Scotland or England, but I always wanted to go.
I am also an avid consumer of PBS television, so I watch many British shows. Since last year, I also became more interested in British baking but never looked at Scotland and Ireland's cuisines until recently.
In my opinion, one of the best ways to travel mentally and emotionally to a place when you cannot physically do it is through the cuisine of that country.
Making a traditional recipe or baking something from that part of the world will bring closer to you the flavors and aromas of that culture.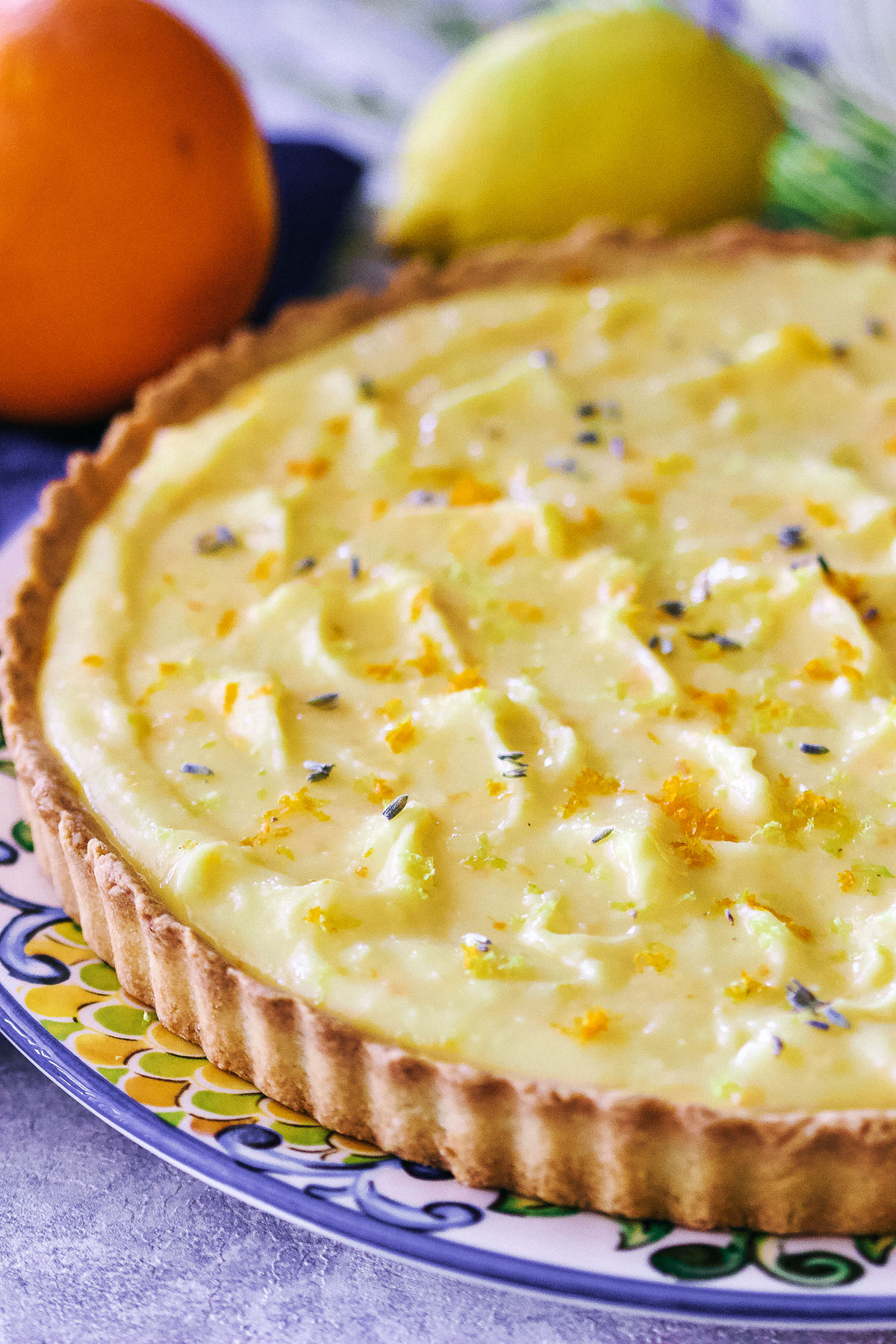 So, I decided to embrace the library close to my house and look for the food history in England, Scotland, and Ireland. I spend a lot of time in that library, which I truly love.
As a food blogger, I love cookbooks a lot. The older, the better! You should see my collection at home.
I am happy that the library I go to has a lot of ethnic cooking books. Many of them are excellent. After all, what better way to get out of the "funk" than to escape into the culinary world of a country you want to visit?
Getting back to my recipe for today, this Easy Lavender Citrus Curd Pie is made with a British-style shortbread crust recipe and a Scottish triple citrus curd recipe.
The citrus curd is made with this beautiful, versatile recipe that you can use to fill tart shells, cakes or just spread on scones and slices of toast.
If you ask me, I would just eat that curd as it is, with a spoon. It is delicious!
By the way, if you are too lazy to make your own crust, you can replace it with some store-bought, but you already know that it is not going to be as good as the one you make at home.
My pie crust is made with lemon zest and crushed lavender flowers, which makes this pie really different.
How To Make This Easy Lavender Citrus Curd Pie
First of all, start with the crust.
The crust needs to sit in the fridge for some time before you bake it. We will blind-bake it and make the citrus curd separately on the stove.
When you put them together, you are basically done because there is no baking involved anymore.
I said blind bake the crust, which means that you simply pre-bake the crust without filling, then add the filling once the crust is baked.
You can also make the crust in a food processor, which I really encourage you to buy, as it is one of the best tools to have in the kitchen if you like to cook.
However, if you do not have a food processor, you can still make the crust by hand or use an electric mixer. Before electricity and kitchen gadgets, people used to use their hands for everything! 🙂
While the crust is resting in the fridge, make the curd. The recipe is straightforward, as the ingredients go all together on the stove and cook until the mixture thickens and becomes creamy and smooth.
The curd is not boiled, just cooked enough until it bubbles. You cannot abandon the curd and play Candy Crush on your phone! You have to constantly stir and make sure the curd doesn't boil, stick to the pan, or make a mess out of your stove.
After the curd is cooked, place the pot in icy water to cool down fast, then let it rest in the fridge until the crust is baked and cooled.
When both are ready, pour the citrus curd into the pie shell and decorate with dried lavender, citrus zest, or candied orange peel. A dollop of whipped cream on the slice of pie would be nice as well.
As for the citrus juice, I used lemons, limes, and oranges, but you can try other fruits, like grapefruit, mandarines, etc.
If you prefer mini desserts, you can use mini pie shells made out of the same dough. This is a rustic pie that will not look perfect when you cut into it. The curd is creamy and not as stiff as a pie filling you bake together with the crust.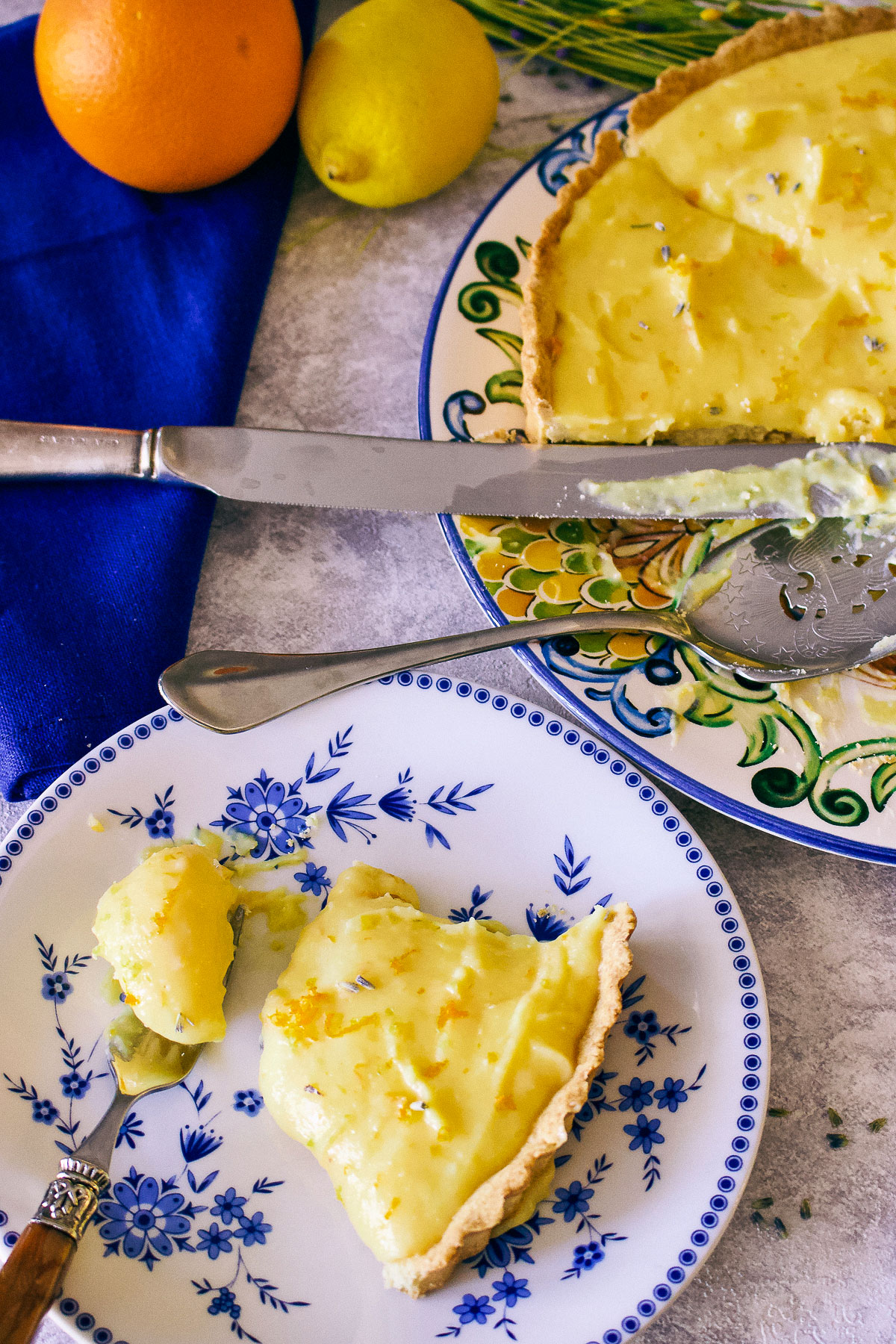 However, the flavors of vanilla, lemons, limes, and oranges, together with the subtle lavender, are absolutely divine. One piece of advice would be NOT to put more lavender in the crust than the recipe asks for.
You will end up with a soapy lavender taste which is not very pleasant. This is a powerful herb that can overwhelm the taste buds if used too much.
I hope you make it. If you do, let me know what you think.
If you are still not convinced of trying this recipe, then here you have some more dessert ideas that use lemons. Maybe you would like to make some cookies?
Lemon Dessert Ideas
Olive Oil Lemon Wookies With Herbs
Cream Cheese Lemon Coconut Cake
Old Fashioned Lemon Bread With Lemon Syrup
Coconut-Almond Lemon Bars Recipe
Craving more? Subscribe to The Bossy Kitchen to get new recipes and a newsletter delivered straight to your inbox! Stay in touch on Facebook, Twitter, Pinterest, and Instagram for all of the latest updates. Don't forget to use the star rating and leave a review.
See you soon, my friends, and happy baking!
📖 Recipe
Easy Lavender Citrus Curd Pie
This Easy Lavender Citrus Curd Pie is a recipe to make any time you crave the warmth of the sun. Perfect for any occasion and any season.
Print
Pin
Rate
Ingredients
Pie Crust:
¼

cup

granulated sugar

1

stick of unsalted butter softened

1

large egg

1

fresh lemon -use the zest

½

teaspoon

vanilla

1 ⅓

cup

all purpose flour

¼

teaspoon

dried edible lavender crushed

¼

teaspoon

salt
Citrus Curd:
½

cup

unsalted butter

1

cup

granulated sugar

2

tablespoons

orange juice

2

tablespoons

lime juice

2

tablespoons

lemon juice

lime zest from 1 lime

lemon zest from 1 lemon

orange zest from 1 orange

5

large eggs

beaten
Instructions
How To Make The Crust:
To make the crust in the food processor place the sugar, butter, egg, lemon zest, vanilla, flour, salt, and dried lavender inside the food processor. Pulse a few times until the ingredients come together into a soft dough. Wrap the dough in plastic and chill for an hour, or up to three days.

To make the crust by hand

Cream together the sugar and the butter until just combined. Add in the egg, vanilla, and lemon zest. Mix until incorporated. Add flour, lavender, and salt. Mix until the dough is smooth. Wrap the dough in plastic and chill for an hour or up to three days.

Remove the dough from the refrigerator for 10 minutes to warm up. Roll out on a floured surface to a 12-inch circle, turning the dough once in a while, so it doesn't stick.

Wrap the dough around the rolling pin and unroll it into a 10 inches tart pan. Press the dough into the pan and against the rim of the pan to trim the dough. Cover with plastic and chill until ready to bake.

Preheat oven to 350F. Cover the tart with parchment paper or aluminum foil and add pie weights or dried beans.

Bake for 10 minutes, then remove the beans and the parchment paper and bake for another 10-12 minutes until the crust is golden brown. Remove from the oven and allow it to cool.
How To Make The Citrus Curd:
Use a medium-size pot to melt the butter over medium heat. Remove from heat and add sugar, eggs, lemon, orange, lime juice, and zest.

Return to heat and cook, constantly stirring until mixture begins to bubble- make sure it doesn't boil.

Cool the citrus curd by setting the pan in a bowl with icy water and stir for few minutes.

Cover and refrigerate. When cool, fill the baked crust. Chill for at least 4 hours.

Serve it with whipped cream. Decorate with lemon or lime zest and lavender.
Notes
The Citrus Curd can also be used for filling cakes, cream puffs, or spread it on scones and toast. A very versatile recipe!
Nutrition
Serving:
1
g
|
Calories:
351
kcal
|
Carbohydrates:
48
g
|
Protein:
7
g
|
Fat:
15
g
|
Saturated Fat:
8
g
|
Polyunsaturated Fat:
1
g
|
Monounsaturated Fat:
4
g
|
Trans Fat:
0.5
g
|
Cholesterol:
154
mg
|
Sodium:
122
mg
|
Potassium:
90
mg
|
Fiber:
1
g
|
Sugar:
32
g
|
Vitamin A:
548
IU
|
Vitamin C:
6
mg
|
Calcium:
28
mg
|
Iron:
2
mg